5 easy steps to Find TikTok emails for any influencer (2023)
In 2023, TikTok is the ULTIMATE platform for marketers. Why? 78% of users purchased after seeing a product in the creator's content.
Crazy right? It's also a great business growth hub where connecting with influencers, creators, and celebrities is a game changer.
But one problem remains… Many marketers are asking the same question:
"How to find someone's email on TikTok?"
Don't worry! This article outlines the different easy & quick techniques to find TikTok email addresses in less than 15 seconds, including:
👉 Use free AI tools
👉 Bulk export TikTok emails directly to your CSV
👉 Bonus: All the manuals & free techniques.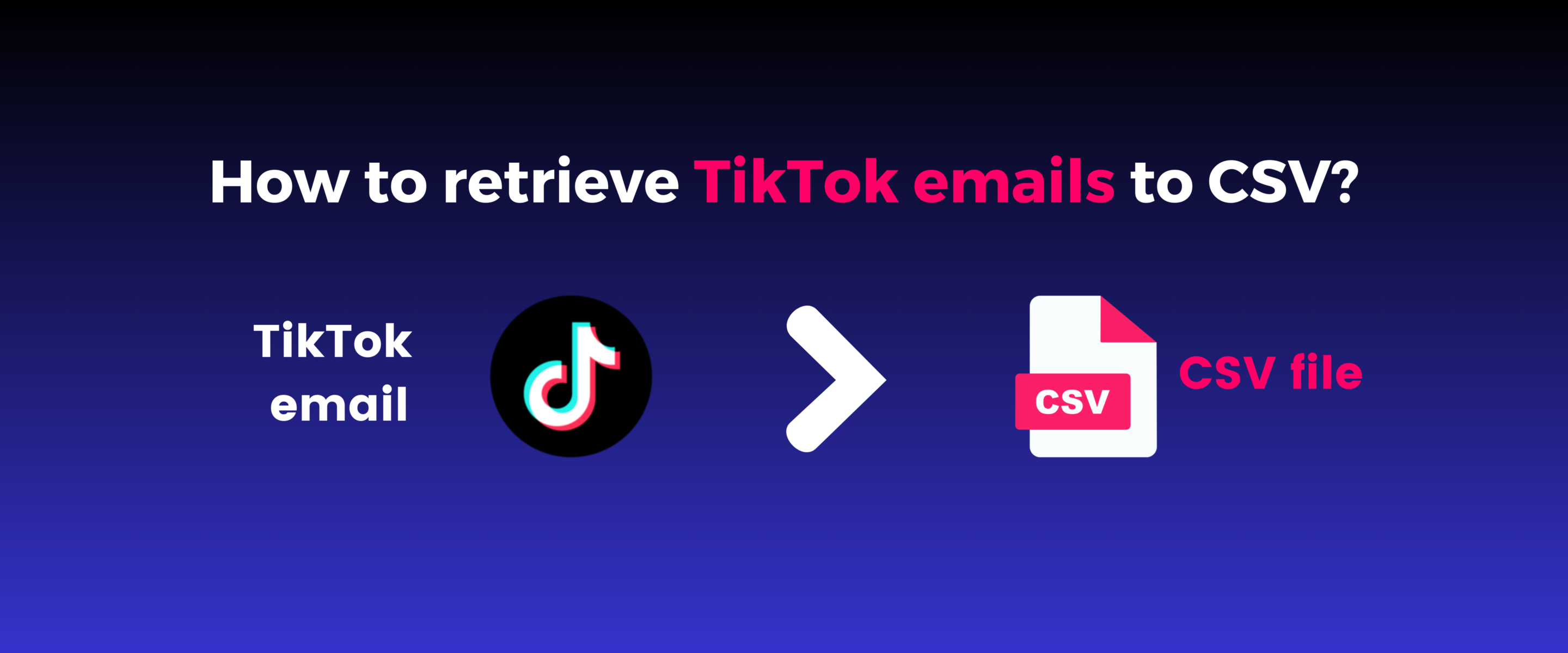 ⚠️ Important to Note: Always seek emails responsibly, being aware of the risks and following cold email guidelines & standards.
Ready? Let's get into it.
5 Easy Steps to Find TikTok Emails (2023 update)
Here are the key steps to find TikTok emails for any influencer:
Manual methods & tricks (TikTok bio)

Beyond TikTok: Dive into Other Socials

Bulk find TikTok emails using AI

Use a TikTok email finder (Apify)

Bonus Tip: Do the most OBVIOUS but underrated options
1. Manually extract from TikTok bio
Manual methods are always the easiest but also the most time-consuming trick. Still, it's free!
⚠️ I would recommend using manual methods if you need 5-20 emails. If you need more, skip this and check steps 3 and 4.
There are 2 main extraction methods to find TikTok emails manually:
1️⃣ How to find a TikTok account with username:
> Go to their TikTok profile page
> Option 1: Check their TikTok bio and extract the email (copy paste).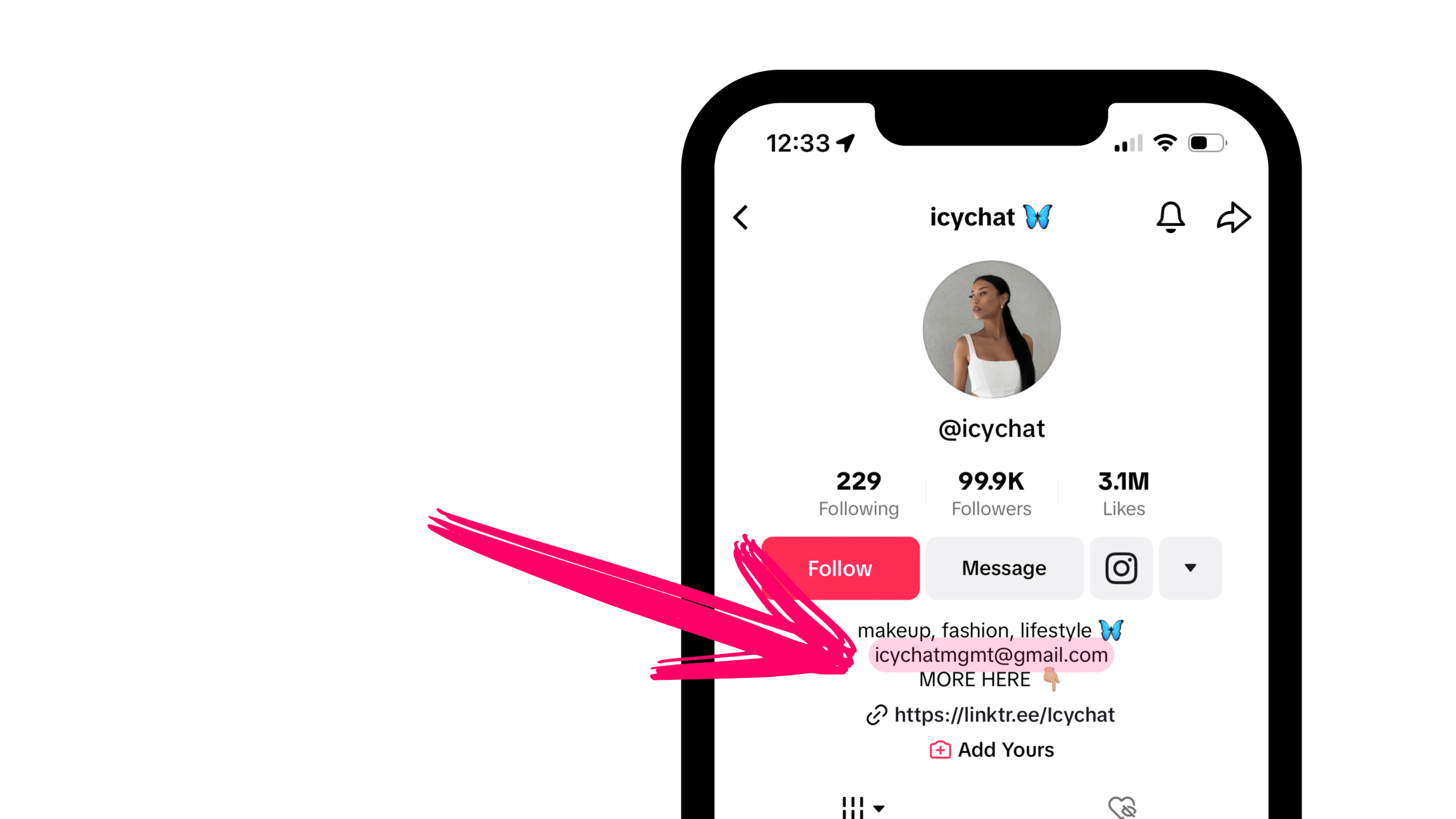 Please note that:
❌ If the TikTok profile has an email button, you can't export from your computer – you will need to access it from your phone. (Same as when looking for Instagram emails)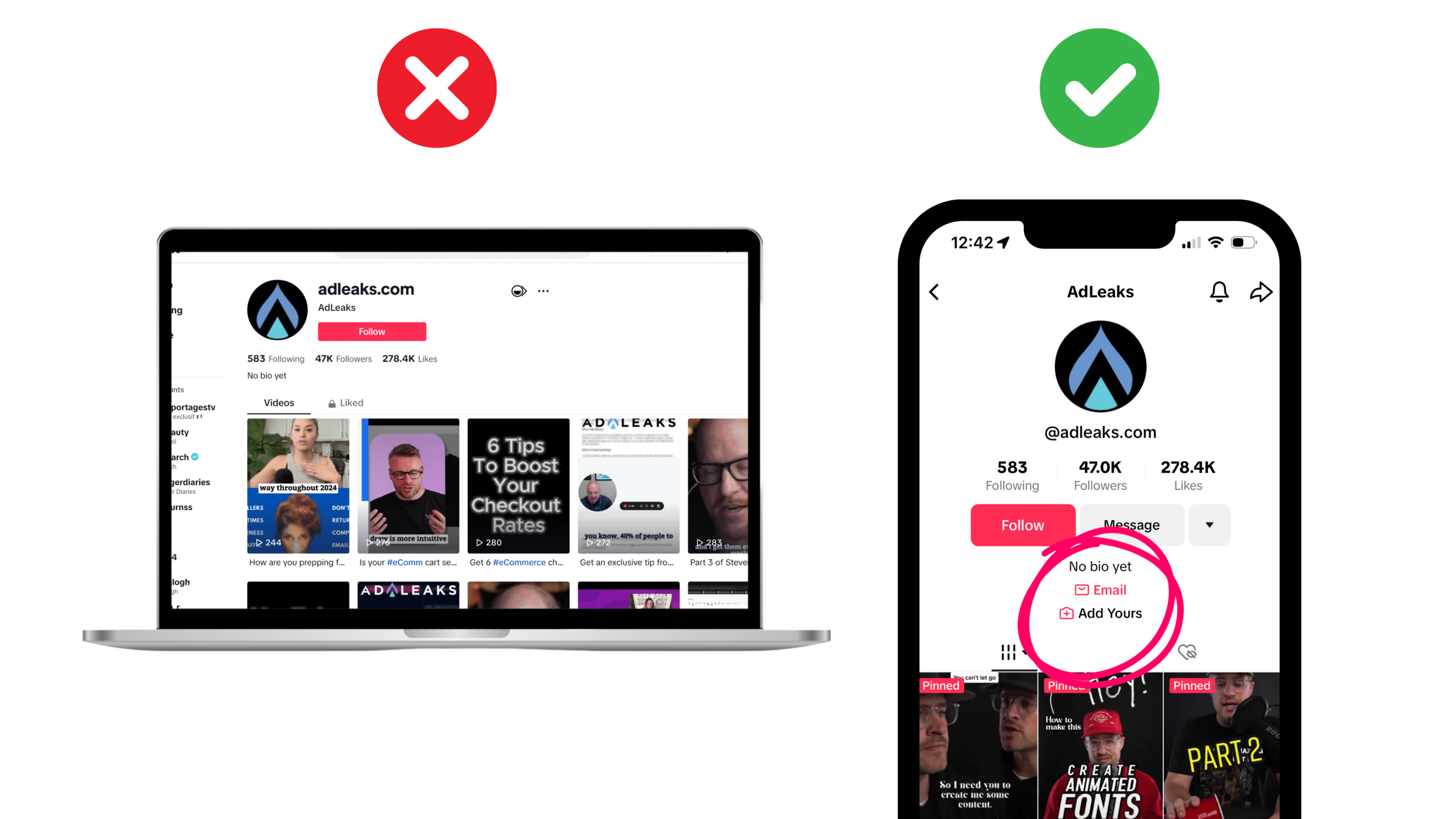 If the TikTok email is not listed under their TikTok bio or on the email button, then you have another option.
-> Option 2: Look on their website
(and see below 2 other secret pro tips)
First, can you find their website on their TikTok?
👉  Yes! Check their TikTok bio for any links (ideally their blog or Linktree)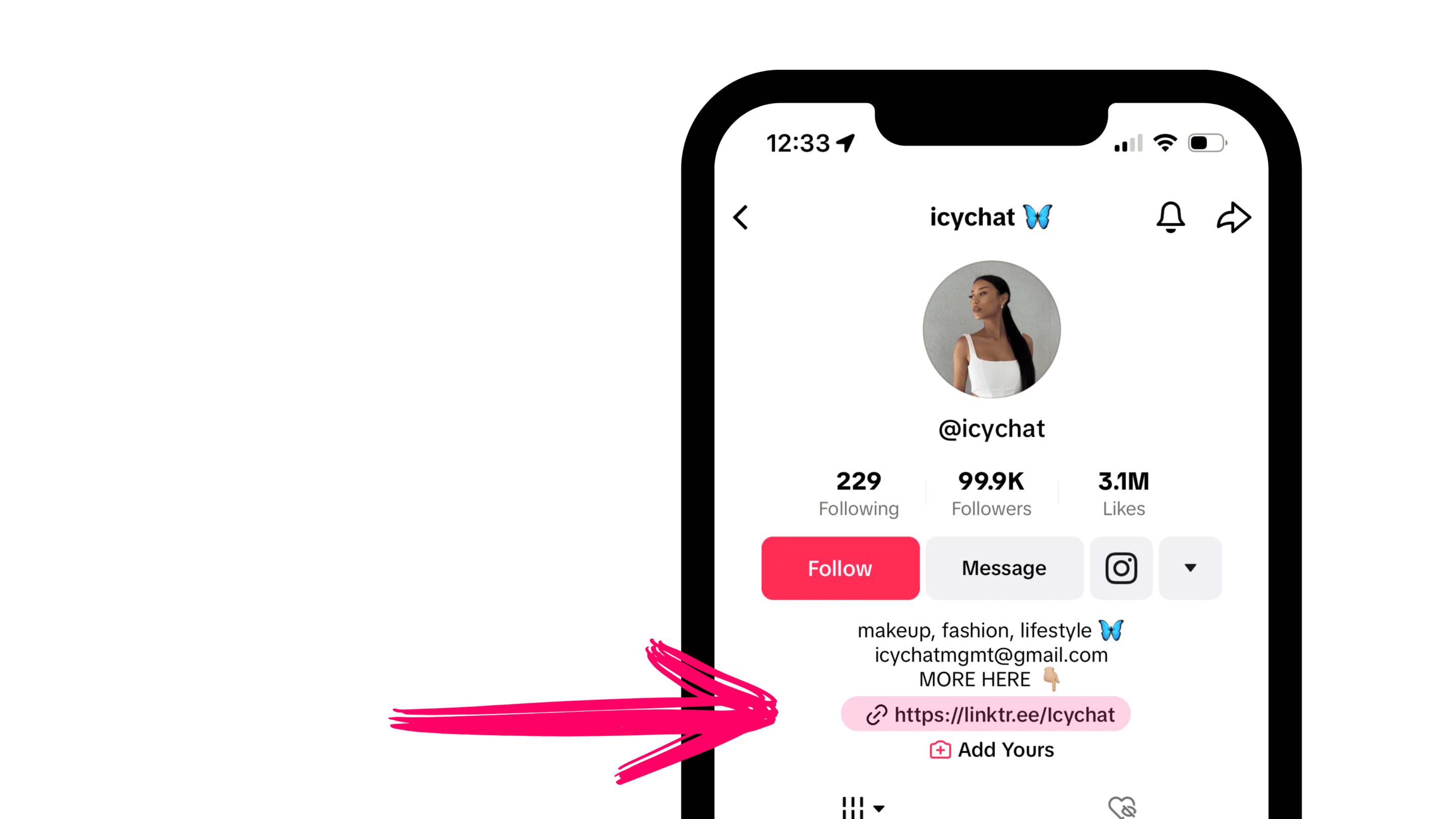 Secondly, how can I find TikTok emails on their website?
👉  Pro Tip: Either go to their contact page or search for the TikTok email into the code of their website (use Inspect)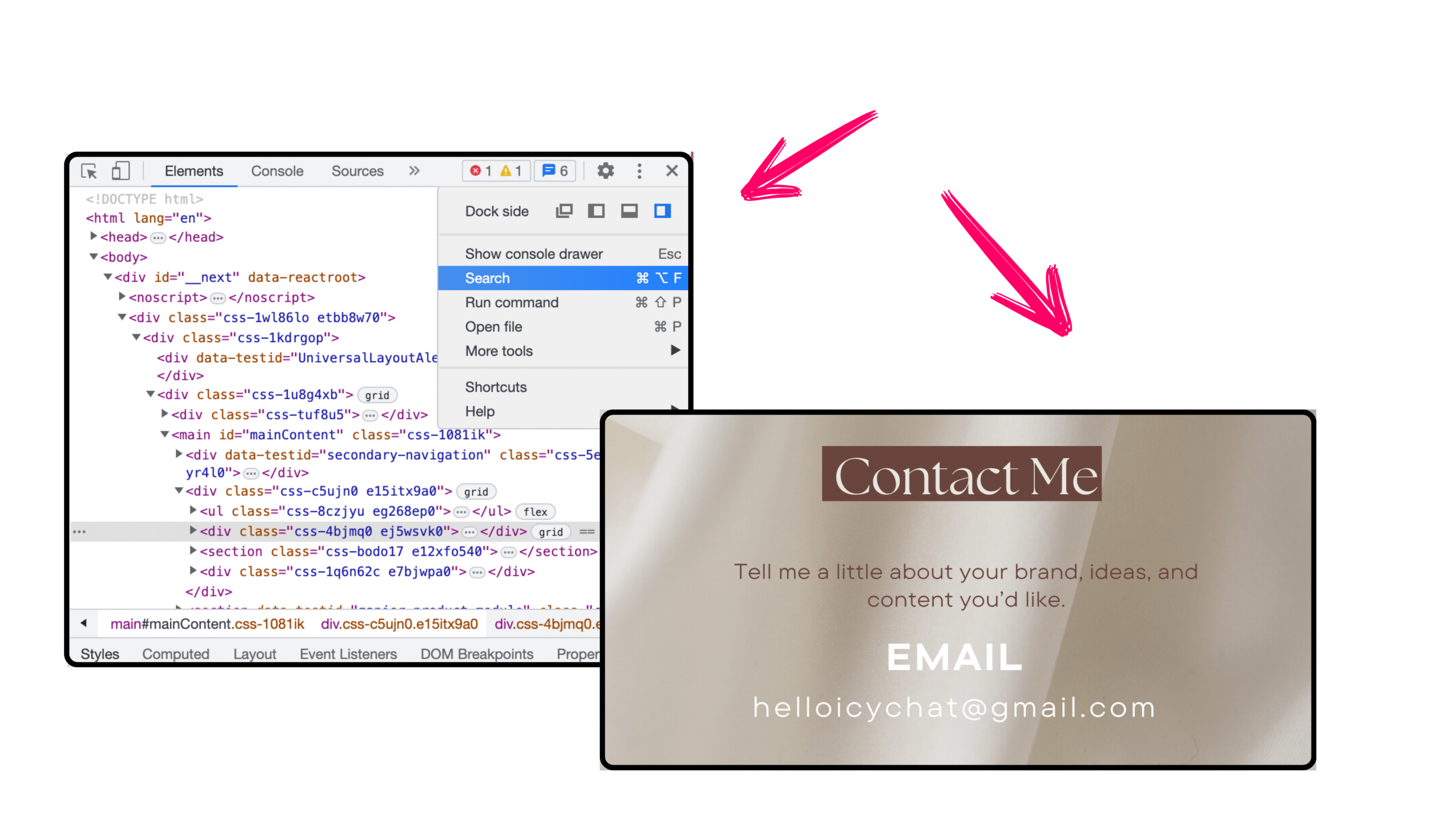 👉  Another Pro Tip: Subscribe to their newsletter (if they have one). This should give you the email.
If you don't find their website after all these steps, you can also generate a quick Google search. Always do handle + name + website or blog.
If you are looking for the TikTok email of an influencer, you can also look for their management agency and reach instead.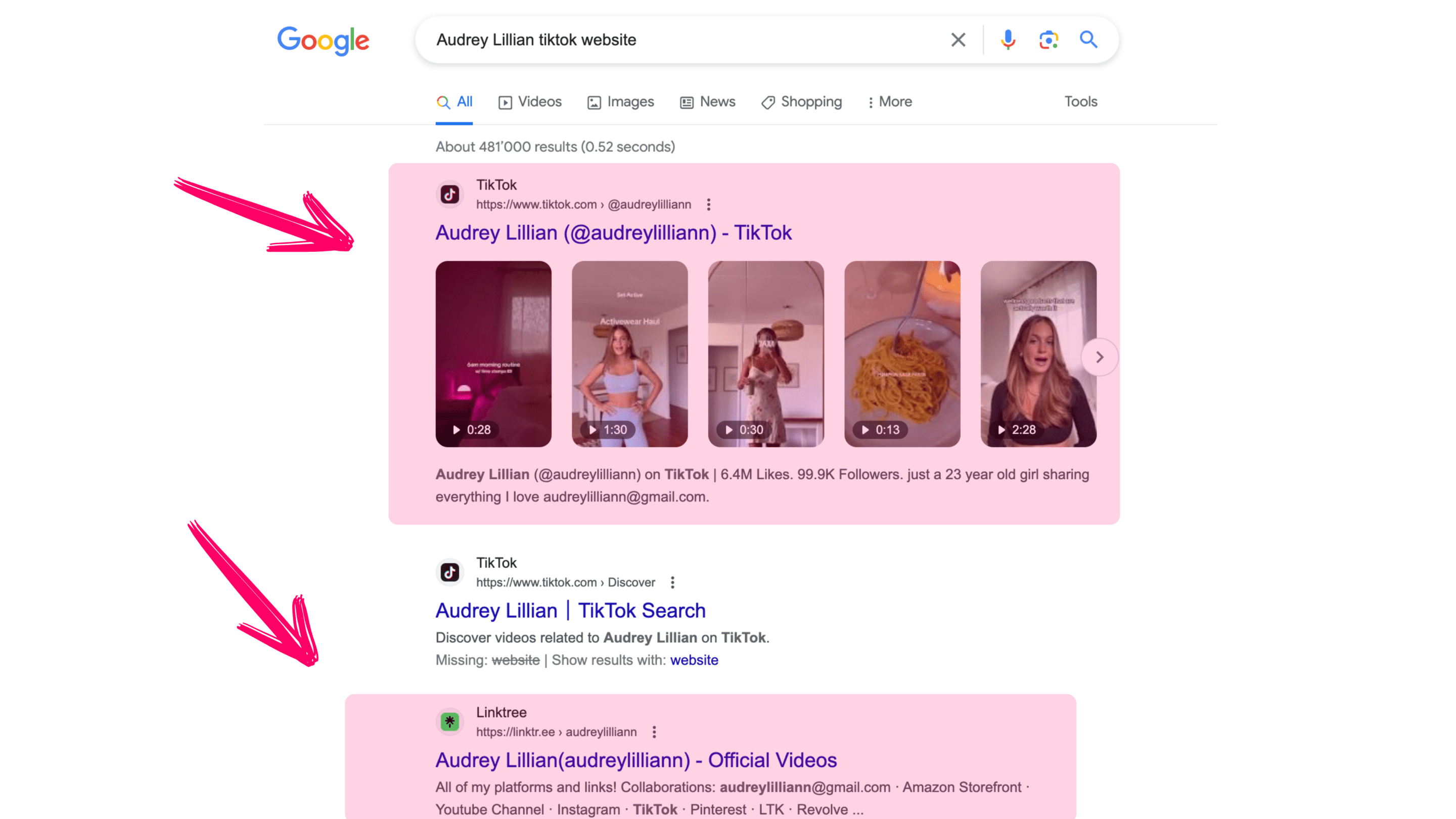 Now, another scenario that you might face:
2️⃣ How to find a TikTok account without username:
> Even without knowing someone's username, you can locate them on TikTok and access their email. All you require is their complete name. Simply navigate to the TikTok search area, input the name, and identify them from the list.
👉  Pro Tip: I suggest including a pertinent industry or job title keyword and the full name in the search bar. This helps narrow down the results and speeds up the "find TikTok email" process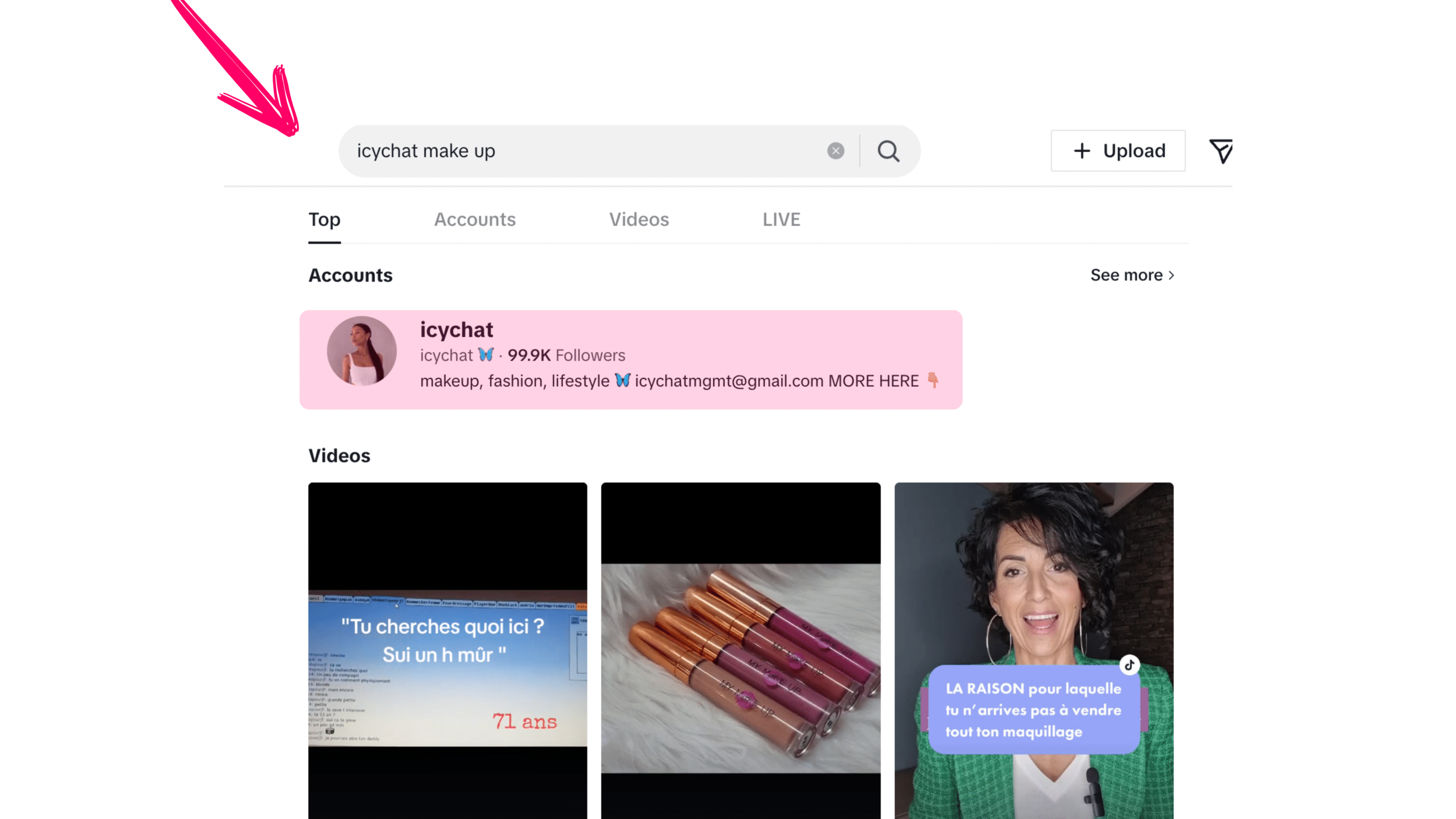 2. Beyond TikTok: dive into other socials
If these manual methods fail to find TikTok emails, it's definitely worth checking out other social media platforms.
TikTok creators or businesses might provide an email on their other social media pages. But how can I find those other profiles?
Easy – You have two options: one manual and the other automatic.
   Option 1: Manual Approach
Some TikTok influencers will have an Instagram button.
⚠️ Please note that it's only available from your phone.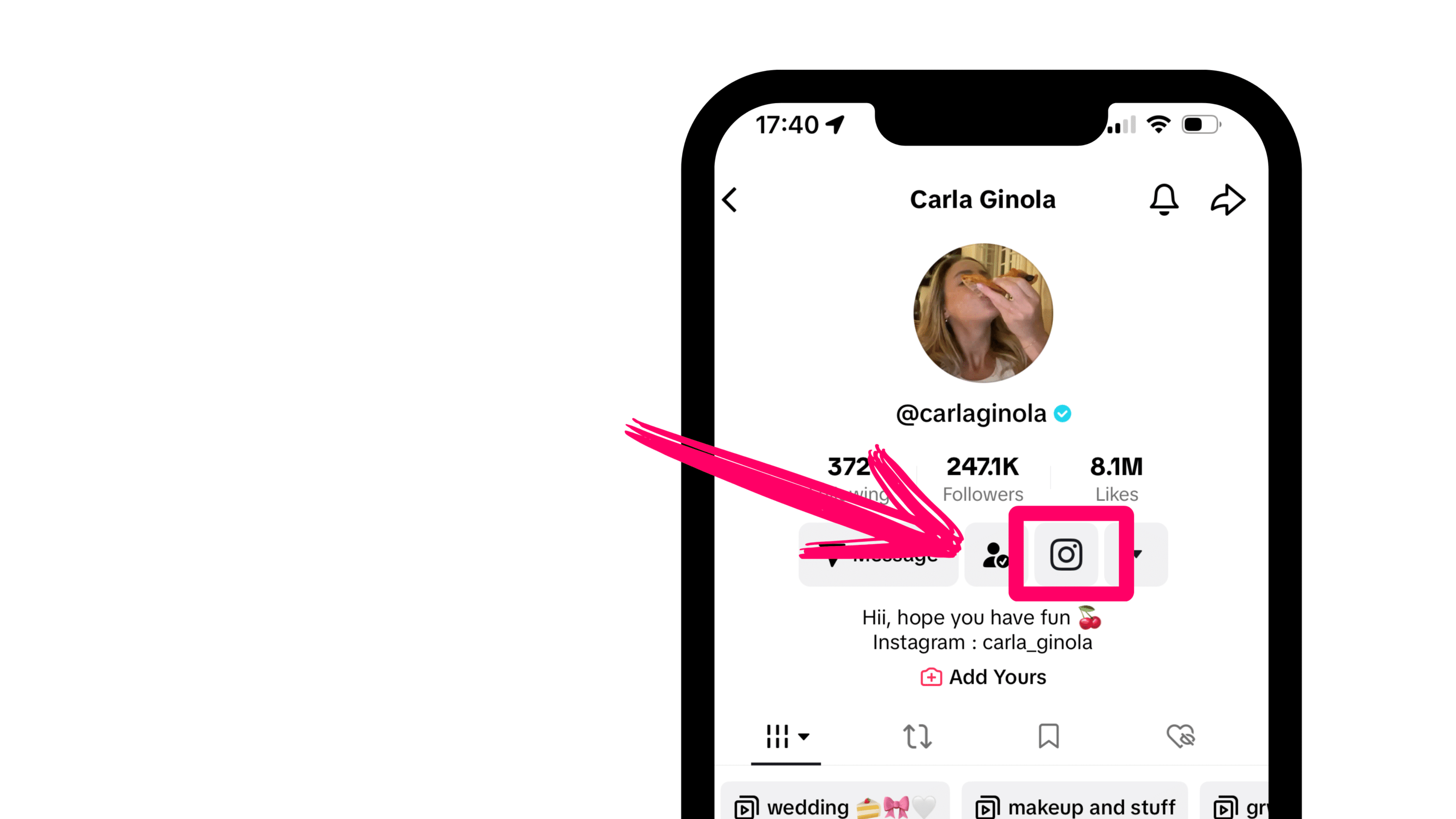 Some TikTok influencers will have a website link or Linktree. Check for other social media platforms links on those.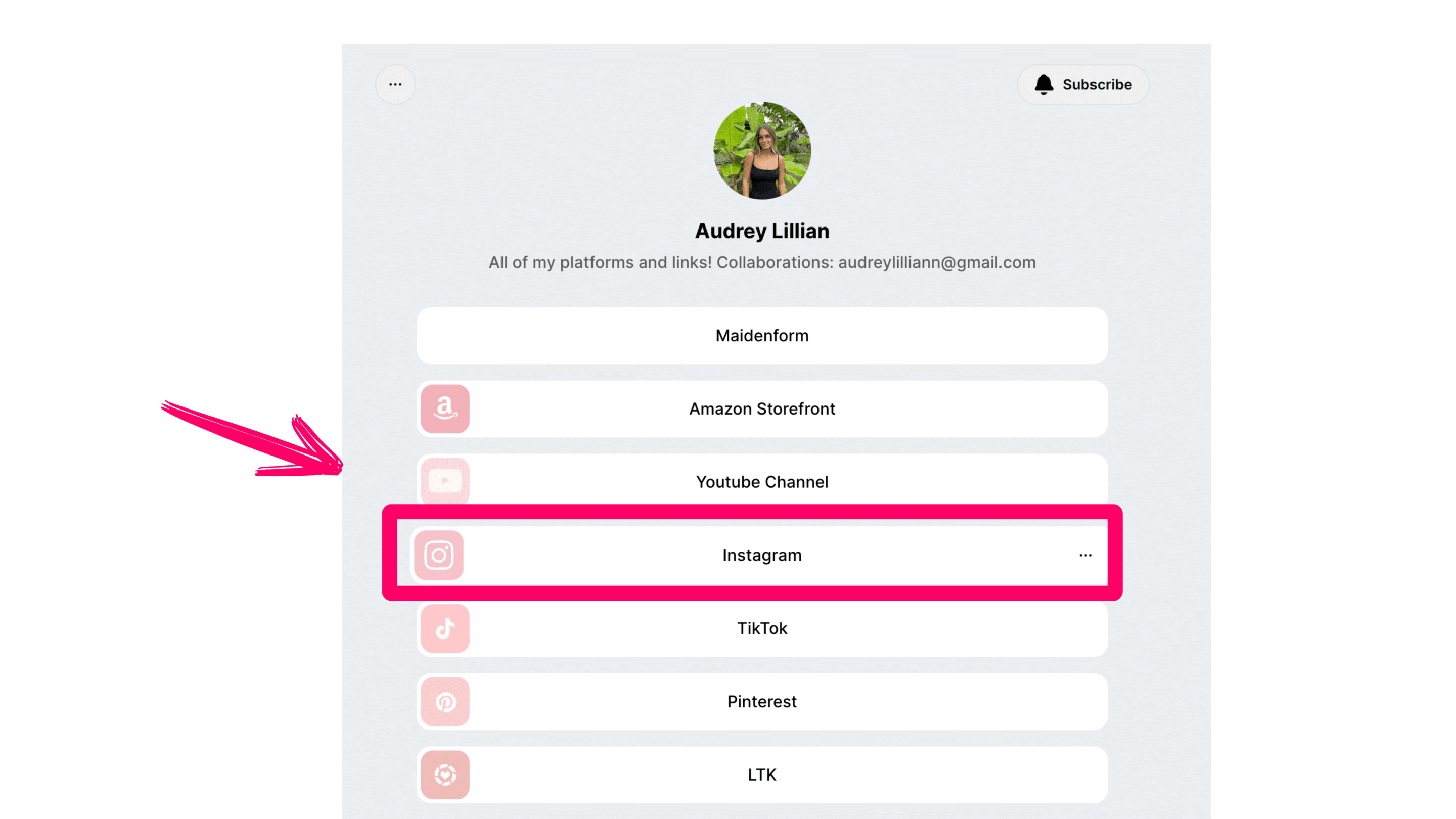 If those don't work – do a Google search with "Name" + "Instagram".

Great, you might have identified other platforms of TikTok accounts, but how can you find the emails?
On YouTube = the profile 'About' section (ONLY via desktop)

For Instagram = Check more details here

On Facebook = the profile 'About' section
But finding those other profiles was a bit tedious, right? Here's another solution…
   Option 2: Automatic Search
Rather than wasting time manually searching for other platforms – you can use an AI tool to do this for you.
AI really? How?
Well, many tools exist, but very few are free or cheap. I would suggest Click Analytic (I am a bit biased 😉)  as you have a free trial of 14 days, allowing you to find many accounts for free.
How does it work?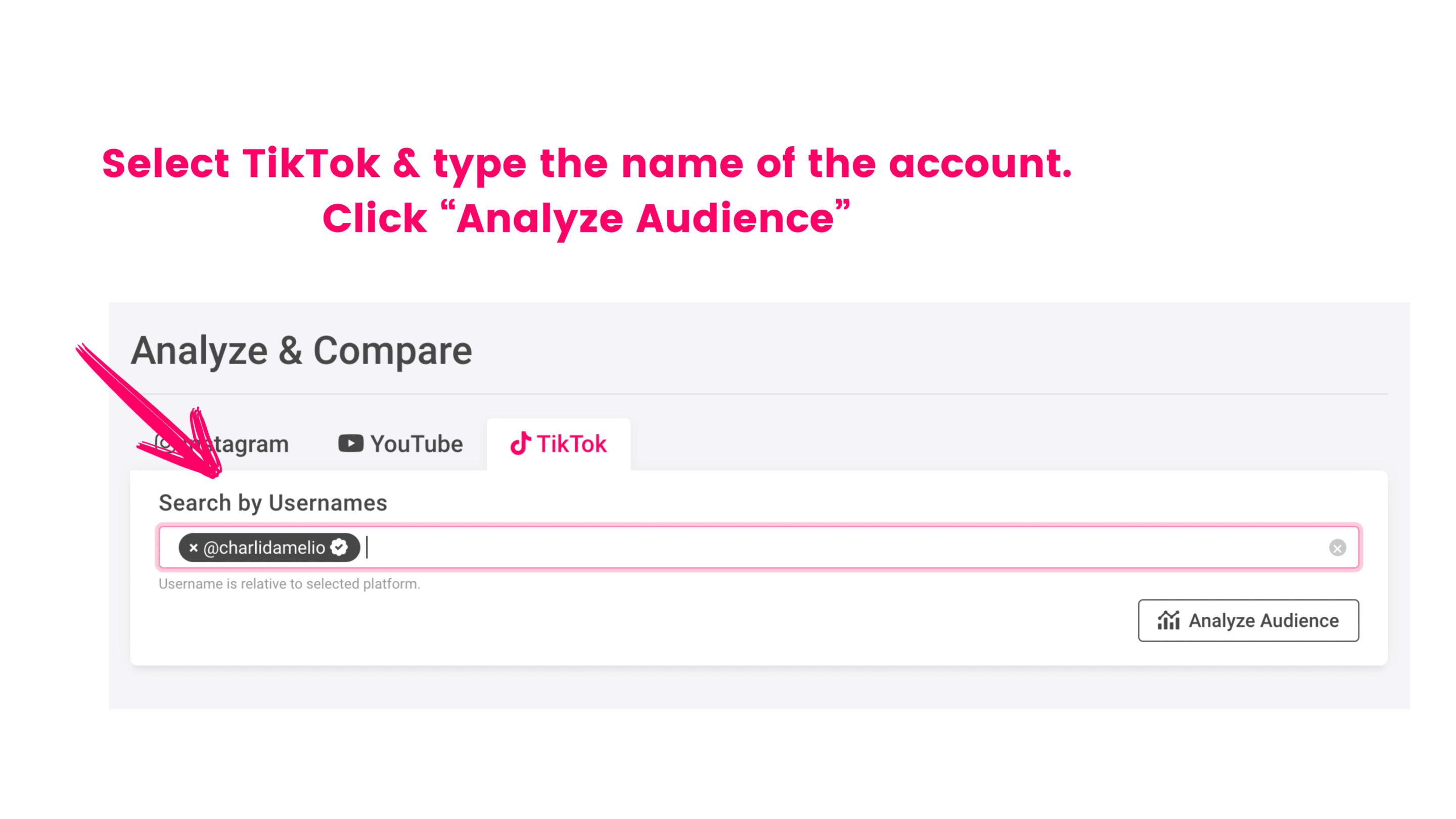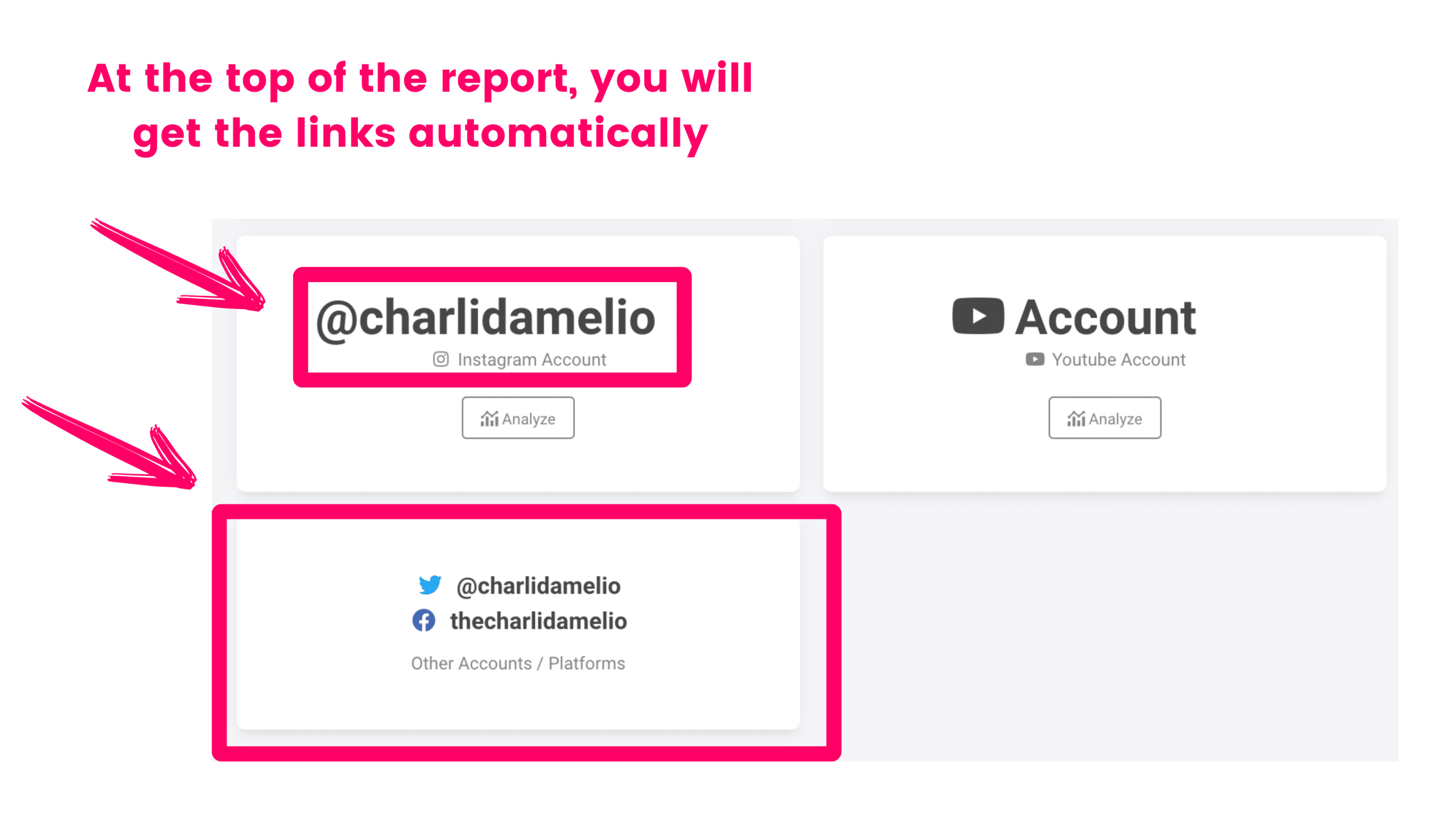 Speaking of AI tools – we have covered almost (surprise at the end) all the manual tactics to find TikTok emails. 
Let's now see how to do it in just 5 secs for +100 profiles.
 3. How to bulk find TikTok emails?
As discussed in previous sections, finding TikTok emails is easy but quite time-consuming. 
BUT, I have other tips for you that can change your life… or at least save you hours.
Instead of manually combing through each account, I'd recommend using a TikTok email finder – such as Click Analytic.
I know… we already discussed the benefits of Click Analytic to find other platform accounts. But that's not all it can do!
I've found it incredibly useful when looking to find TikTok emails, especially when dealing with bulk searches.
And guess what? It comes with an export feature, making your outreach efforts so much smoother. It's a lifesaver!
Here's how it works:
> You have two ways that you can use this platform to find emails on TikTok profiles:
👉 Generate a report for one influencer – it will unlock their email automatically.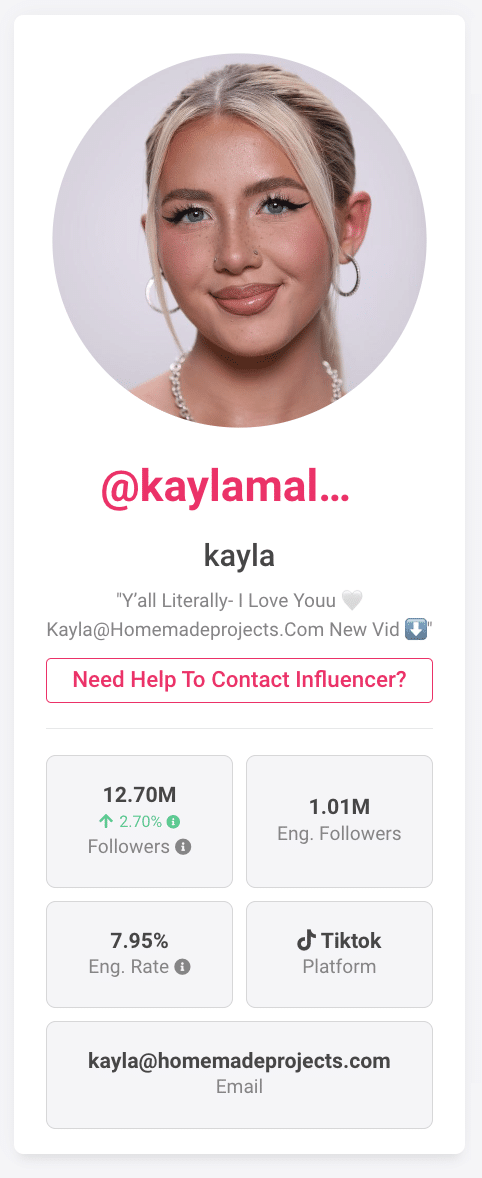 👉 Add them to a list and unlock all their emails at once.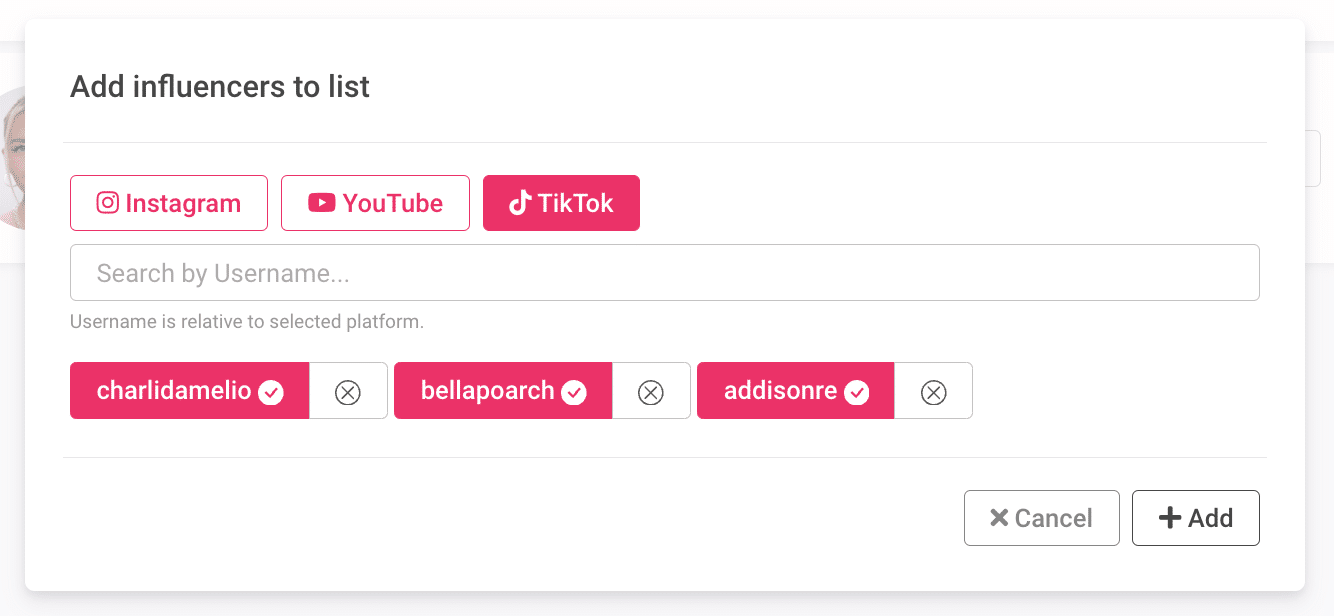 If you already have a personal list of profiles, you can directly create the list on Click Analytic also – simply enter each TikTok username.
Once all names are entered, click the little lock icon at the top of the column labelled 'Email Address.'
This will find TikTok emails all at once.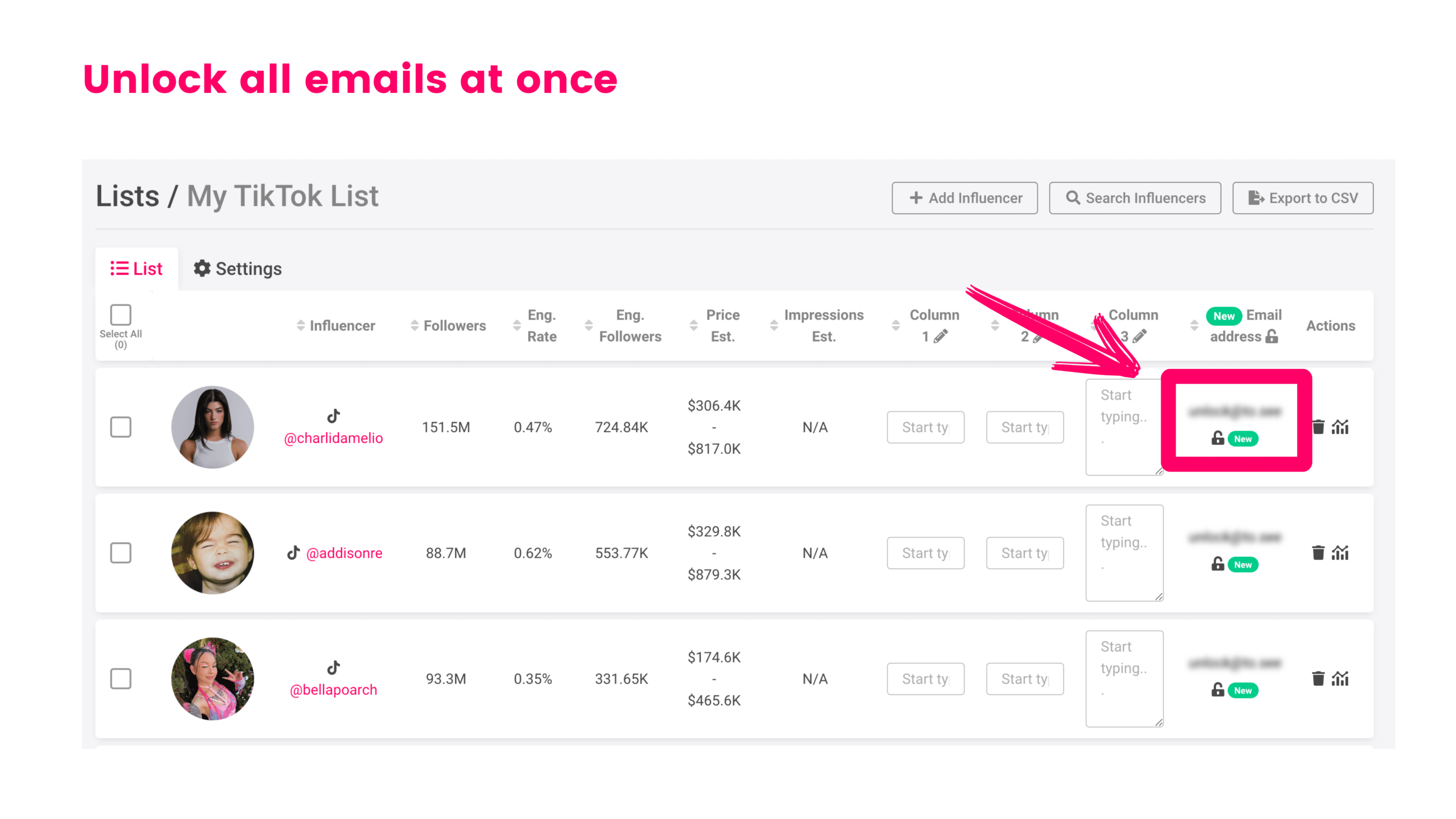 If you're starting without a list, Click Analytic can quickly help you build one and find the right influencer for your brand.
It has the most advanced creator database on the planet.
—> This includes EVERY TikTok content creator with over 1k followers! (Database of+139M TikTok creators)
On the platform, you have the option to set filters focused on the influencer's attributes (e.g. geo location, followers, engagement stats etc.).
In addition, you can also narrow down based on their audience characteristics, like demographics, location, or interests.
To share an example, I did a search below for female fashion influencers in Los Angeles with 1-50k followers and a minimum engagement rate of 4%.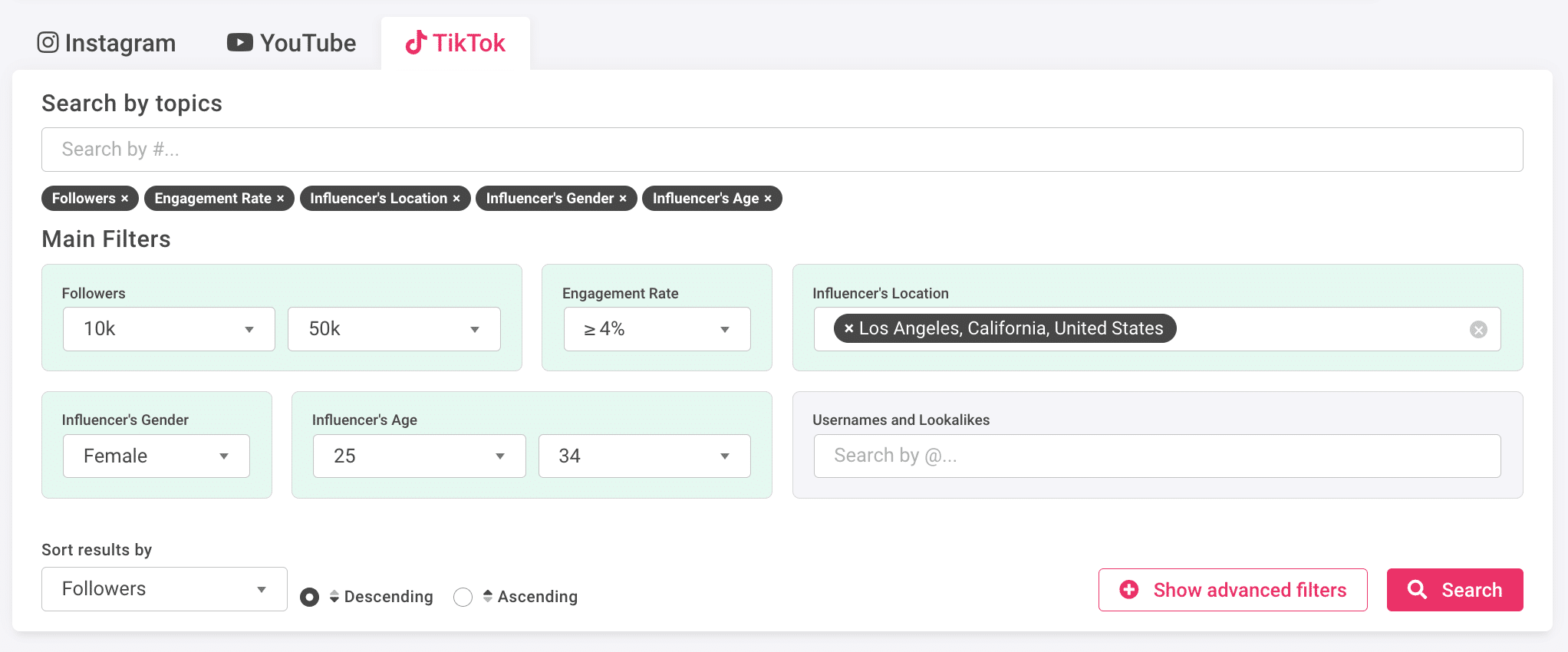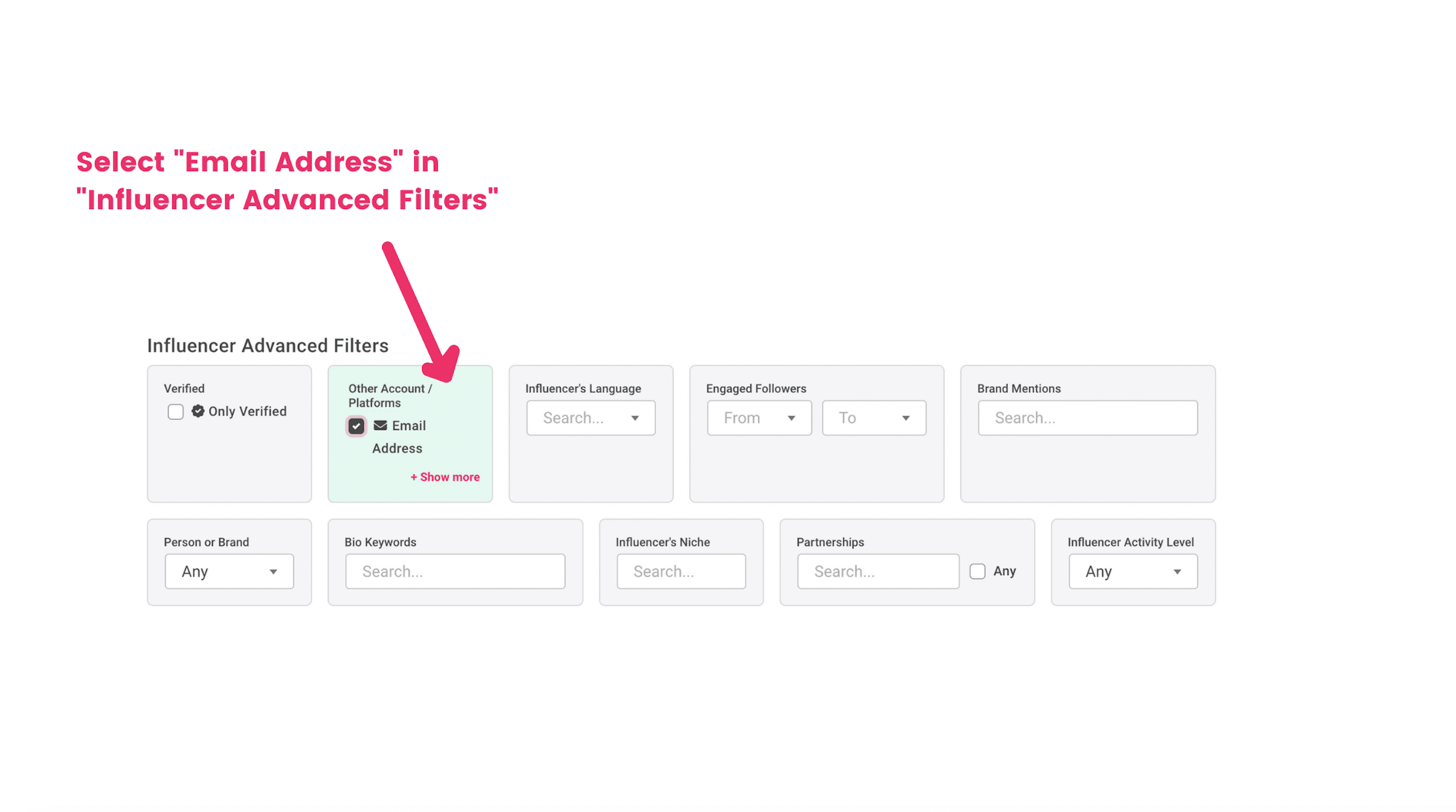 It's that easy!
You should now have a list of around 500 potential TikTok influencers fitting these specific filters.
You can dive deeper into their profiles, cherry-pick the best options for a curated list, or conveniently save them all in one go.
Then, you can proceed with the same method to mass export their TikTok emails.
And the best part? You can test it for free!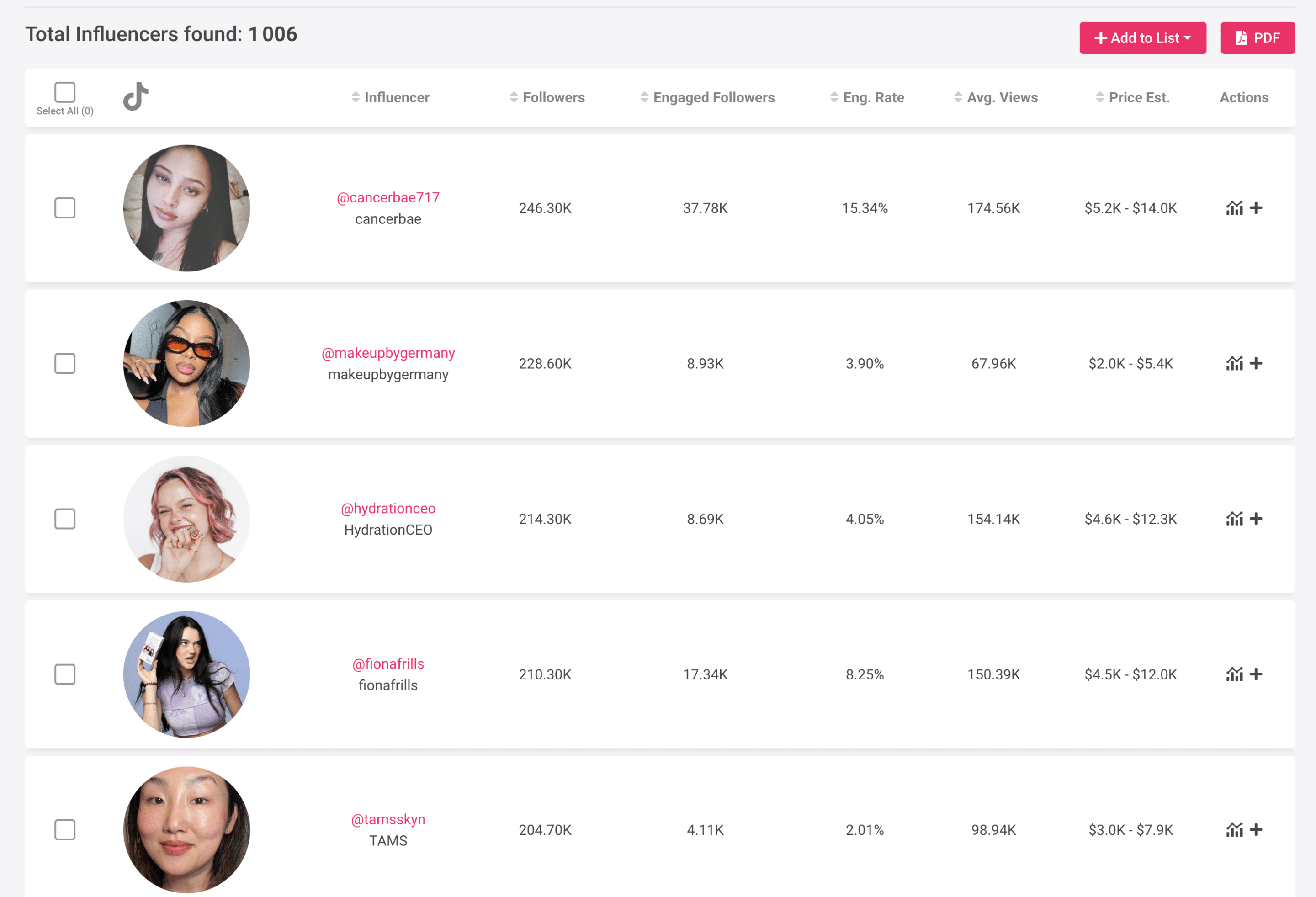 4. Use a TikTok Email Finder
If you're still having a tough time trying to find TikTok emails, I'd recommend giving a TikTok scraper like Apify a shot.
It's a great option to find TikTok emails in a way that is simplified, allowing direct extraction into CRM systems or Excel documents.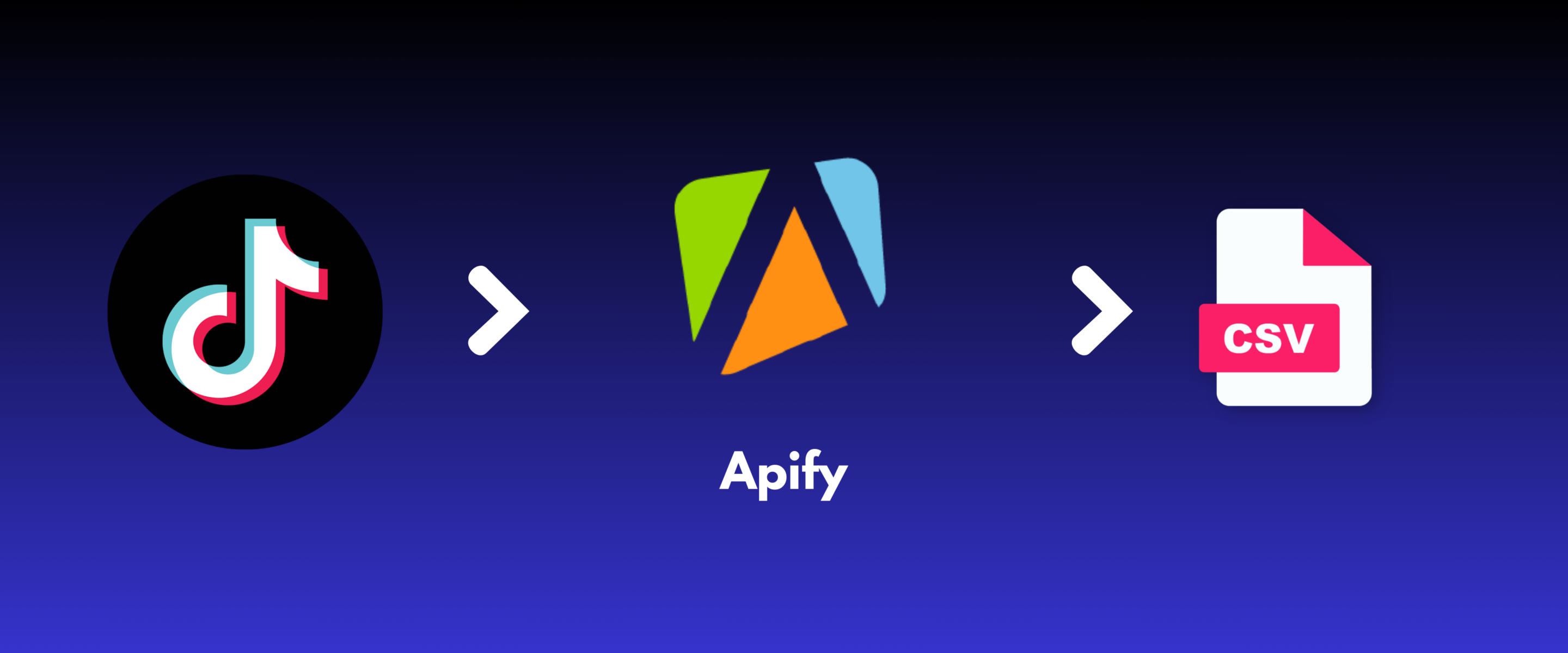 So, how does Apify work?
> It streamlines the lead generation process
> It navigates using bots through websites, including TikTok, Instagram etc. 
> Provides you with extensive raw data export in bulk
How does it work to find TikTok emails?
Apify is GREAT at pulling out email addresses tucked within TikTok bios.
And then… It compiles and forwards all these emails to you in a Spreadsheet or Excel format.
Bonus: It will not only find TikTok emails but also all the TikTok profile information in one go!
See example below: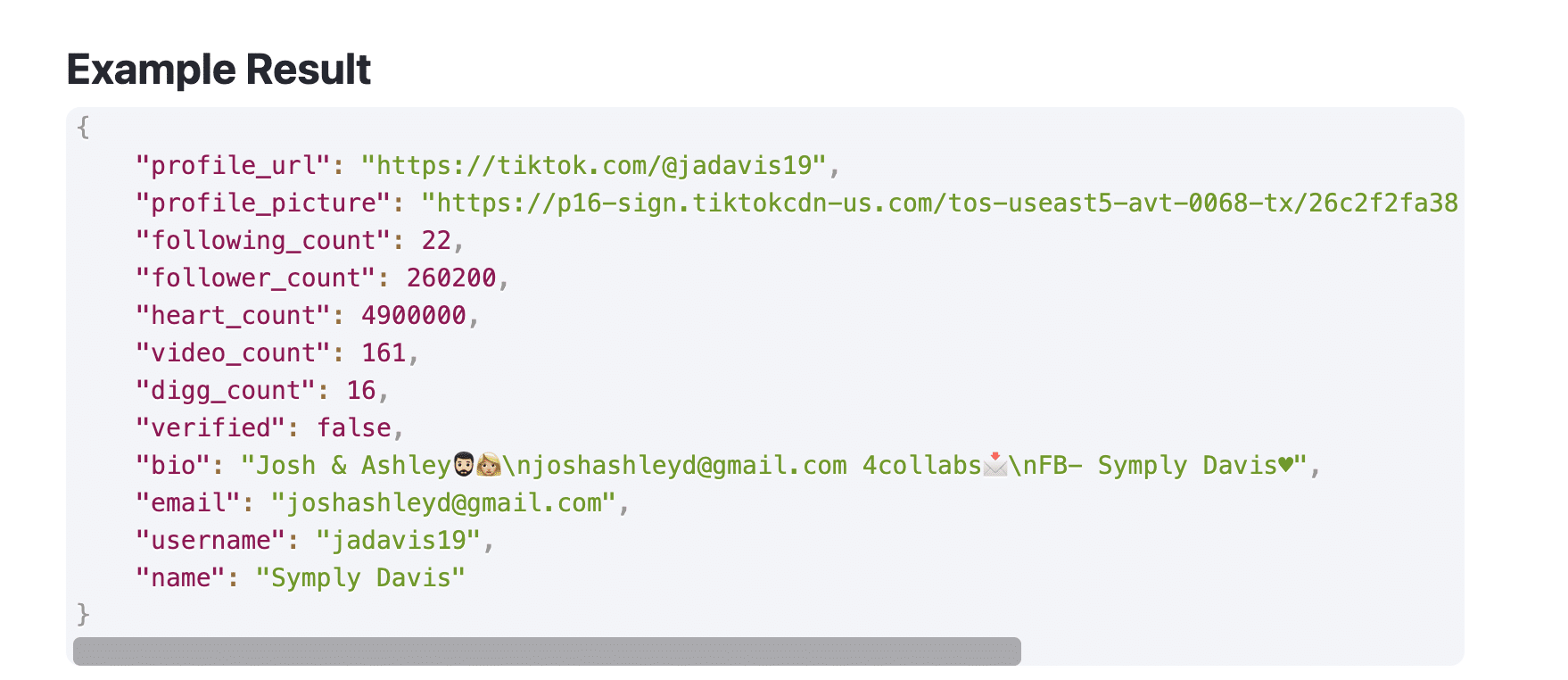 ⚠️ Important to Note: This method of extraction only works if creators have added their email addresses to their profiles + it's not free.
So keep this in mind!
 5. Bonus tips to find TikTok Emails
So, what do you do if you're unable to find TikTok emails using the methods I've outlined above?
Well… I have two more tricks for you. Both are manual & free methods.
Some creators prefer to keep their email private, but you can still use the easiest solution of all… Just ask!
Of course, contacting a mega influencer with their overcrowded inboxes isn't the simplest.
But there's a technique to attract their attention: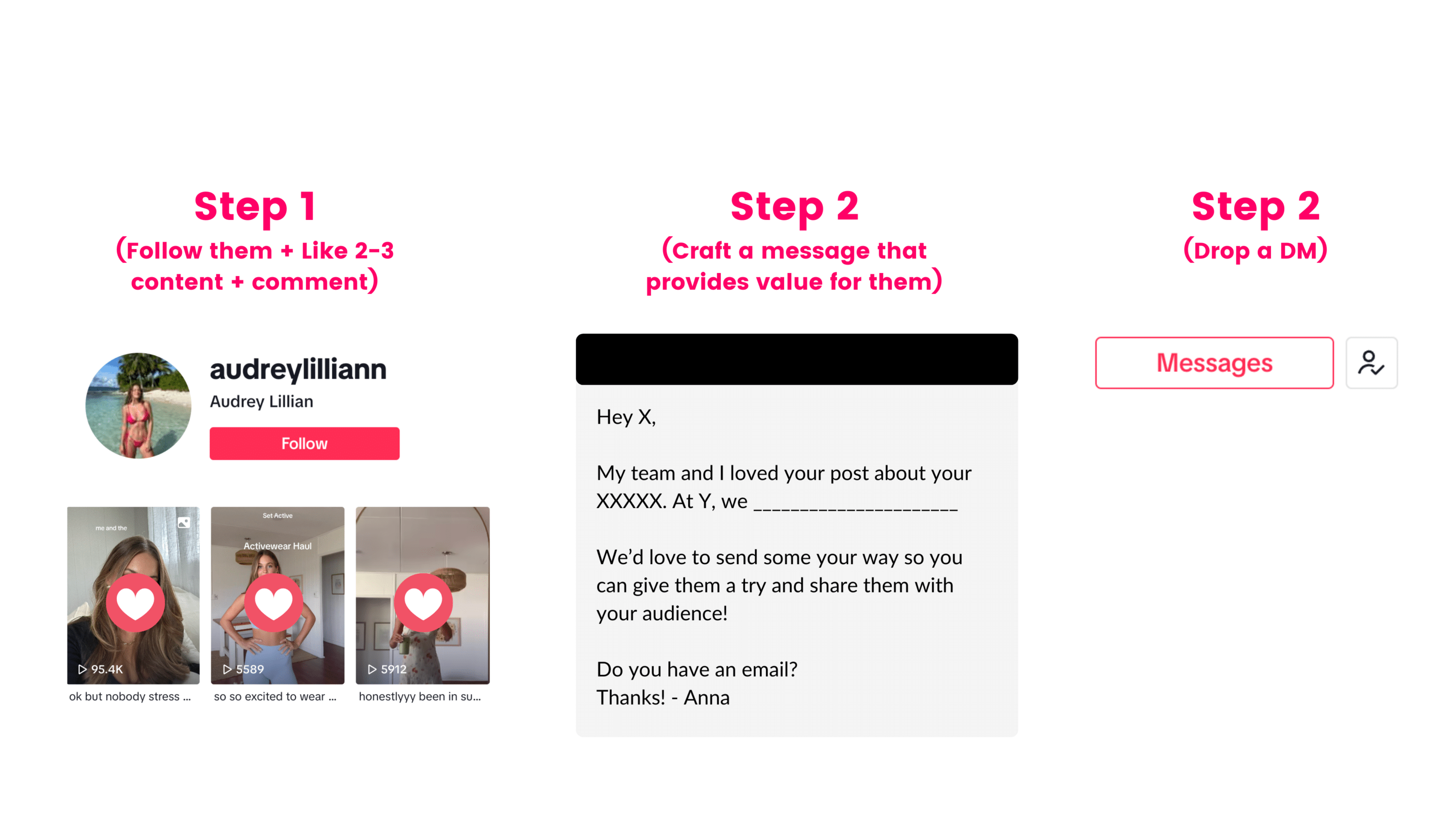 ⚠️ Important to Note: In my experience, TikTok DM's aren't the best, but it's a direct method of contact. Since this is likely their primary social platform as a profession, they are likely to be inhabiting the app and have notifications turned on.
My last advice and tactic to find TikTok emails easily.
Did you know that there are tools that can smartly predict and create the email addresses you seek? And they're incredibly user-friendly.
According to recent studies, most companies follow the same email pattern for their emails: "[email protected]"
This is a huge opportunity for you to guess certain TikTok emails. 
How can you do that?
> Find the first name of your targeted TikTok Profile (Usually in TikTok Bio)
> Then find their website or blog using the methods highlighted above. 
> And last, use one of those two email finders to guess their TikTok emails:
1. Hunter.io to automatically guess the email. They even offer a handy Chrome Email Finder extension.
2. Alternatively, try manually guessing with Zero Bounce, which also validates emails.
You know have all the keys and pro techniques to find TikTok emails!
Why is email essential for influencer Outreach?
Now we've covered all the key methods!
I shared all my tips and experience for the best methods to find TikTok emails of any influencer.
Before we part ways, here is my final advice:
Tools Matter: Platforms like ClickAnalytic.com or Hunter.io are revolutionizing the space.
With automatic email guessing and browser extensions, they're making the process seamless.
Old-School Charm: For those who lean towards traditional methods, Zero Bounce offers manual email guessing.
Sometimes, the classic ways still shine.
Simplicity Wins: Don't underestimate a basic Google search. Armed with just an Instagram username, you might strike gold.
Stay determined on your hunt to find TikTok emails for creators, the right tools come down to factors such as creator type and the availability of bio information and alternative social platforms.
With this guide, you're all set for success.
Happy hunting!
Influencer Marketing Articles
Actionable tips to get more success with influencer marketing campaigns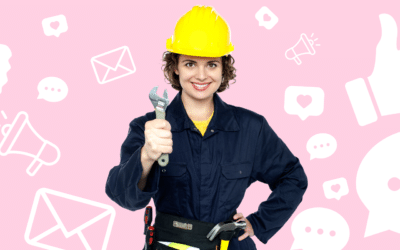 Building your first influencer marketing toolkit?
Here are 7 must-have tools to include.
These tools will help you succeed where many have failed.
read more
Try our Influencer Marketing Platform for free
Enjoy free searches & analyses
create your first list