9 Easy Steps to Find Someone's Instagram Email (2023)
Instagram is THE #1 popular social media platform with over 2.35 billion users worldwide.
It's also a treasure source of potential partners, including businesses, influencers, creators, celebrities, and athletes.
But finding an email from an Instagram profile can still be quite challenging and time-consuming.
Don't worry!
In this 2023 step-by-step guide, we will walk you through the quick & easy techniques for Instagram email retrieval in 15 seconds:
Building your own Instagram email finder

Use free AI tools

Send Instagram emails directly to your CSV

Bonus: Secret tactic that you never heard off!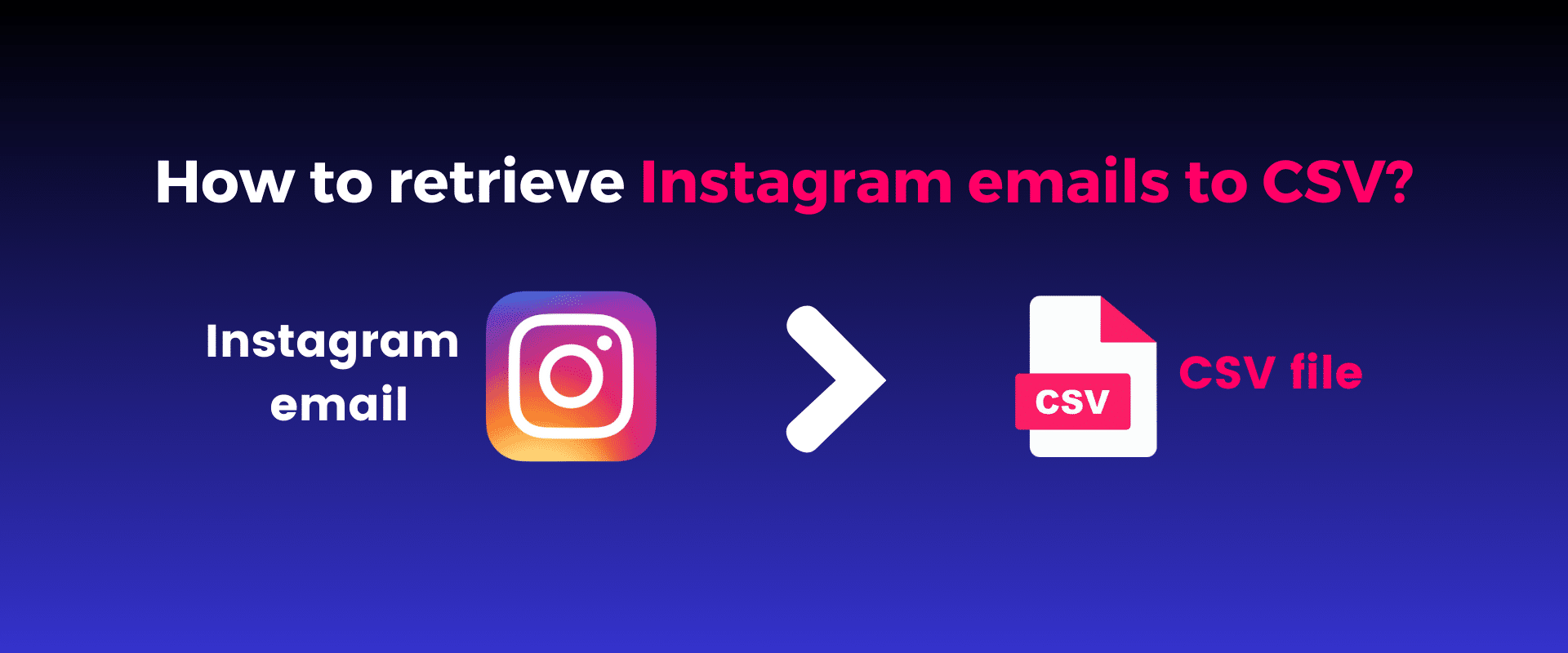 ⚠️ Important to Note: Always search for emails ethically, understanding the risks and adhering to cold email rules & regulations.
Ready? Let's get into it.
9 easy steps to find someone's Instagram email (2023 update)
Here are the key steps to find any Instagram email addresses:
Manually extract from Instagram via your phone

Check their other social media platforms

Check their websites
Guess it with Hunter.io
Find bulk emails using Click Analytic
Use an Instagram email finder: PhantomBuster
The SECRET tip

For celebrities – check their agent

Ask them
1. Manually extract from Instagram via your phone
The classic mistake is to head to Instagram via a desktop, expecting to find an email. 
That DOESN'T work! Desktop versions don't display emails.
BUT, they do display it on the mobile version of the Instagram Profile. And it's straightforward.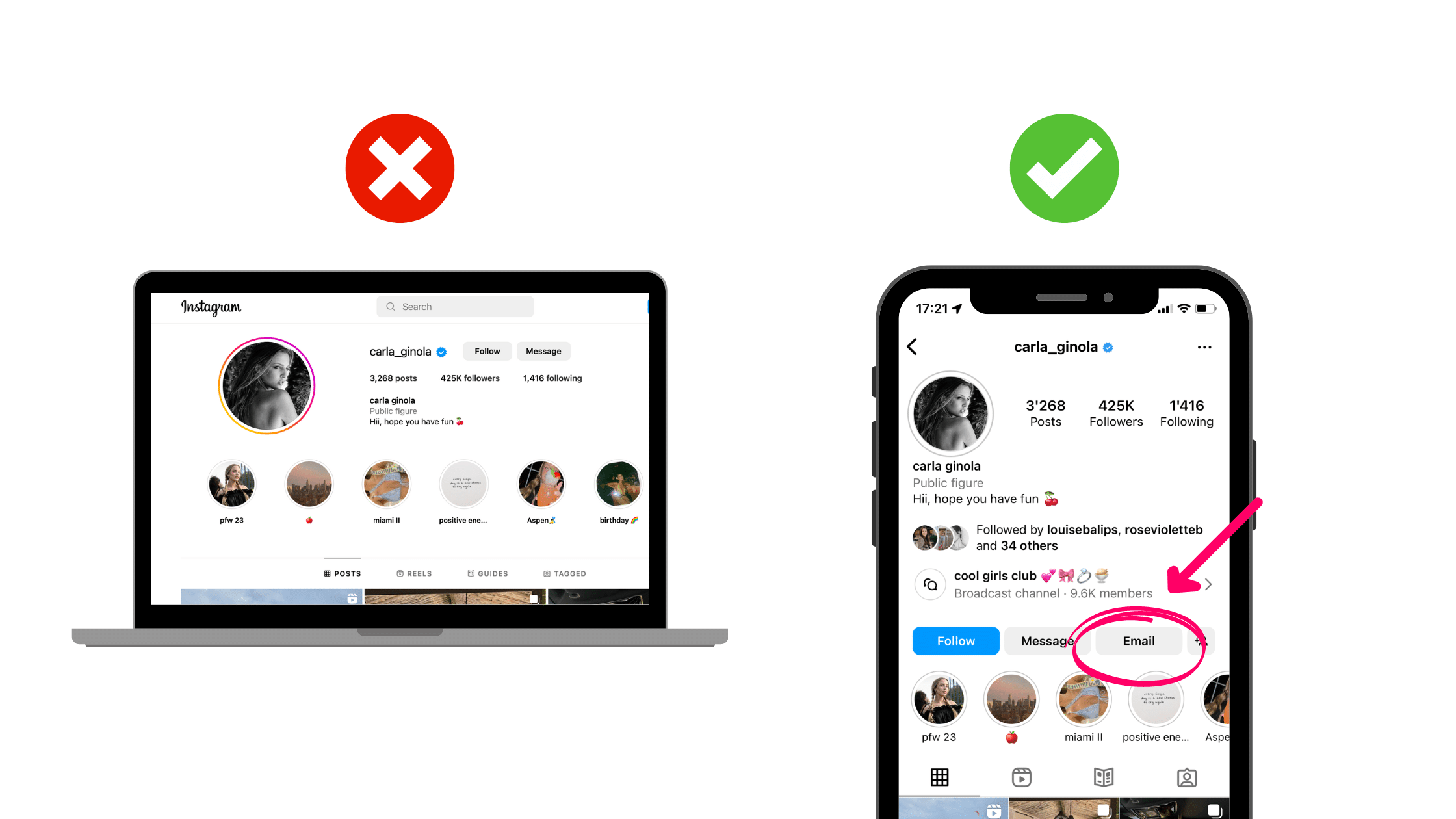 Launch the Instagram mobile app

Go on their other social media platforms

Check their bio for any email

Or spot the "email" button under their bio

Click on it

It will make your default email app pop up (like Gmail or Outlook), revealing their professional email.
That's your gateway to an Instagram profile email! If your interface seems off, consider an app update.
Now, how can I export that email into my CSV?
> Simply copy past the email once opened in your detault email app / see below an ex. On Apple Email: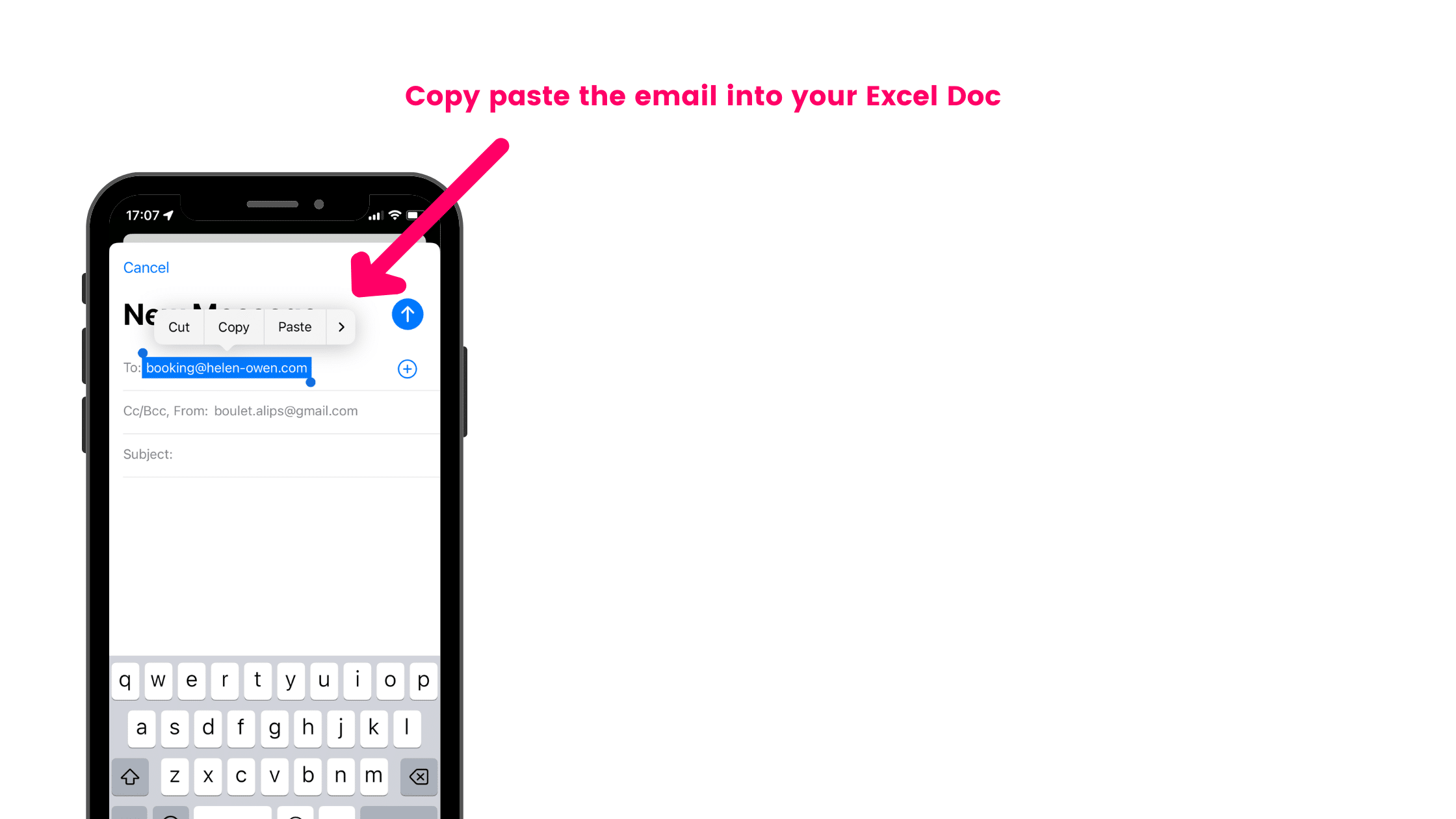 Most Instagram creators will feature their email address on their profile (my guess 70% of them).
However, if the influencer did not put their account as a "Business Profile", they will not be able to display it on Instagram – except for their bio.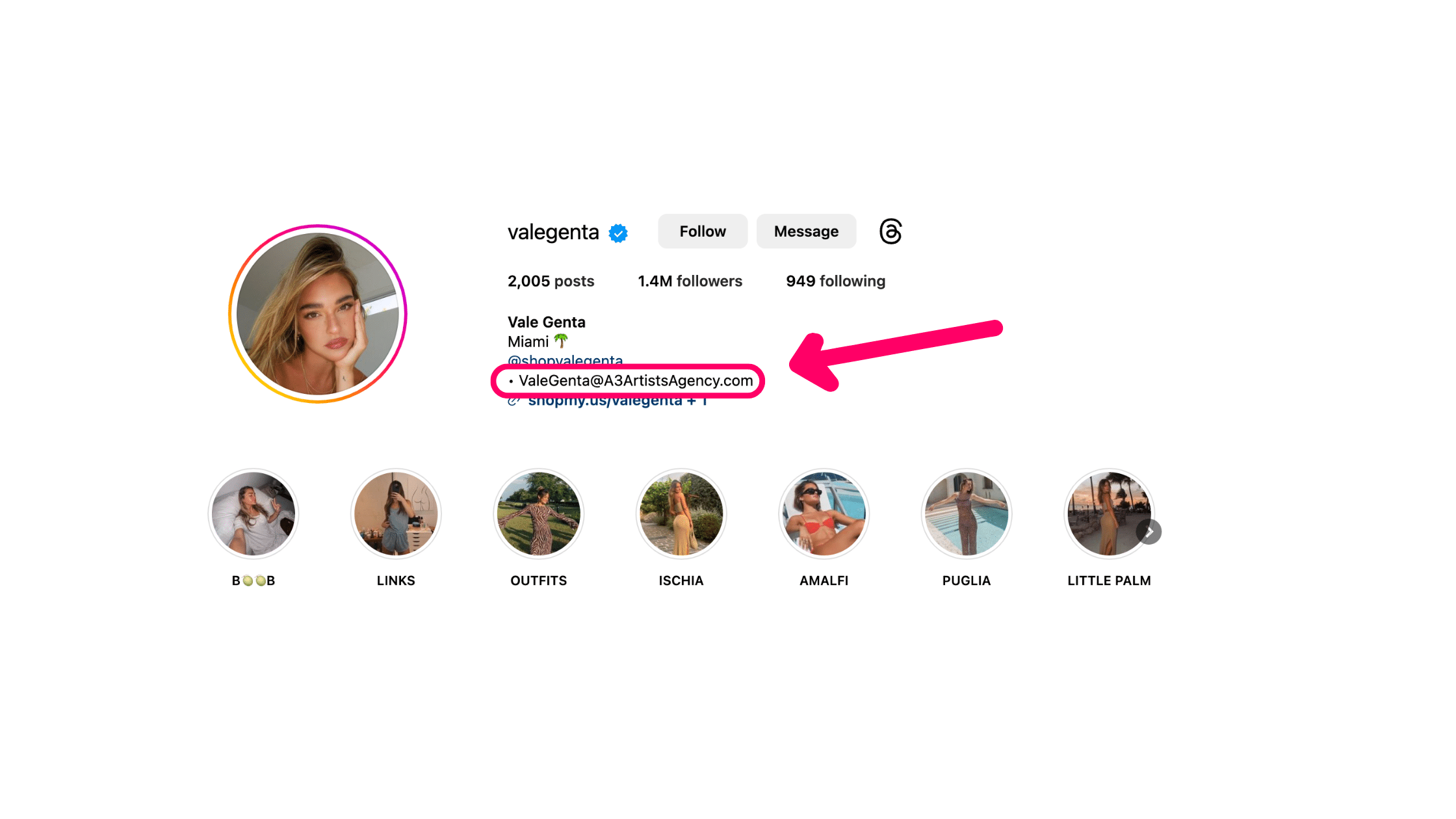 What if they have a different email on their bio than from their email button?
Surprisingly, this occurs. I'd recommend using the bio email, as they might've overlooked updating the email button.
> The bio is always more up-to-date
And if they do NOT display their email on Instagram?
Don't worry, we have a solution for that as well. 
See below.
2. Go on their other social media platforms
Can't find an email directly either in their bio? Expand your search.
If their email addresses aren't displayed on Instagram, they probably have them listed on different social media platforms.
Especially for influencers, it's rare that they only have one social media account. They usually are on TikTok, YouTube etc.
How to find the same account on other social media platforms? 
Here's the different options:
Check their links on their Instagram bio
> Many influencers provide links to their other accounts on Instagram, often using tools like Linktree.
> Due to a recent update of Instagram, Business profiles can now share multiple links in their bio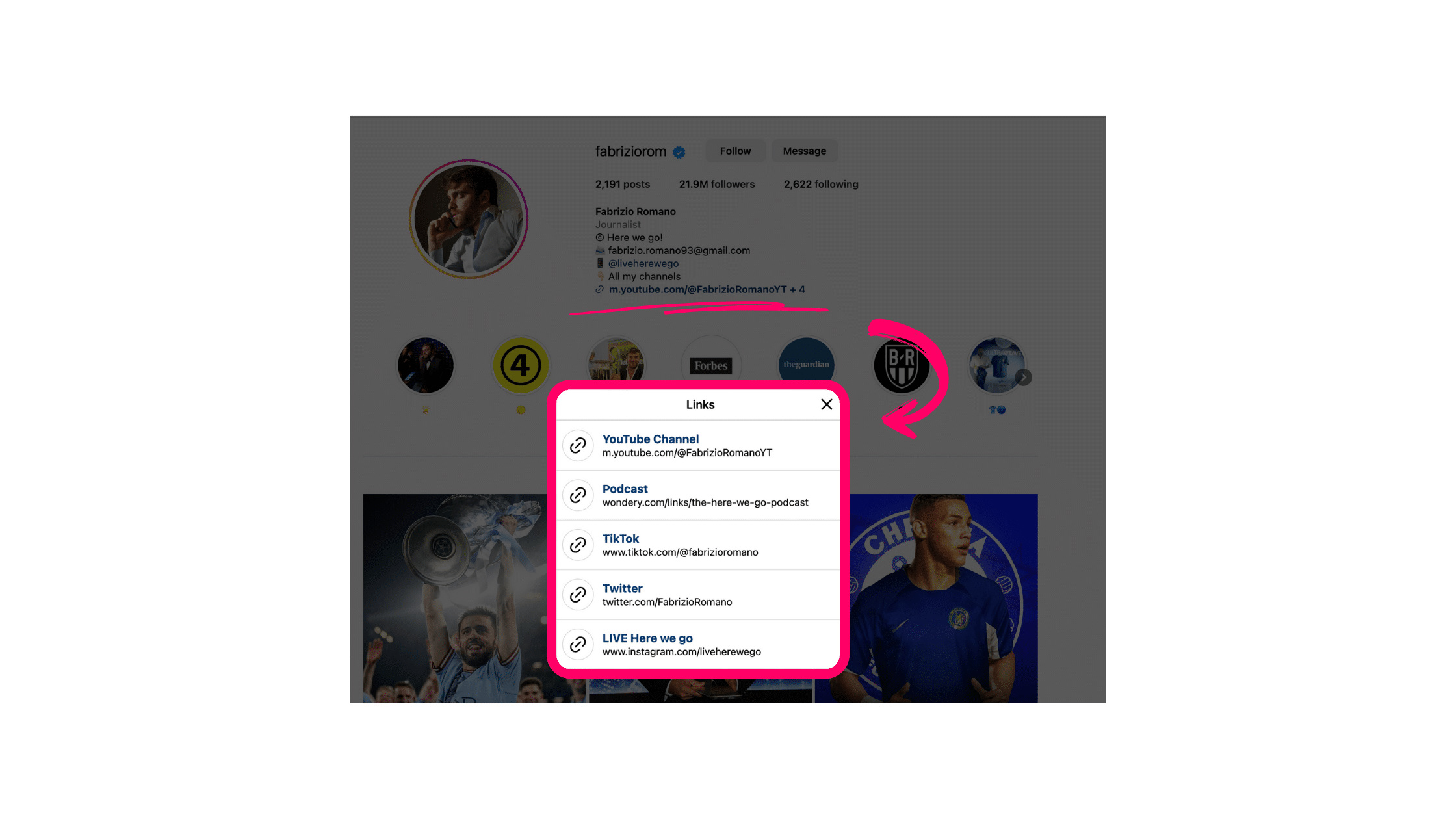 2. Use an Influencer Marketing tool like Click Analytic
> Using the Account Analytic feature for free on platforms like clickanalytic.com can be instrumental in identifying profiles of the same influencer across different platforms. 
> It's a very easy and automated way than can save you hours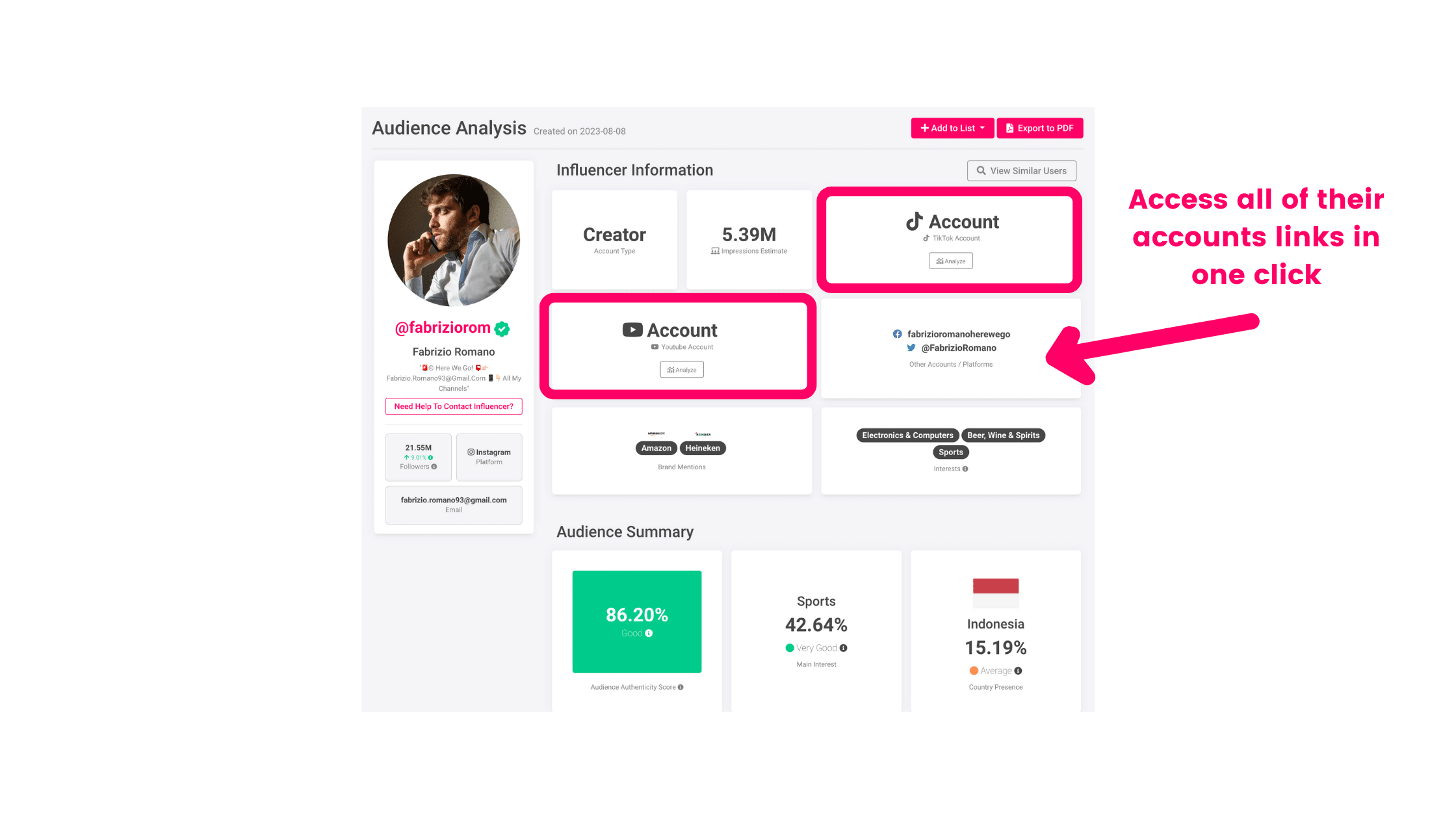 3. A simple Google search using the Instagram username can generate valuable results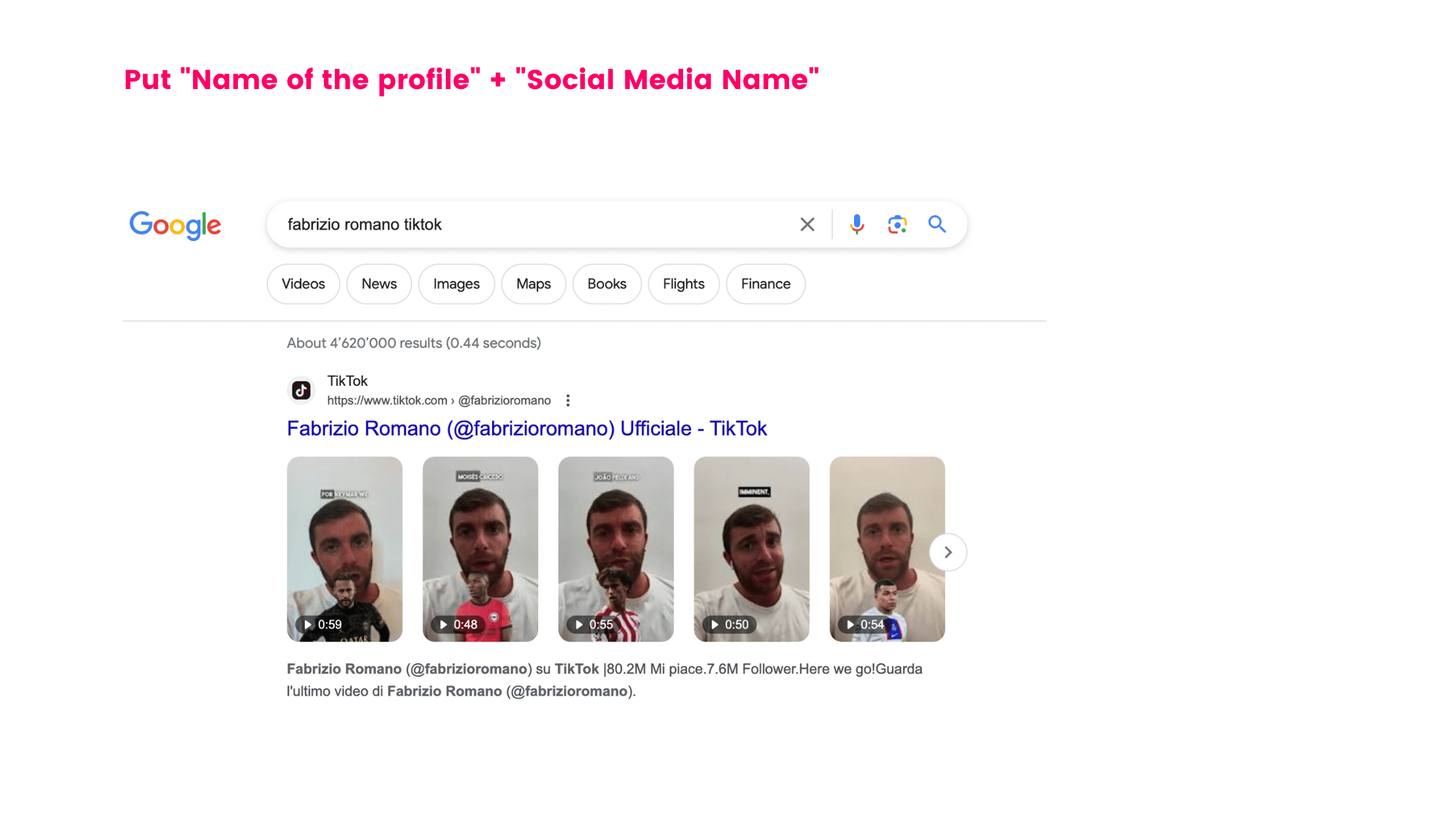 4. Alternatively, you can initiate a direct search on the desired platform using the influencer's known name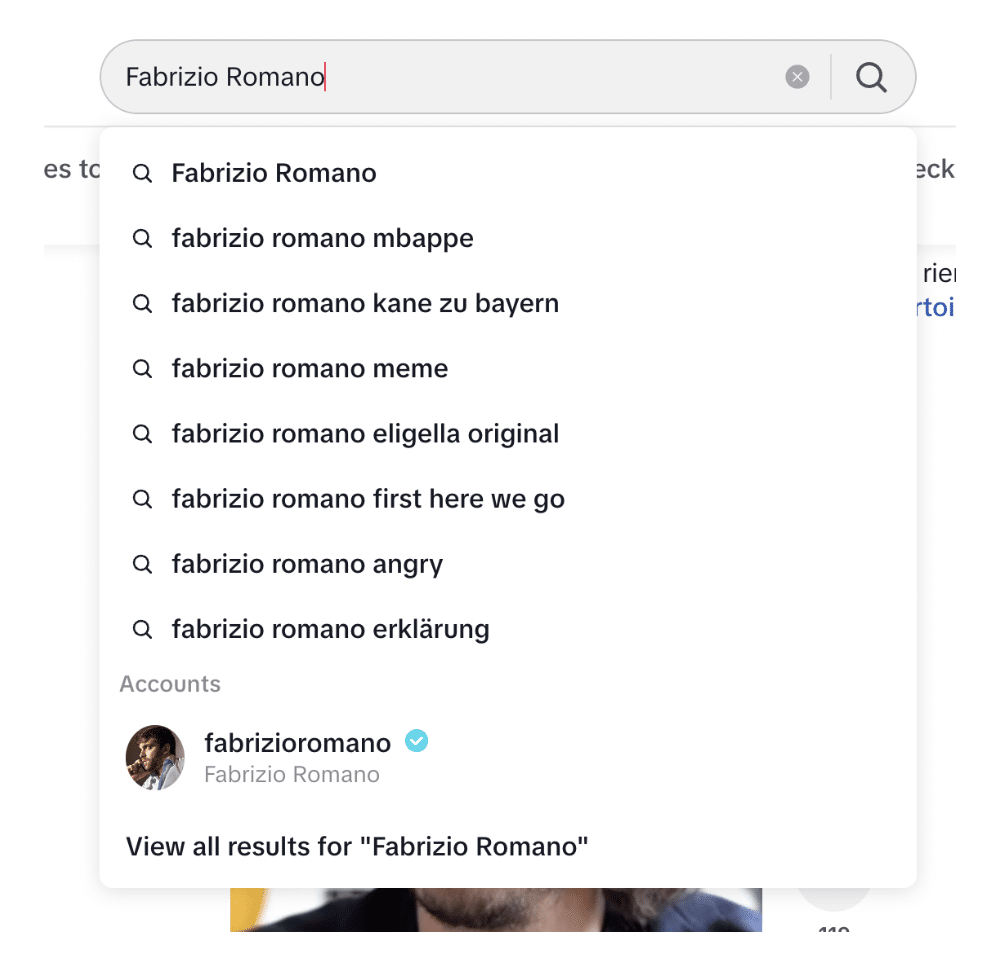 Great – you have now identified other social media accounts for the same Instagram Profile.
Now, where can you find the emails on these other platforms?
On YouTube = the profile 'About' section (ONLY via desktop)

For TikTok = the bio

On Facebook = the profile 'About' section
Pro Tip: Most of the time, Facebook profiles will share the email
You also have another option…
While it might sound straightforward, checking an influencer's website can be a goldmine for contact details!
As shared earlier, many Instagram profiles feature links on the bio.
> These links often lead to other social platforms and the influencer's personal or professional website.
Locating an email on a website is usually super easy!
Check out the example below:
Step 1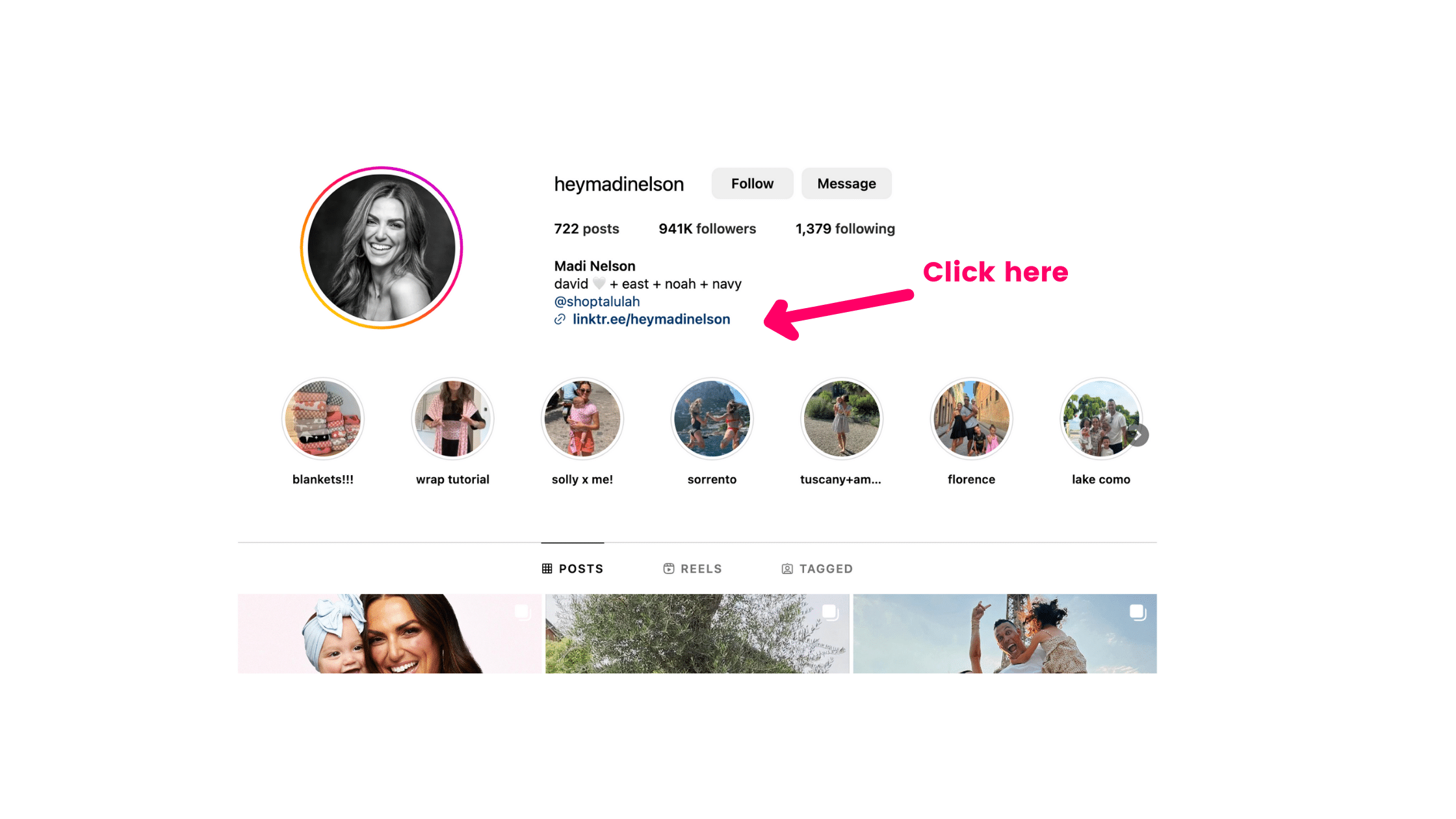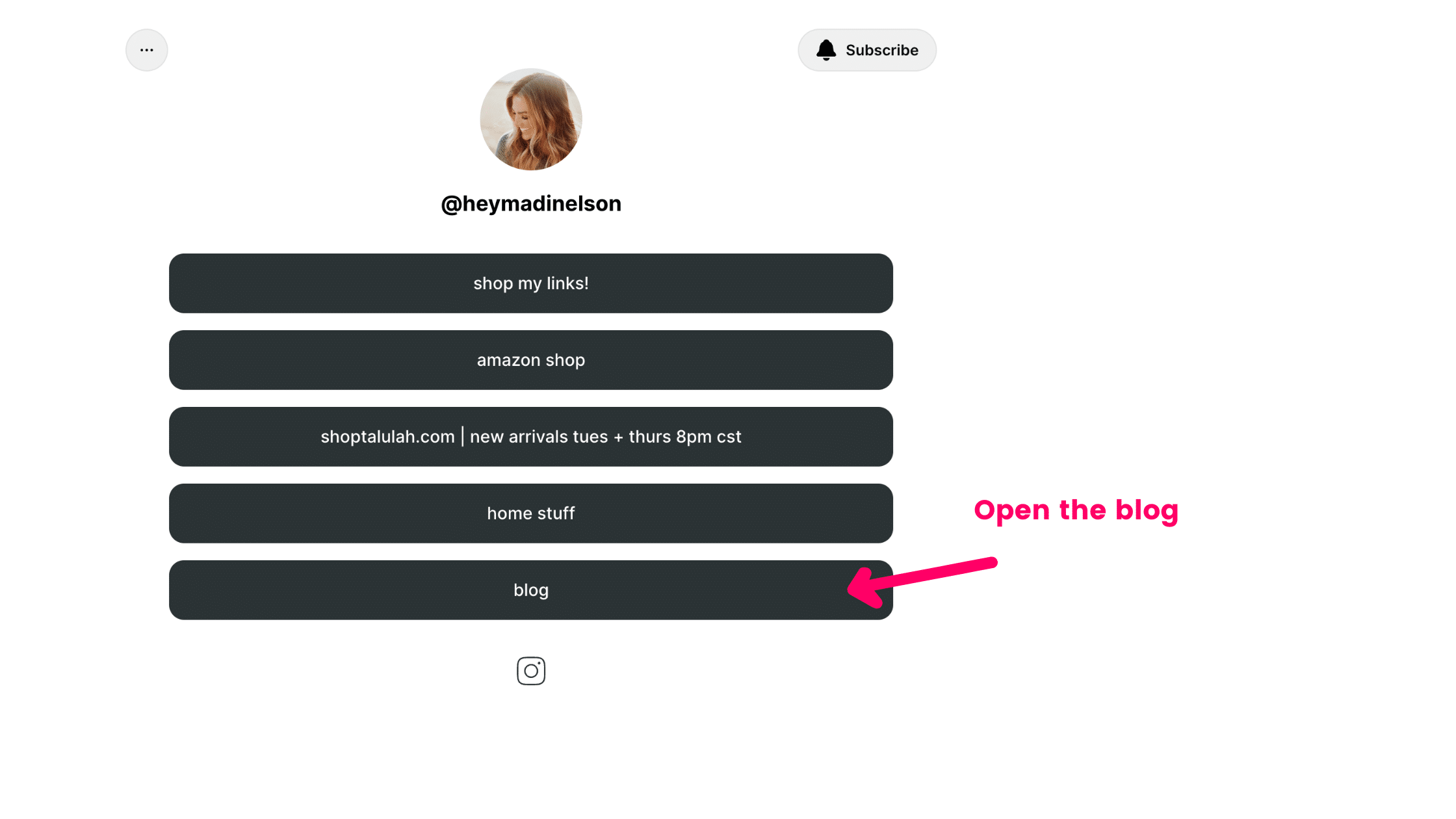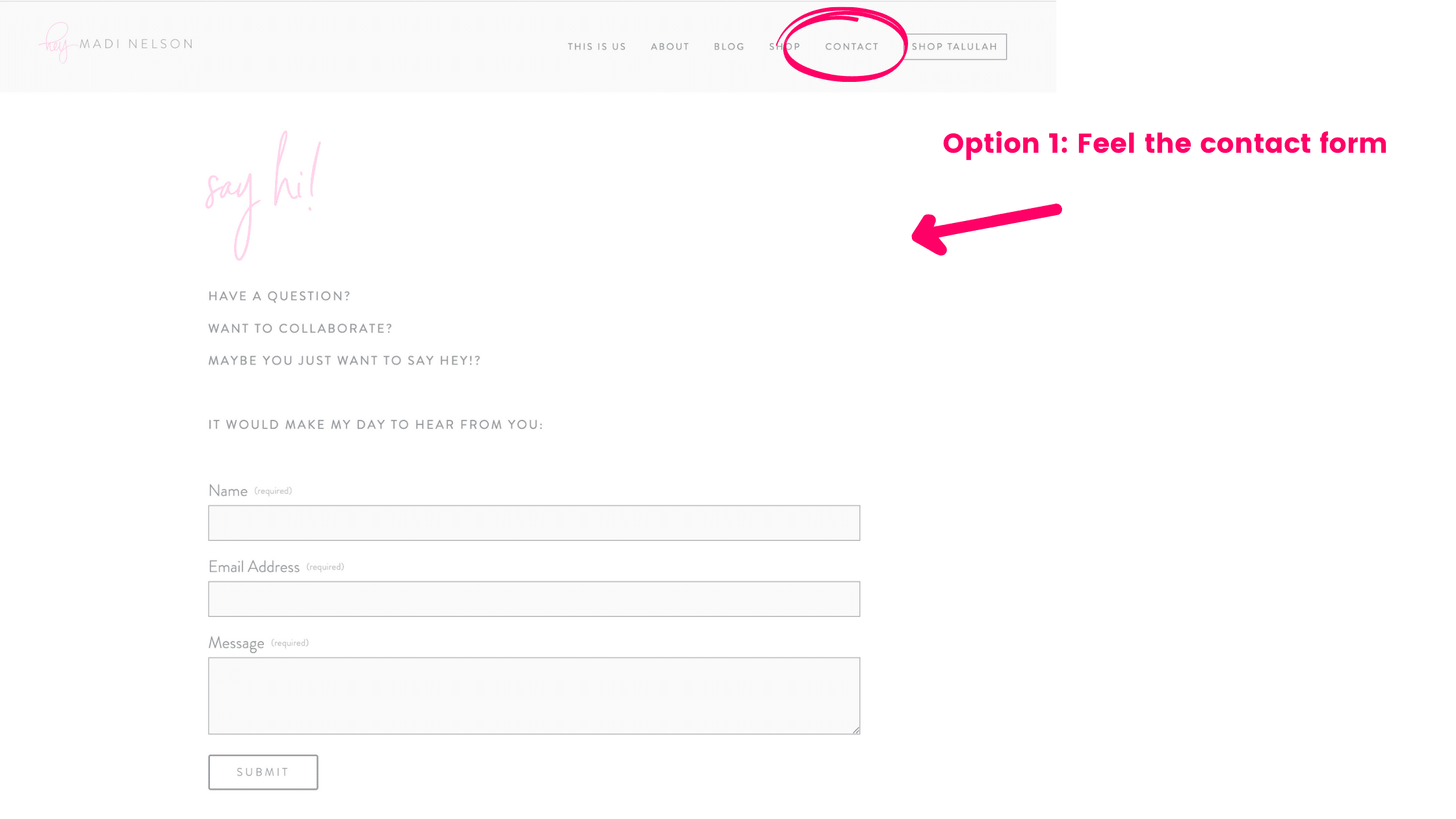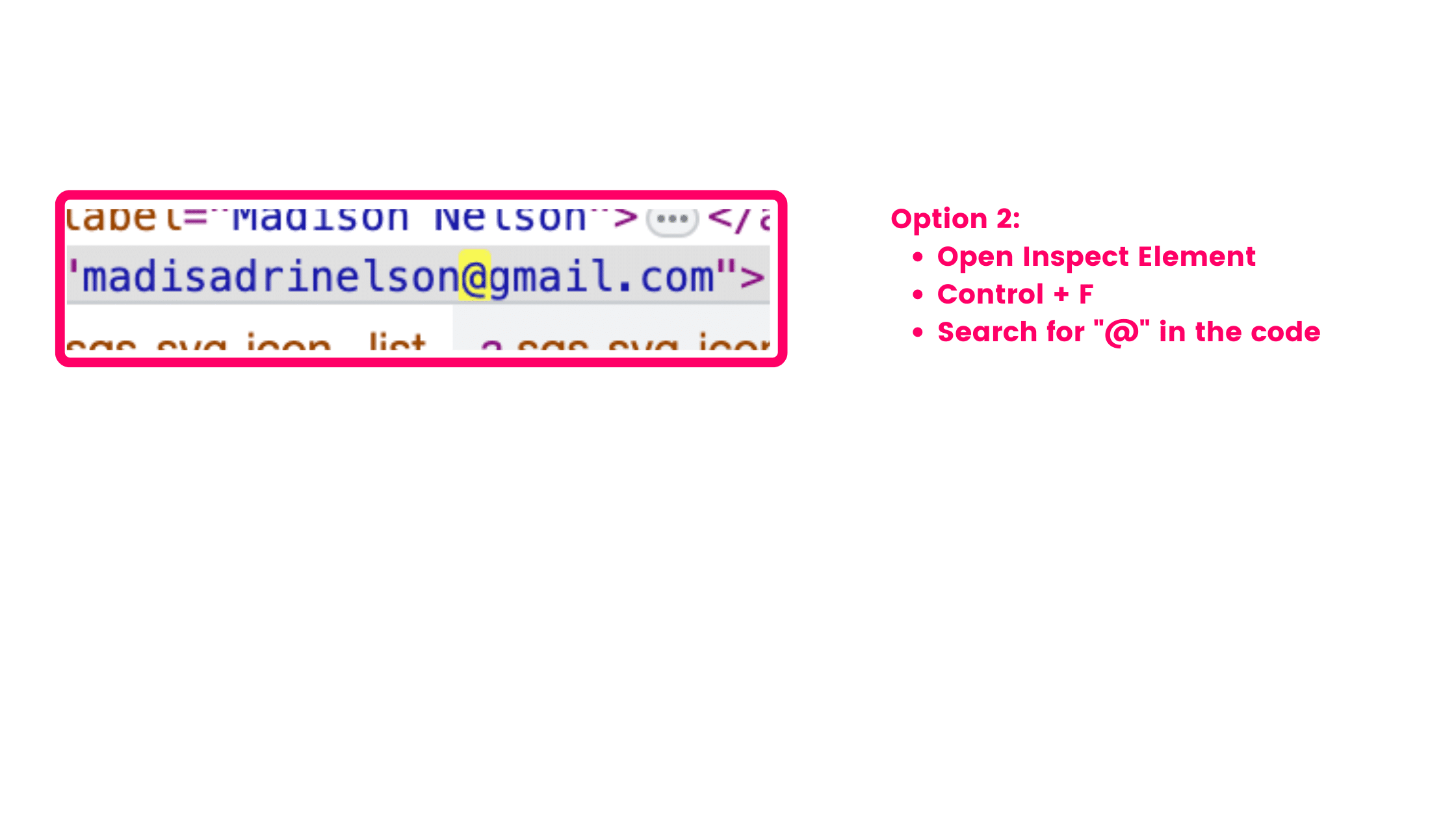 Pro Tip: Struggling to spot the email on a website?
> Tools like Snov.io can be a game-changer, automating the process of extracting emails from websites.
However, if you can't find the email of an Instagram profile on their website, you can also guess it.
4. Guess it with Hunter.io
Nowadays, there are also tools available that can intelligently predict and generate the email addresses you're after.
And the best part? It's a cinch to use!
According to several studies, 49% of companies use the same email pattern:
As you have now discovered the website or blog of the Instagram account that you want to contact.
You can usually get their first & last name from their Bio on Instagram – see below: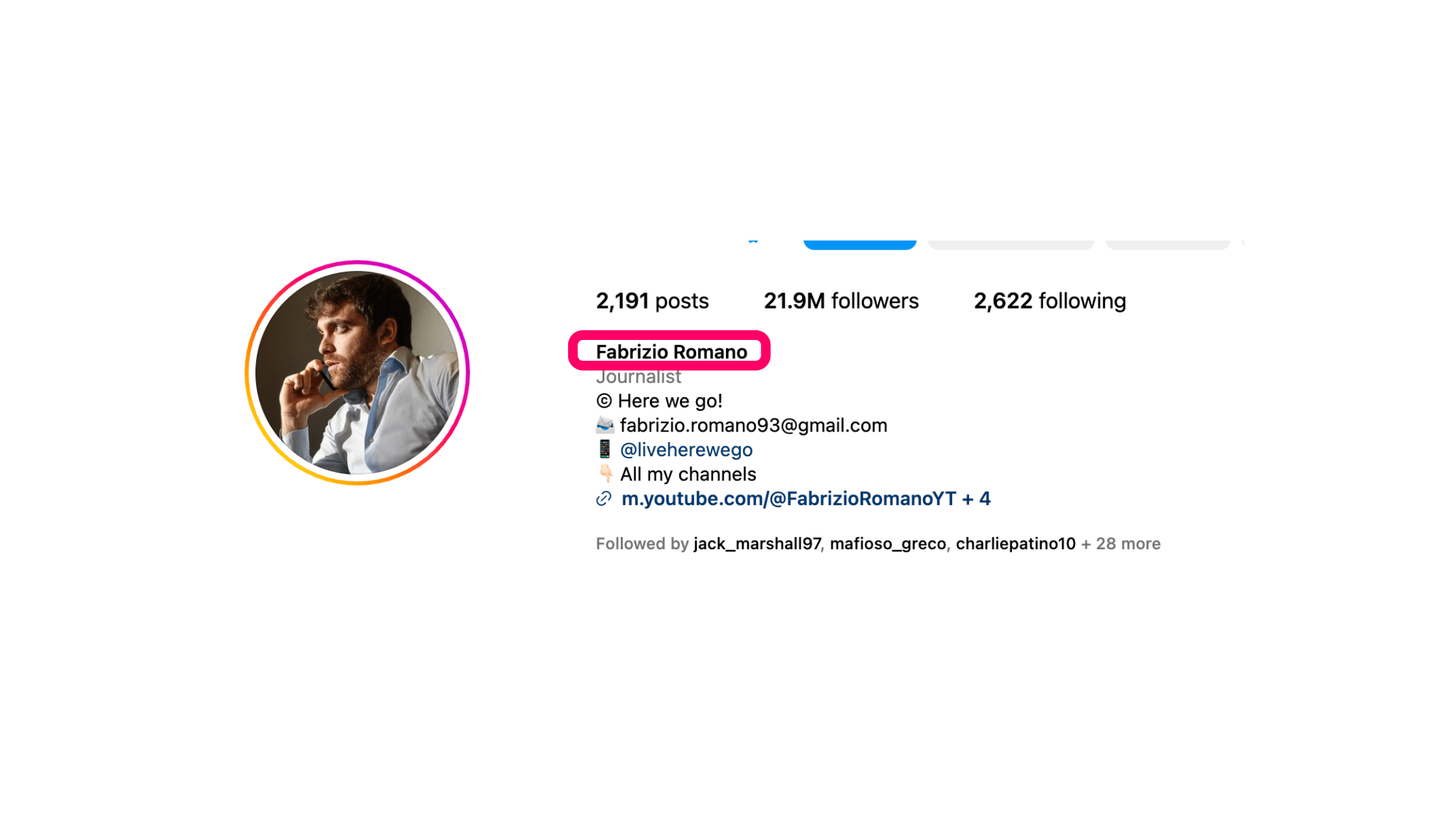 Now that you have all the information that you need to guess their email address you can either: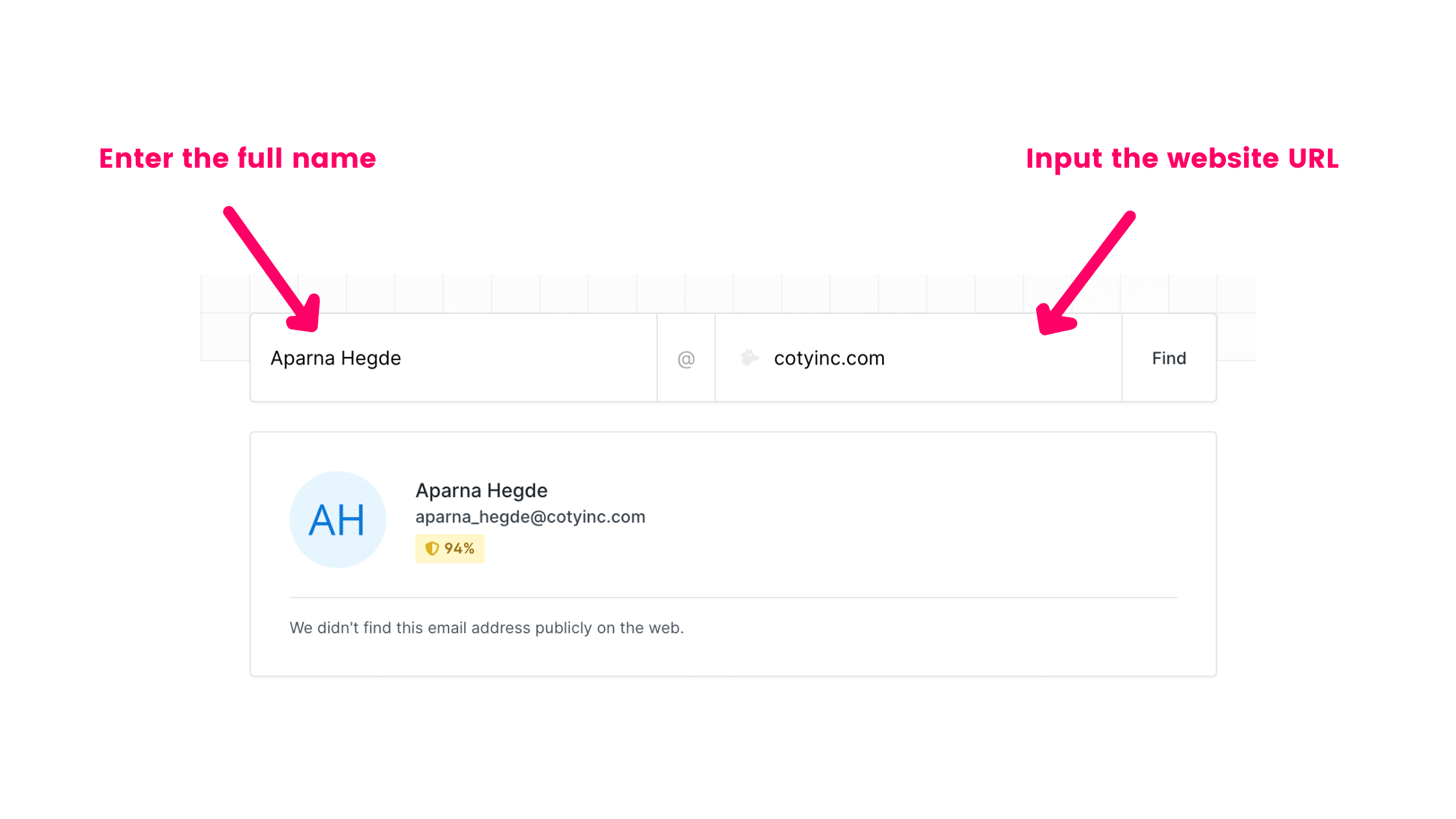 *Pro tip: You can also download their Chrome Email Finder extension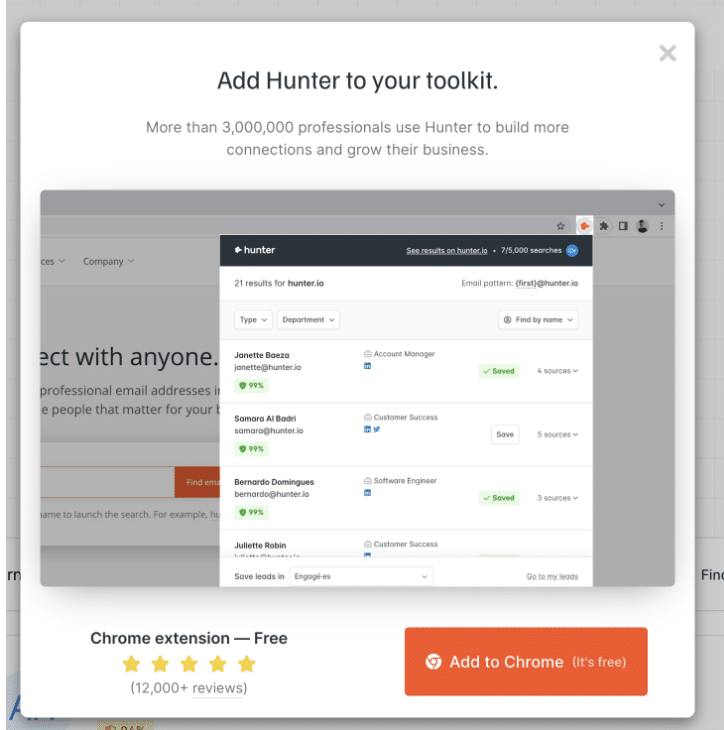 > Zero Bounce is also a great tool to validate email addresses, but you must guess the email yourself.
And you can do 100 trials for free per month!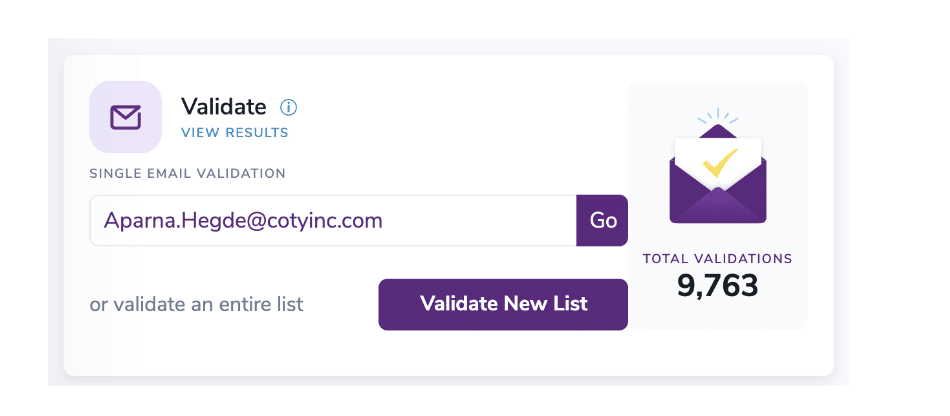 I have a good news! 
We have now checked MOST of the manual techniques to generate emails on Instagram.
BUT, I have other tips for you that can change your life… or at least save you hours.
Rather than spending time searching each account individually, you can use the power of an Instagram email finder such as Click Analytic. 
These tools can efficiently extract emails from thousands of influencers in one go.
5. Find bulk Instagram emails using Click Analytic
Click Analytic is a great tool for finding influencers, but also generating their Instagram emails. 
And the best part?
You can try it for free on several profiles.
Here's how it works:
> You have two ways that you can use this platform to find emails on Instagram profiles:
1. Generate a report on one influencer – it will unlock their email automatically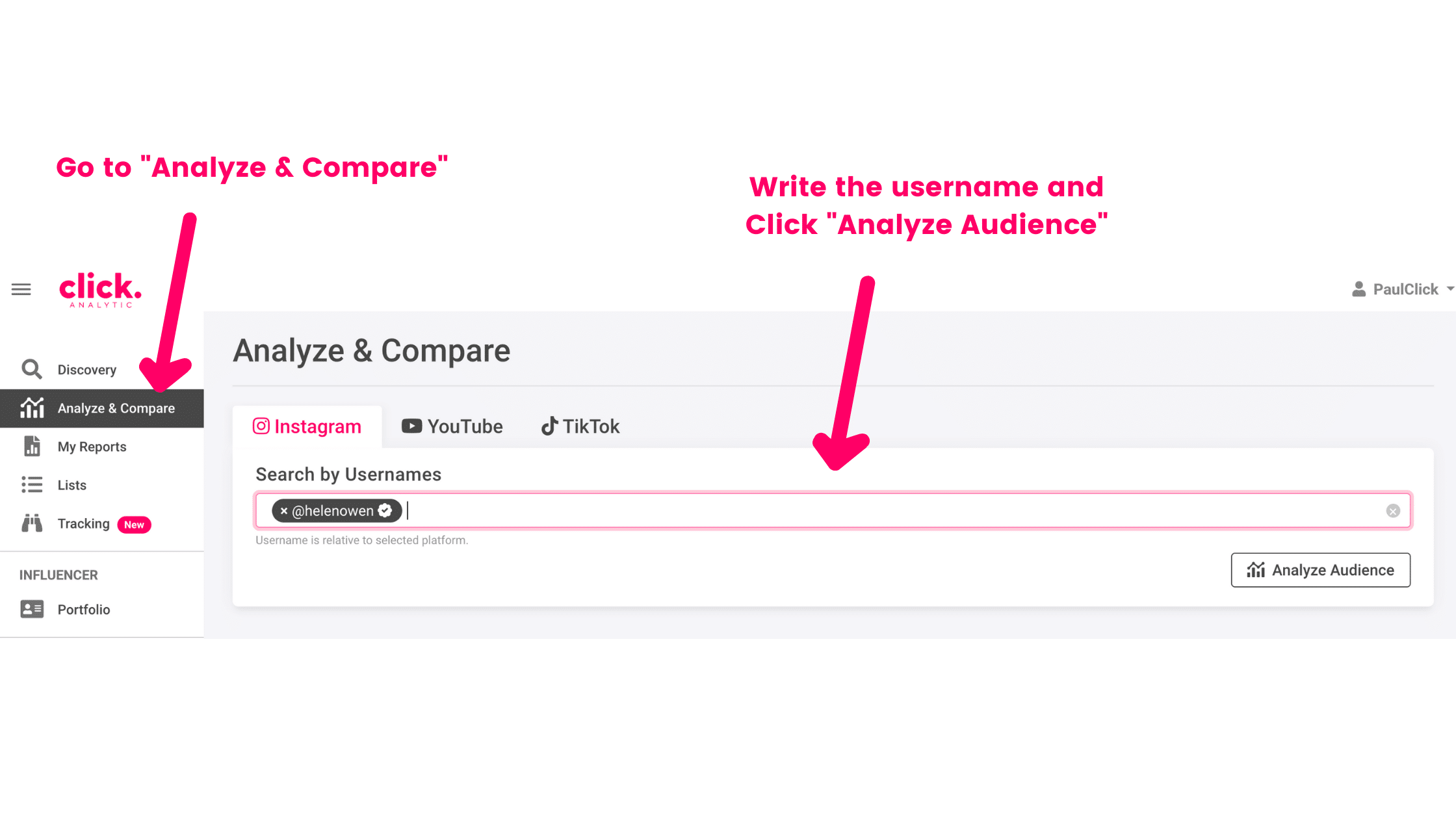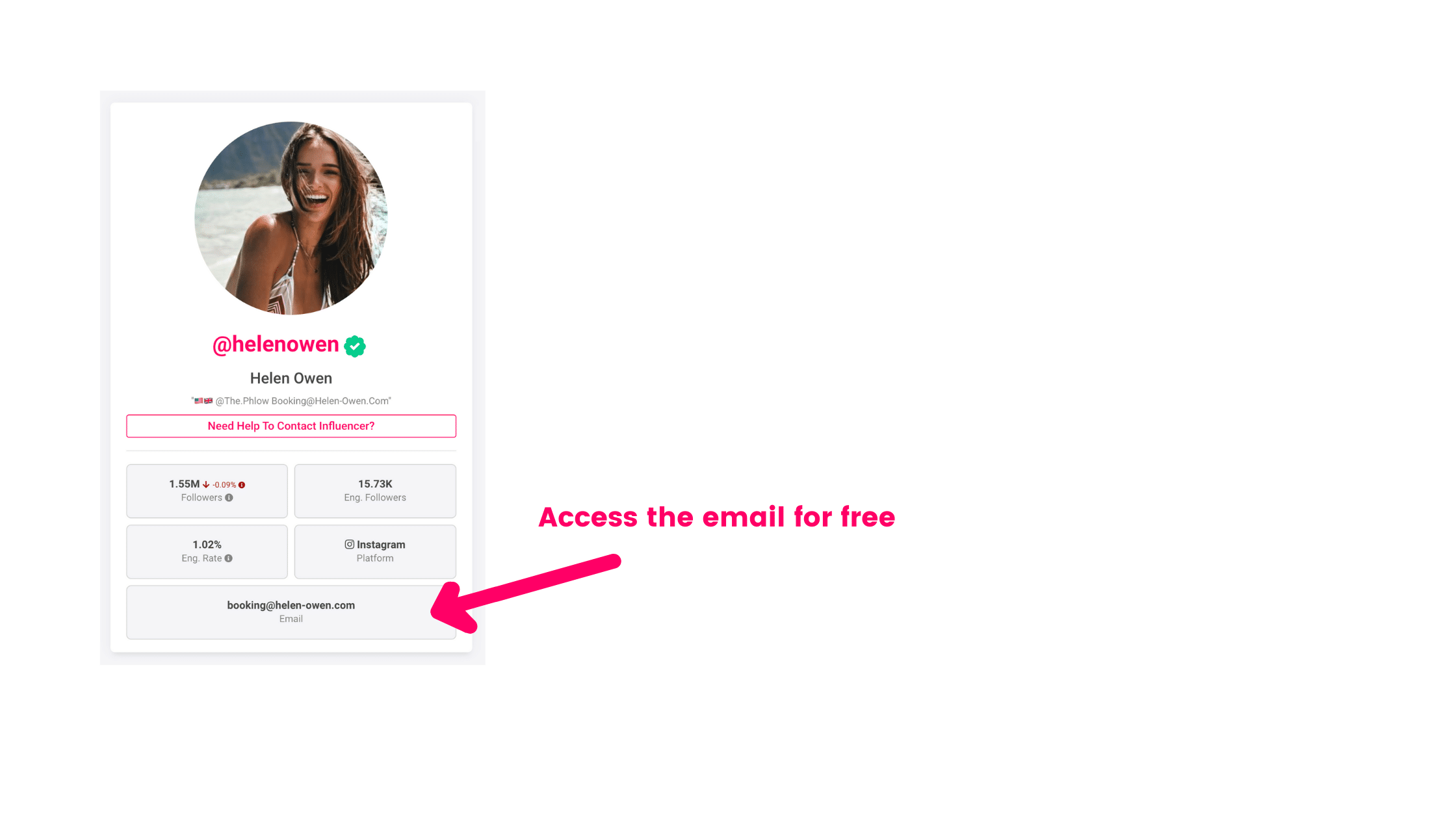 2. Add them to a list and unlock all their emails at once
If you already have a list of profiles, you can directly create a list on Click Analytic and enter each Instagram username in one click.
Then click again on the little locker emoji at the top of the column "Email Address" to unlock all of their emails at once.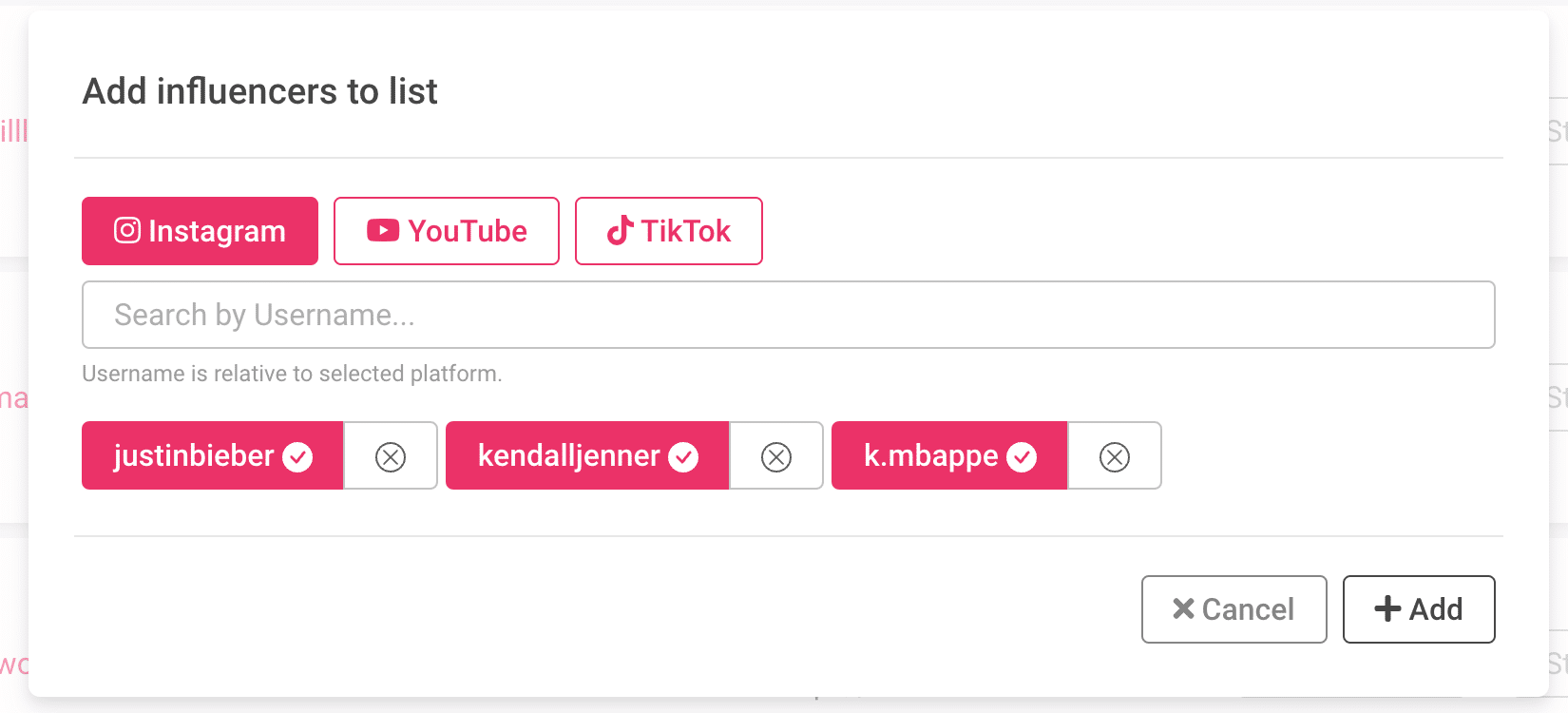 If you're starting without a list, Click Analytic can quickly help you build one and find the right influencer for your brand.
It has the most advanced creator database on the planet. Including every Instagram content creators with over 1k followers.
On the platform, you have the option to set filters focused on the influencer's attributes (e.g.  geo location, followers, engagement stats etc.).
In addition, you can also narrow down based on their audience characteristics, like demographics, location, or interests.
To share an example, I did a search below for female beauty influencers in New York City with 1-50k followers and with a minimum engagement rate of 4%.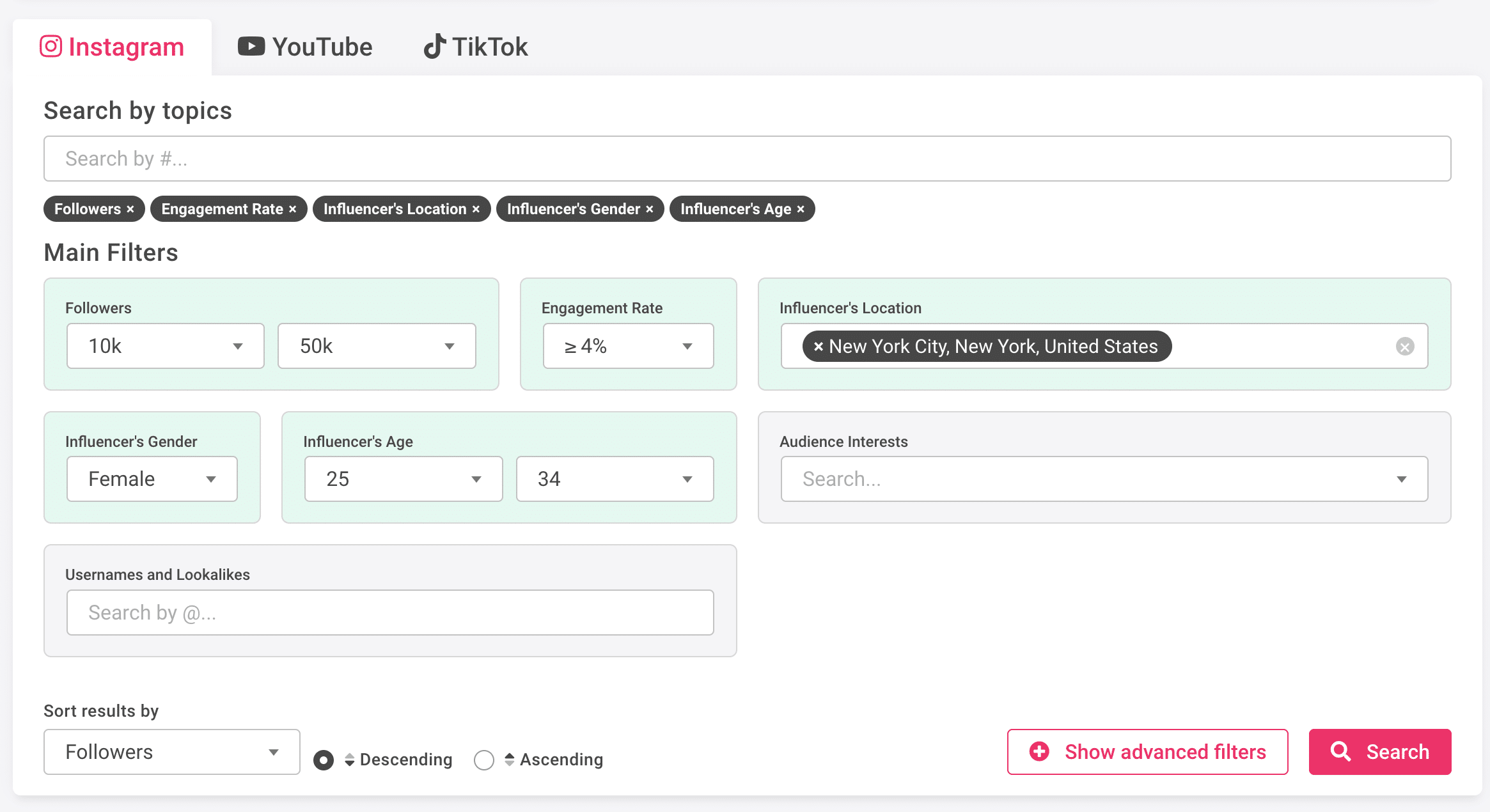 But that's not all! I could also add a filter to make sure that every influencer profile will have an email address available on their profile.
How to do that?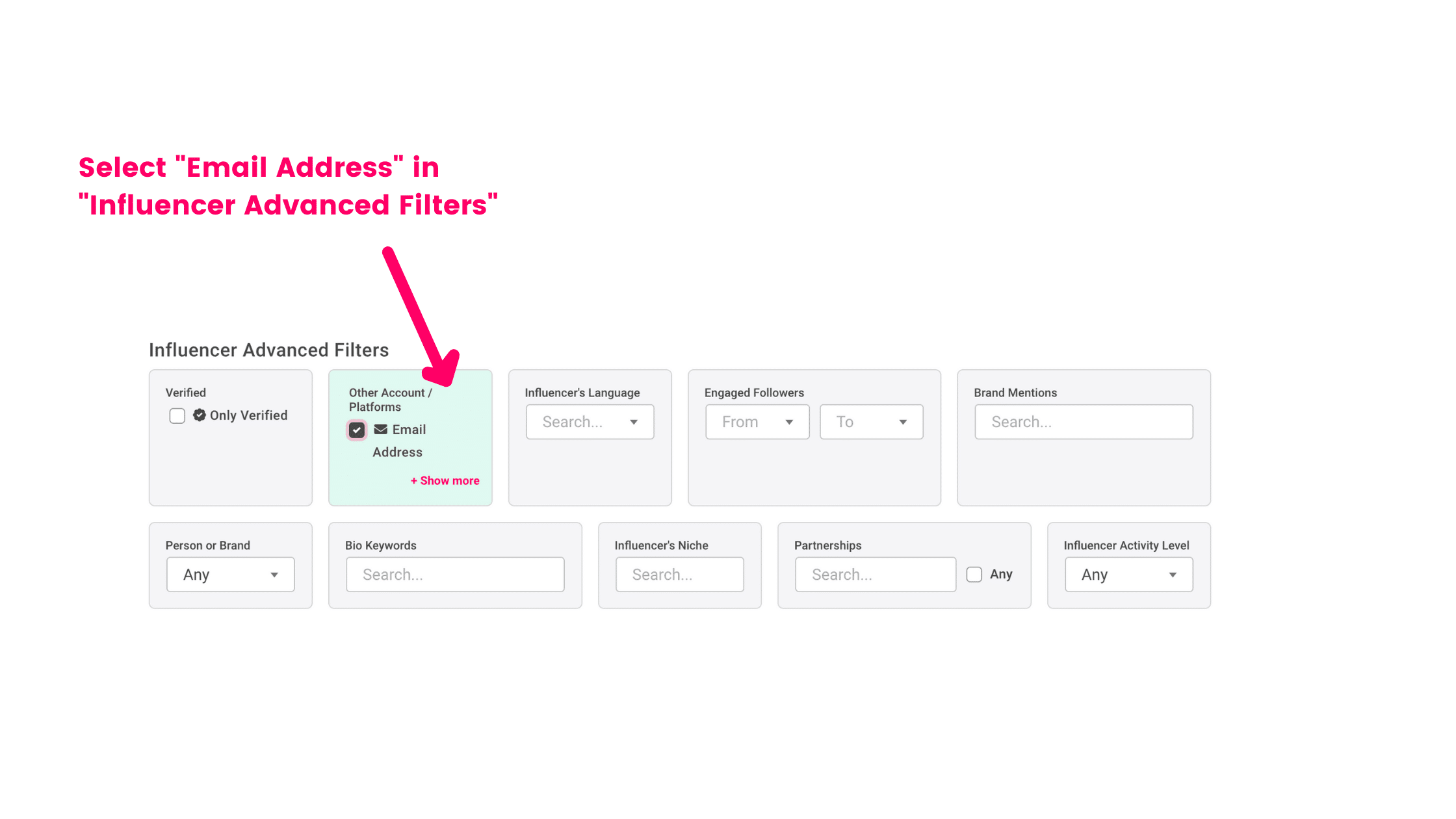 And just like that! I have a list of around 500 potential Instagram influencers fitting my specifications. 
I can dive deeper into their profiles, cherry-pick the top ones for a curated list, or conveniently save them all in one go.
Then, you can proceed with the same above method to mass export their emails.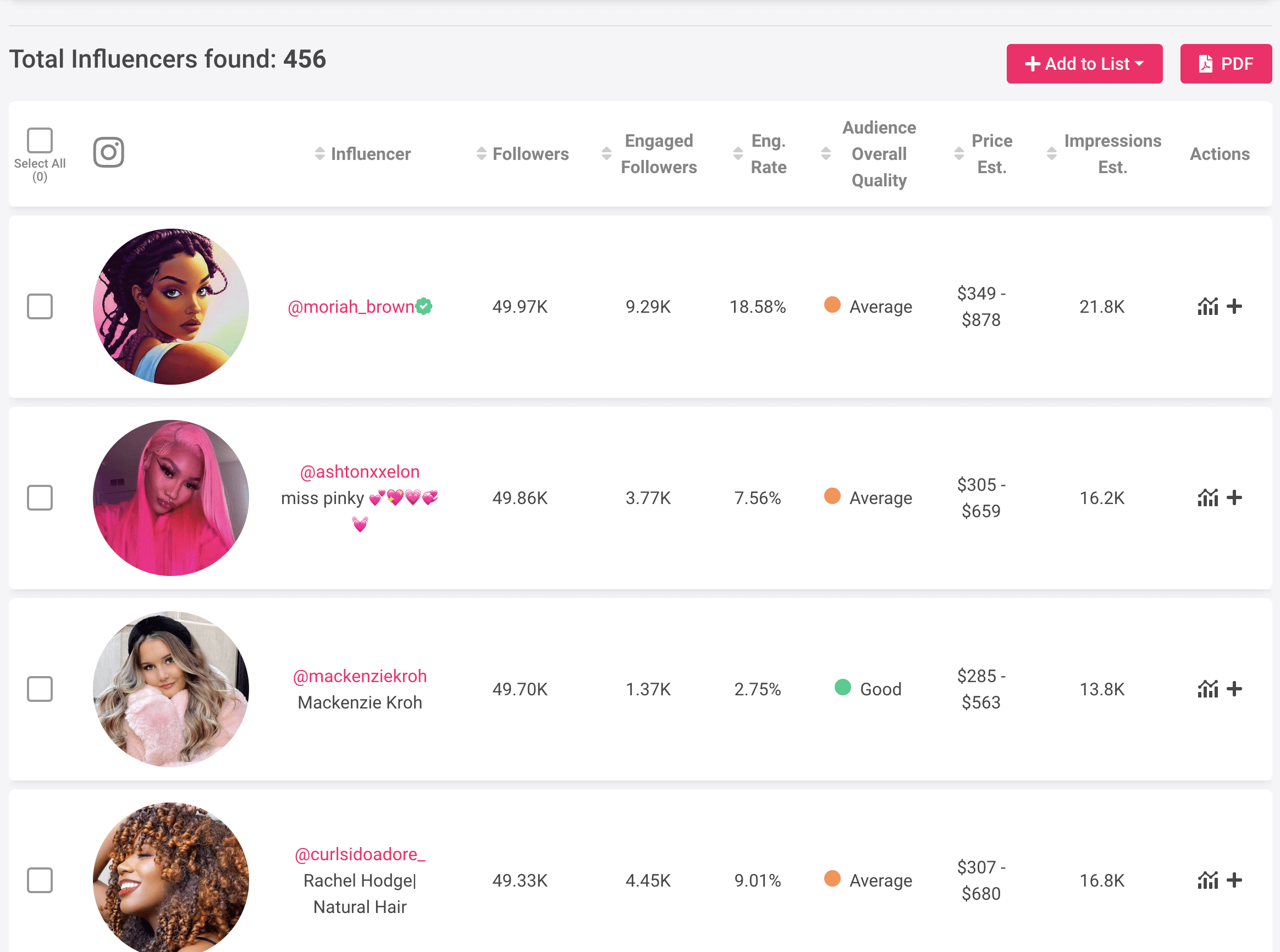 6. Use an Instagram email finder: PhantomBuster
In the digital age, tools like PhantomBuster not only simplify the process of finding emails on Instagram but also allow direct extraction into CRM systems or Excel documents. 
PhantomBuster stands out as one of the best Instagram email finder.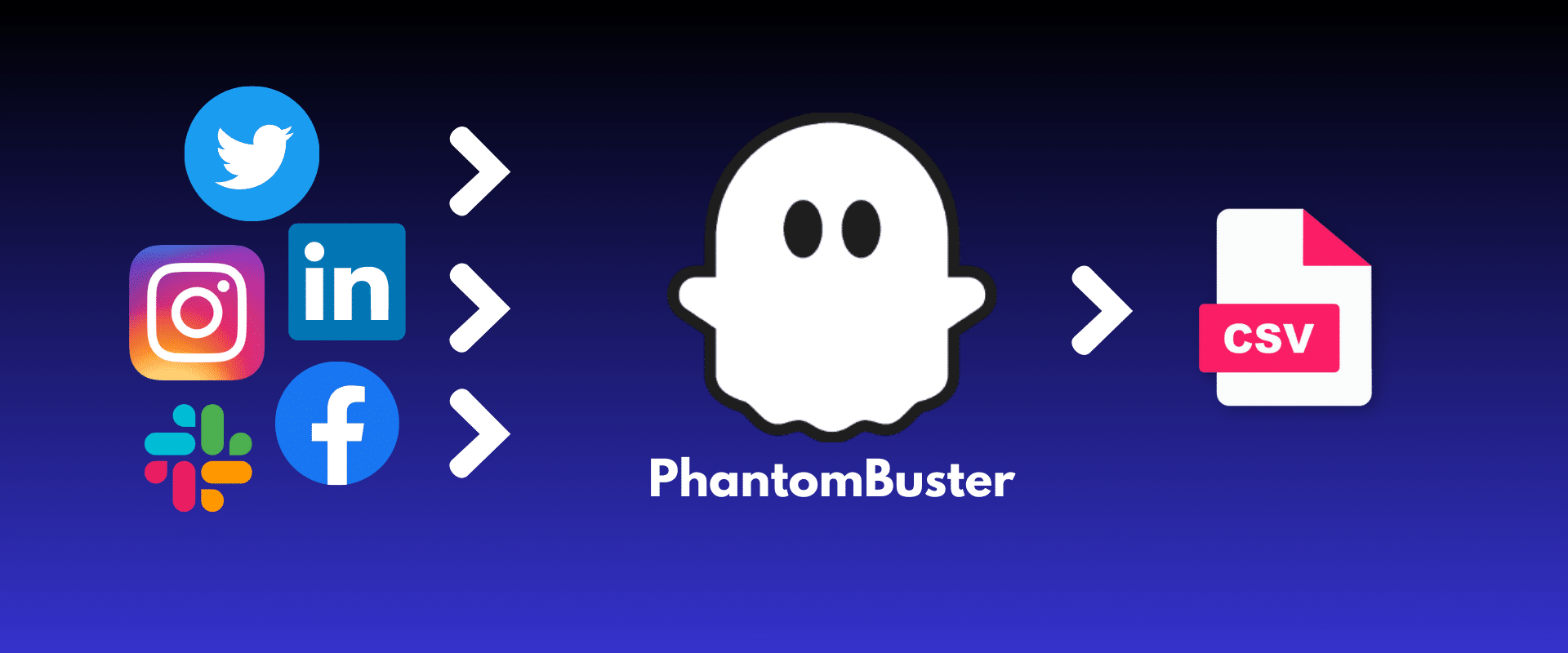 It automates lead generation

They crawl websites like Instagram etc.

Give you access to bulk raw data
Bonus: They also have a Chrome extension, which integrates with platforms like Instagram, LinkedIn, and more.
How does it work for Instagram emails?
PhantomBuster can help you extract email addresses that are embedded within the bios of Instagram profiles.
It will then send you all the emails into Spreadsheet or Excel file.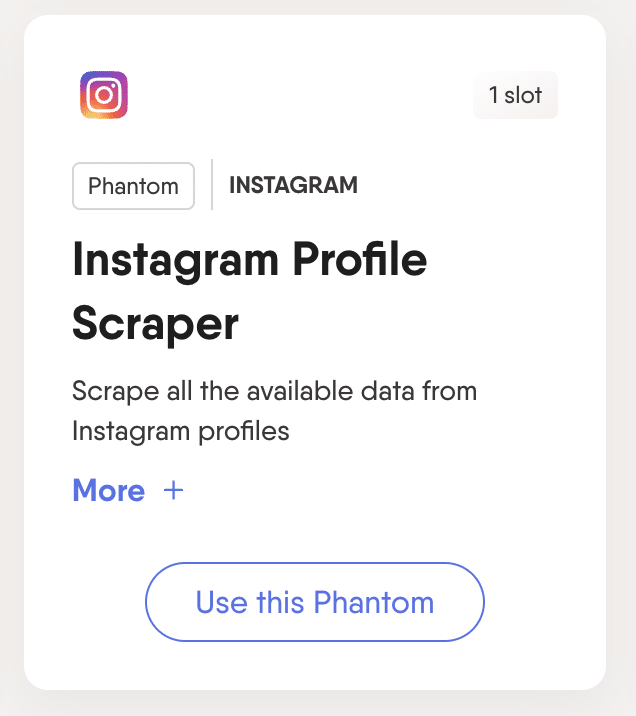 Important to note: To extract the data, PhantomBuster will need to use your own Instagram account. Thus, it's imperative to strictly adhere to their guidelines.
Pro Tips: It's worth noting that the tool is designed to scrape a maximum of 100 profiles on a daily basis.
You can check out their Instagram scrapers for more details.
7. Instagram security email (The SECRET TIP)
Navigating the digital maze sometimes requires a touch of ingenuity. 
This secret tip is the most undercover strategy to get an Instagram email quickly.
Believe it or not, this strategy is linked to "How to change your email on Instagram?".
I call it the "Sneaky Technique".
Here's how it works:
Navigate to the desired user on Instagram ;
(you can copy-paste it easily into the URL) ;
Sign out from your Instagram account ;
Input the username and opt for the "reset password" choice ;
And… Boom!
Doing this might prompt Instagram to directly display a hint, potentially revealing the user's email address.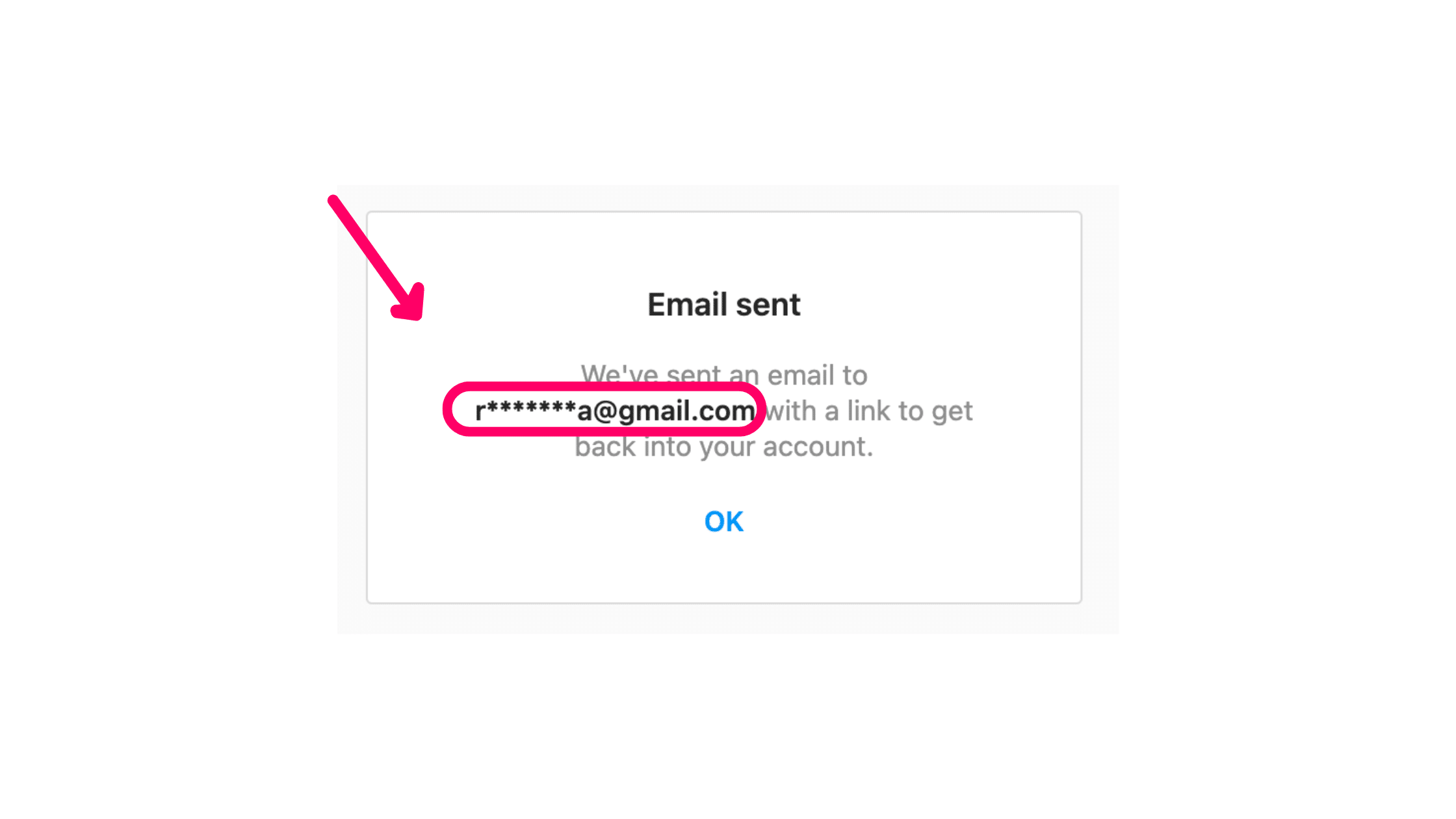 Pro-tip: Be aware, some users will have extra securities in place, making their emails inaccessible.
8. For celebrities – check their agent
If you are looking to contact a famous Instagram profile, which can be:
– an athlete;
– celebrity;
– or famous influencer
That might be your biggest challenge so far.
Celebrities rarely share their emails on their Instagram profile…
However, I can still give you an easy technique to manage to find a way to contact them, and it's not rocket science.
> You need to find their agent! 
Most celebrities will have agents, or even a big talent agency firm to represent them. You can use those two techniques to find their agents contact details:
1. Look up on Google and once you have the agency, look up on Linkedin using keywords search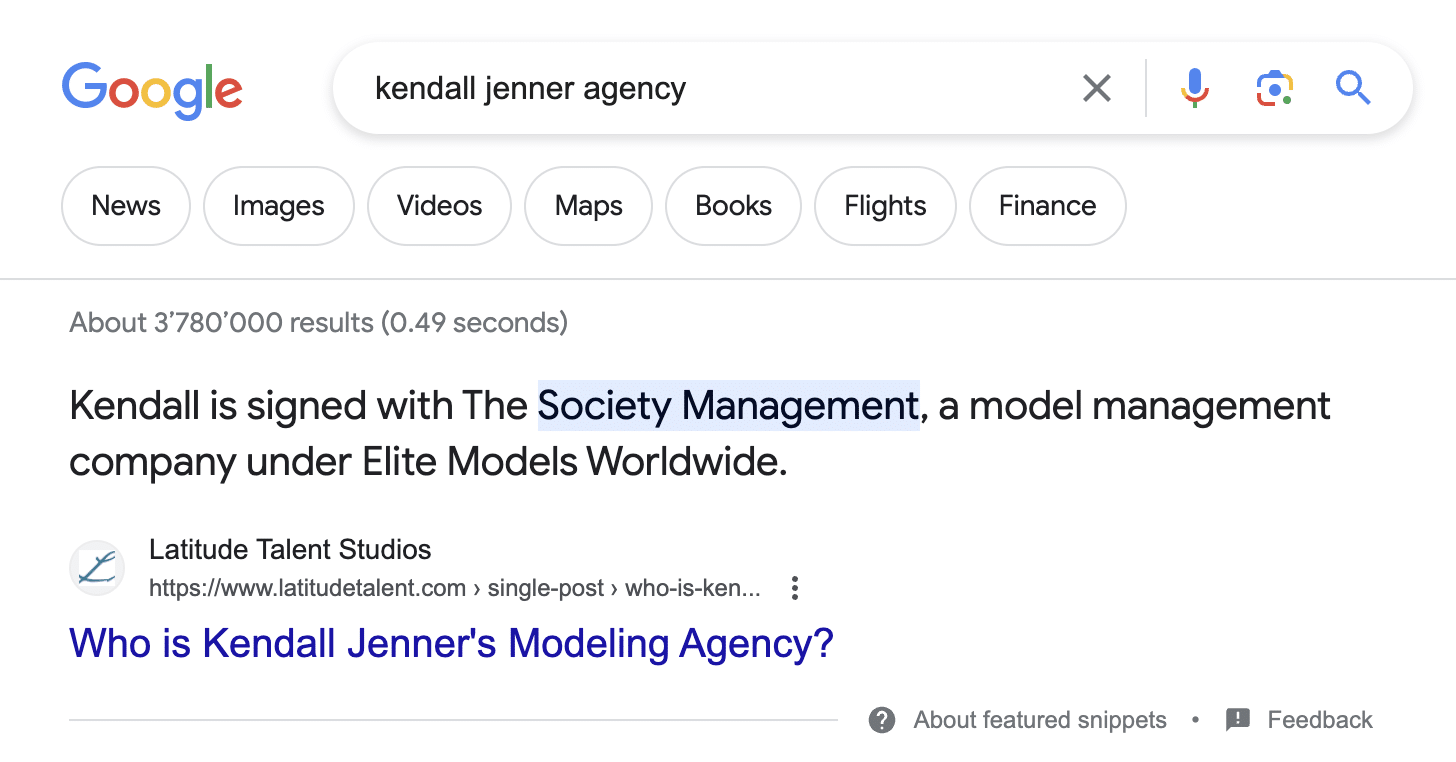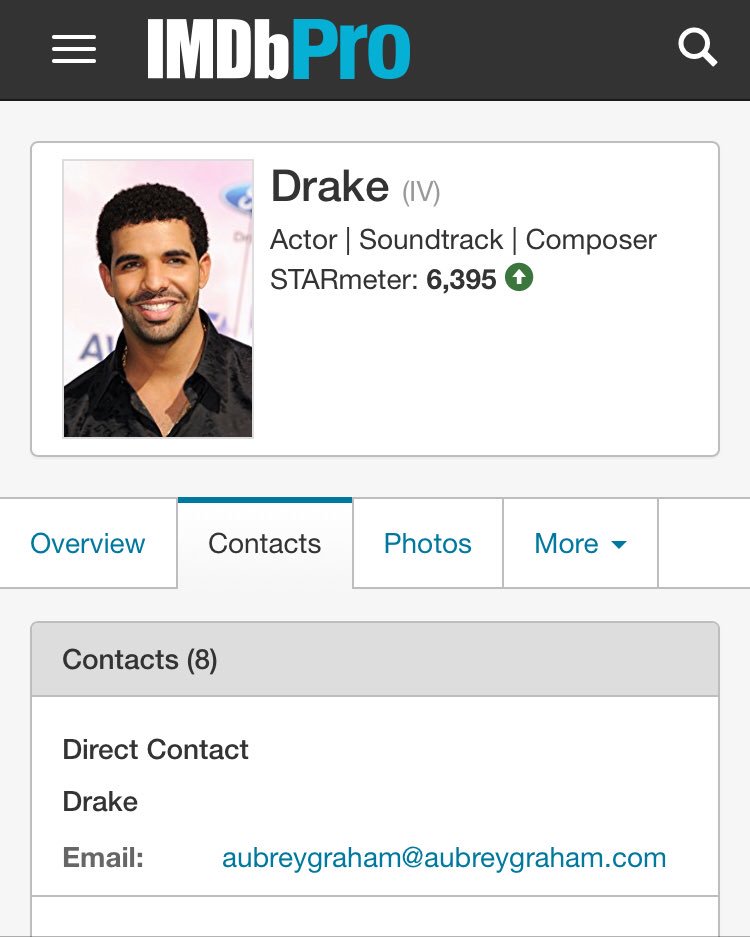 The last resource! If you tried every other method outlined above and it failed… Then try this.
(From my experience, this will only happen for less than 10% of your Instagram email search)
At times, people prefer to keep their email private, but you can still use the easiest solution of all… Just ask.
I know it's easier said than done…
If you are reaching out to an influencer or celebrity, they receive 100s of messages a day, and your message will probably get lost…
Unless you can craft a proposition that is genuinely compelling, they might be receptive.
Here's my specific technique to get influencers to answer:
1. Show interest (follow them + comment on their social media content)
2. Craft a message that provides value for them
3. Drop a DM
Pro-tip: Be aware Instagram recently released an update concerning DMs.
You cannot send multiple DMs if your initial request wasn't accepted.
I hope all these tools were helpful! 
Now, I have an extra tip to share with you.
As you are looking to generate the emails for Instagram profiles, you are probably looking for ways to contact influencers or content creators. 
The question is should you contact them by DM or email? My answer is – email 100%. But why?
Why is email essential for influencer Outreach?
In the digital age, where direct messaging on platforms like Instagram seems instantaneous and convenient, one might wonder about the efficacy of traditional outreach methods. 
However, when establishing genuine, professional connections with influencers, the Instagram email approach is the most effective.
Here's why:
Depth & Detail:

Unlike DMs, emails allow for a comprehensive introduction of your brand. It's a selling pitch – you need the space to detail your message.
Professionalism:

Sending an email, especially when using an Instagram email finder to get the right contact, underscores your seriousness about the collaboration.

It separates you from the casual DMs.
Follow-ups:

Due to the amount of requests that they receive, you will need to do follow-ups to be able to generate more replies. This option is now not possible in DMs.
In conclusion, while DMs have their place in casual interactions, when it comes to business collaborations, leveraging tools like an Instagram email finder and reaching out via email remains the gold standard.
Conclusion on how to find someone's Instagram contact email?
Here we are! I shared all my tips and experience on how to find someone's Instagram email.
To resume:
In today's digital world, finding an email can be quite a challenge as much as it is a necessity. 
Here's my final feedback for you:
Tools Matter:

Platforms like ClickAnalytic.com or Hunter.io are revolutionizing the space. With automatic email guessing and browser extensions, they're making the process seamless.
Old-School Charm:

For those who lean towards traditional methods, Zero Bounce offers manual email guessing. Sometimes, the classic ways still shine.
Simplicity Wins: Don't underestimate a basic Google search. Armed with just an Instagram username, you might strike gold.
As you dive into Instagram email hunting, blend persistence with the right tools. The path might be challenging, but with these insights, you're set for success. 
Happy hunting!
Influencer Marketing Articles
Actionable tips to get more success with influencer marketing campaigns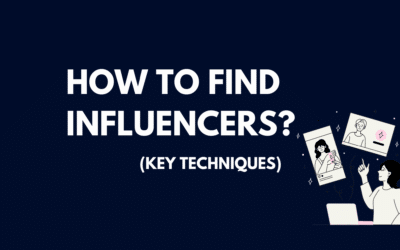 Looking for an influencer on Instagram?
In this article, we list the 5 secret hacks used by top marketers to identify Instagram Influencers.
Including ChatGPT tips, AI search tools, manual hacks and more.
read more
Try our Influencer Marketing Platform for free
Enjoy free searches & analyses
create your first list