TikTok is a superior platform for promoting your Influencer campaigns. This is due to its advanced algorithm, refined tools for maximum content optimisation and its variety of advert formats.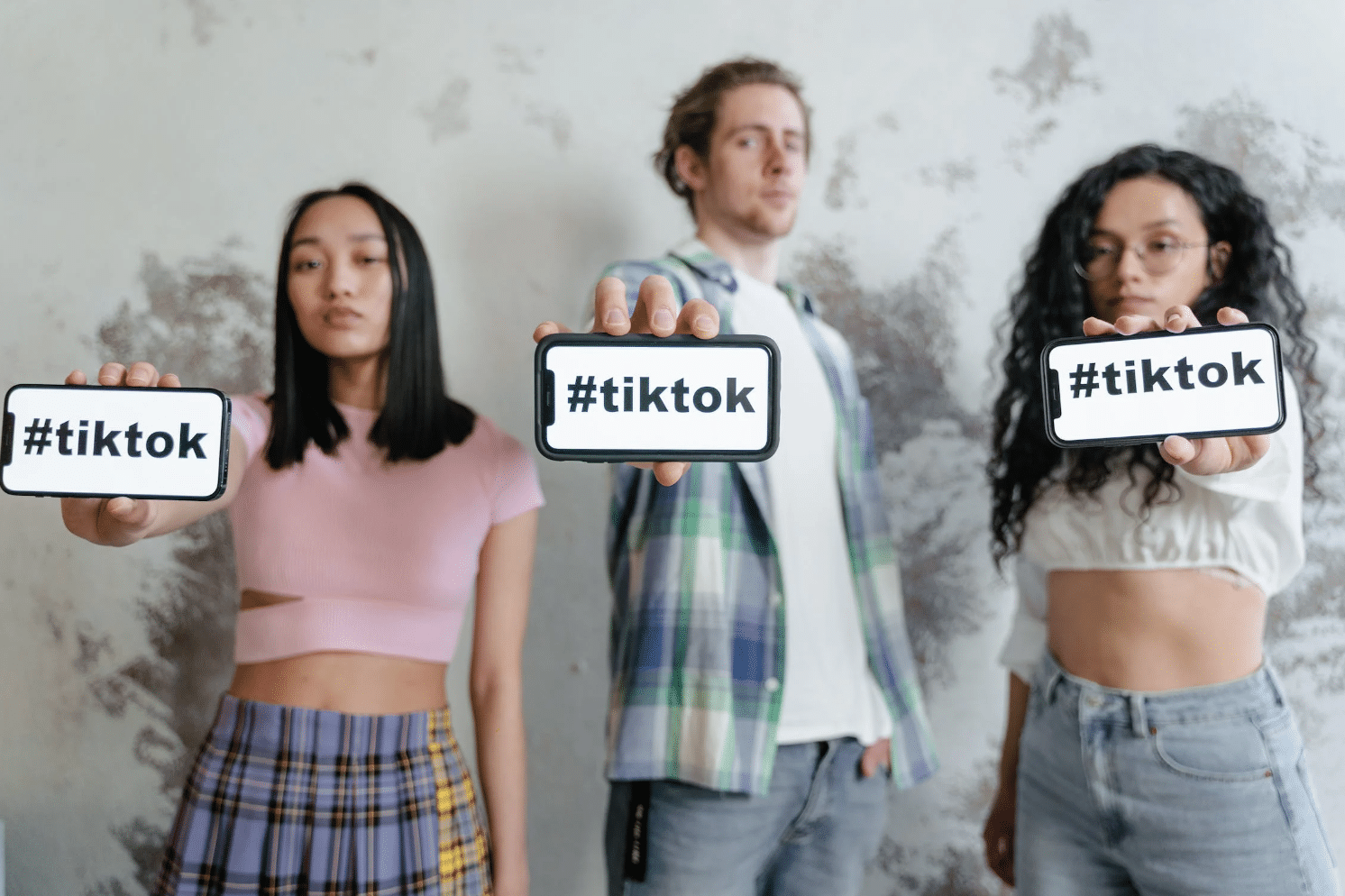 Ads created specifically for TikTok with creators achieve up to 83% higher engagement rates
As a social media platform that encourages inherent creativity and raw authenticity, TikTok is the ideal channel for an influencer campaign. 
To get a feel for how to craft the most appealing and successful TikTok influencer campaign, we have collected a round-up of the Top 5 performing influencer campaigns on the app.
💫 The campaign results are impressive, so we highly recommend using this ranking to properly navigate building your own succesful influencer marketing strategy on TikTok.
1. UGG – Seasonal Sounds

🍂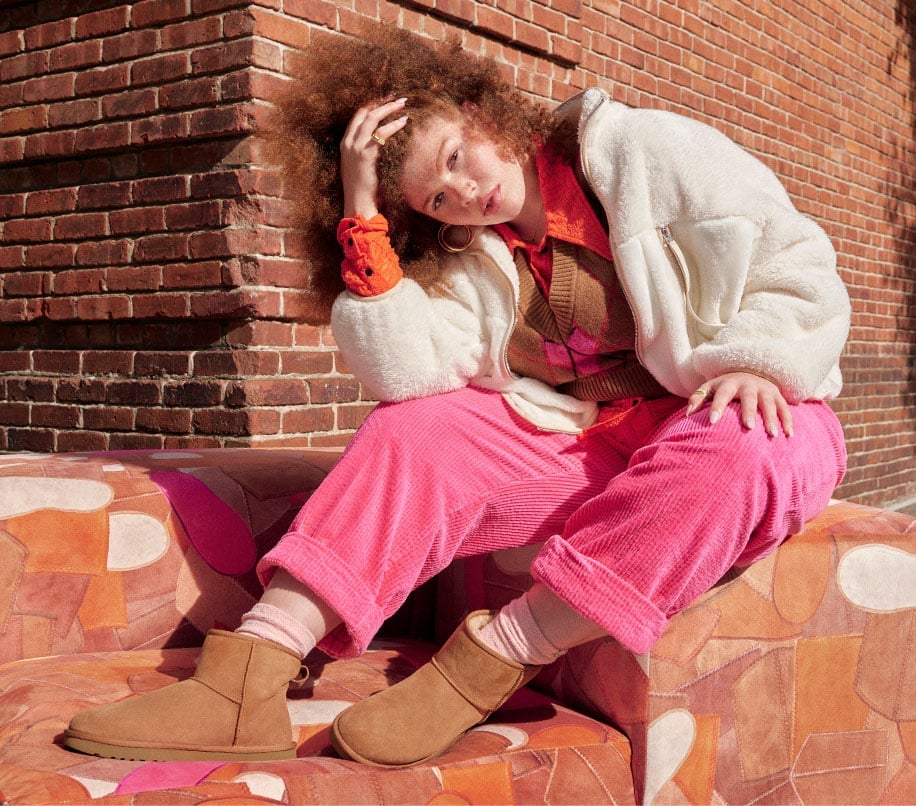 UGG had their biggest comeback this year, and it was all thanks to their strategic use of influencers on the TikTok platform.
The well-timed #UGGSeason campaign highlighting the boots' seasonal link and a need for snug footwear as the weather turns chillier focused on selling their mini UGGs. This took the booties to new levels of viral…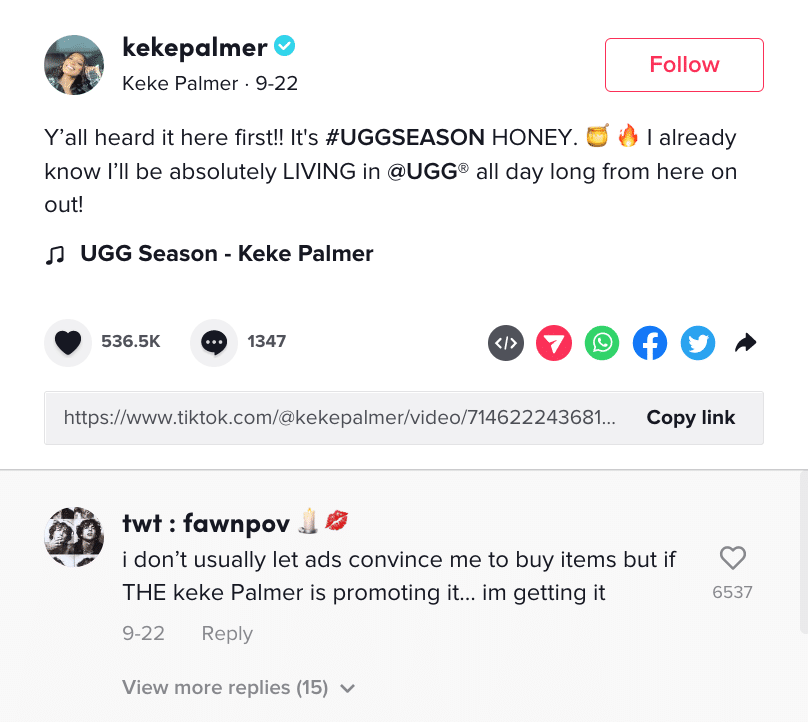 👨🏻‍🍳 Their Recipe for Success:
Worked with well-known American actress Keke Palmer as their ambassador to kickstart the mini UGGs campaign.
Keke Palmer was an authentic influencer choice, being known for owning more than 50 pairs of UGGs.
They worked with her to generate a new viral TikTok sound for creators to produce their own content to.
The video was a successful catalyst for getting other influencers to mimic/copy/spread the sound.
Influencers like @mimiarr used the sound organically, meaning #UGGSEASON gained traction fast. The campaign took advantage of the change in seasons.
Further UGC bonus results obtained as a result of the viral sound.
Influencer Campaign Results:
👀  11.6M views on original Keke Palmer TikTok featuring the organic audio.
📈  On Google Trends, search interest in UGG increased by 880% compared to August this year.
  #⃣   113.5M views on the TikTok hashtag #UGGSeason.
2. BMW – Influencer Focused Creative Direction  🎥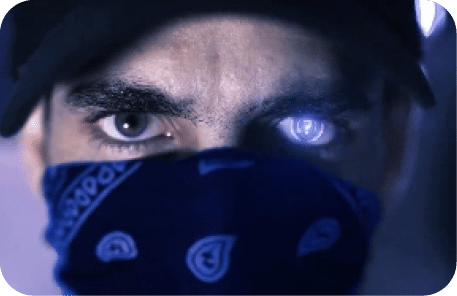 BMW worked with TikTok creator @Dannero for their #CircularAngles campaign, with the objective of bringing BMW's activations at IAA Mobility to life on the app.
The luxury vehicle manufacturer also wanted to generate awareness for their brand vision around circular economy.
With the help of this huge influencer, BMW also hoped to increase their reach after creating a new TikTok account.
👨🏻‍🍳 Their Recipe for Success:
BMW developed the first ever branded content series in collaboration with Dannero.

He acted as the main character and also directed the series for the brand. The narrative was delivered over the course of three 'episodes.'
Partnered with an authentic influencer, experienced in working with video effects, editing and producing creative content.
Using the hashtag #ReimagineToday, BMW utilised a suite of three One Day Max In-Feed Ads to achieve their mission with the creator.
A combination of innovative storytelling and special creator involvement meant BMW's approach to influencer marketing on TikTok took a unique approach.
The campaign became a creative first and generated an impressive reach. 
Influencer Campaign Results:
3. Taco Bell UK – Micro-influencers = Massive Results 🌟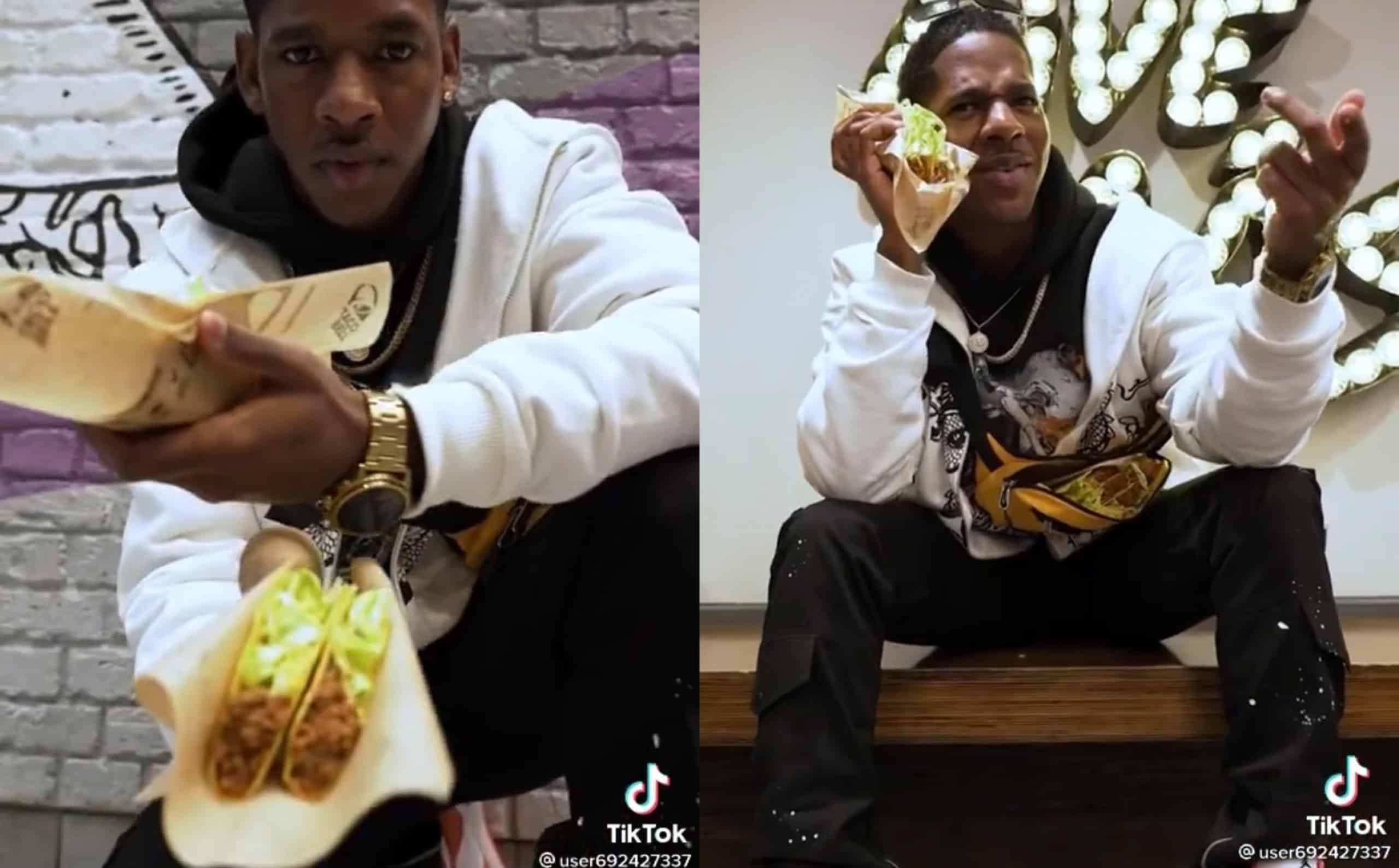 Taco Bell UK wanted to create a campaign that raised awareness for their UK restaurants, as well as showcase their hero product the Crunchy Taco.
Their aim was to reach the TikTok community and call attention to their presence in the market.
They wanted to connect with users in an authentic way, and using influencers to highlight both the food and attitude of Taco Bell was a strategy clearly destined for success: 
👨🏻‍🍳 Their Recipe for Success:
Worked with two micro-influencers (

Jae Edwards

and

Micah Cobe

,) to target multiple, dedicated followings in a cost-effective and authentic way. 
Both influencers were smart choices as they appealed to various subcultures on TikTok.
Reach & Frequency In-Feed Ad campaign utilised with the promotional creator content to connect with a broad demographic.
The content was upbeat, fun and made use of in-app editing to ensure a native TikTok feel.
Influencer Campaign Results:
📈  40% Increase Avg. watch time.
4. Garnier France – Creator Challenges  💪🏻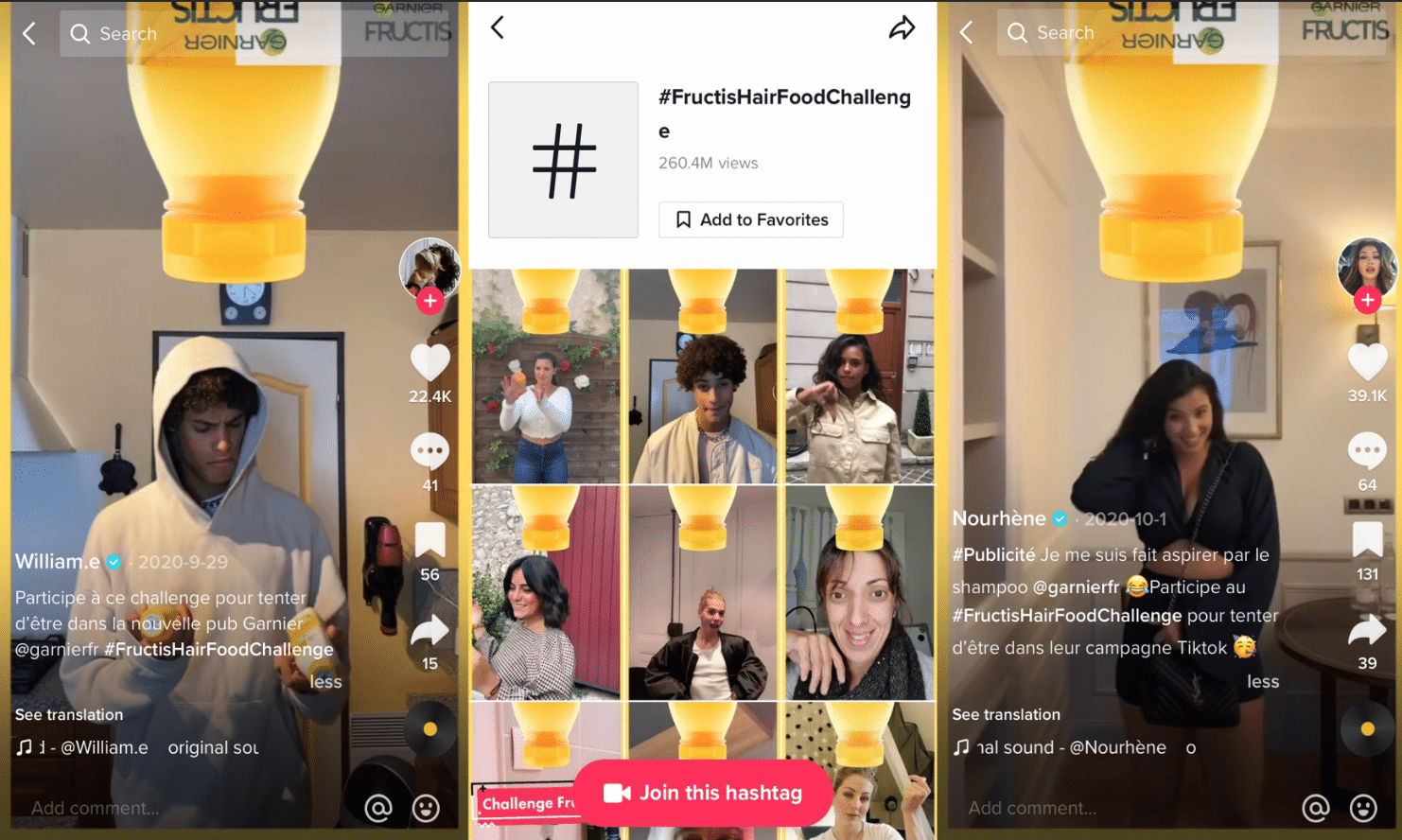 Garnier France encouraged many creators to take part in their campaign to promote a new line of vegan haircare products targeted at Millenials and Gen Z.
Posing a challenge for influencers and users alike to participate in was a key component in spreading the word about this new line…
👨🏻‍🍳 Their Recipe for Success:
Garnier

used influencers for product promotion in the formats of a One Day Max In-Feed Ad and a TopView Lite.
A branded hashtag challenge (#fructishairfoodchallenge,) with a 2D Branded Effect enabled users to create before/after transition videos which highlighted the benefits of the product line.
The best user-generated videos were compiled to create a mash-up and were promoted using Brand Premium In-Feed Ads.
Featuring creators in their TikTok ads recorded above benchmark CTRs.
Generated brand awareness and quality engagement in the space of one month.
Bonus outcome: the challenge resulted in additional product sales since users often ended up buying the products themselves for the videos.
Influencer Campaign Results:
🎥   109,000+ videos created by over 48,000 TikTok users.
💫  18% increase in awareness.
🌟  27.5% increase in ad recall.
5. ASOS – The Multiple Creator + Challenge Formula  🧪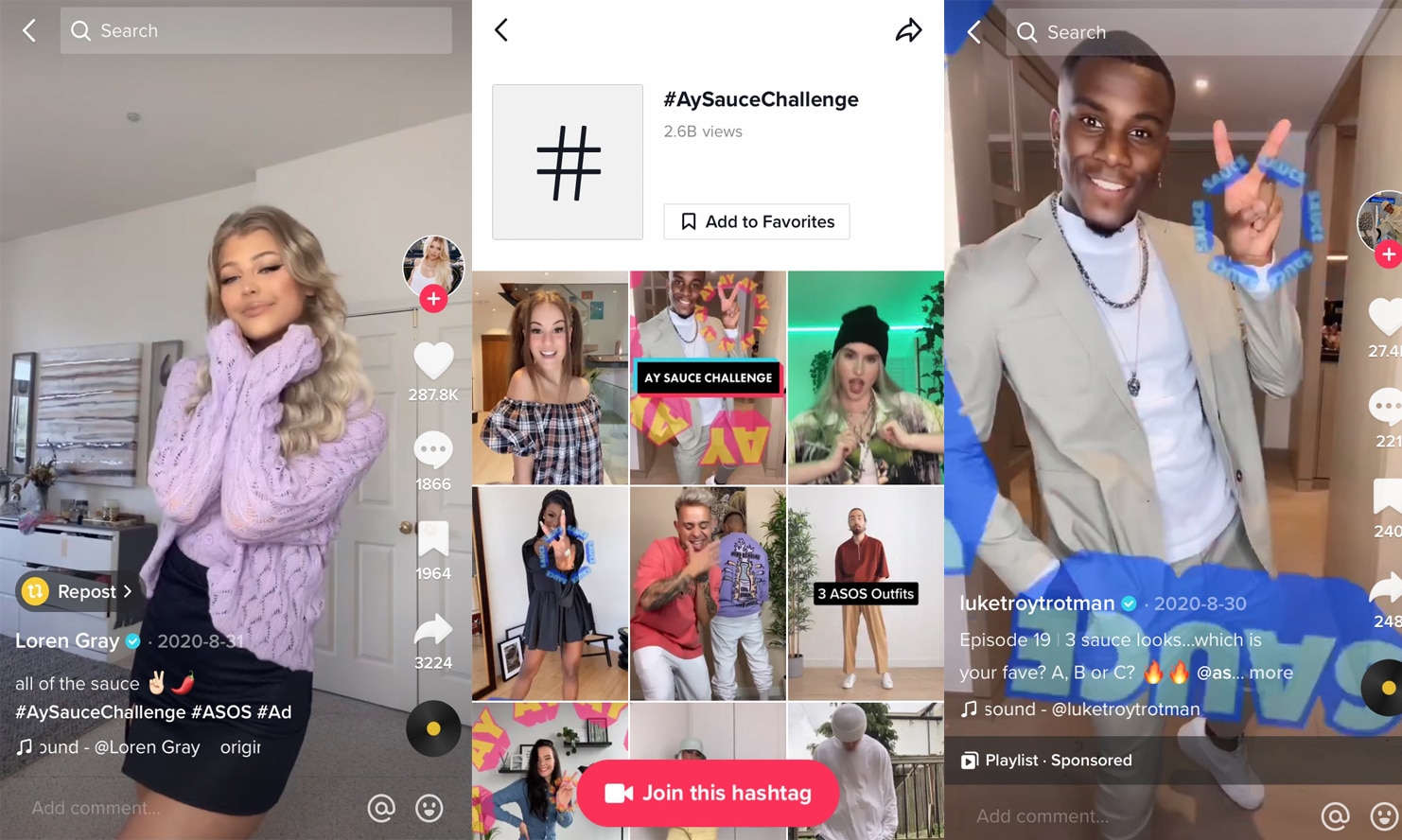 Online fashion retailer ASOS opted for next-level influencer marketing to showcase their trendy items for Gen Z and Millenial audiences.
Creating the #AySauceChallenge accompanied with a matching sound saw the brand motivating influencers and users to "channel their ASOS vibe." These posts expressed their style featuring three different outfits.
👨🏻‍🍳 Their Recipe for Success:
The influencer campaign involved

more than 25 content creators in the UK and US,

with a combined following of

over 219 Million

.
Love Island's Luke Trotman, the Neffati Brothers,

Loren Grey, Michael Le

and Jordan Fisher are just a few huge influencers who participated in the challenge.
Bespoke audio and an interactive augmented reality (AR) experience with TikTok's Branded Effects was included in the trend to drive awareness and increase visibility.
Influencer Campaign Results:
👀  1.2 billion views in 6 days.
💫  +25% brand awareness increase.
🎥  488K videos produced by 167K unique users.
🌟  15.79% engagement rate.
Mariah Carey – Aligning your brand with Annual Events

🎄
Mariah Carey proves the beneficial nature of making the most of having strong and relevant ties to annual, worldwide events.
Similar to how UGG emphasised its relativity to the transition of the seasons, Mariah took things one step further with her links to online meme culture – being able to capitalise off of two seasons and annual events simultaneously… 
This campaign, released on 01/11/22 around Halloween referenced both spooky season and the impending Christmas Holidays. It cleverly played on users' anticipation for Christmas and the widespread popularity of Carey's hit single 'All I Want For Christmas Is You.' 
This TikTok feeds into the idea of cyclical theory, stressing the benefits of attaching your brand to an annually repeating event.
Collaborate and get Creative 

📹
After reviewing these 5 highly successful campaigns from household name brands, we hope you have gained further insight into how to effectively work with influencers on this lucrative platform.
Click Tip: Above all, it's important to bear in mind that promotional content created on TikTok shouldn't feel like an ad. Create TikTok videos that blend in smoothly as a user swipes their For You page so that it doesn't feel forced and break the illusion. If natural content creation isn't adhered to, it is likely to put consumers off.
Want even more insider creator tips, top marketing trends deconstructed and direct answers and advice for YOUR influencer marketing queries? Why not sign up to our free monthly newsletter  📬
Stay tuned for more posts here on the Click Blog! 📻