The benefits of including authentic influencers in brand campaigns are truly seismic …
There are so many influencers, celebrities and loyal customers that can hide within your own audience who are truly passionate about your products.
Unfortunately these authentic creators often become lost among a sea of other users…
4 out of 5 people on Instagram say that if an influencer is passionate about a brand or product, they're likely to buy that product themselves.
Consumers in 2022 have an appetite for transparency and an organic kind of passion from their favourite influencers, and this statistic certainly supports this.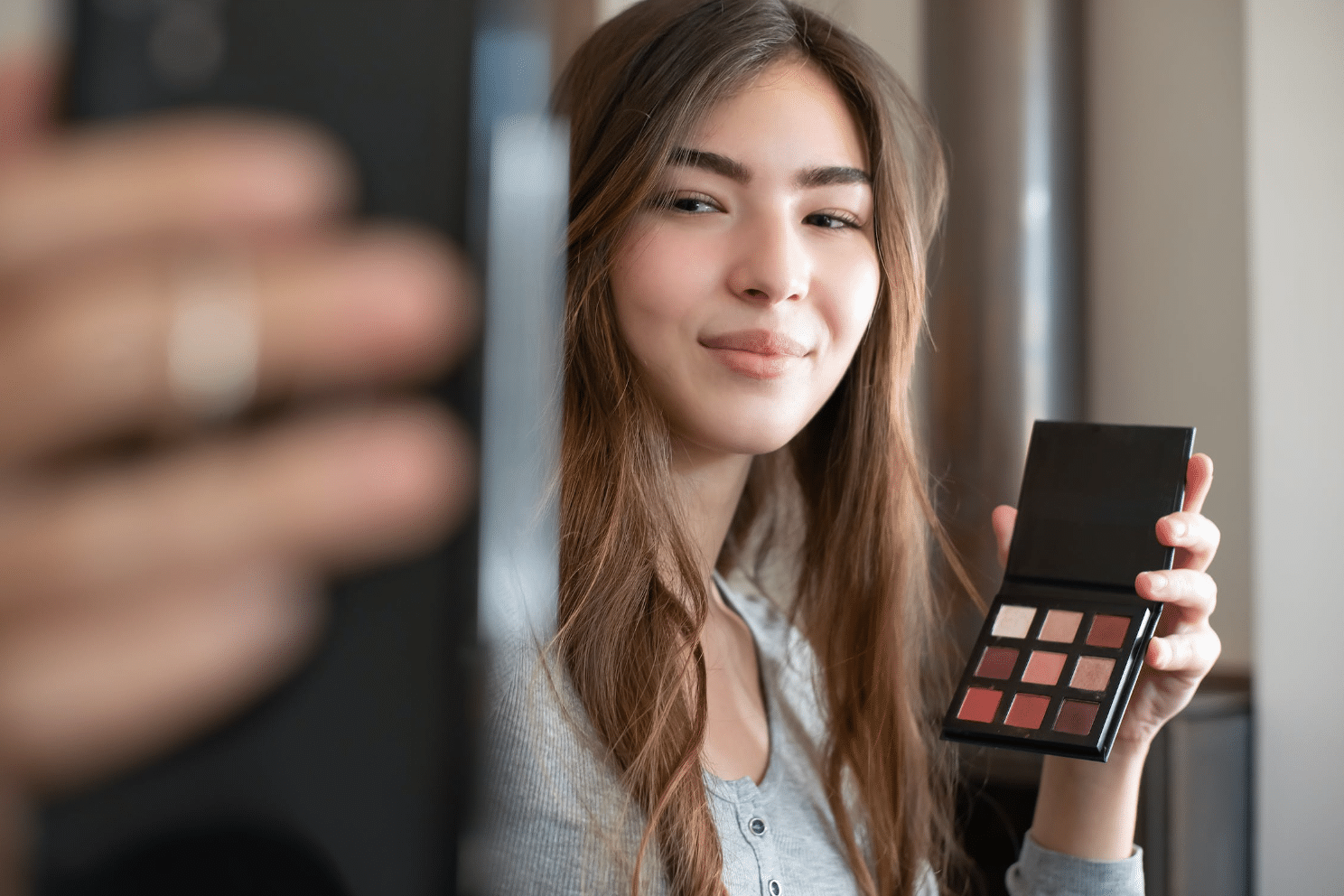 So what are the benefits of partnering with influencers who are passionate about your products/brand?
🌱  Organic content creation promoting your brand
🤝  Increased consumer/audience trust
🧠  Deeper understanding of your brand + products
Don't overlook loyal customers

💞
Loyal customers can be a great place to start, as accounts with even just 500 followers can result in high levels of engagement with more posts + story shares, generating an impressive buzz and interest when provided with products to promote on their social media channels.
This is also a highly lucrative and cost-effective way to gain consumer trust and establish your brand as holding authentic values.  
Brands have the power to transform their most passionate customers into the very best and most authentic influencers!  
Existing Influencers can become your greatest fans too

🤝 
Influencers with a significant following can also become your brand's true fans through requesting them to test your products and give you feedback and then onboarding them as certified, authentic fans.  
Click Tip: Another proven way to gain a consumer's trust is through influencer whitelisting, where 49% of consumers trust influencer recommendations over branded content. You can read more about how influencer whitelisting works here.
So how can I find these authentic influencers and customers quick and easily?
Many brands miss the opportunity to partner with authentic influencers, but

find below the solutions to change this!
Here are our quick-search tips for finding influencers who are true fans of your brand:
🔍   How To Find Authentic Influencers  🔍
To use Click Analytic for finding authentic influencers, first consider a creator who's authenticity level is of interest to you.
Then go to the Click sidebar and select 'Analyze & Compare.'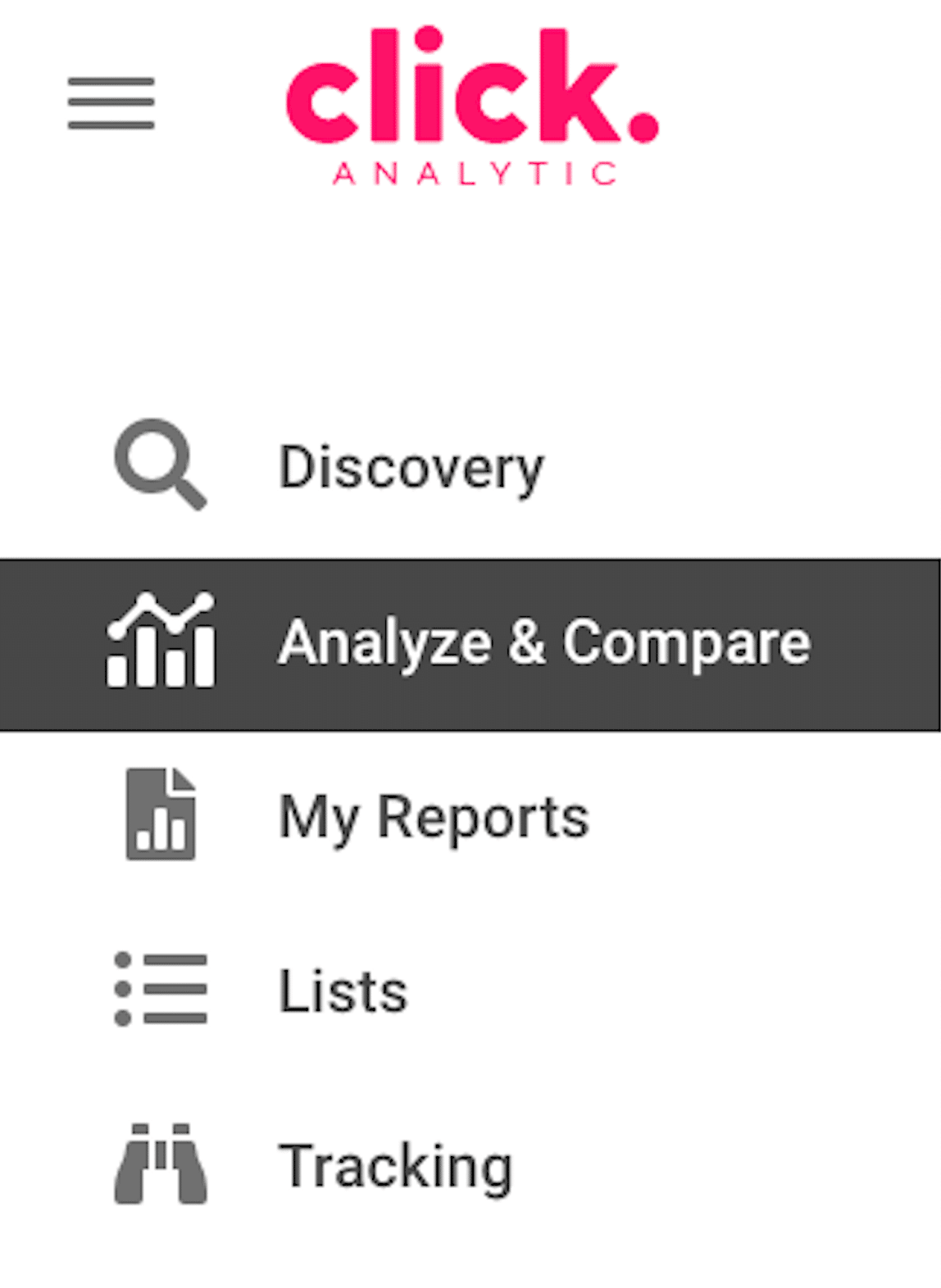 Once you've made your way to the 'Analyze & Compare' page, type your brand name into the search bar and then click the 'Analyze Audience' button.

A full report detailing all of your brand's stats should appear. Scroll down a little way until you find the section labelled 'Followers Metrics,' and click the '+ Show All' button on the box titled: 'Top Influencers/Businesses among Followers.'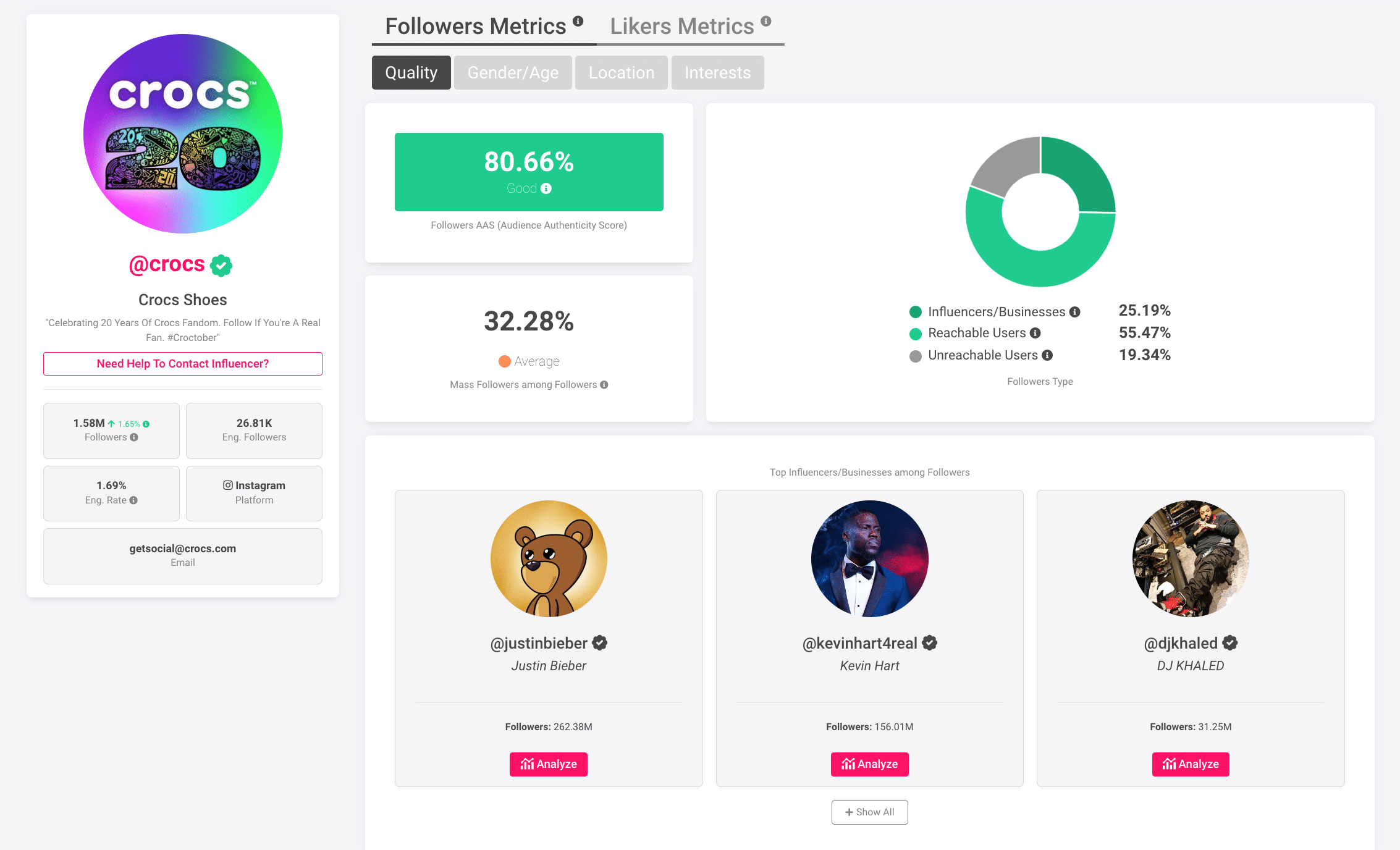 This will reveal a list of influencers who follow your brand, where you can analyze their full reports further if you require simply by clicking the 'Analyze' button on any profile suggestion.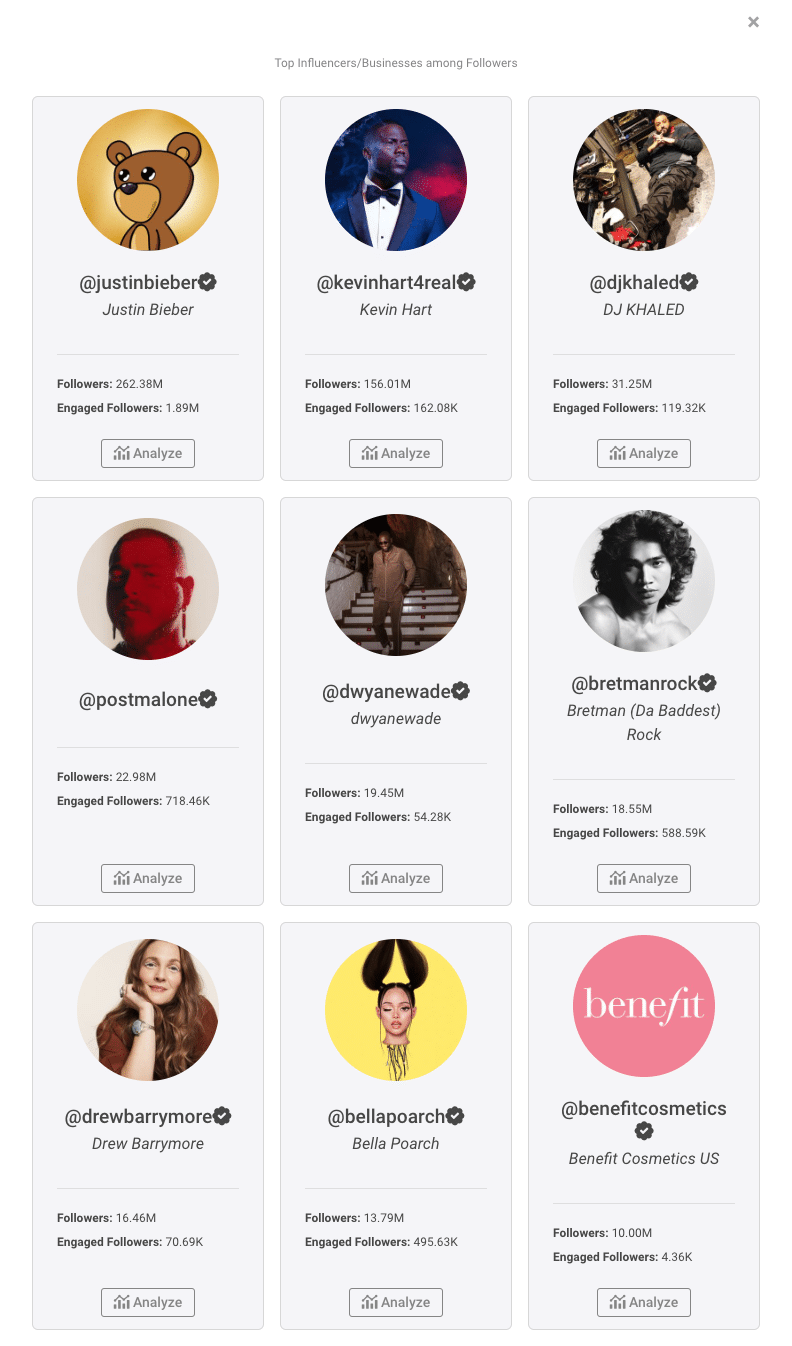 Tracking a range of amazing influencer stats in just a 2-second search has never been easier ✅ 
Bonus Tip: Check Shared Follower Metrics

🕵🏻‍♀️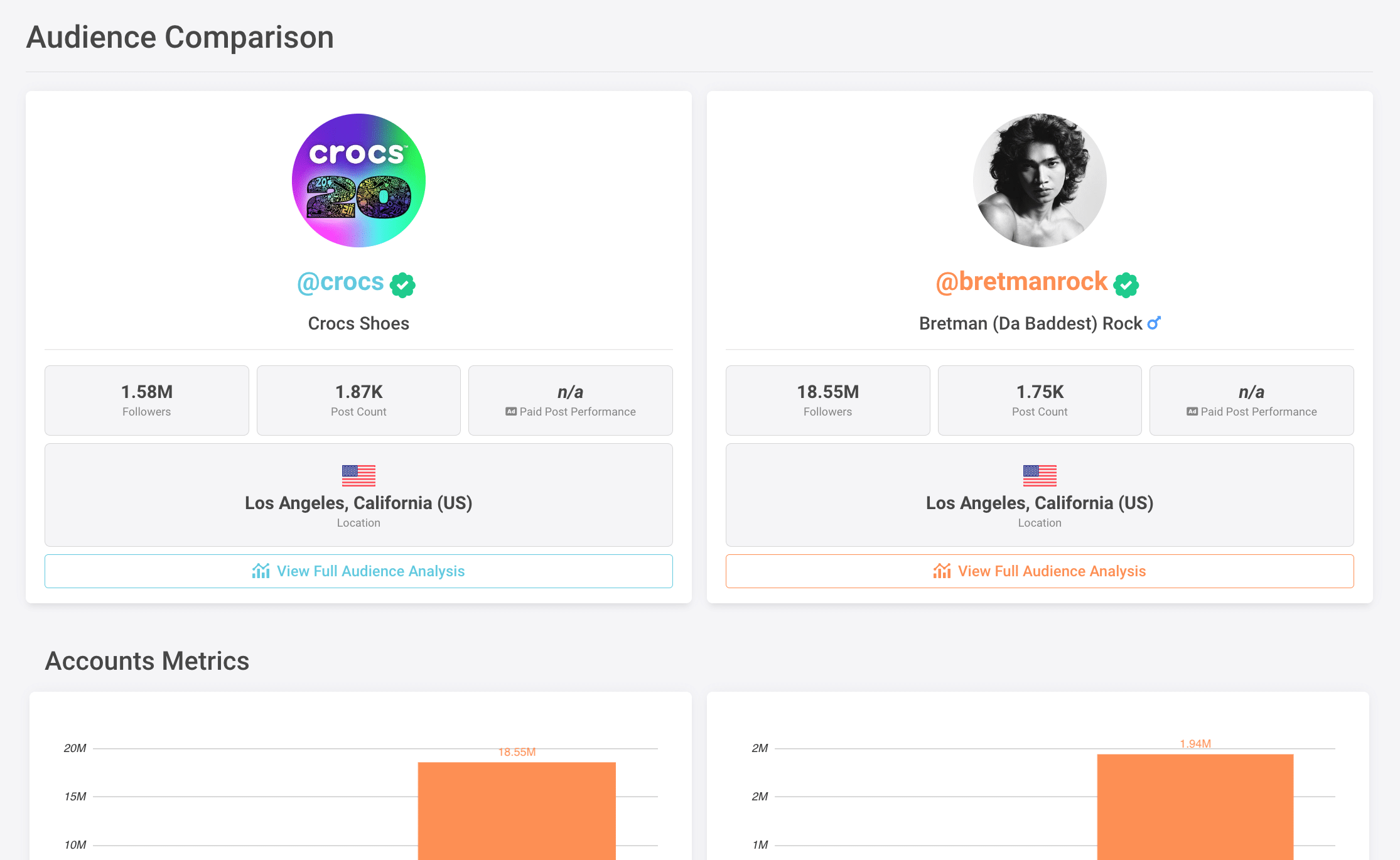 Another method of testing whether an influencer is passionate about your brand and its products is to search for a direct comparison in the 'Analyze & Compare' section on Click Analytic. Simply input your brand name and your influencer of interest into the search bar …
When you scroll down to the bottom of the 'Account Metrics' section on the 'Audience Comparison' page, hovering the mouse over your brand's bar will highlight the Unique Followers vs. Shared Followers, showing key stats for your consideration.

As illustrated in the graph above, taking a look at your brand's 'Shared Followers' percentage displays the quantity of the influencer's audience who also follow your brand. This suggests that the creator could have mentioned or posted content about your product or brand in the past, leading to audience interest in your business. 
5% is a significant amount of shared followers, suggesting this influencer has an authentic passion for the brand in question.
Want even more insider creator tips, top marketing trends deconstructed and direct answers and advice for YOUR influencer marketing queries? Why not sign up to our free monthly newsletter  📬
Stay tuned for more posts here on the Click Blog! 📻