YouTube has over 2 billion people actively using their video-sharing platform. Each minute, 500 hours of content is being uploaded to the website.
YouTube is an impeccable platform for breeding influencers that are personable and highly relatable, resulting in dedicated followings known as subscribers.
The video-based nature of the predominantly long-form content platform (though the new YouTube Shorts feature is rising in popularity,) means viewers connect with these influencers more easily and place high levels of trust in their judgement.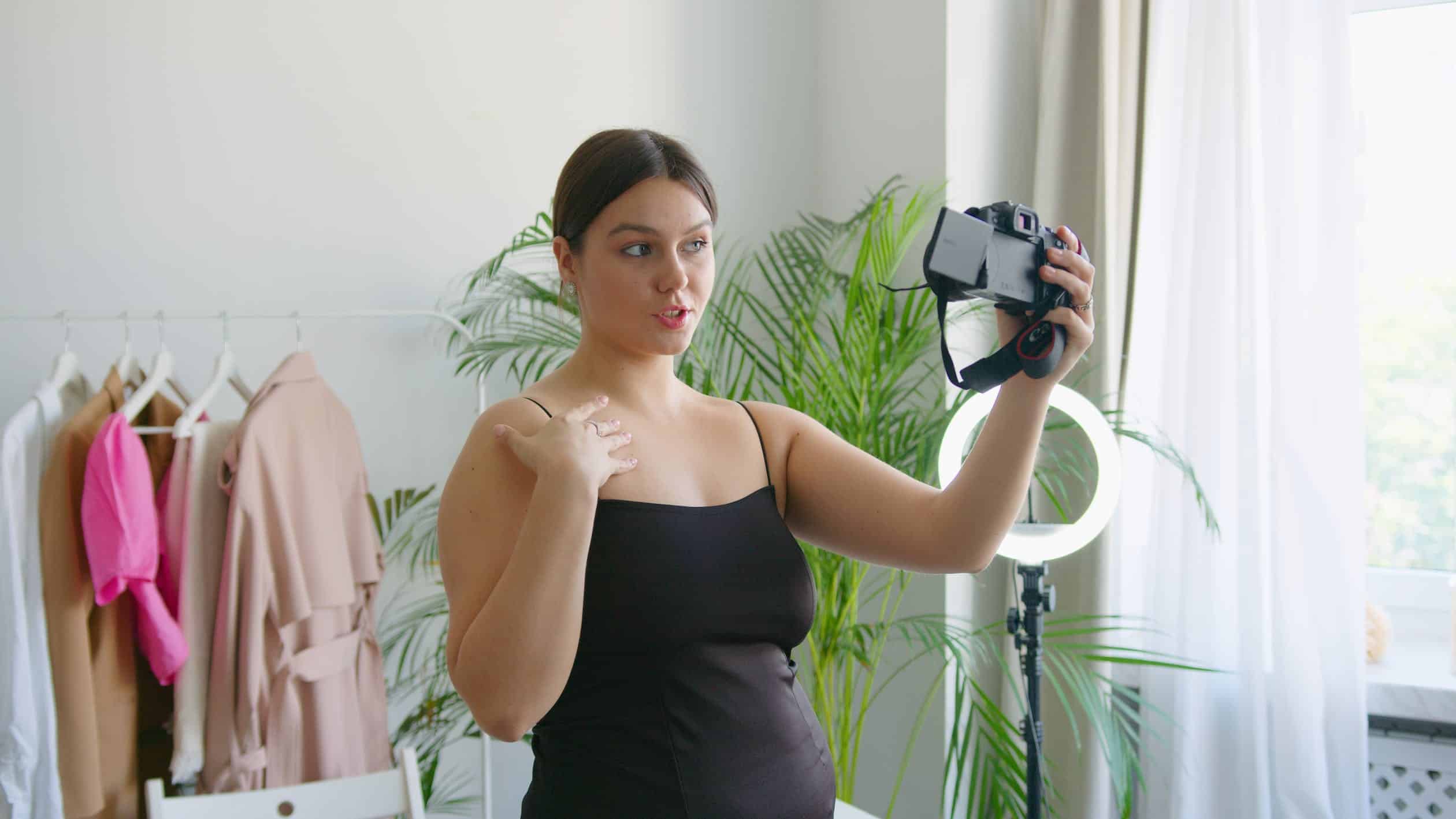 YouTube Audience Stats: A Breakdown 📊
Finding influencers or 'YouTubers' can come with an increased difficulty when compared to other social media platforms like Instagram and TikTok.
YouTube allows users to adopt the same handle as an existing creator, increasing the chances of stumbling across a popular influencer duplicate profile or fake.
Getting lost can become a likely outcome …
Here to help improve your search
Luckily, we are here to make your YouTube influencer search quick, easy and clear.
Today we have compiled a list of the Top 5 Ways to easily find YouTube Influencers which will save your marketing team precious time and resources.
🌟 

Ready to find your ideal influencer in a matter of minutes? Read on to find out how…
1. Search on YouTube & Google  👀
A good place to start is searching around on the YouTube platform itself.
We recommend typing into the YouTube search bar 'Your industry of interest' and the keywords 'experts/influencers.' Then review the results that appear at the top of the page.
#️⃣  Searching Hashtags = Big Results
Using hashtags in your search on YouTube will further improve your search and provide instant and relevant results.
Often creators will now add corresponding key hashtags in their video descriptions and titles in order to make their content more easily discoverable. YouTube allows up to 15 hashtags within a description box, so there are plenty of keyword searches to try-out that are associated with your brand, campaign or niche. These hashtagged words or phrases improve the process of finding content in your niche due to the specificity of the subject matter or category.
Users are able to click on hashtags and view other YouTube videos that contain the same hashtag.
If you are a brand in the nutritional market for example, running a search on the hashtag #vegan provides results of 326K videos and 80K channels.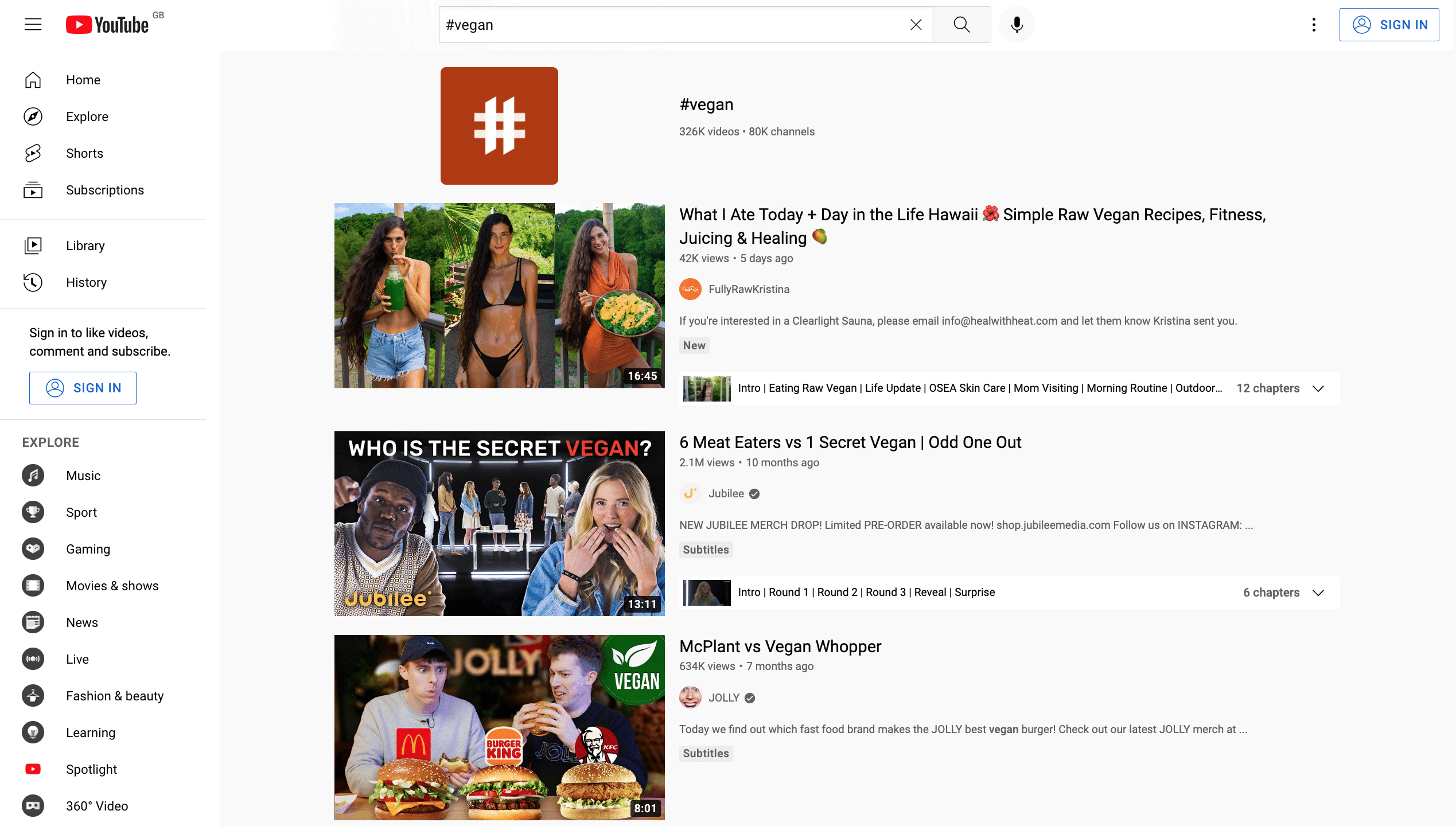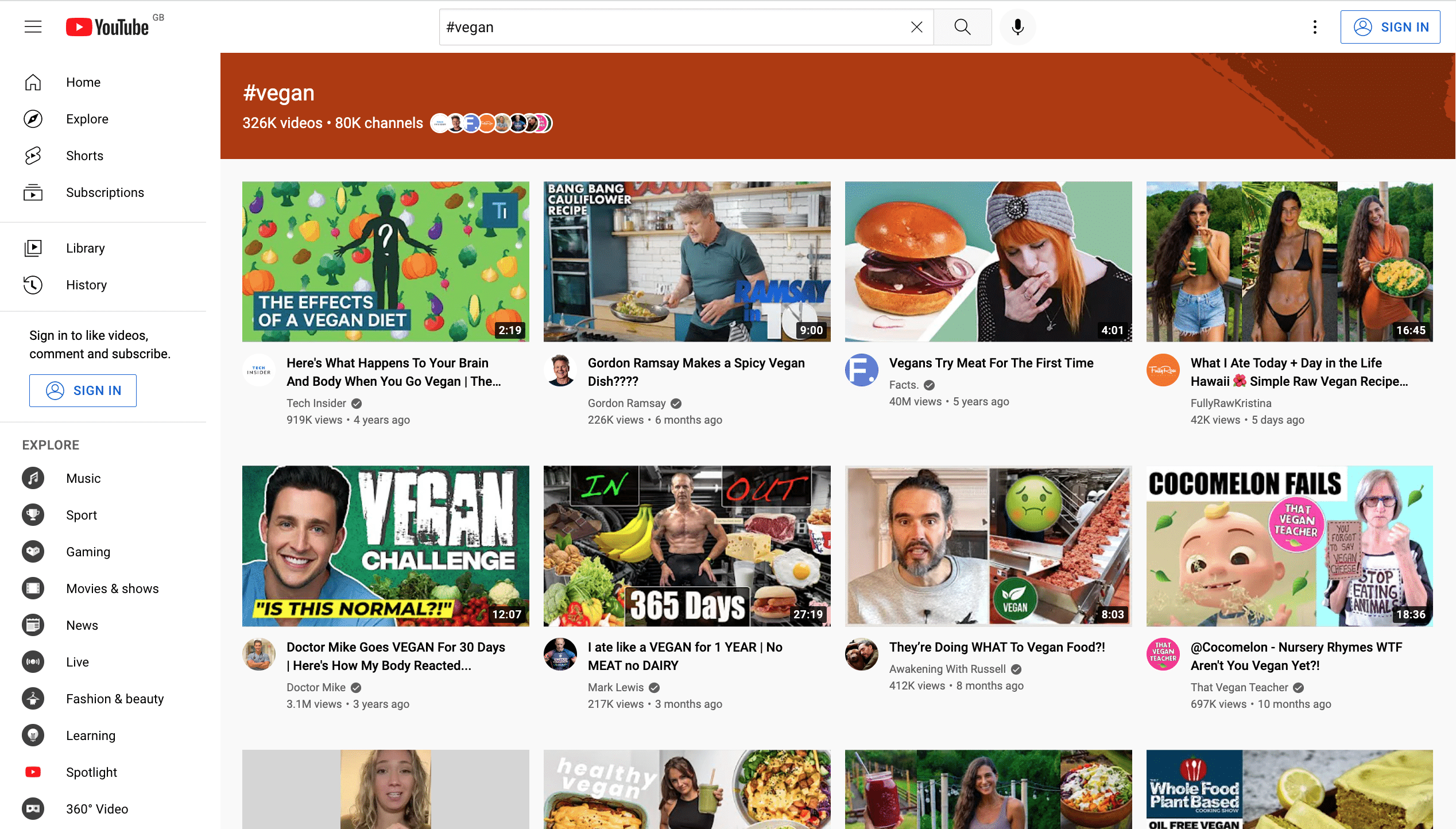 If an influencer has used a hashtag relevant to your business, it shows that your product or service is most likely relevant to their audience.
Connecting with influencers who are already creating relevant content creates authenticity within the content, generating conversations and interest in your brand.
Alternatively, conducting a thorough Google search could present the ideal influencer for your campaign or brand.
Tailoring a Google search is another great starting point, where we suggest typing in 'Your industry of interest' with the keywords 'experts/influencers.' Then review the results and articles that appear at the top of the page.
Taking a look at the 'Videos' tab on your Google search could also produce other possible influencer results.
Specificity is key in such a broad search engine if your product is more unique. To refine your search, try adding more general terminology that relates to your niche, such as: 'organic food,' or 'cruelty-free' etc.
2. Use an Accurate Discovery Tool  🔎
Click Analytic provides one of the best discovery tools on the market. With +140M influencers available to analyse as well as a number of precise filters to aid your search, it is a true saviour for brands:
No time wasted – immediate results in a matter of seconds.
Offering in-depth profile analysis of crucial stats for a low price.
To find a bunch of the best quality influencers for your campaign using the discovery tool, the filters we propose you begin with include:
> Your preferred range of Subscribers
> A good Engagement Rate (min 3% recommended)
> Your desired Influencer Location
> Your preferred Influencer's Age range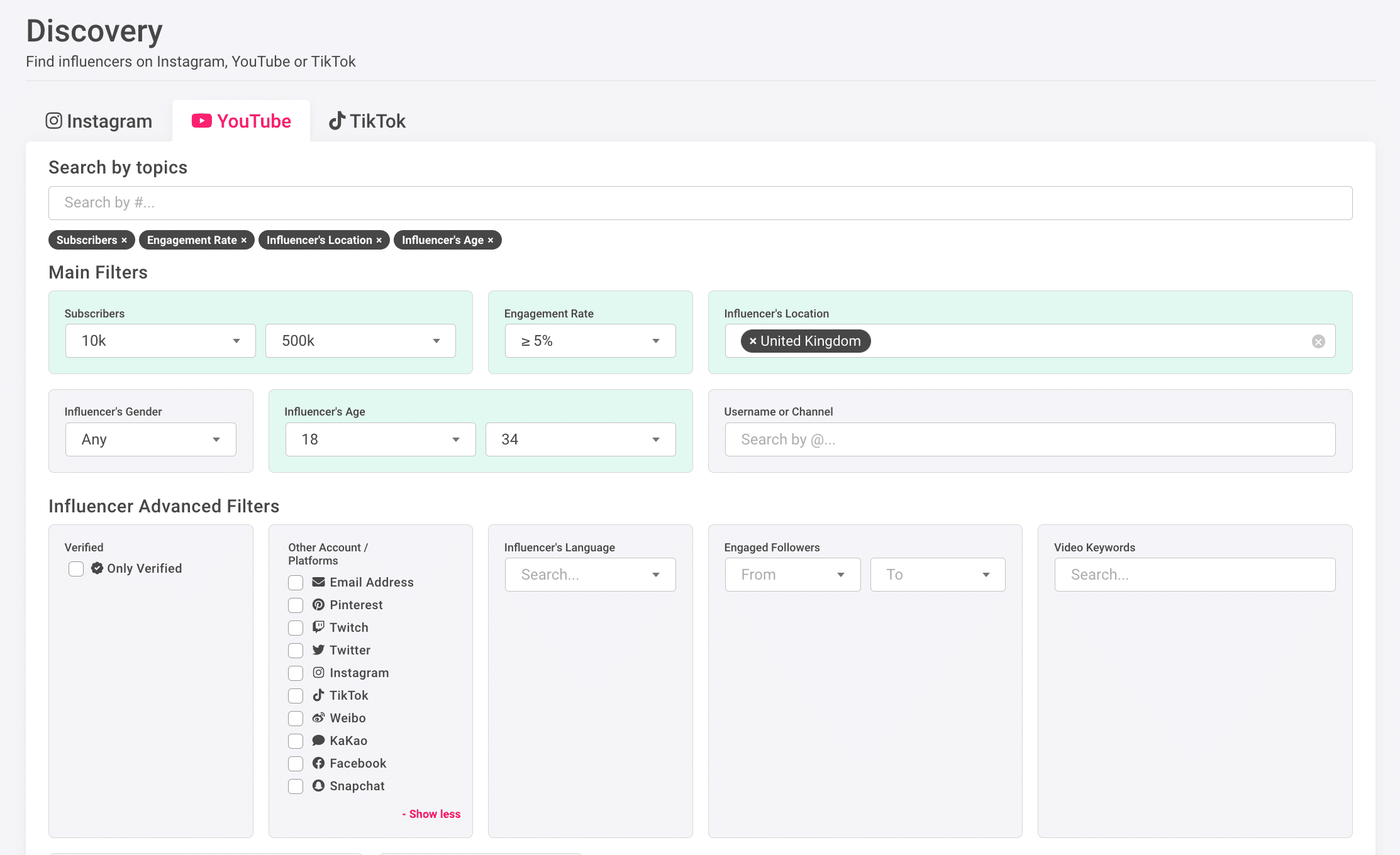 Running a search with these filters will produce a list of influencers which match your requirements. Feel free to click the 'Analyze' graph icon to the right of an influencer result to get a better look at all the thorough stats of that particular creator.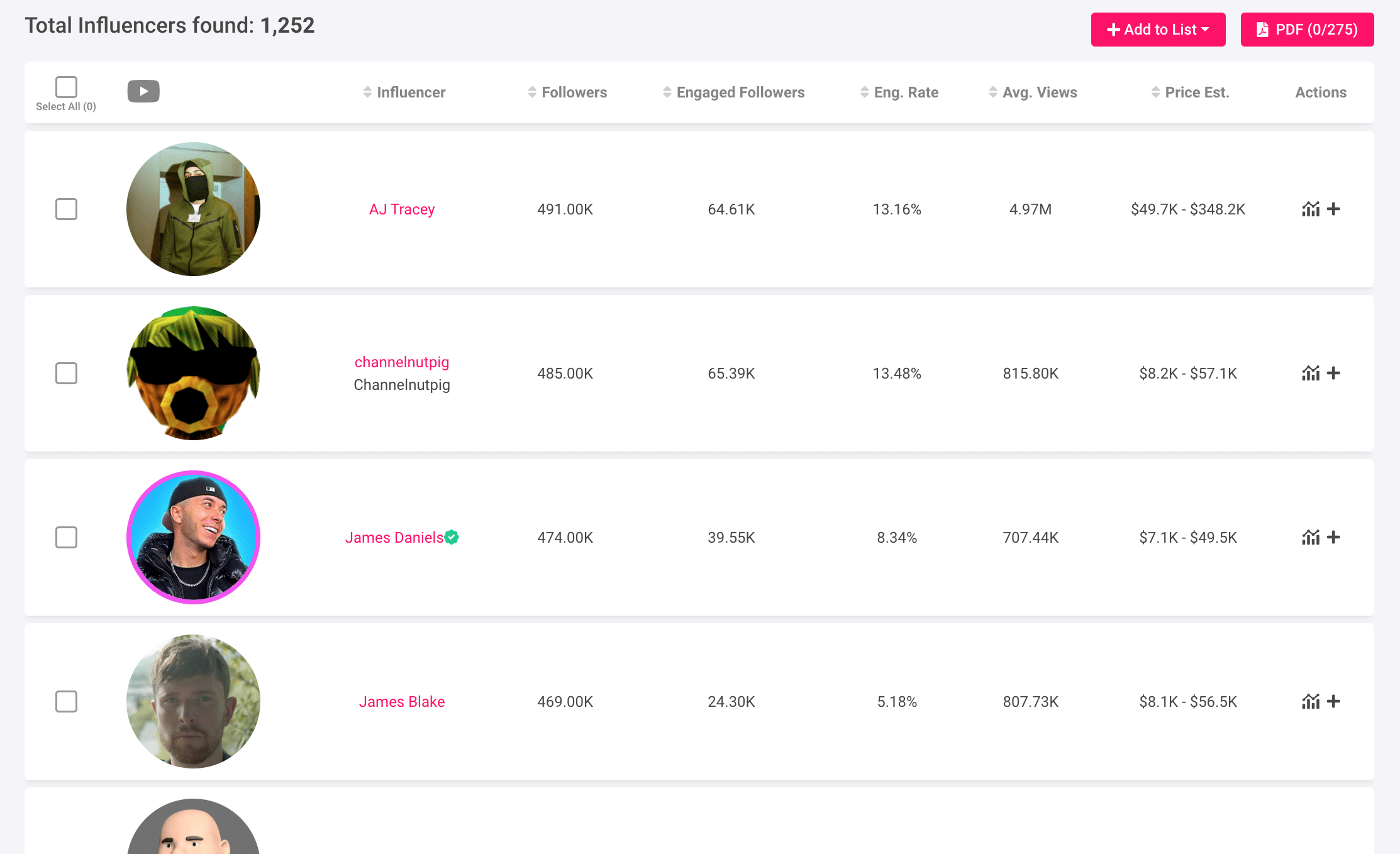 For an in-depth look into all advanced filters available, check out our How To Video right here on the Click Analytic blog.
3. Explore the YouTube Trending Tab 🔥
The YouTube Trending Tab is an ideal hub for harvesting the hottest creators of the moment.
Start by making your way to the YouTube navigation toolbar to the left of the homepage and click 'Explore'…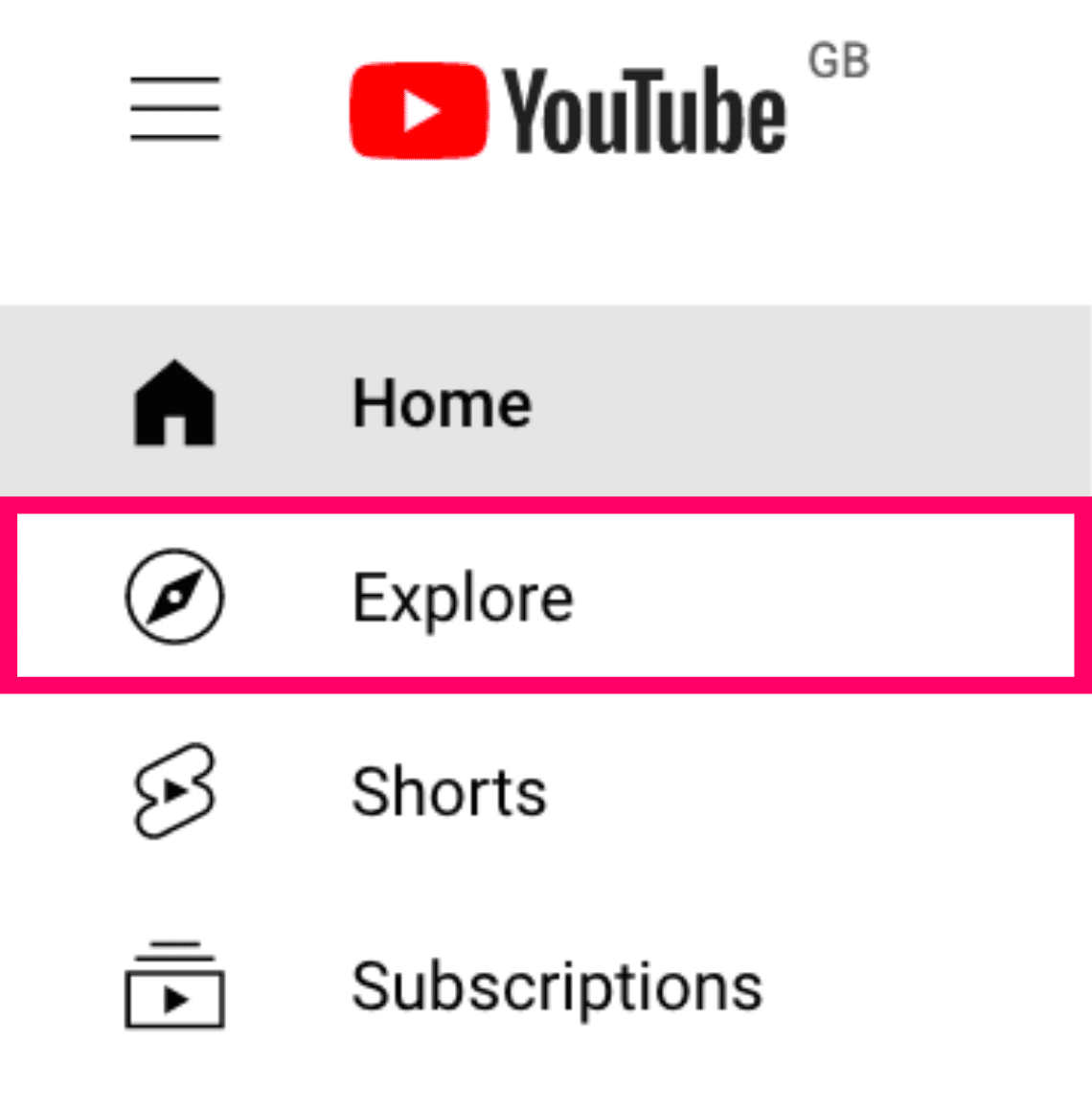 … Then select the 'Trending' tab. Browsing other categories in the 'Explore' section could also provide influencer results that cater to your industry sector.

Creators on YouTube's Trending page will now be available for your perusal. One thing to carefully consider is whether an influencer from the trending tab is truly relevant to your brand.
The Trending tab on YouTube changes everyday, so be sure to thoroughly check a trending tab influencer's content. The creator's overall content and personal branding will need to fit your business.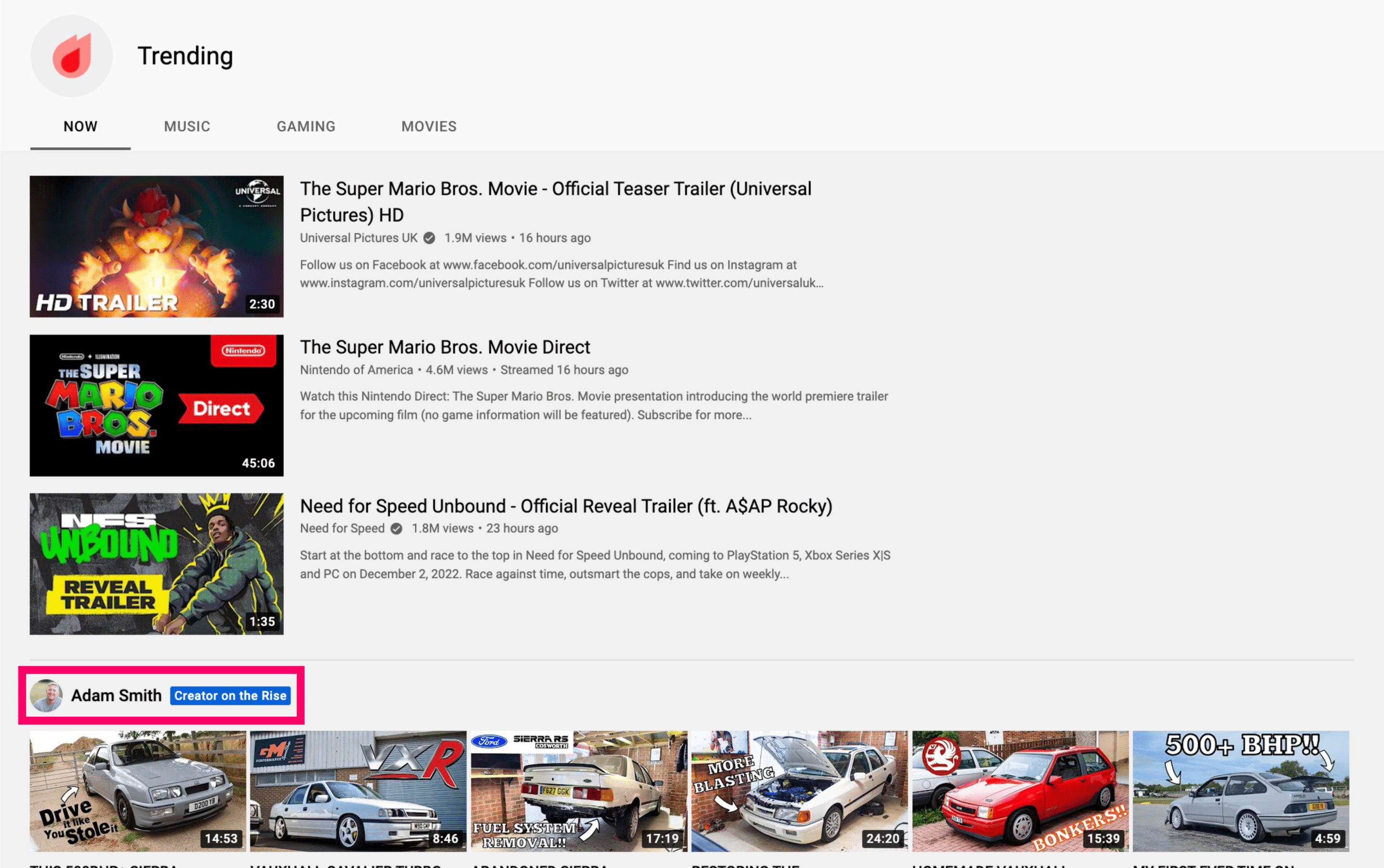 The Trending page can also present a 'Creator on the Rise.' If this influencer fits your niche, these suggestions could be the perfect match for your campaign/brand too.
4.

Search for p

reviously Sponsored Influencers 💸
Not every influencer will be interested in partnering with brands. Searching for influencers who have previously been sponsored or who have worked closely with a brand will save you time, as well as minimising the potential heartbreak of finding an ideal influencer that isn't willing to collaborate.
Top Tips:
– This method increases the specificity of your search.
-Use the hashtags #sponsored or #ad in your search to attract seasoned influencers.
Similarly, you could study competitor accounts to see which influencers they have partnered with before.
Brands are likely to repost videos of influencers reviewing their products, and it's also worth checking the account's story highlights for influencers which they have worked with in the past.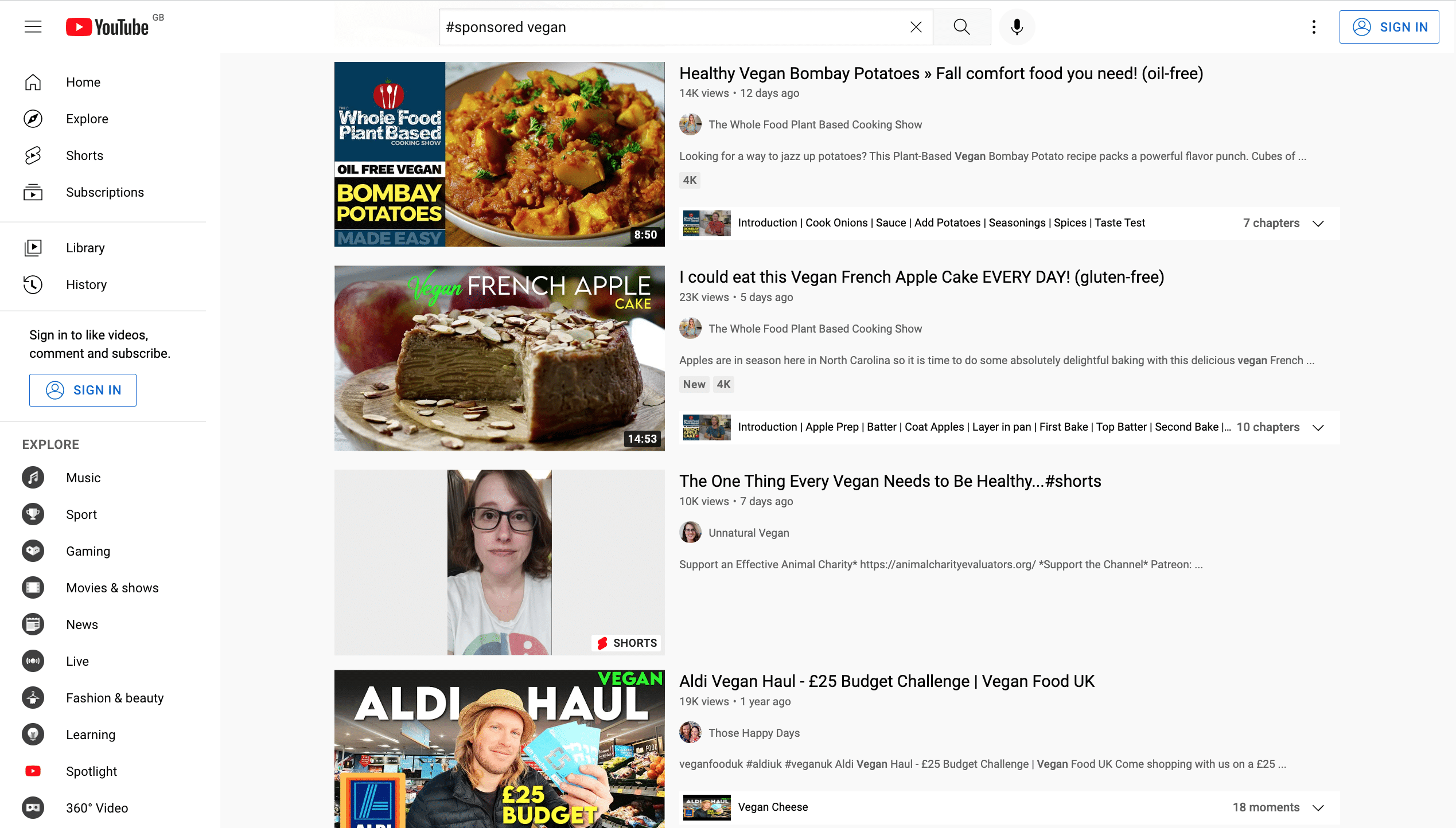 5. Search for Similar Users or Audience Lookalikes 👥
Click's YouTube Discovery Tool allows users to find an abundance of quality influencers efficiently.
If you wish to find more YouTube influencers of a similar nature to a specific creator, first enter their username in the 'Username or Channel' search filter. This will present their profile in the search results.

Then to discover more related content creators, click the 'Analyze' button under 'Actions' on your profile of choice.

Influencers with similar audiences are available for you to discover in 'Audience Lookalikes.' Simply select '+ Show All,' and a plethora of potential influencers will appear for you to browse through.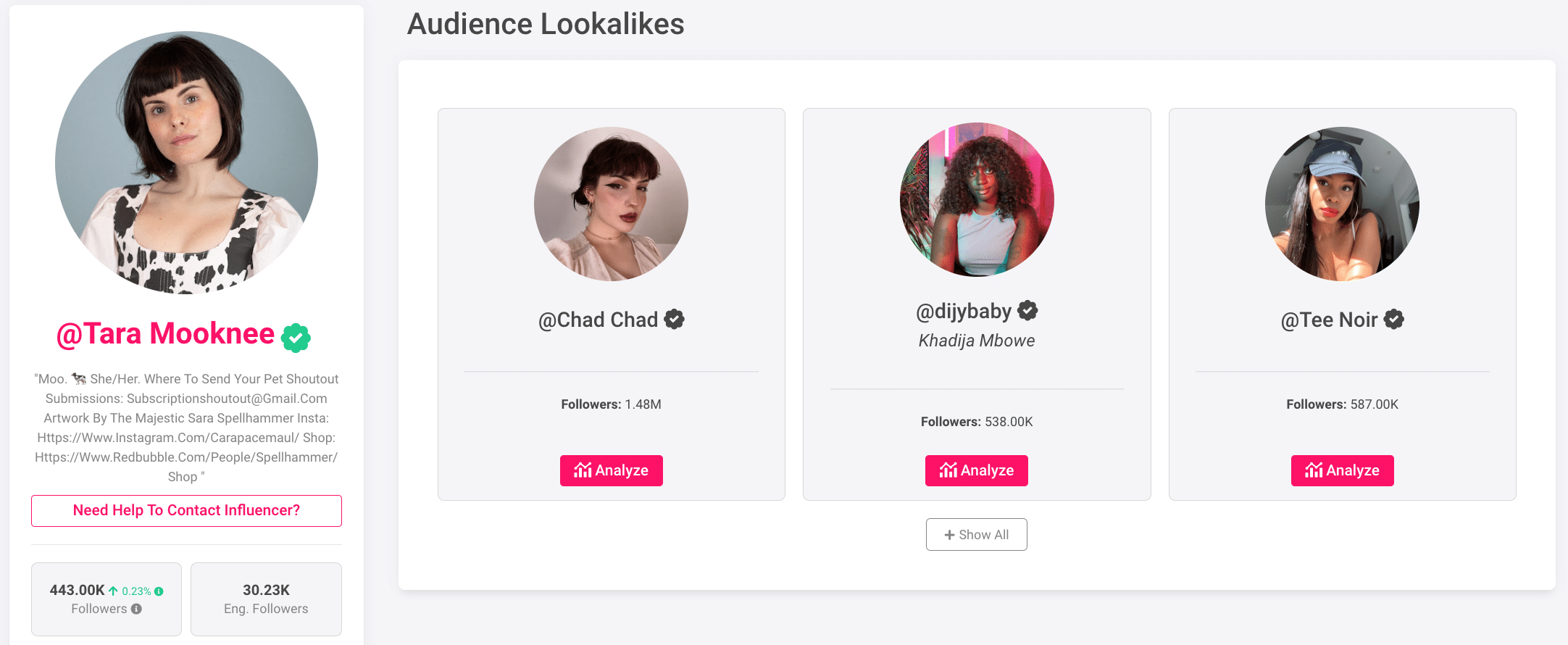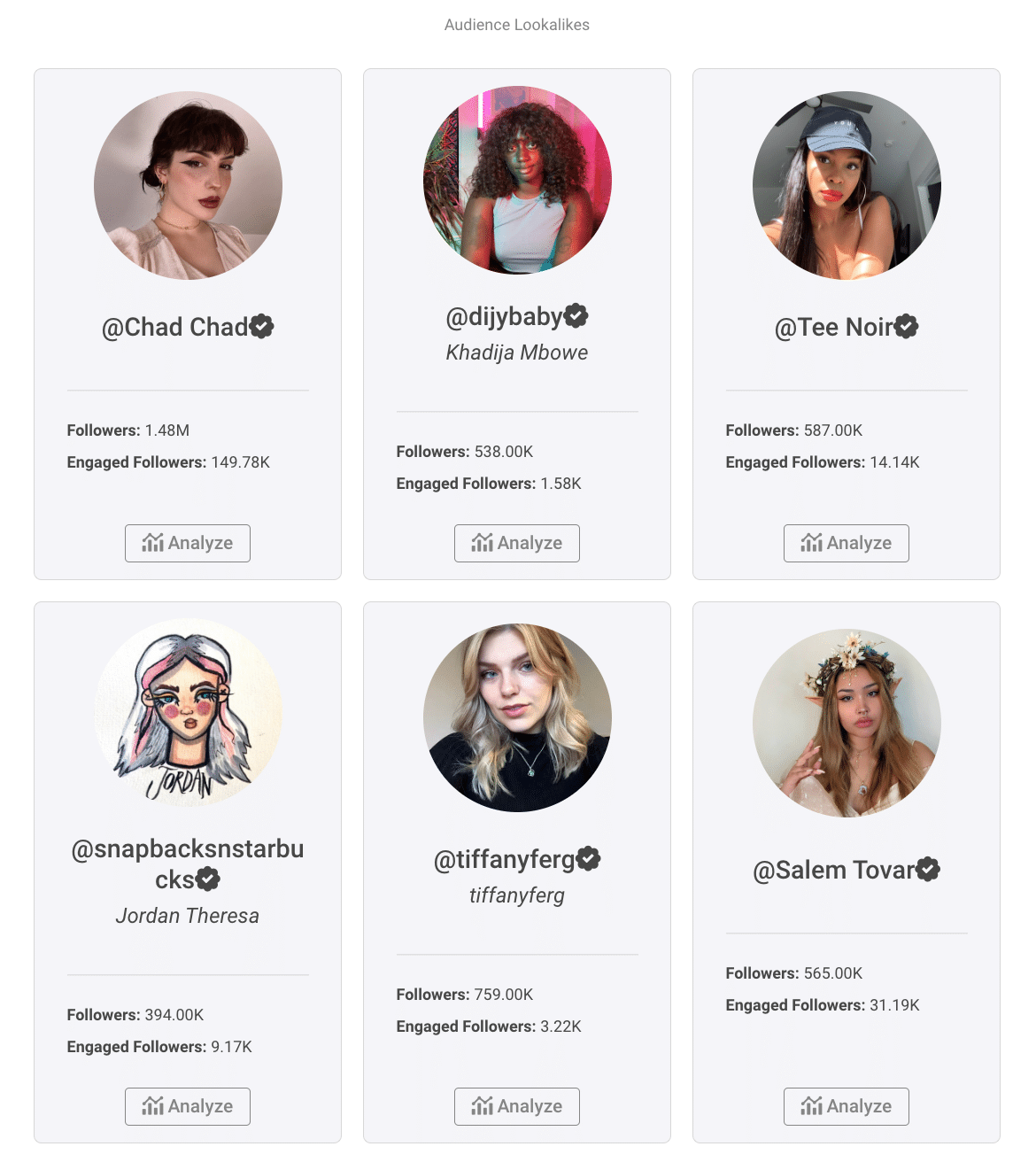 Scrolling down a little further will also allow you to analyse 'Similar users,' which presents an array of creators who produce similar content. Selecting the '+ Show All' button at the bottom of the box will reveal more influencer options to explore.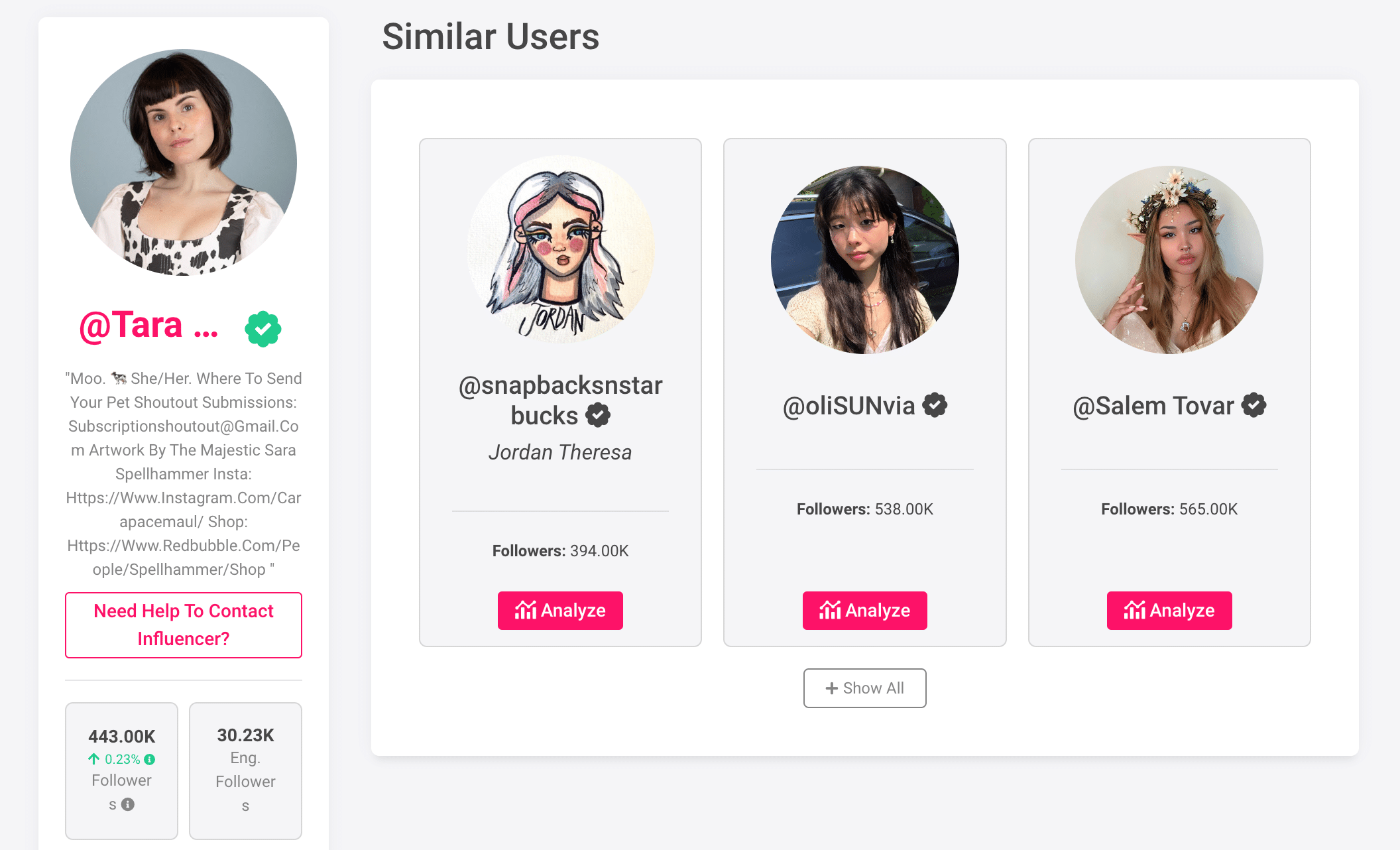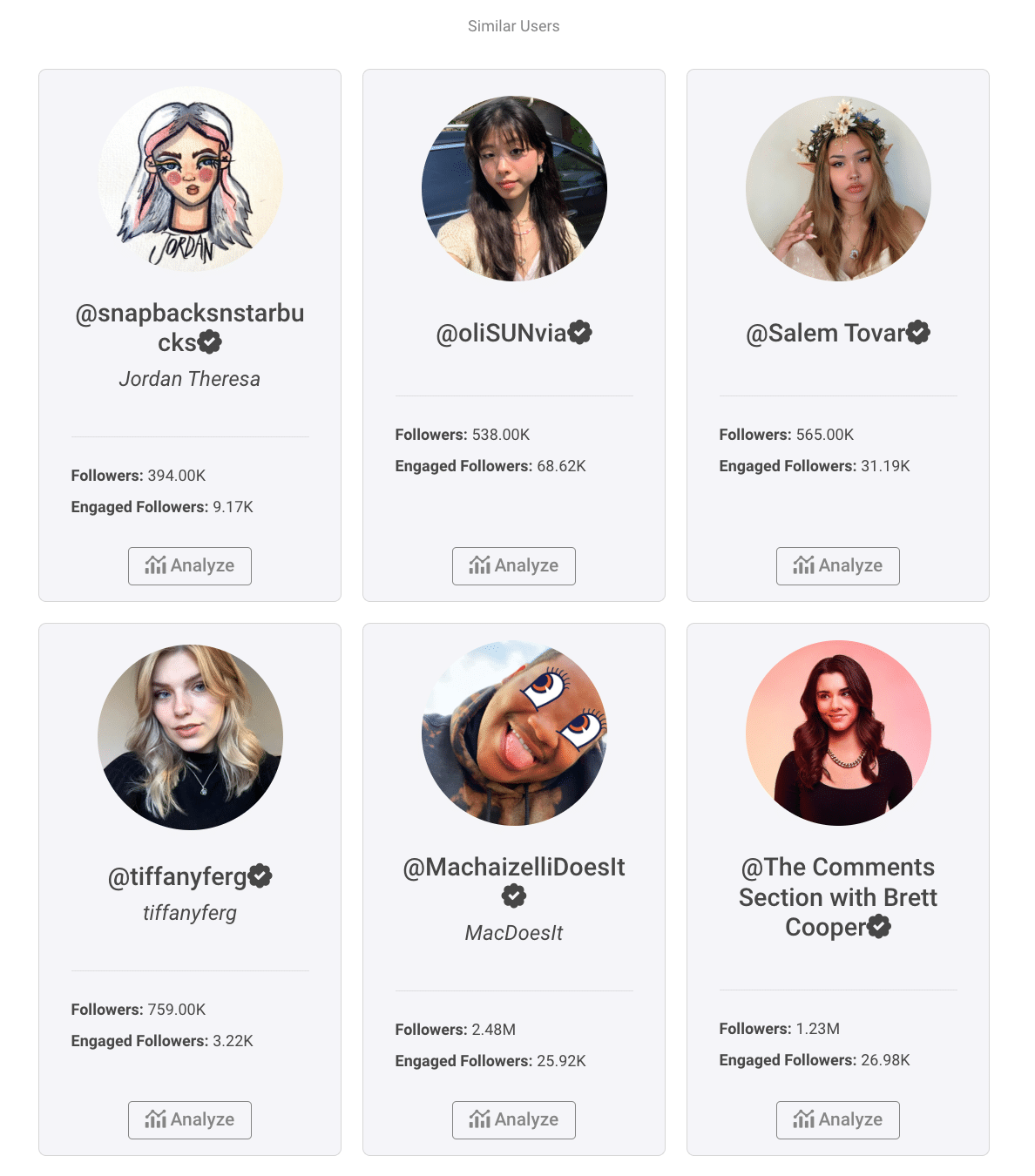 ❗Extra

Click Tip:

❗ Don't Overlook In-Person Events & Networking
Digital methods aren't the only ways to find YouTube influencers. There are many in-person events available where striking up a conversation with a YouTube influencer works as a simple and personal way to convey your proposal and core brand values.
1. Search on YouTube & Google
2. Use an Accurate Discovery Tool
3. Explore the YouTube Trending Tab
4. Search for previously Sponsored Influencers
5. Search for Similar Users or Audience Lookalikes
Ready, Set… Start your Search!  🏃‍♂️
With a range of different research methods under your belt, you are now fully equipped with the skills and knowledge to conduct a fruitful YouTube influencer search.
We hope you find the very best YouTube influencers that suit your brand needs!
Click Tip:  Working with a selection of micro-influencers is a greatly recommended and cost-effective way to start working with YouTube influencers.
Our team of experts have handled +150 influencer campaigns – to ensure a smooth-running campaign that produces outstanding results fast, sign up for a no-obligation free-trial with Click today.
👀  For more exclusive influencer marketing tips and tricks, stay tuned to the Click Analytic blog