How to find influencers that perform for your brand?
(Ultimate Guide 2023)
In this article, you will learn all the essentials. I will cover everything from BAD mistakes to avoid, to secret tips on how to find influencers for your brand.
My team and I worked on +1,000 campaigns with influencers across multiple industries. We will share with you all our knowledge that expert agencies don't want you to know:

How to define your Influencer strategy?

How to find influencers that are perfect for your brand?

How to expand your influencer database?

How to supercharge your influencer search using AI tools?
Once you have finished reading this article, you should have +100 influencers who can perform for your brand.
Bonus: I will also share with you the right metrics to vet an influencer profile and…
THE best influencer marketing tools you can use to save time and improve accuracy.
Ready to go?
Let's dive in.
What is the purpose of an influencer?
Prior to exploring how to find influencers for your brand, it's crucial to understand what benefits influencers can provide.
So picture it like this: Influencers are like your coolest buddies and top-notch experts rolled into one! 
Just like you trust your friends' recommendations more than boring ads, influencers have the magical power to win you over with their genuine opinions. 
But if you are looking for a more formal definition:
-> The purpose of an influencer is to use their online presence and following to sway their audience's opinions and purchasing decisions towards specific businesses, products or ideas (political space).
They are mostly:
Celebrities

Blogger / Podcasters

Instagrammers / YouTubers / TikTokers

Content Creators 

Industry Experts / Leaders
Influencers are often more powerful than traditional advertising because their content feels more authentic and relatable to their followers.
In short – Influencers rock because they have a dedicated fan base who trust them, resulting in more engagement and conversions than boring old ads.
Plus, they know how to hit the sweet spot with niche audiences, making their endorsements super relevant and interesting to their followers.
In fact, according to recent studies +40% of internet users are now using Ad Blockers as they consider ads to be "irrelevant and annoying"…
-> while 92% of consumers trust influencer marketing.
But how to Instagram find influencers in your niche? First, let see where they hang out…
Where can I find influencers?
You're probably wondering – how many influencers are there?
Well… According to Forbes, there are +50M influencers in the world today, and this number is growing on a monthly basis.
When it comes to discovering creators, the majority can be found on popular social media platforms. Here are the major social media platforms where you can find influencers:
Instagram

TikTok

YouTube

Facebook

Snapchat

Twitch

Twitter

Linkedin

Pinterest

BeReal

ClubHouse

OnlyFans

Threads
Depending on your brand objective and target audience, different platforms can apply.
For ex. For gaming products, Twitch & YouTube would be the best platforms.
However, there is a clear leader in the space.
-> Statistics show that nearly 80% of brands engage with influencers on Instagram, making it a top choice for influencer marketing. 
TikTok follows closely behind, and YouTube completes the top three preferred platforms for brands seeking impactful influencer collaborations.
In addition to these leading platforms, you can also explore external platforms like Twitter, Snapchat, Twitch etc.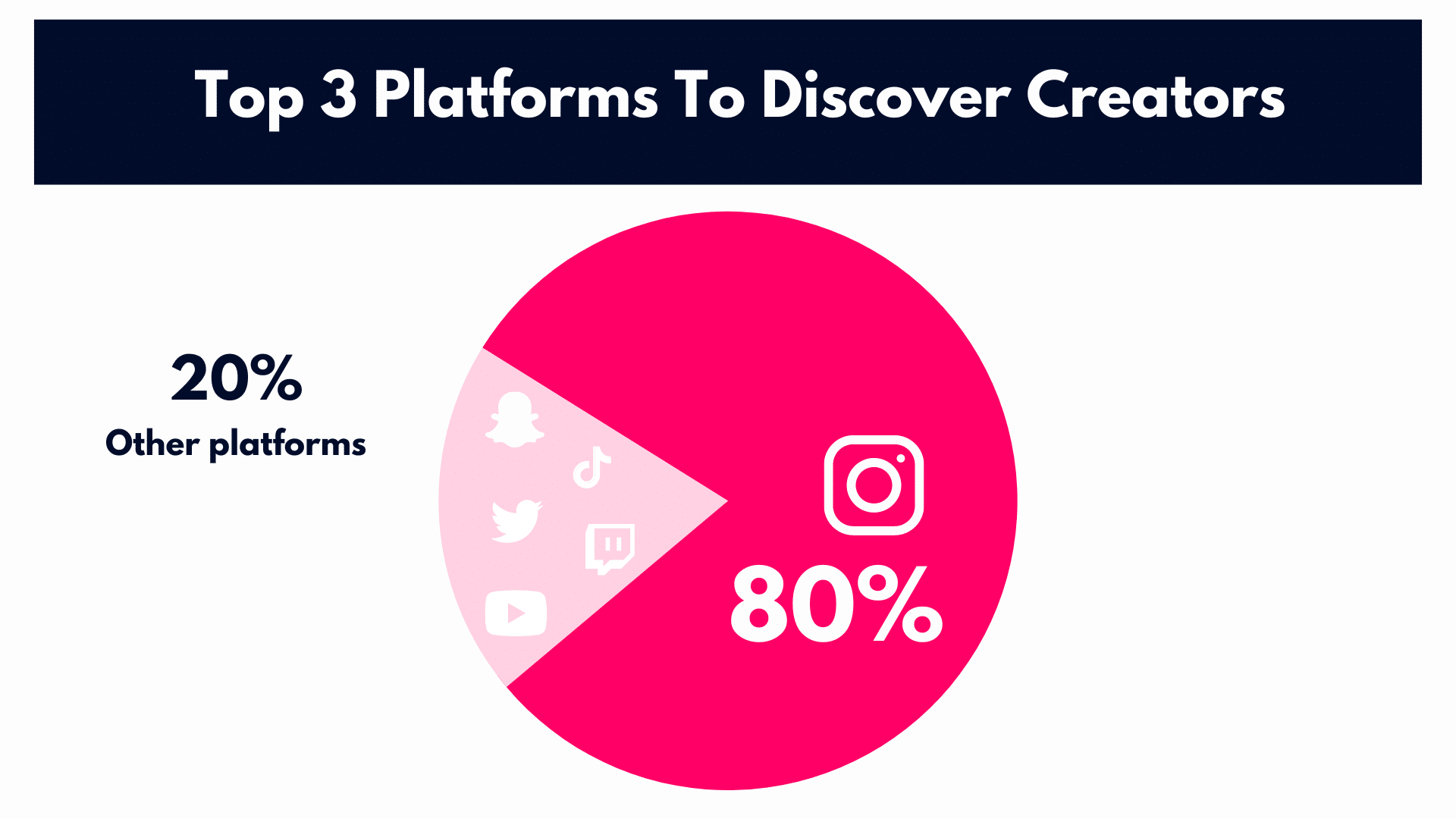 Remember, the right creator can wield incredible influence over their audience, so take the time to explore various platforms to find the perfect match for your brand!
What are the different types of influencers?
Influencers come in various types, ranging from beauty experts and gamers to food bloggers and travel enthusiasts, catering to different interests.
Each type brings its own special powers to the table, casting spells on their followers and taking them on thrilling journeys through different content and stories.
Here are the most common types of influencers: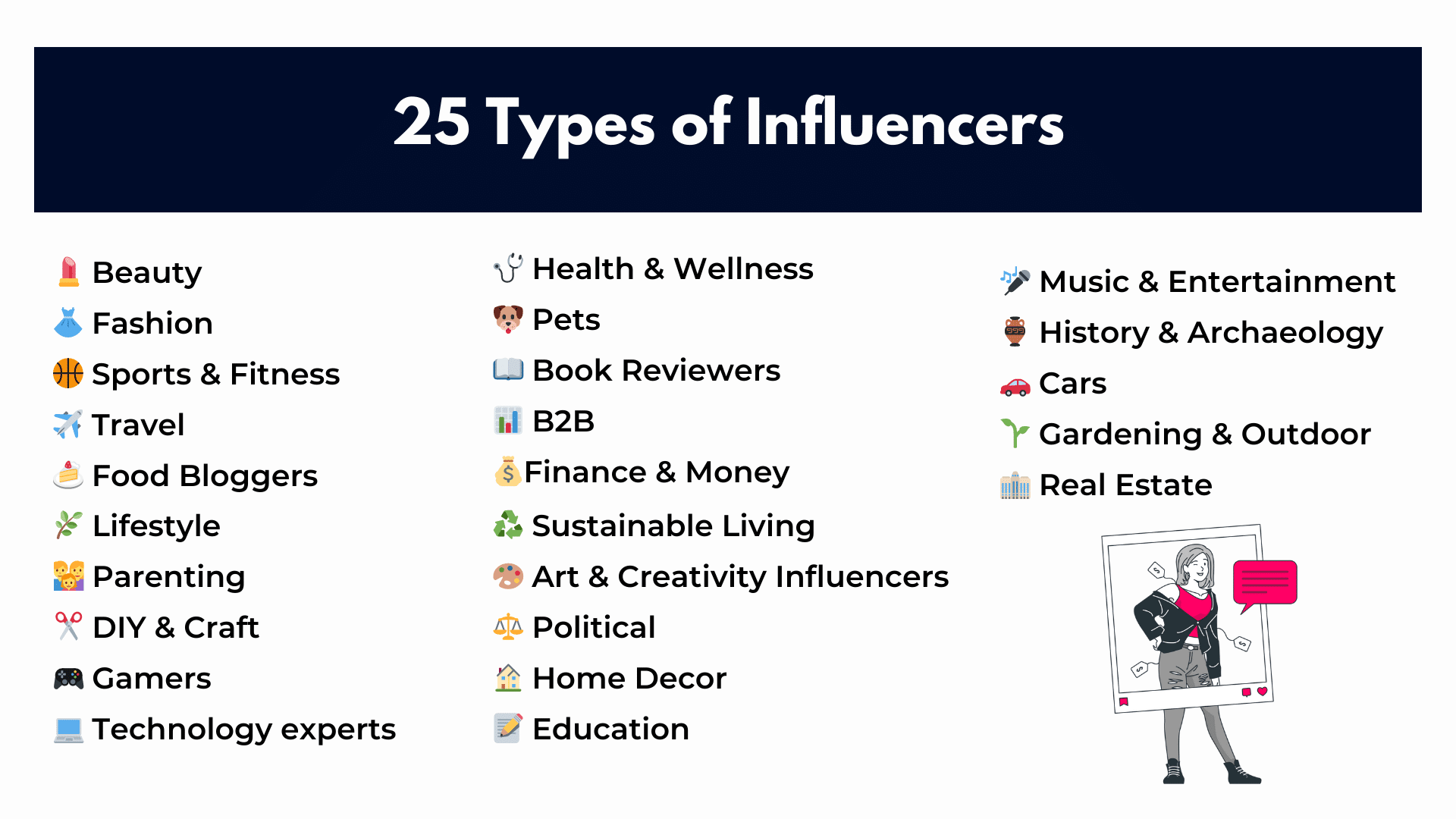 But, what can they do for my business?
In today's digital age, influencers have become a game-changer for businesses, offering three key benefits to level up your marketing game. 
Here's how they can support your business:
1. Boosting Awareness & Visibility:
Influencers can introduce your brand to their dedicated followers, expanding your reach.
Their endorsement adds credibility, making your brand more trustworthy.
2. Creating Engaging Content:
Influencers craft content that's relatable and authentic, capturing the audience's attention
3. Driving Sales & Product Testing:
They can influence purchasing decisions and drive people to your website.
They act as valuable product testers, sharing genuine feedback with their audience, and increasing product trust.
However, it's important to note that getting results with influencers is dependent on two key aspects:
– Having a proper influencer strategy 
– Finding the right influencers to collaborate with
💡 Don't forget – understanding your target audience and their interests is the key on how to find influencers who will truly resonate with your brand and deliver exceptional results.
Will any type of influencer work for my business?
NO! And be attentive. This is important!
It's not only about how to find the influencers, but more how to find the right influencers for your brand.
Choosing a good influencer for your brand is like finding the right superhero for your team – not all capes fit! 
Not every influencer will jive with your brand's vibe.
You have to be super picky and find the ones who fit with your message and charm your audience.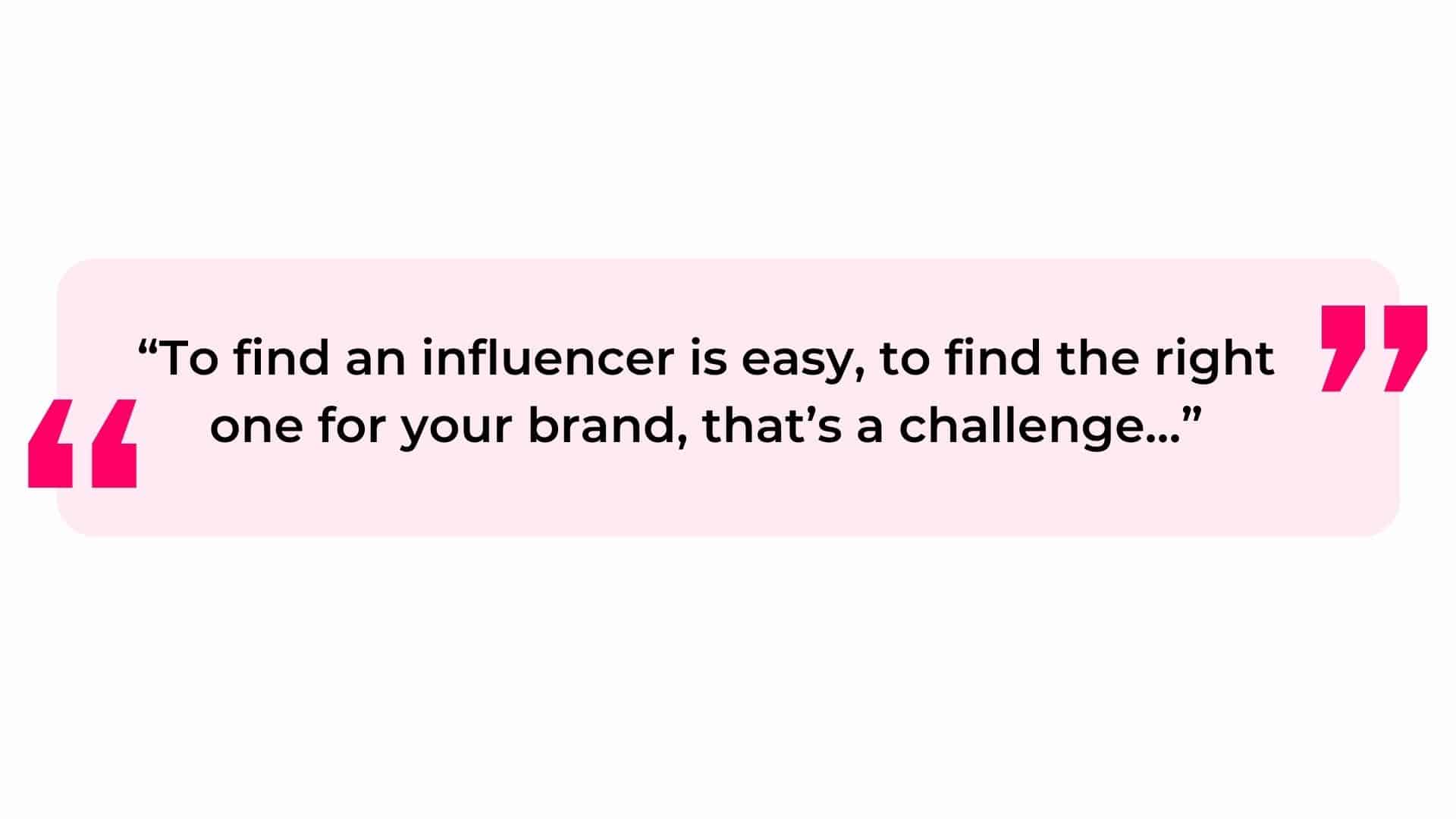 Let me give you a concrete example of a failed campaign.
This is a true story.
Picture this: Dior Beauty worked with one of the most famous Swiss influencers (+400k followers) and paid her +$5,000 for content on Instagram. 
The post got +14,000 likes – great reach, right?
Well, not exactly… this influencer is actually predominantly followed by a male audience based in Brazil, India and Indonesia.
Therefore, if the goal was to reach a female audience interested in beauty products…
> Their message was likely lost in a sea of sports posts, and their sales probably didn't reach the goalposts they had in mind.
Instead, you would need to find an influencer whose audience primarily consists of beauty enthusiasts, skincare aficionados etc. 
It's also important to find a creator who is based in your target country.
On the other hand, if Dior's goal were to create premium UGC content to repurpose on its social media, the campaign would have been a success!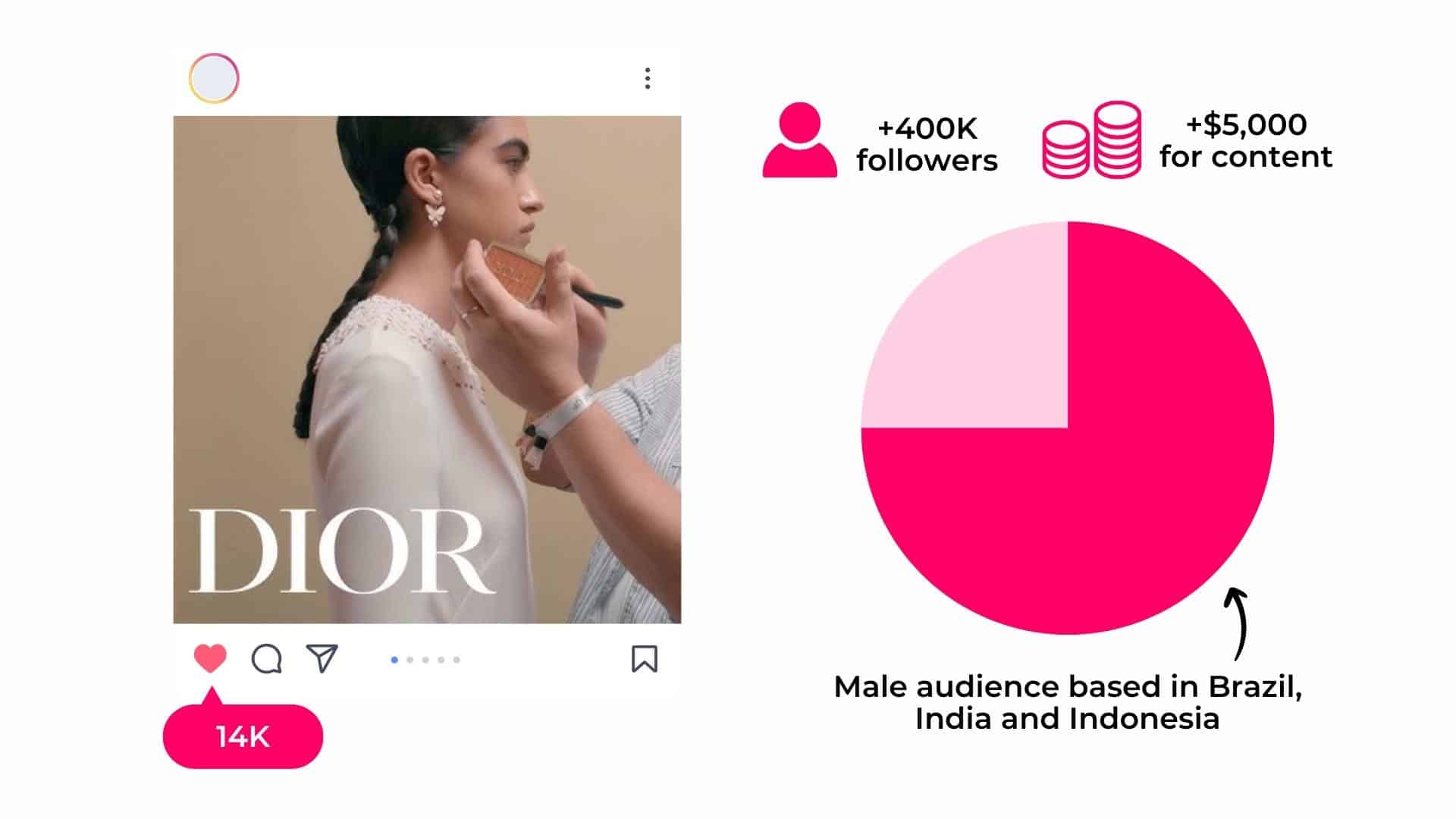 This is why many brands looking for influencers are making the same mistakes when setting their influencer search. 
They are not finding the proper profiles to match their strategy.
But don't worry – I will show you how to find influencers that are the right fit for your brand!
Now, are you ready to become an expert at finding influencers?
Let's see how the best influencer marketing agencies are finding creators for their campaigns.
How to find influencers that perform for your brand?
Here are 10 ways to find influencers like a pro:
1. Define your Influencer strategy
2. Select your influencer niches
3. How to find influencers who are fans of your brand
4. Create a program for influencers to apply to
5. Build an influencer database for efficient tracking
6. Export influencers on your database
7. Steal influencers from your competitors
8. How to find influencers for FREE
9. Supercharge your search with a free influencer search tool
10. Vet the audience of an influencer
1. Define your Influencer strategy
Before you start looking for influencers, the first step is to define your influencer marketing strategy.
Would you spend money on ads with random audience targeting?
Surely not!
The same rule applies to Influencer Marketing. If you don't have a clear plan, how can you select the right influencers? 
In fact, 90% of the campaigns that I worked on failed because the strategy was not clear.
However, if you have a clear strategy and select the right influencer to achieve your goals, you can generate amazing results.
Dunkin' Donuts is a great example of how to find influencers while setting clear goals to achieve incredible results. 
They teamed up with Charli D'Amelio and had one clear objective = boost their app downloads from a younger audience.
See their amazing results below: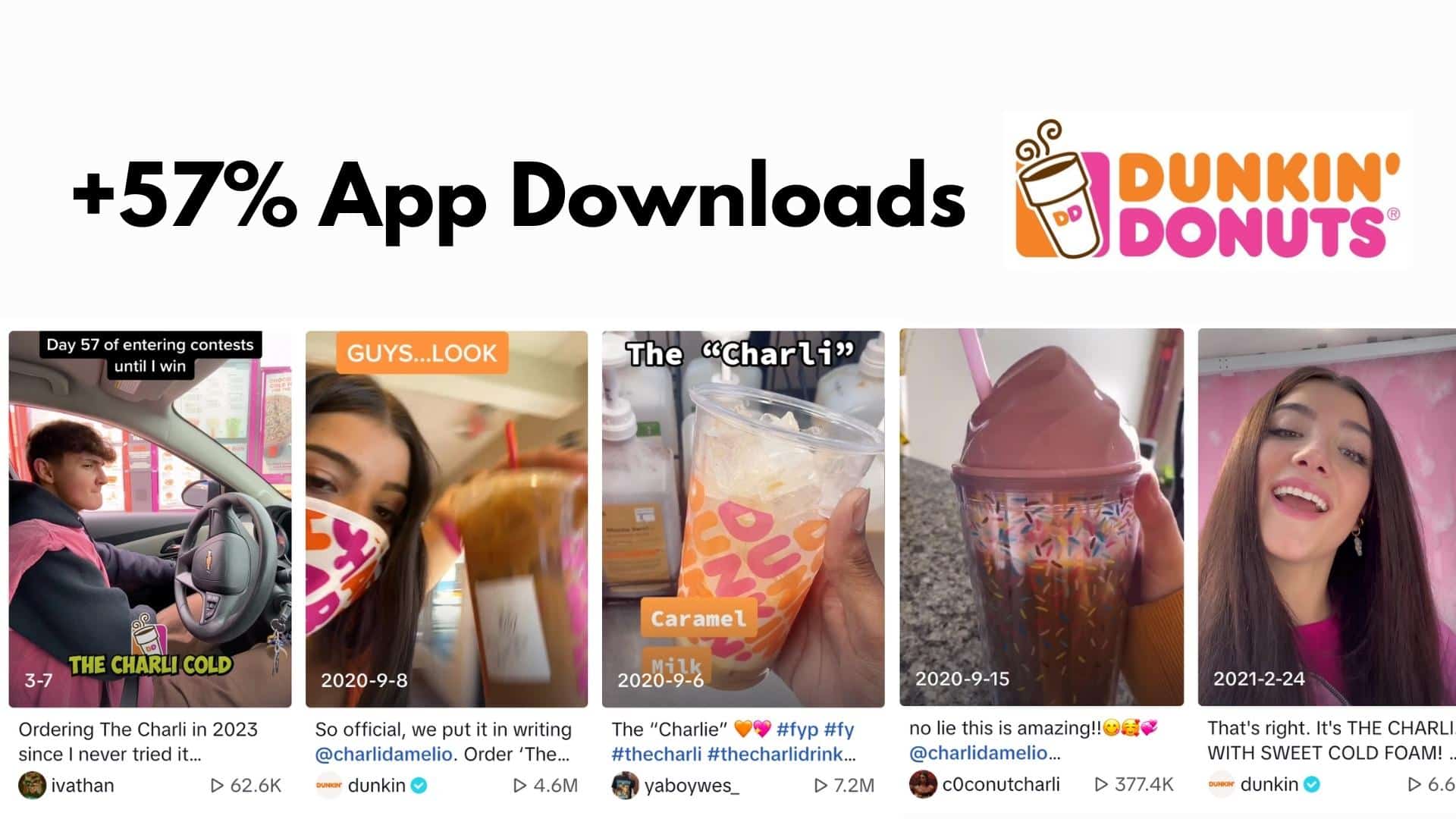 Convinced?
Here is a short checklist to help you build your influencer strategy:
Establish a clear goal (sales, visibility, content etc.)

Identify your audience

Select the social media platforms + content type

Decide on your budget

Set tangible objectives (X conversions, or reach etc.)

Write your brief, what you expect influencers to do
Now that your influencer strategy is built, it's time to identify your influencer niches.
2. Select your influencer niches
Okay, great.
Now, you have a strategy in place with clear goals. It's time to learn how to find Instagram influencers in your niche.
But first – let's define your niche profiles.
As we discussed previously, various types of influencers exist, but the key is aligning with specific niches based on your audience's interests + campaign objectives. 
For example:
If you are selling skin care products for women aged 25 to 35 with a focus on Instagram visibility, you should collaborate with the following types of creators
– Skincare experts & dermatologists for credibility.
– Mom influencers to reach busy moms seeking skincare solutions.
– Lifestyle influencers to connect with broader audiences.
– Make-up artists for expertise
This was just an example, but now you need to put in work and think of different types of niches for your business. 
If you know your audience well, this should be easy! 
Now, here's a table to help you identify the key Influencer niches: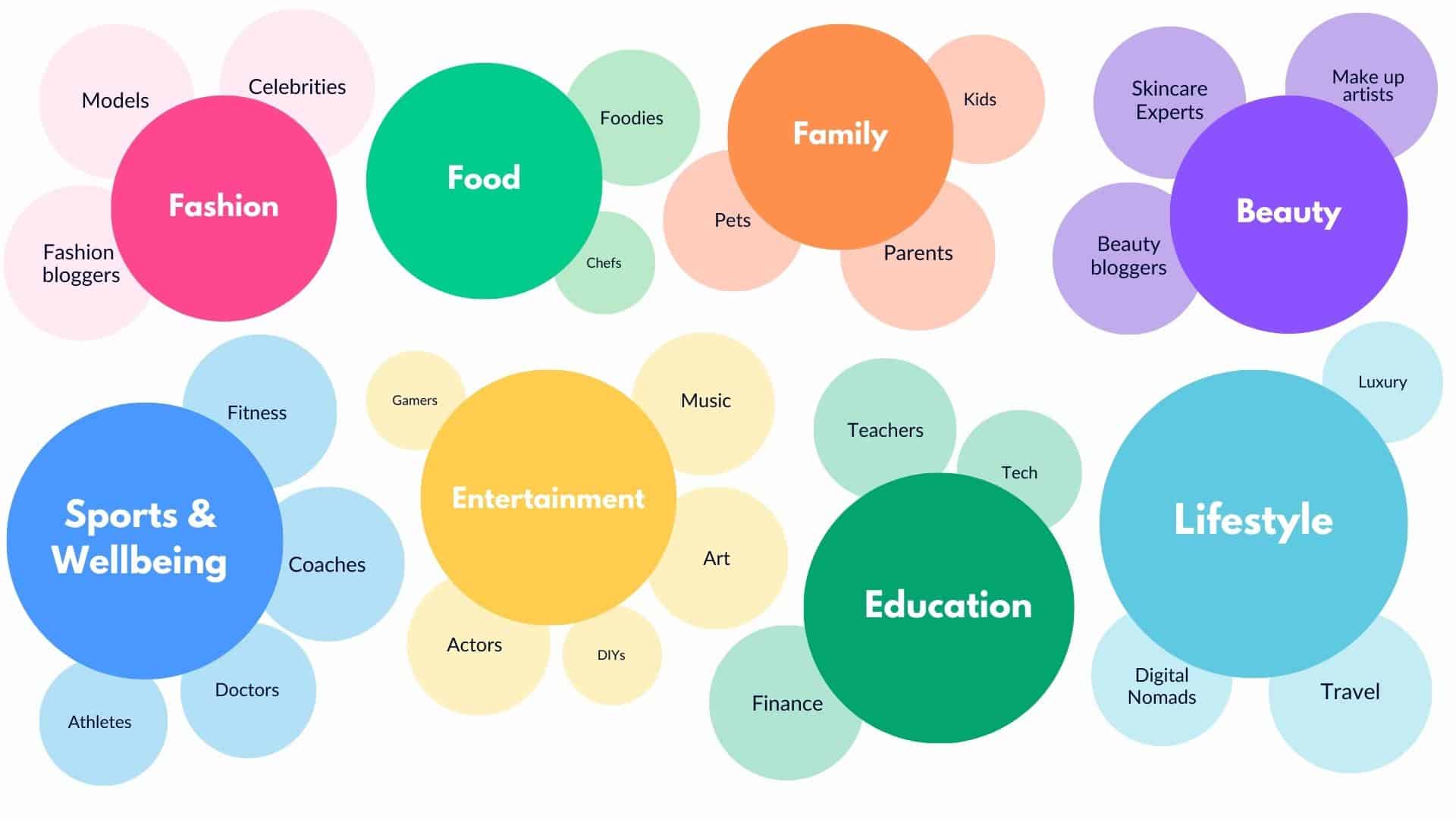 3. How to find influencers who are fans of your brand
⚠️ Important: If you are launching a new business and don't have social media accounts or customers yet…This section might not be relevant to you.
When starting an influencer search, many marketers tend to look at global rankings or directly use influencer finder tools. But they are wrong!
🧐 The truth is that you probably have influencers hidden within your own audience, fans or customers.
Think about it – influencers are normal people. Even if some are famous celebrities, they still go shopping and purchase products. 
Maybe some already visited your website? Or follow you on Instagram?
But how can you identify them?
Here are some different ways (no one will tell you about this):
1. Scan your social media accounts
Here's the few steps to do that:
1.1 Look at the tagged section
-> On Instagram, you can look at the tagged section of your profile and detect influencers who mentioned you: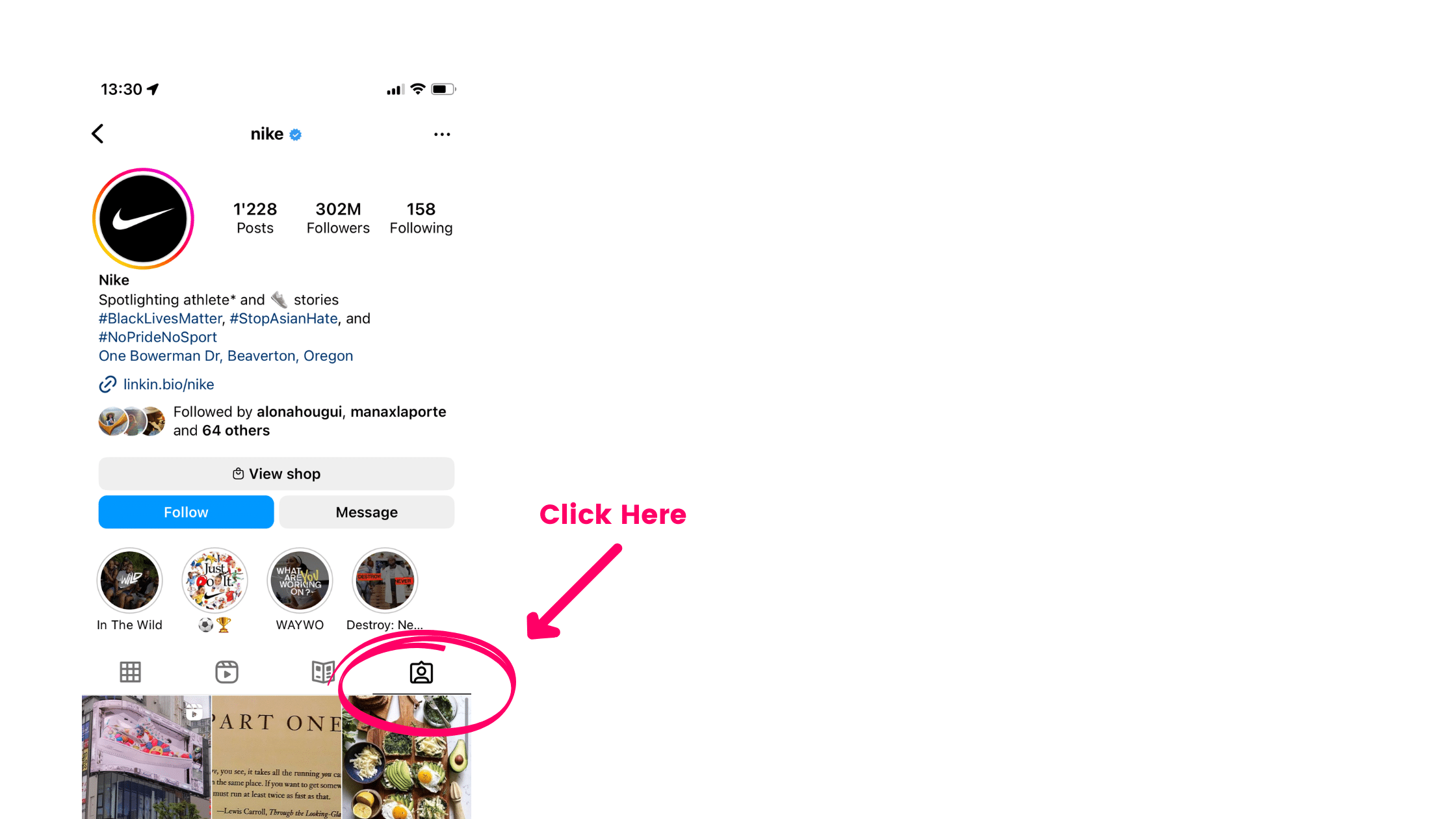 -> On TikTok you don't have a tagged section, but you can look at mentions: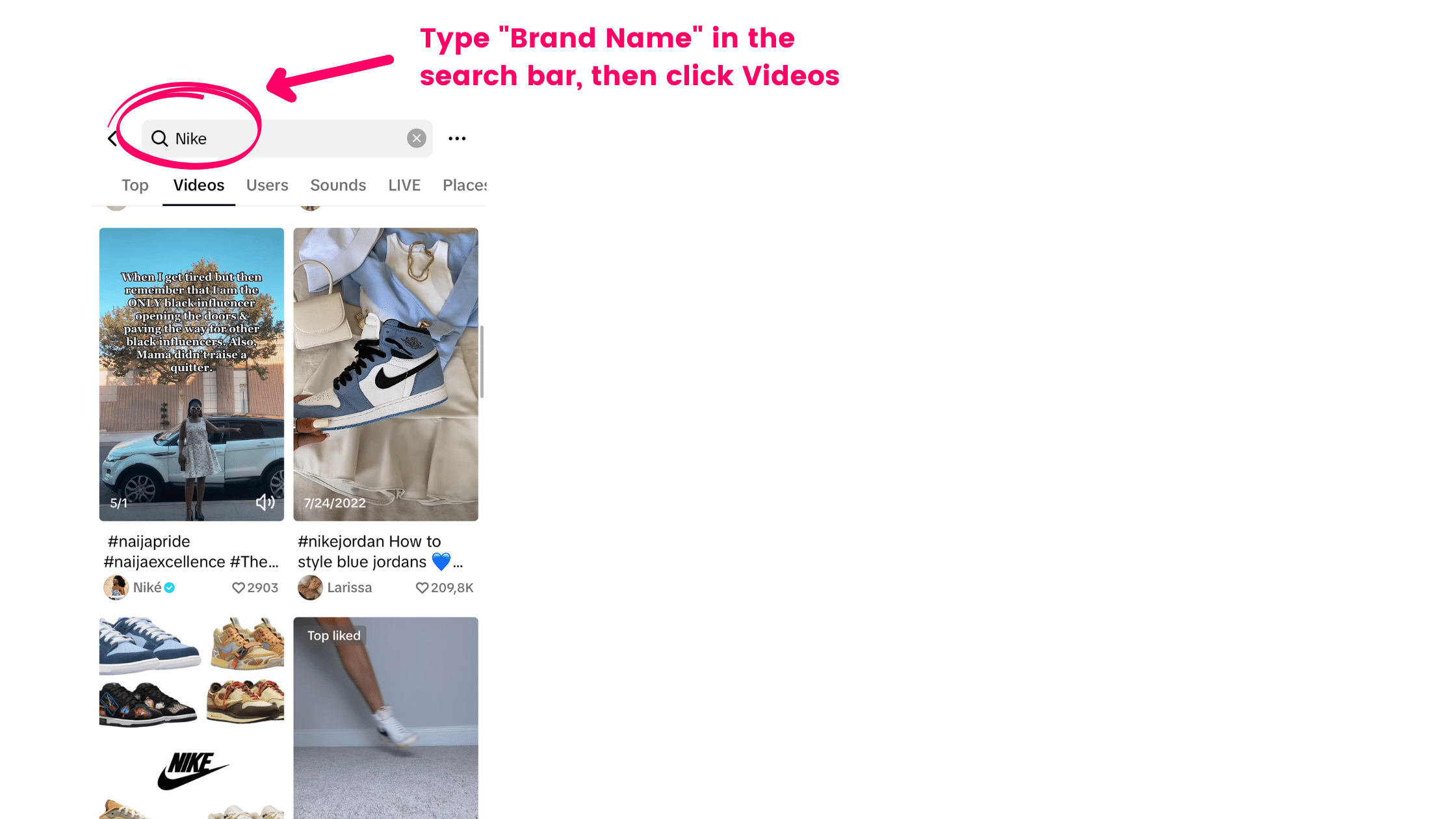 -> On YouTube, you can directly find influencers who mentioned you simply by typing your brand name: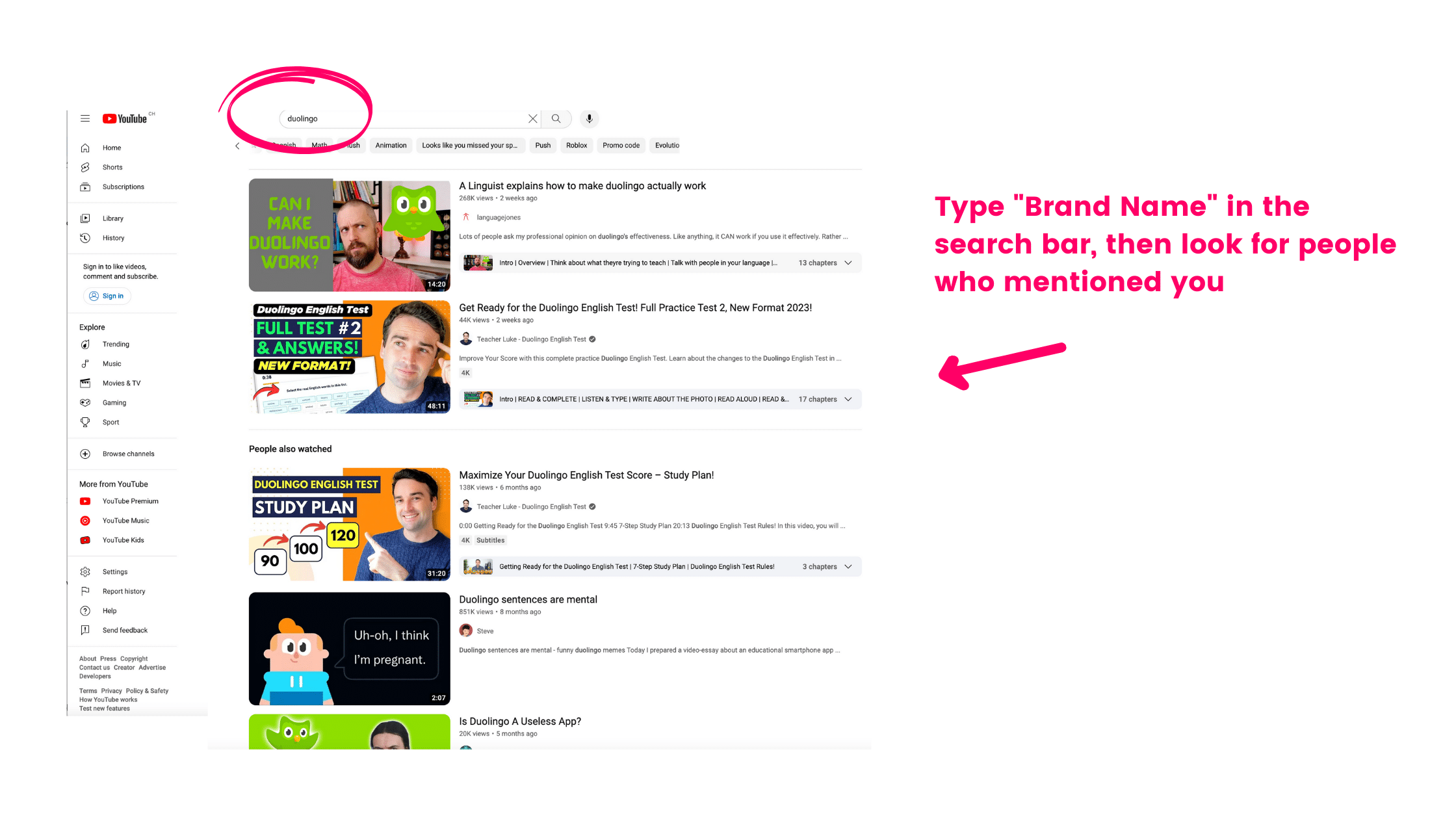 *Pro tip: You can also filter the results either by relevance, duration, upload date or performance (views, rating).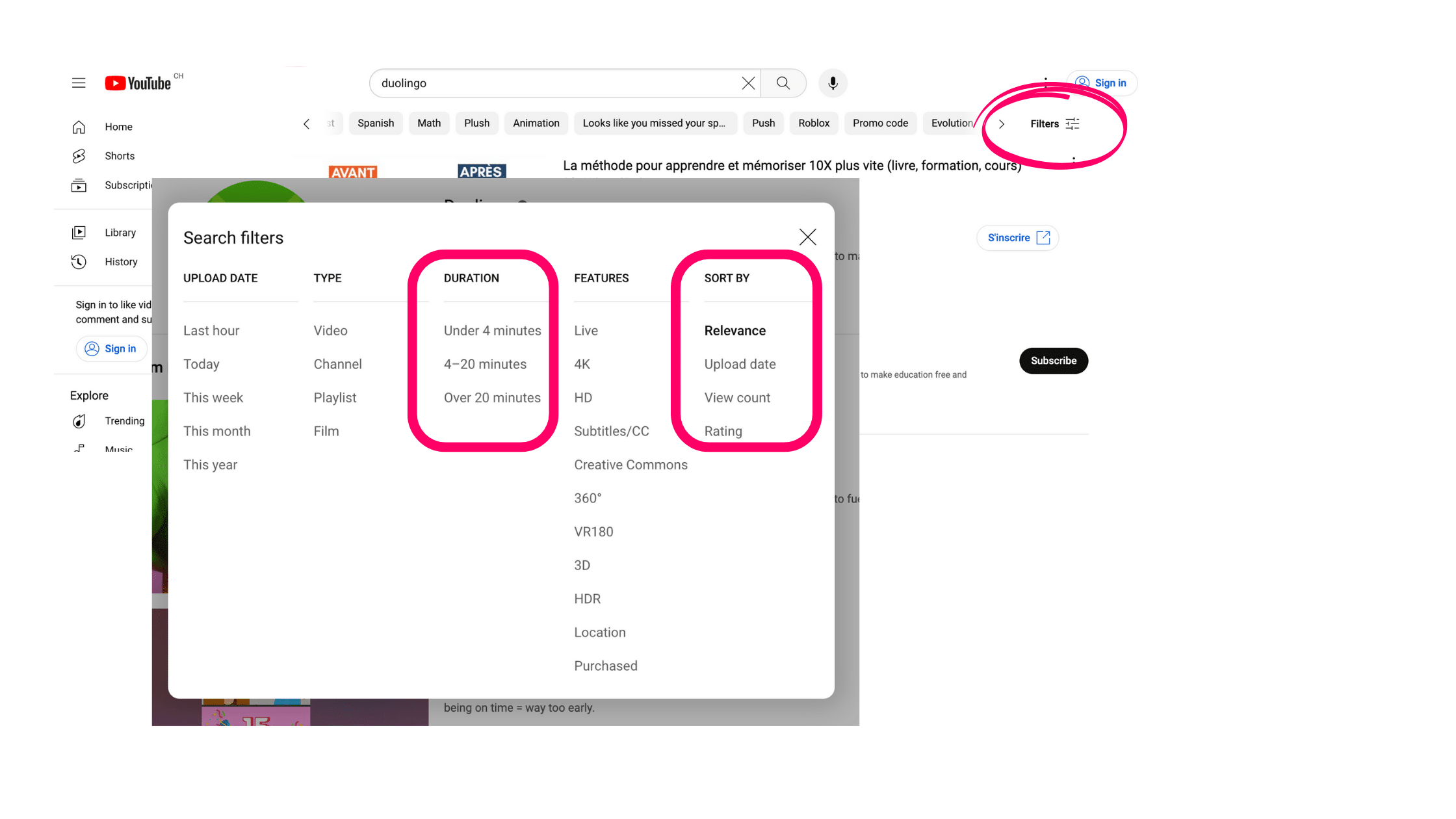 1.2 Search influencers with hashtags
-> On Instagram or TikTok, you can also discover influencers who mentioned you using hashtags: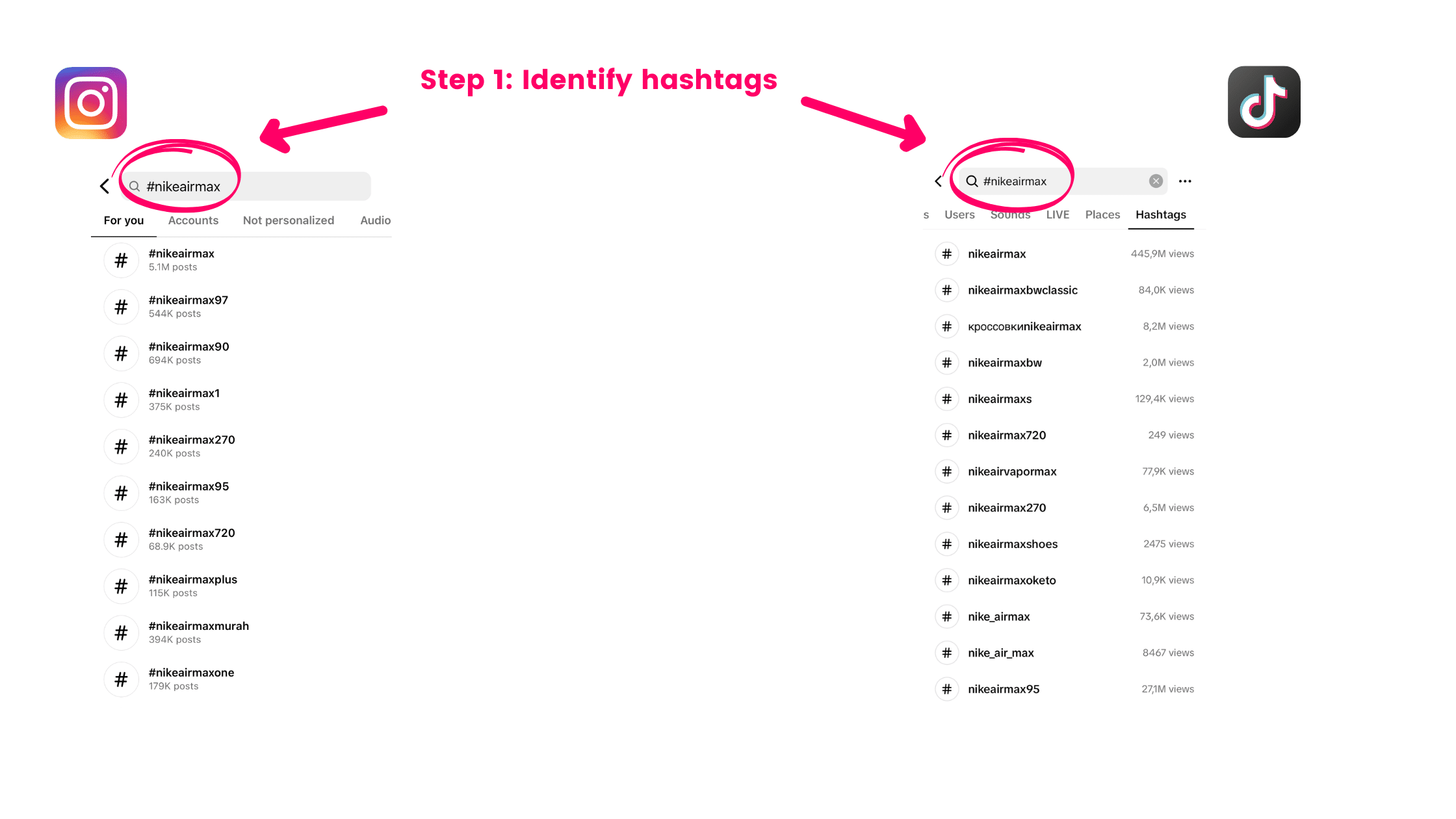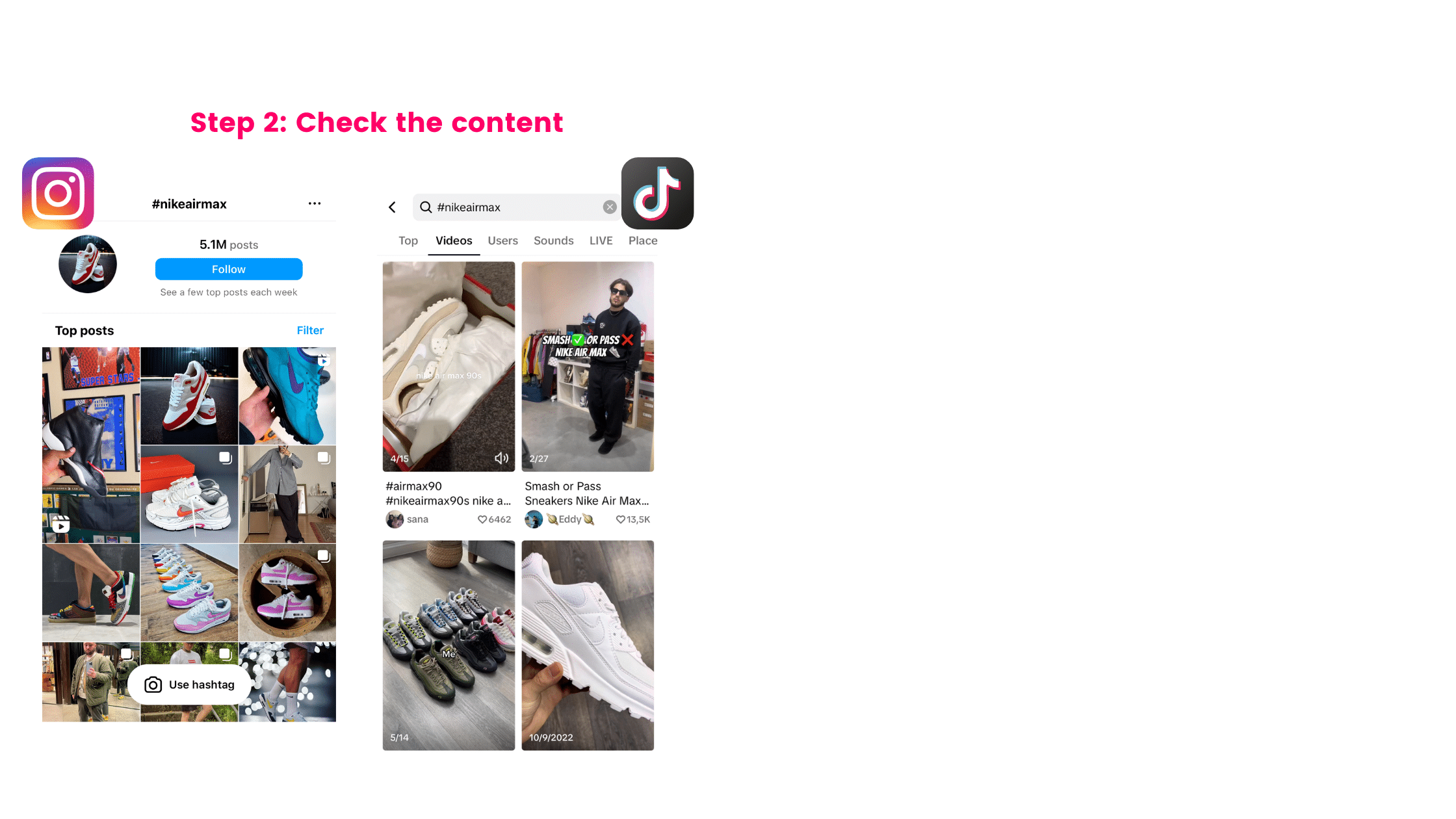 1.3 Check your follower list
-> Another great way to find influencers is to look within your followers.
If you want to do it manually: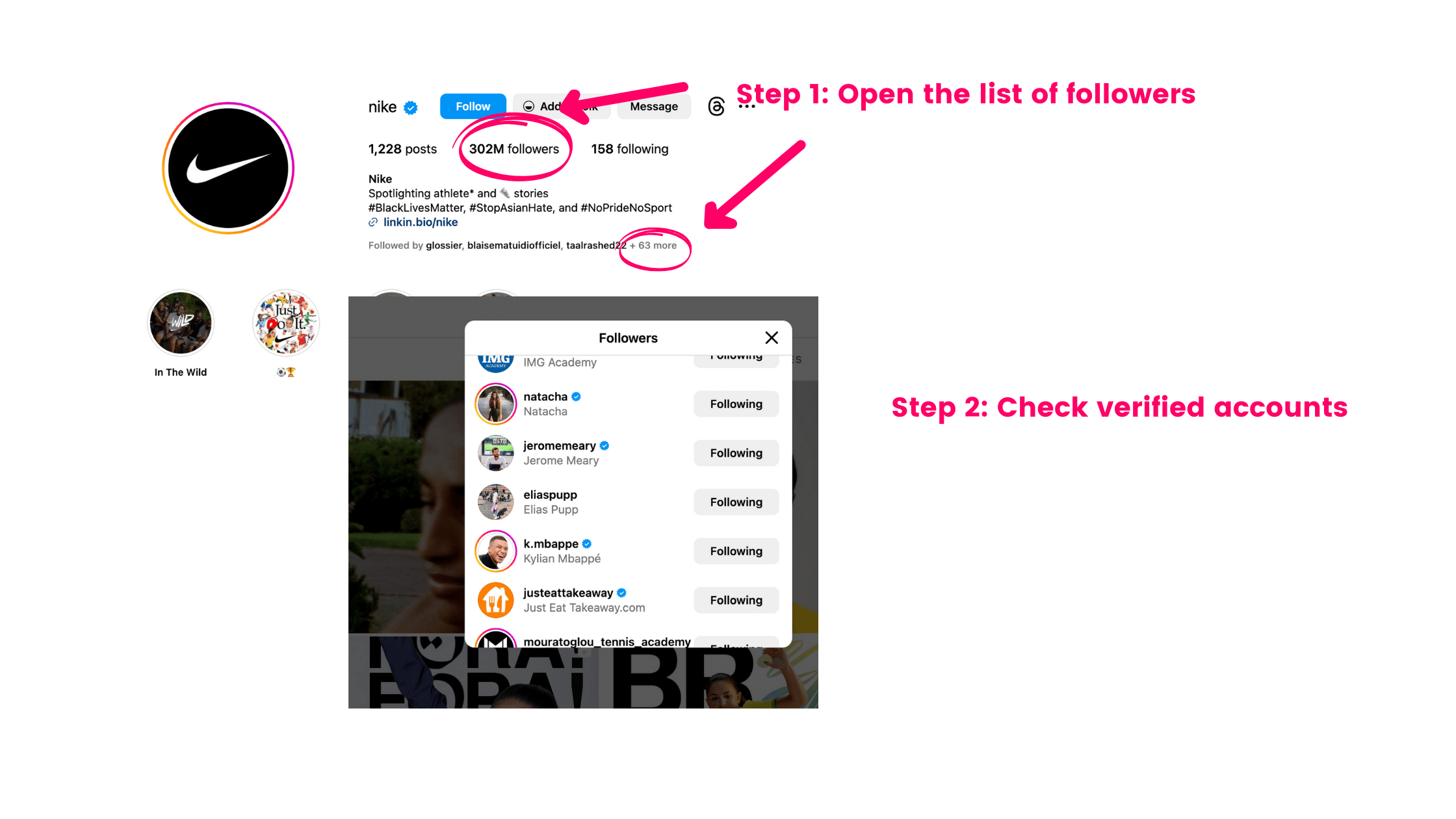 -> If you want to do it automatically, you can use Click Analytic / it's free with our trial: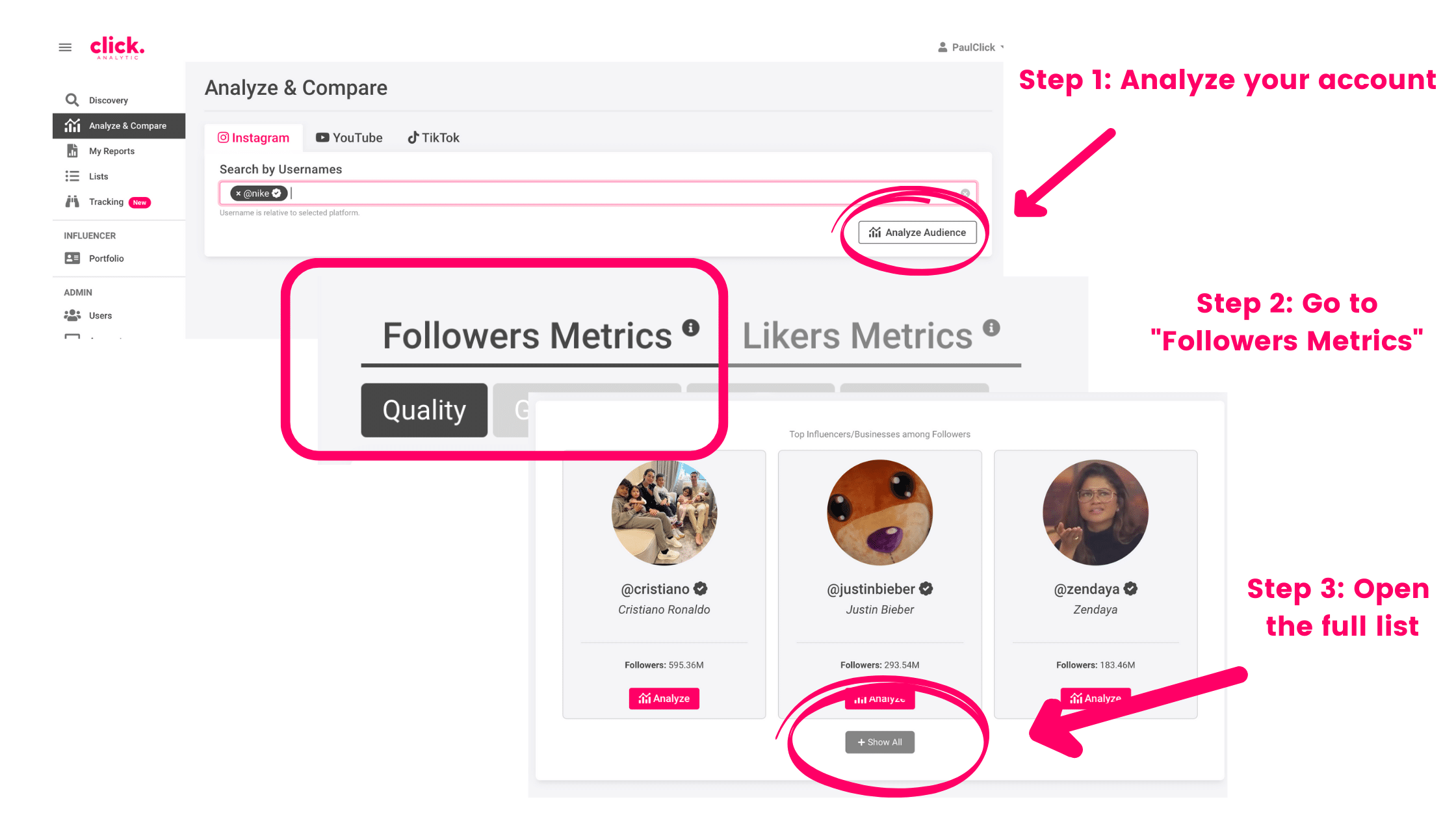 -> *Pro tip: You can even look at influencers who previously engaged with your content. Follow the same process (like for when you look in your followers list) on ClickAnalytic.com, but go to Likers Metrics: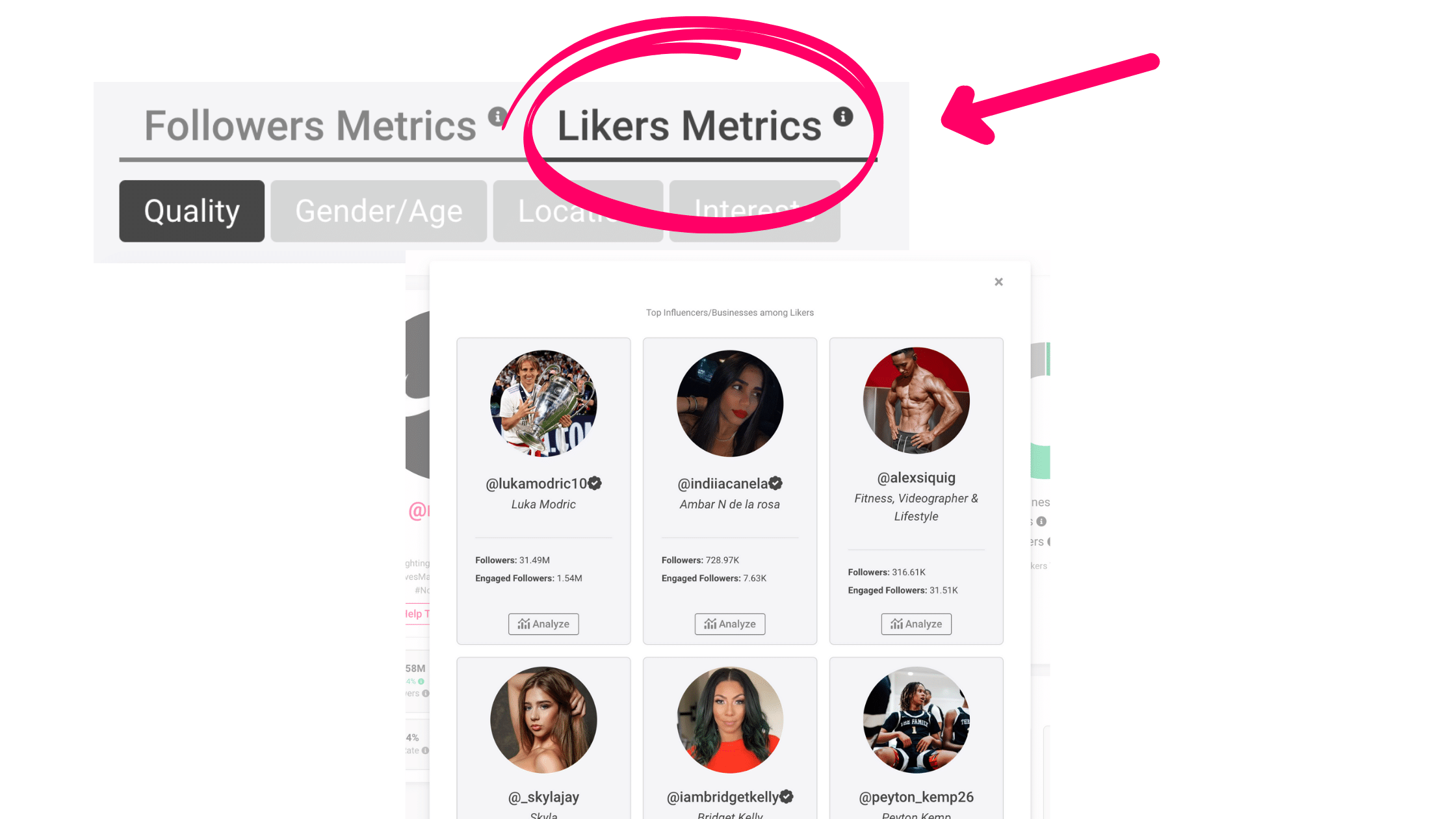 2. Ask your clients directly
Another way professionals in the influencer space discover influencers is through asking their customers directly.
Here's how it works:
-> When customers log in to a company website, they often receive a lead magnet like a promo code or newsletter signup.
-> By simply adding a request for their social media handle in the lead magnet or during the checkout process, you can identify potential creators among your audience.
-> Recording customers' social media handles helps you spot potential brand ambassadors and turn them into influencers for your brand.
-> Your customers can be your first brand ambassadors, and you'll be surprised to discover hidden influencer gems within your audience.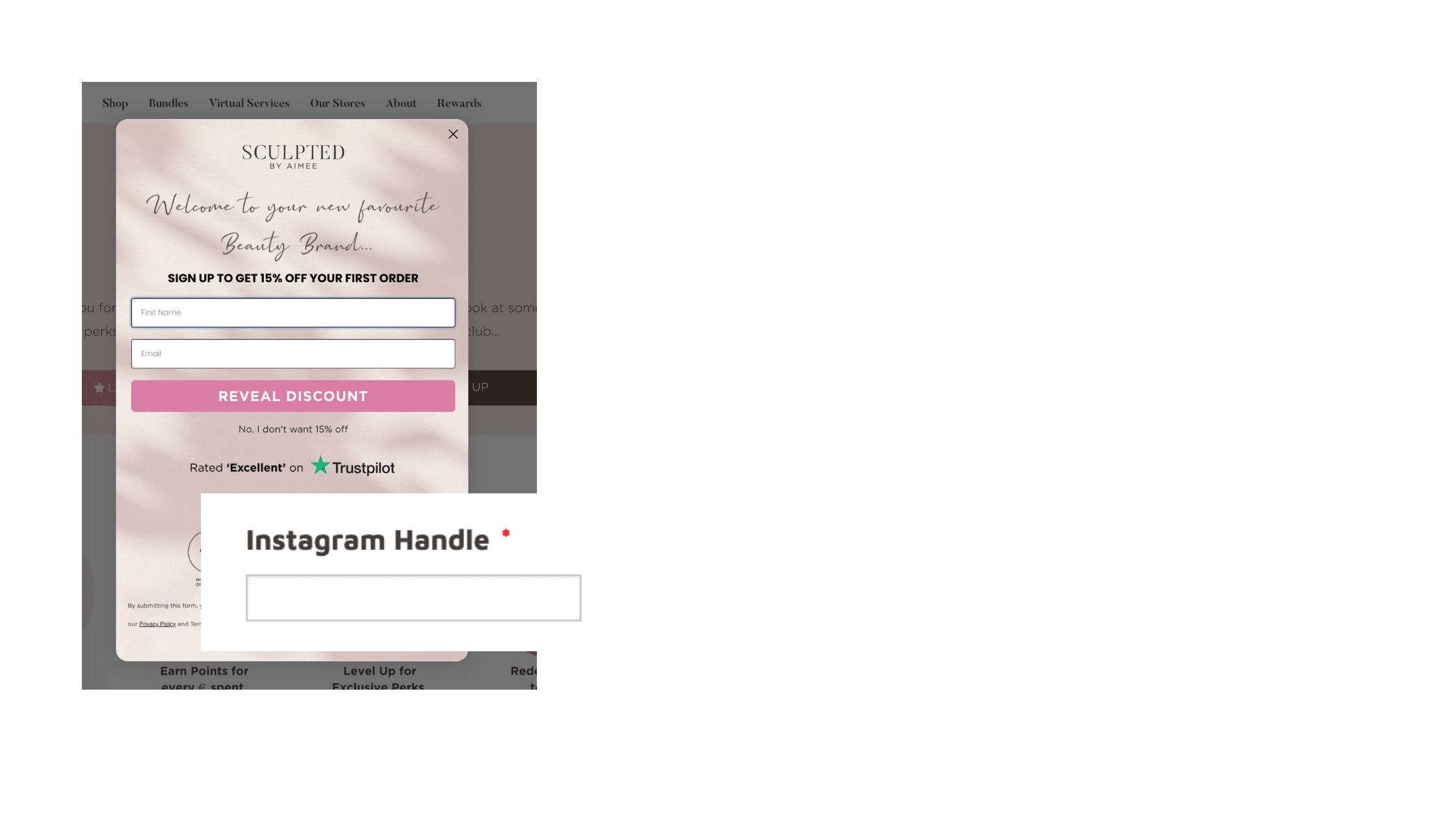 If you're asking yourself – how to find influencers who are purchasing my products? Well, here's your answer. 
Recording the social media handles of customers will help you detect potential creators within your audience and turn them into brand ambassadors.
4. Create a program for influencers to apply
Once you have manually identified influencers within your audience, it's time to let them come to you. 
How will creators come to me??
It's fairly simple – you can create your influencer program.
-> It's a digital form that  can be generated with either Google Forms, Mailchimp or directly with your CRM or E-com platform (Shopify, Magento etc.)
You might be wondering what to include on your form…
That will entirely depend on your brand and the objective of your influencer program. 
If you need information regarding the type of products to send (E.G: For skincare, you might need to ask about the skin type) or you want to use this program to seed influencers / only to gather contacts, that might impact the questions to ask.
The mandatory elements are:
-> An explanation of your program's benefits 
-> Email
-> Full Name
-> Social media handle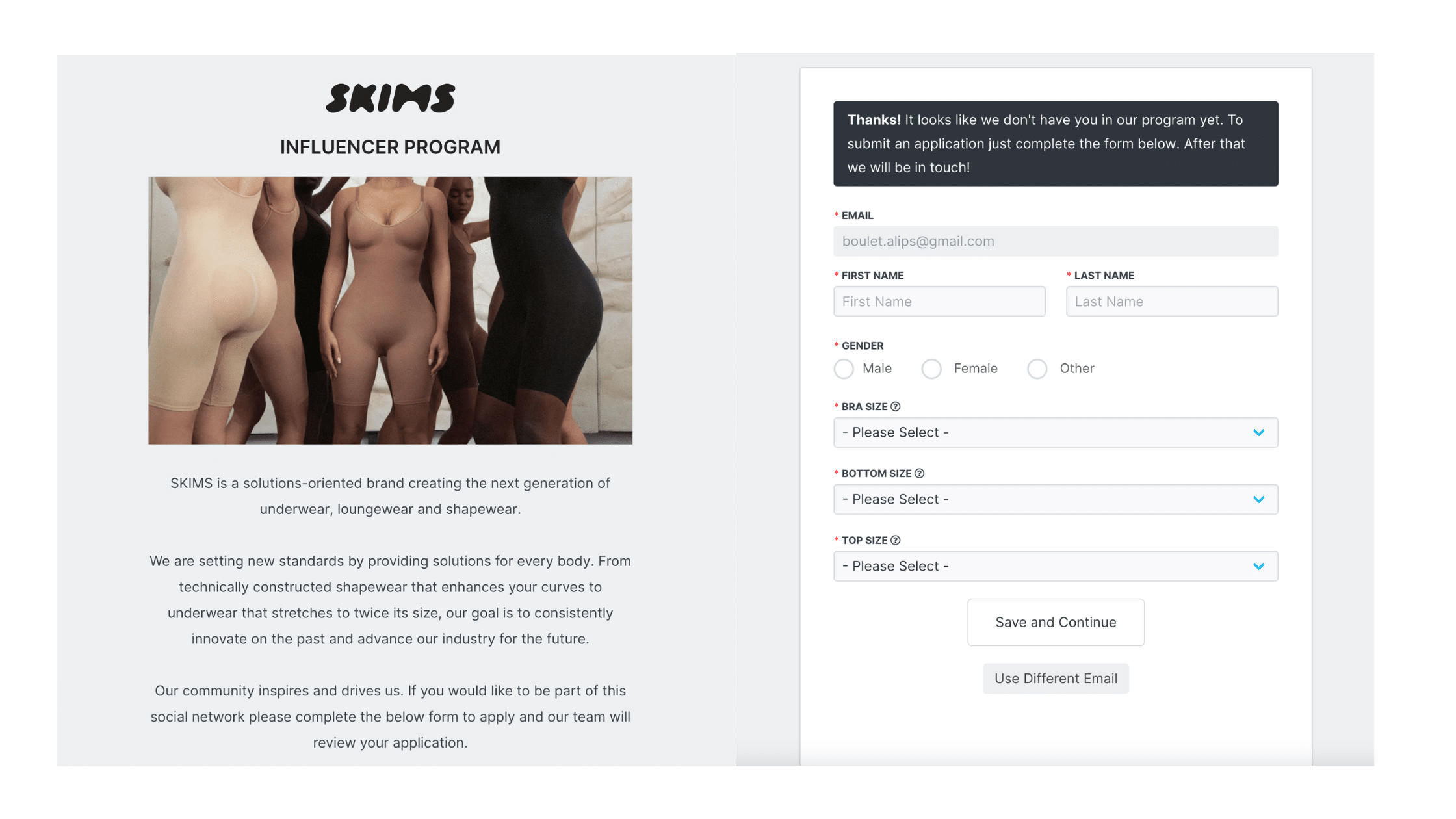 Once you created your form, share it on your website & social media pages.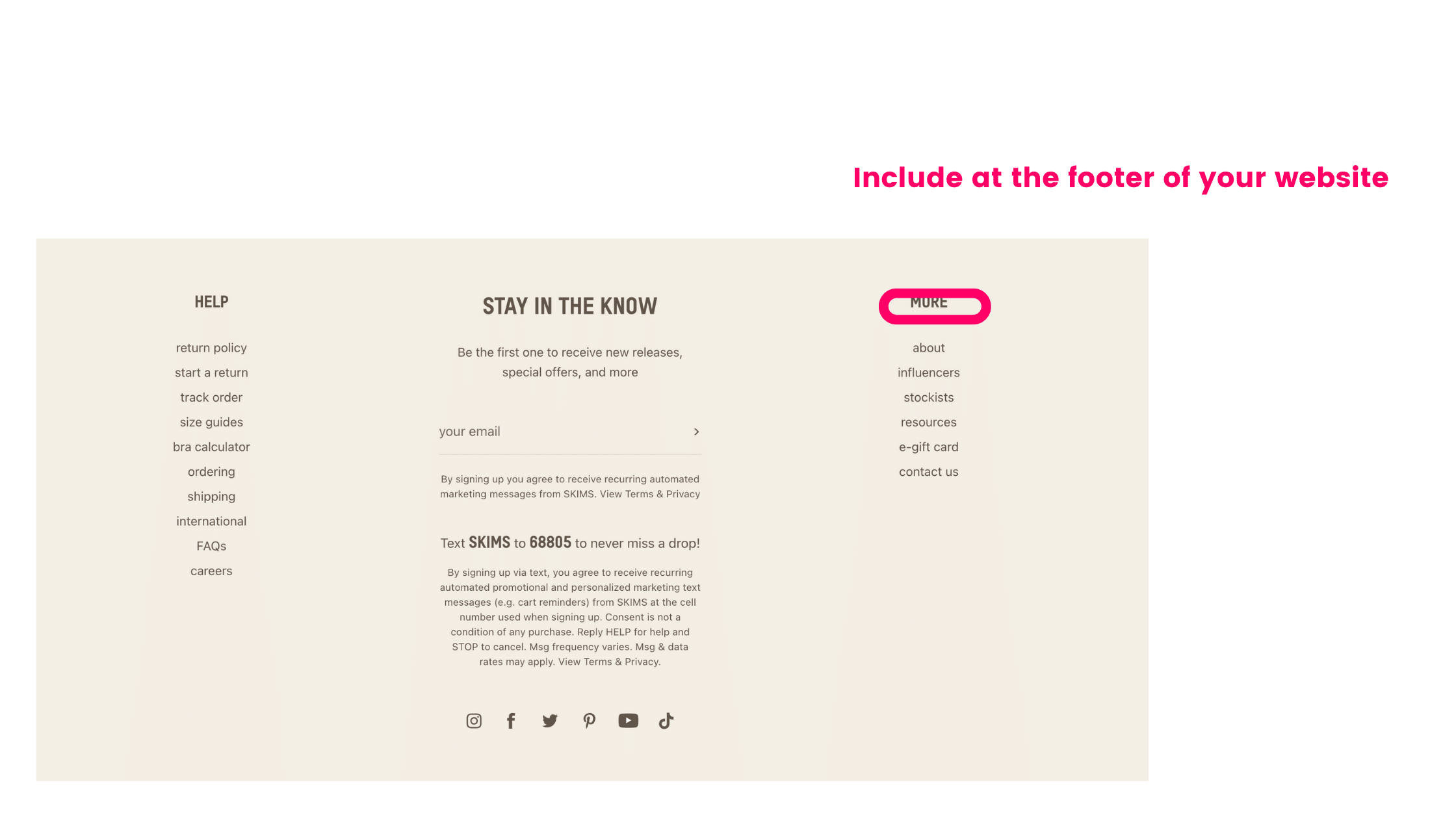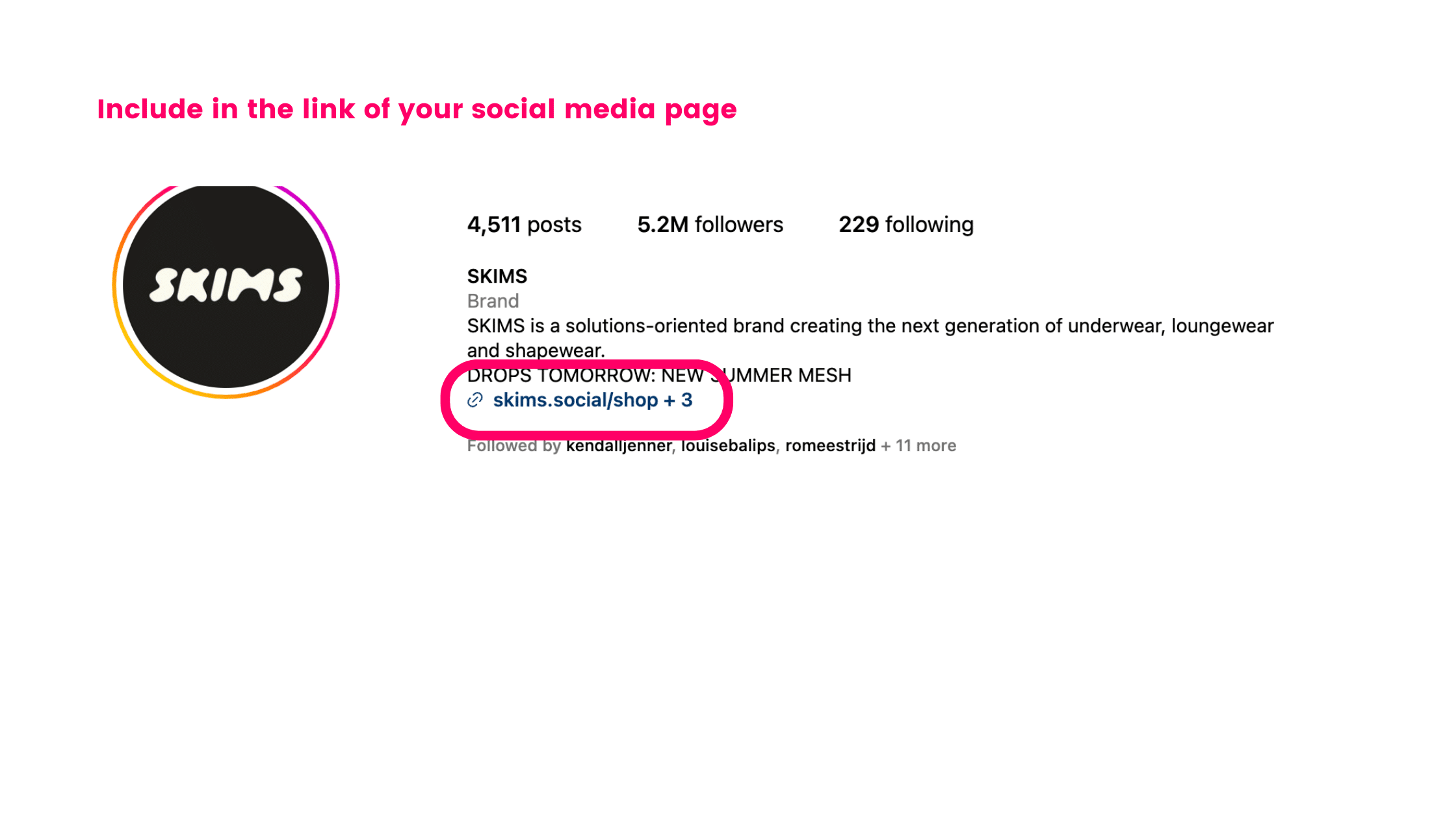 Boom! You're all set to start generating automatic requests from influencers!
5. Build an influencer database for efficient tracking
By now, you should have between 10 to 100 influencers listed as potential partners for your brand. This process should have taken you a few days.
You are becoming an expert on how to find influencers.
Before going further and expanding your influencer search, we need to take a step back.
It's now time to manage your influencer database like a professional.
I will teach you how to build a trackable database to save all the influencers you would have found from reading this article.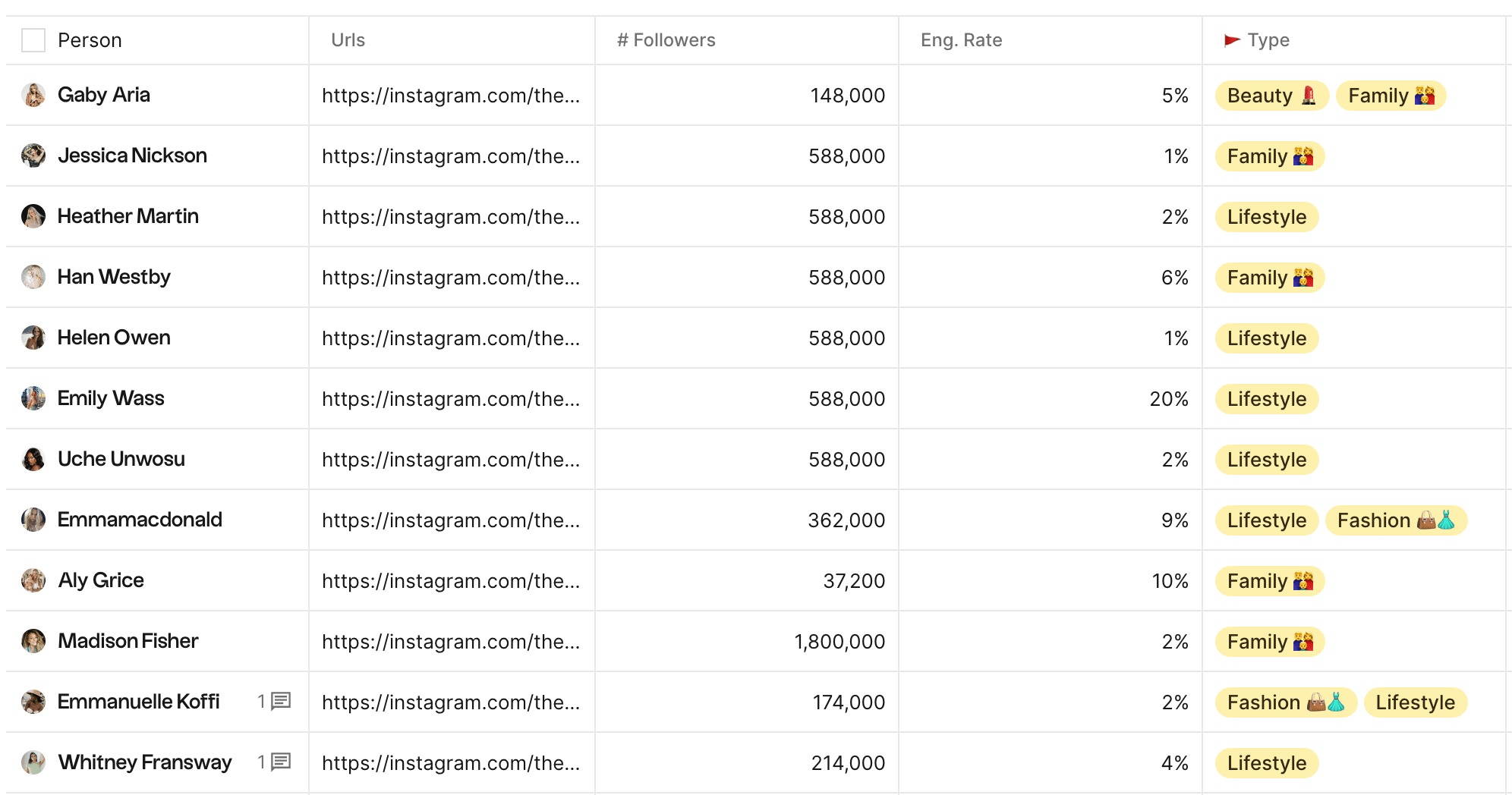 Ready? Here are the steps to take in order to create an influencer database: 
Step 1: Build a table using Excel or other software
👉 Pro tip: Some tools like folk.app or Notion are actually better than Excel for building advanced and visual databases of influencers.
Step 2: Create columns to record information
I advise including a link to the profile, engagement rate, number of followers, email address and campaign status. 
👉 Pro tip: You can use the Click Analytic list feature to automatically import creators' stats, including their email addresses, and then export them into a CSV.

6. How to export influencers on your database
I have shared with you some of the key tips on how to find influencers for your business and build your influencer database.
Now, let me share a quick secret trick to gain hours.
I will show you two options to import influencers into your influencer database automatically:
Option 1: Use Folk.app as your main CRM and download their Google Chrome App.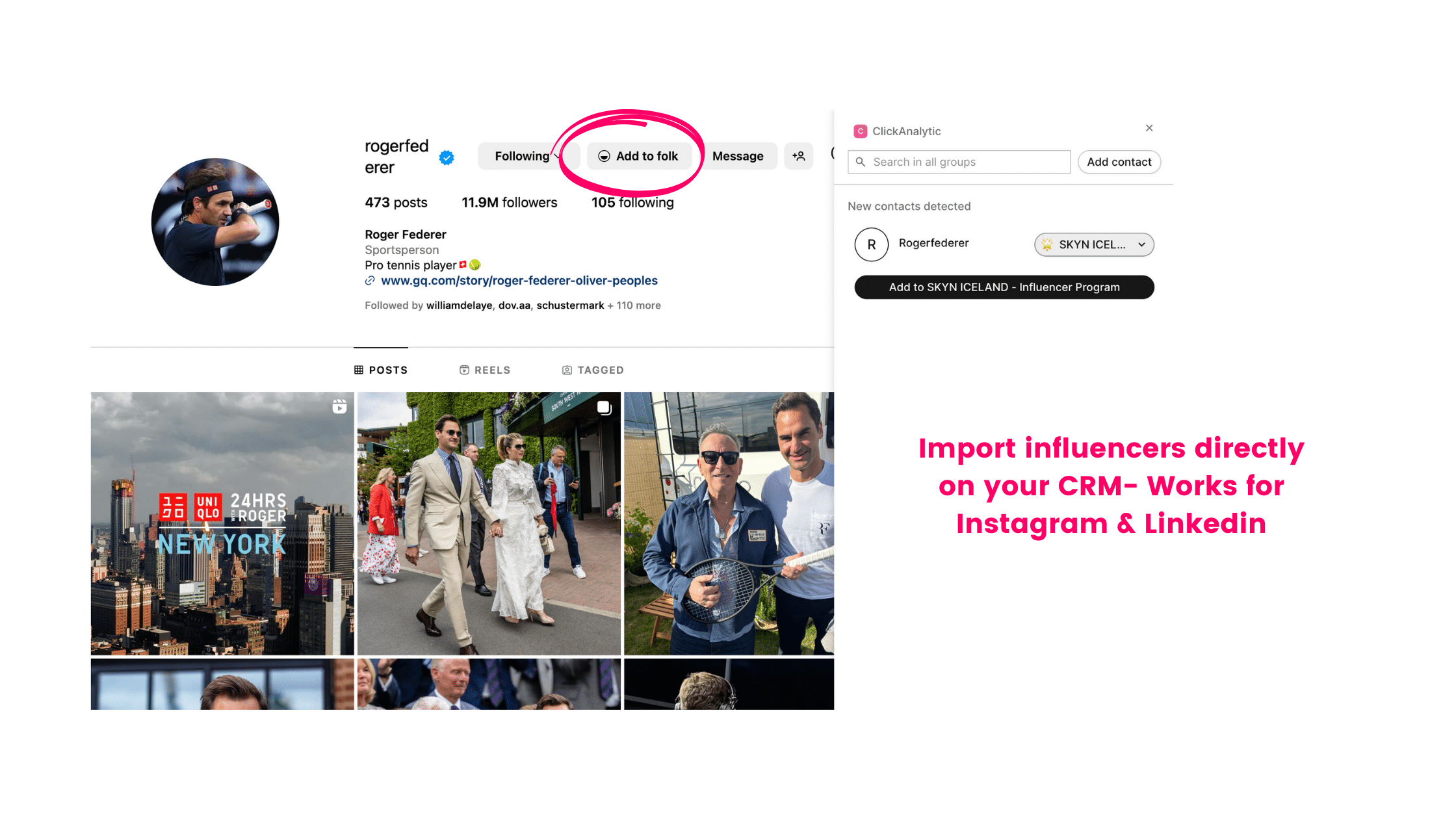 Option 2: Use the "List feature" of ClickAnalytic.com to automatically add influencers with their stats.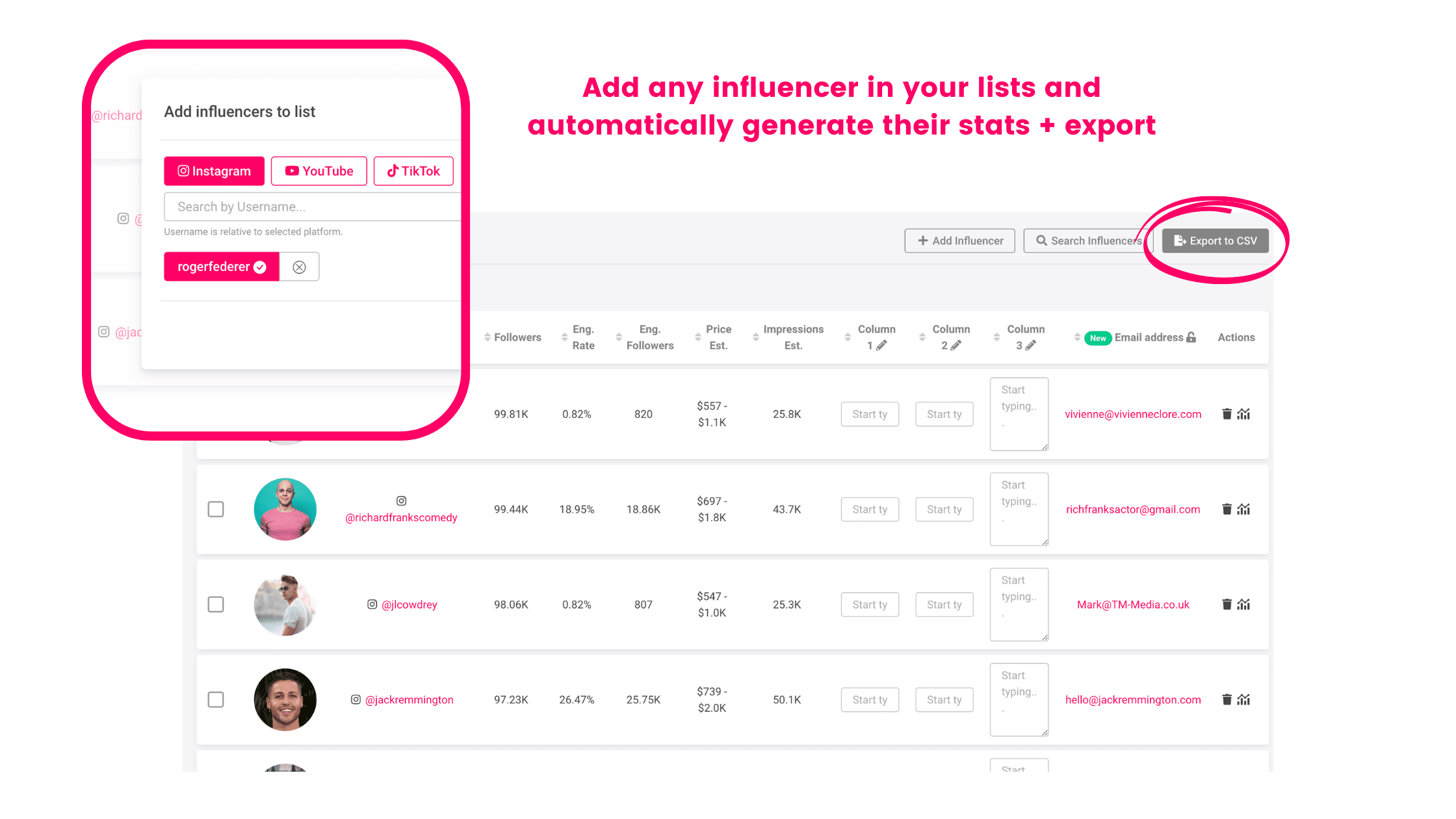 7. Steal influencers from your competitors
Now let's jump back into finding influencers.
Your next challenge is – how to find influencers who are rooting for your competitors.
Why those influencers? Because they are already interested in your product niche and interacting with your competitors. 
Their audience is already aware of your kind of products – why not share a better alternative with them?
But you know the best part? It's easy to find those influencers!
Here are the key steps:
👉 Step 1: Repeat the exact same steps as explained in "2. How to find influencers who are fans of your brand" but for your competitors.
Look at the tags, mentions, and hashtag feeds to detect influencers who are directly mentioning your competitors.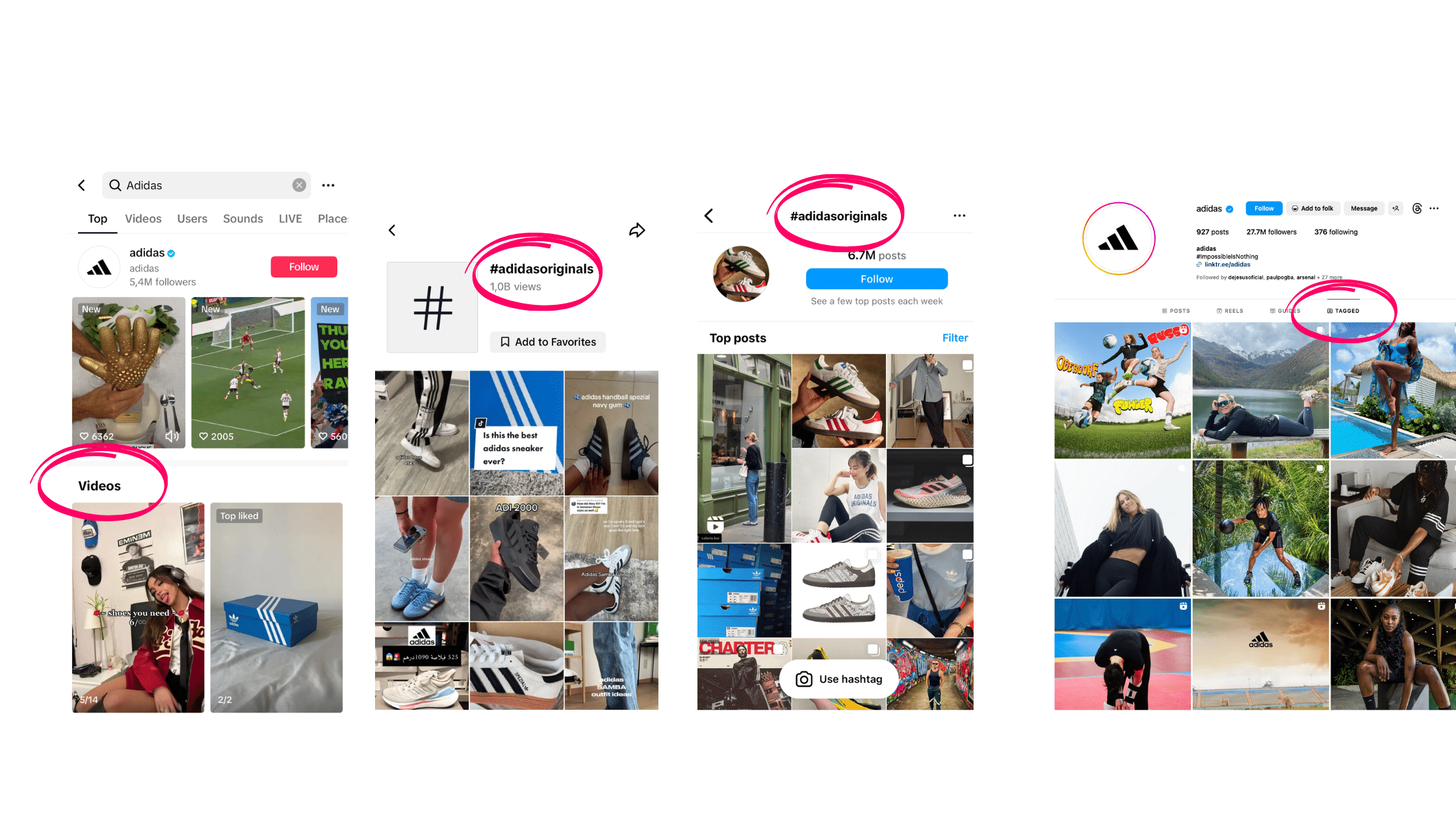 👉 Step 2: Check the influencers among the community of your competitors / using ClickAnalytic.com or manually.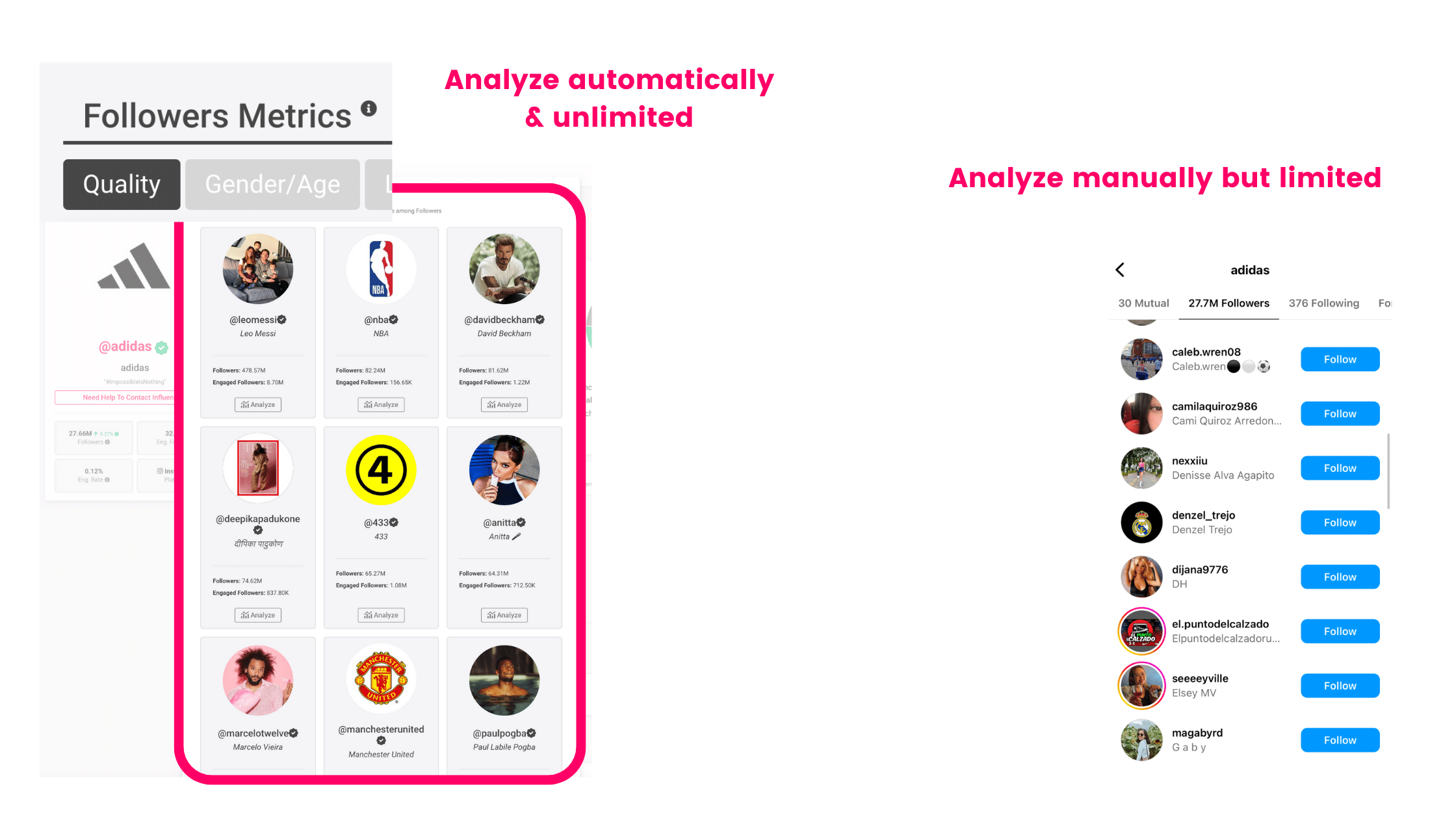 👉 Step 3: Use Click Analytic to identify influencers who mentioned your competitor.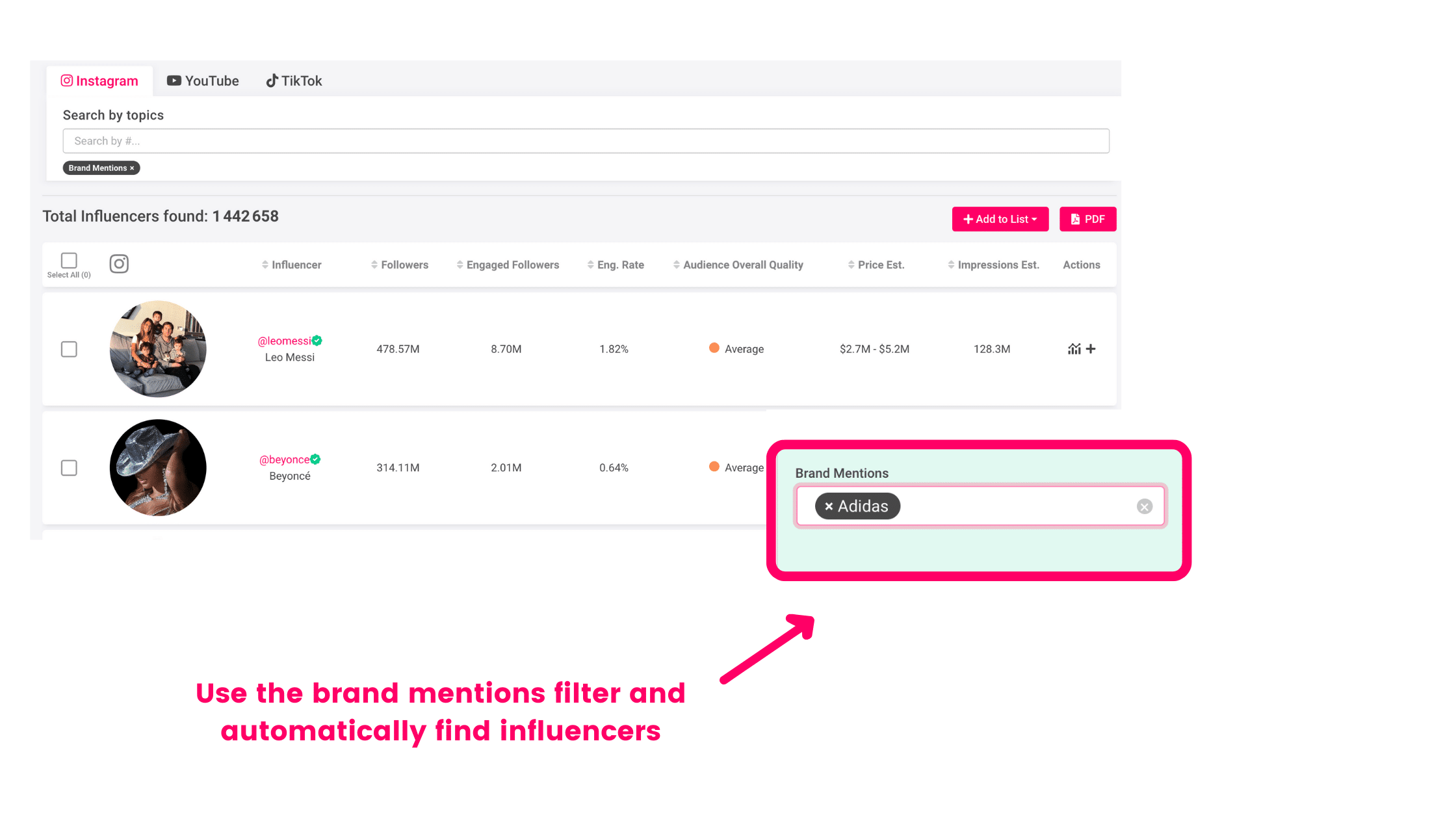 8. Expand your influencer database
You probably identified 10-20 more creators to collaborate with using the competitor search. 
Let's now see if you can become a pro on how to find Instagram influencers for free.
It's time to broaden your influencer search and discover profiles that can be the right fit for your brand.
I created a list for you of FREE tactics to identify influencers for your business. 
Here's 5 tactics on how to proceed:
– Use hashtags 
– Find online rankings
– Use ChatGPT
– How to find influencers who are lookalikes?
– How to find local influencers?
On both Instagram and Tiktok you can run advanced hashtag searches to discover influencers.
Simply use auto-suggestion found on both platforms to generate related hashtags from your main topic. Then discover influencers through the content.
Most of the content will be of bad quality. It should be easy to distinguish professional influencer content among the mass.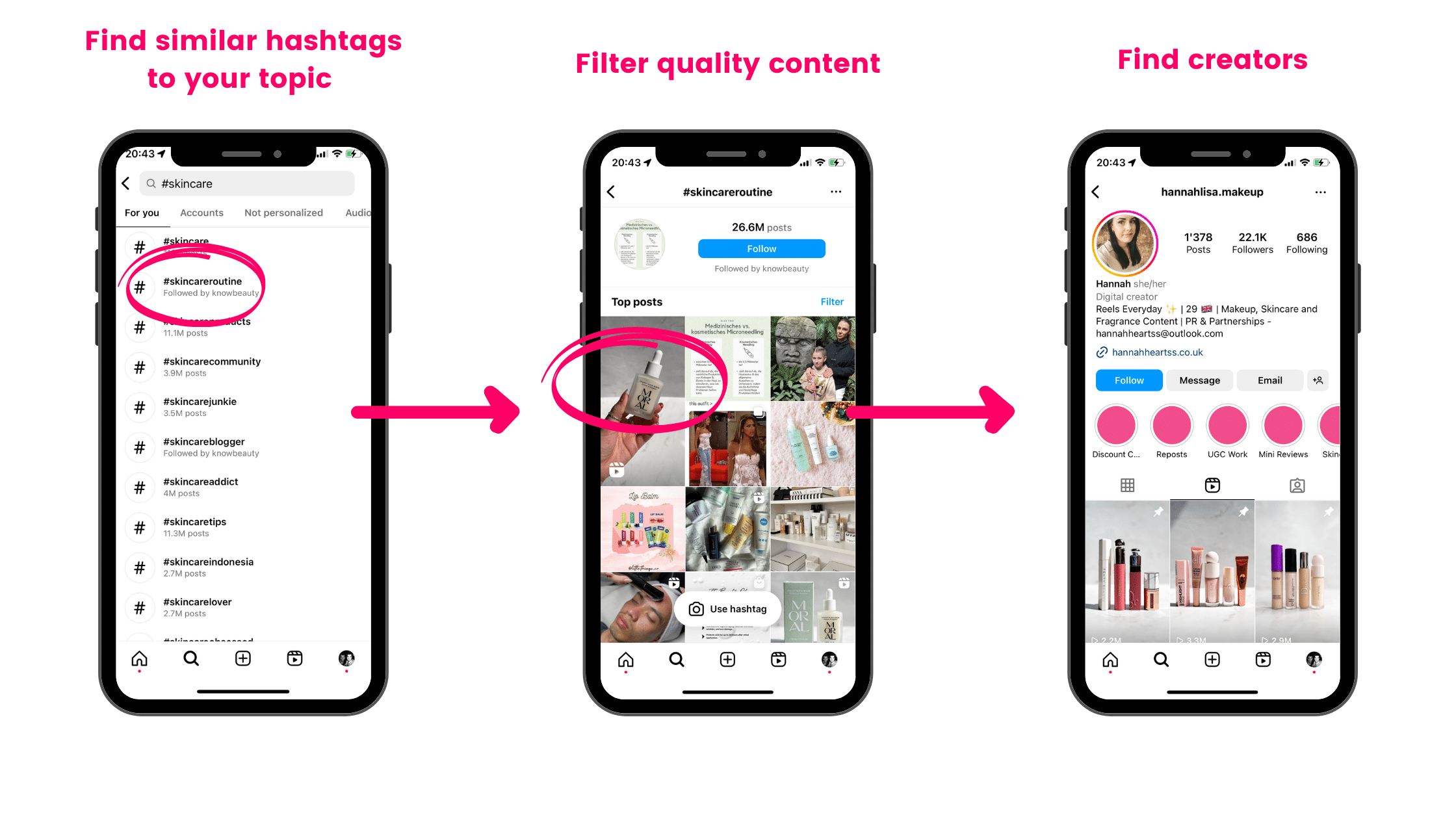 👉 Tactic 2: Find online rankings
Online rankings are not super precise, but if you find the right articles (ideally of authority in the space –  E.G: muscle and health for fitness,) you can find great creators.
*Pro-tip: It will be harder to find nano/niche accounts using this method.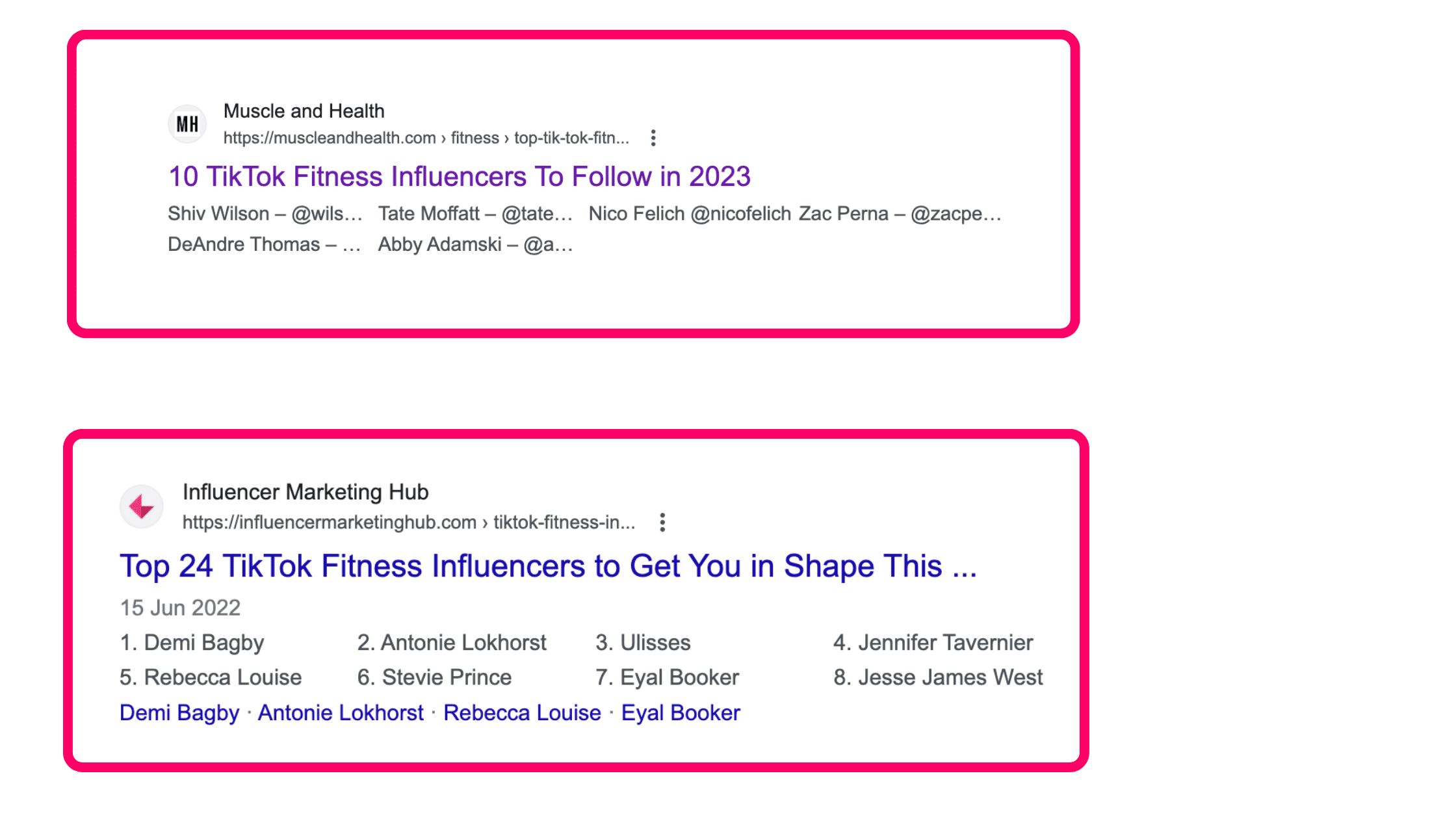 I know, I know… everyone is mentioning ChatGPT… BUT I was happily surprised.
I was recently looking for influencers within a specific niche, and the results were quite precise.
Therefore, I would recommend trying it.
*Pro-tip: Remember that the landscape of influencer marketing can change rapidly, and the last update regarding internet search from Open AI was in September 2021.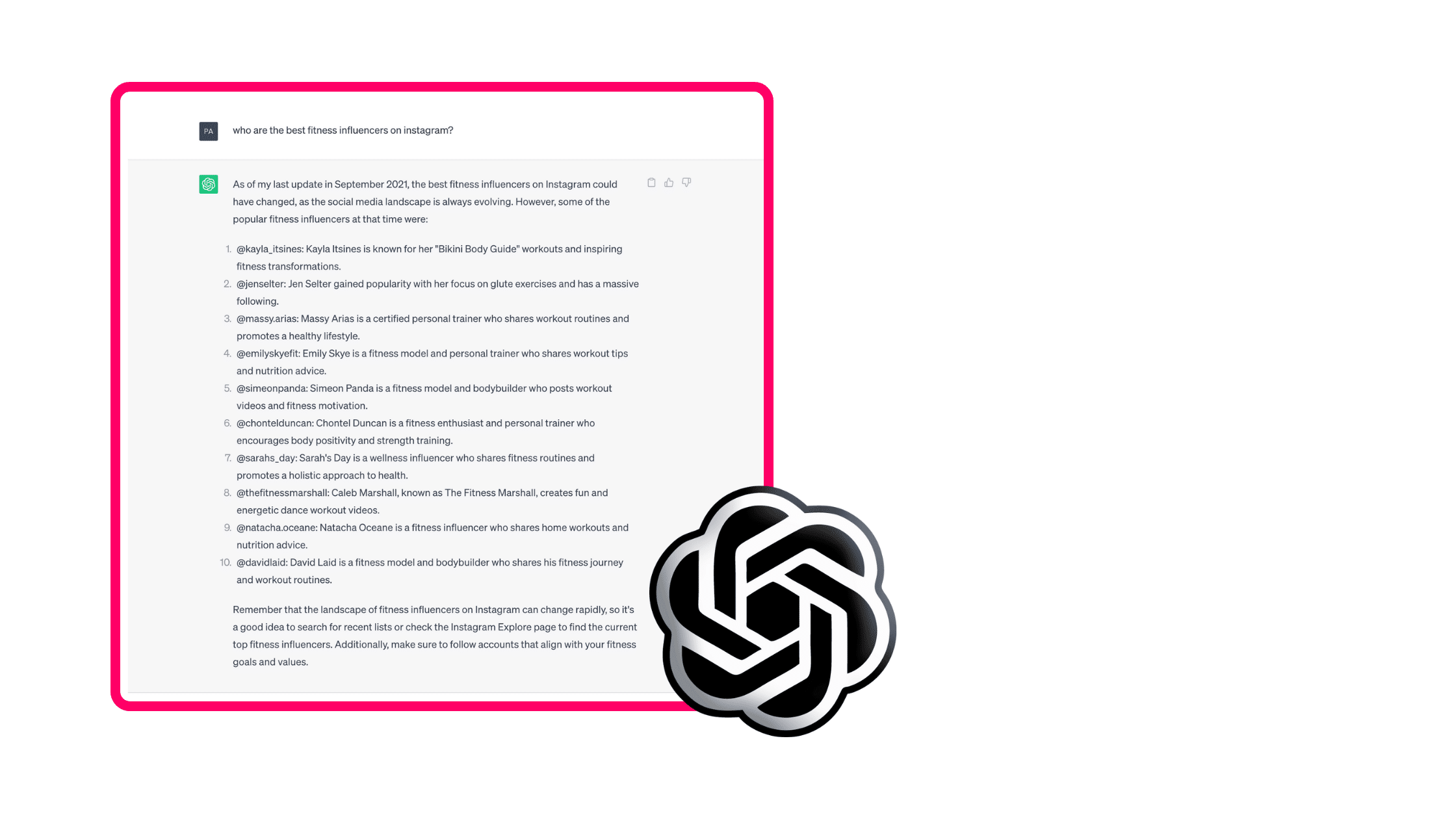 👉 Tactic 4: How to find influencers who are lookalikes?
Did you know that you can find similar influencers in a very easy way? But it only works for Instagram!
Let me tell you how it works:
Select one influencer that you think is a great fit

Go to their Instagram page
Now, the next steps can vary:
If you are following the account: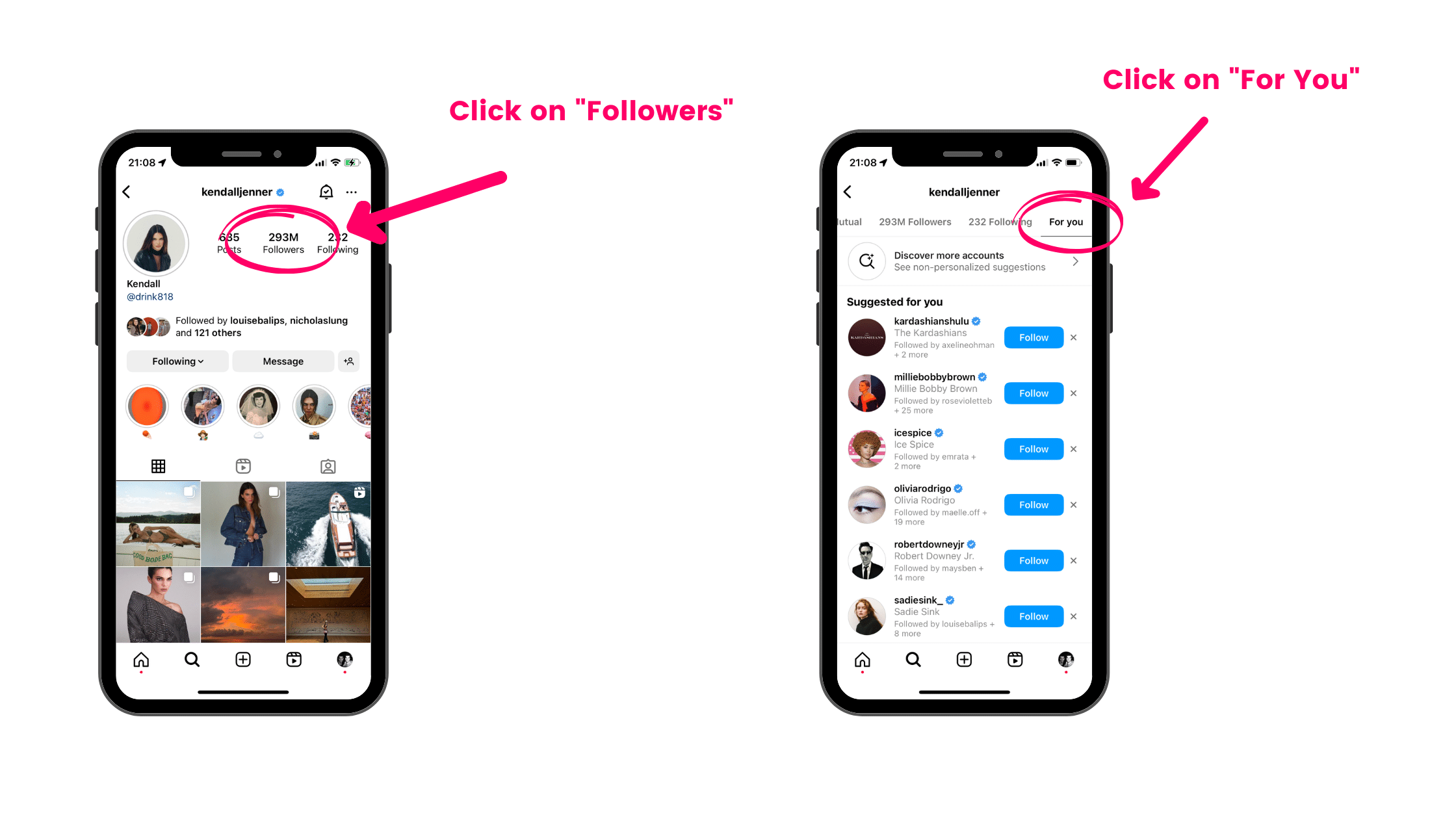 If you are NOT following the account: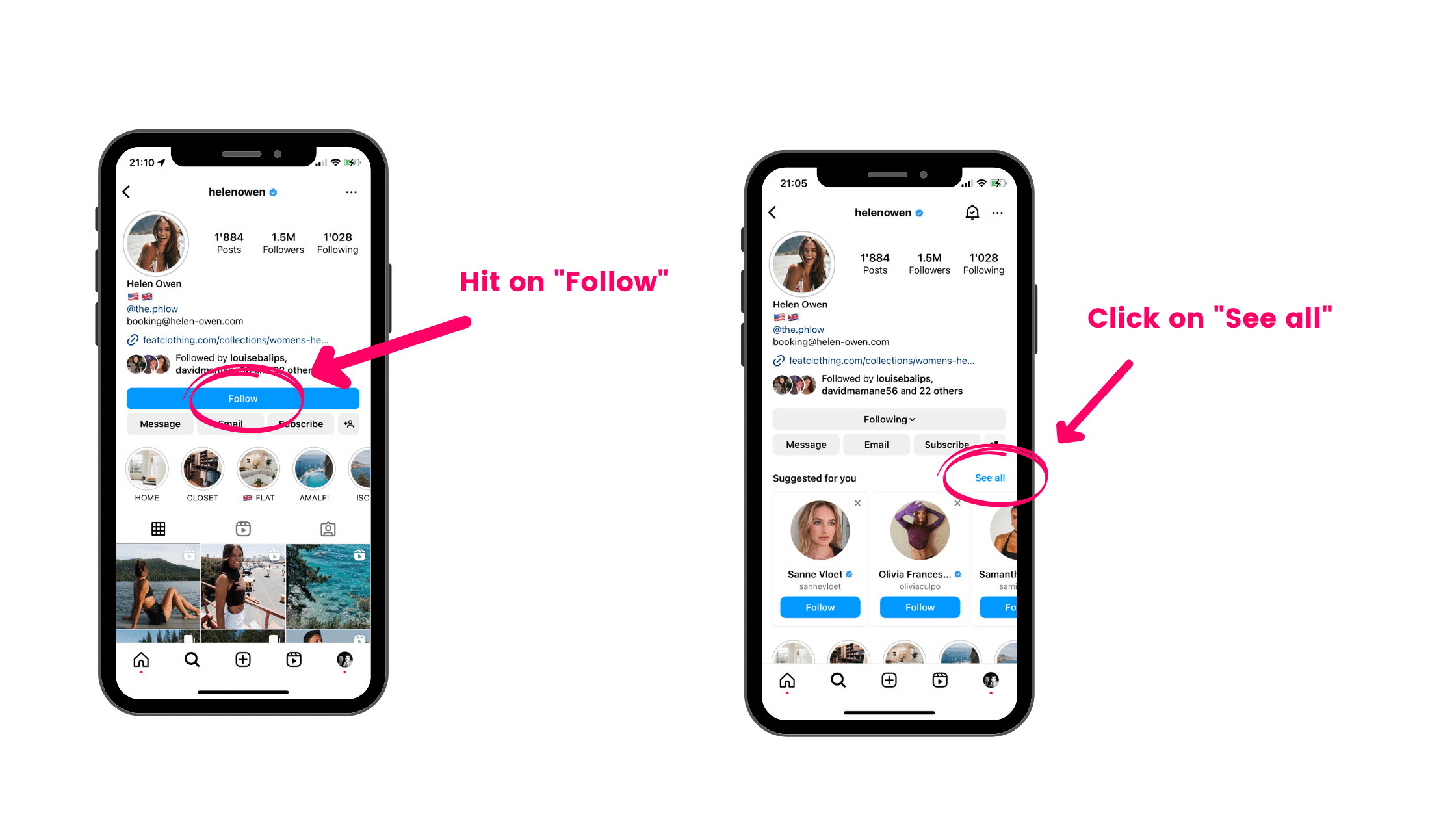 Genius right?
It's a fantastic way to discover quality accounts automatically, and it's free!
*Pro-tip: You can also do that easily using the Click Analytic search lookalike filter, which is not only available for Instagram, but also TikTok and YouTube.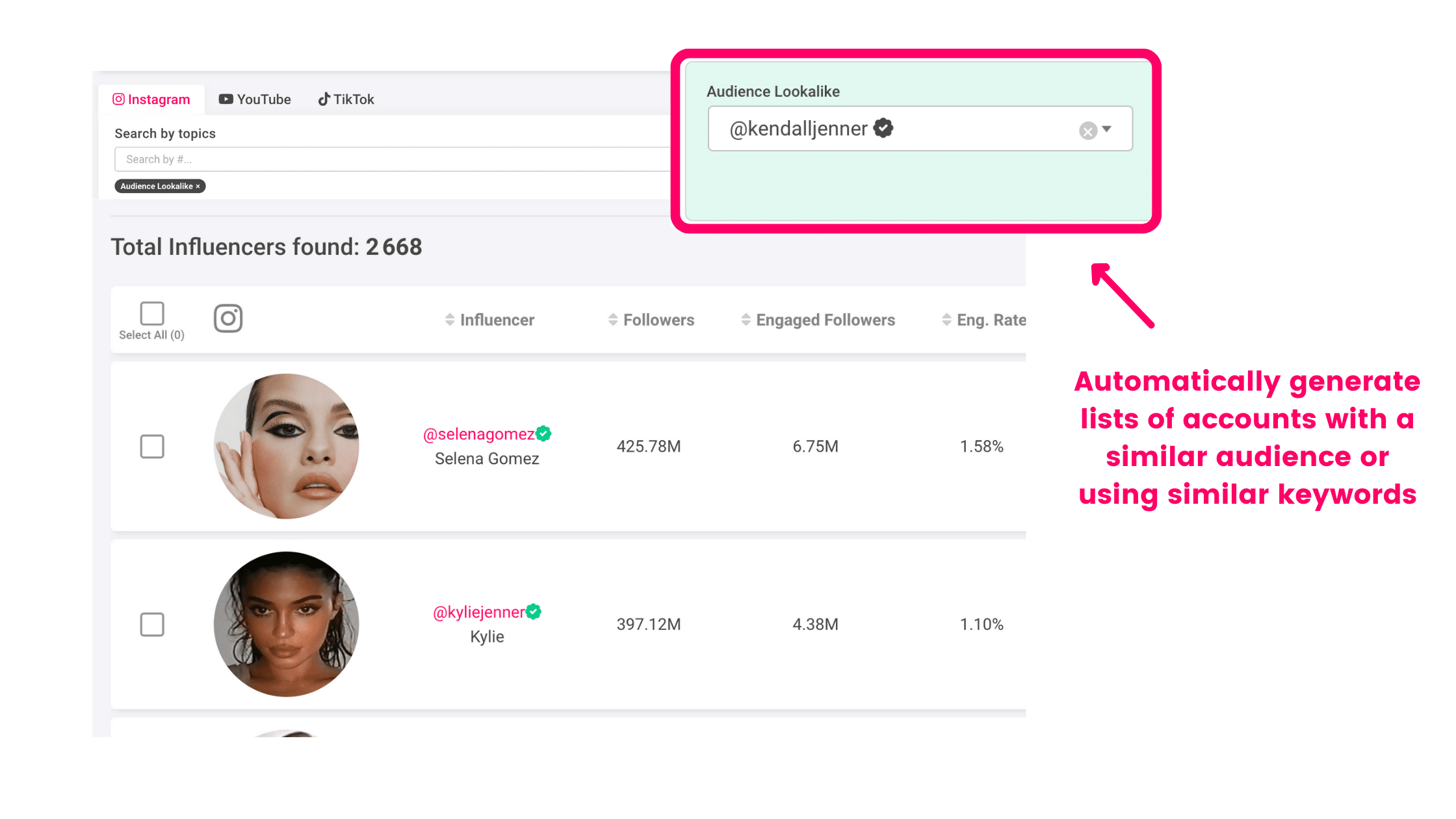 👉 Tactic 5: How to find local influencers?
If you have a super local business and need to reach an audience within a specific region or city, you NEED to learn how to find influencers in your area.
However, finding niche and local influencers is more challenging…
If you are NOT using an influencer search tool, here's a free way to find local influencers on Instagram and TikTok: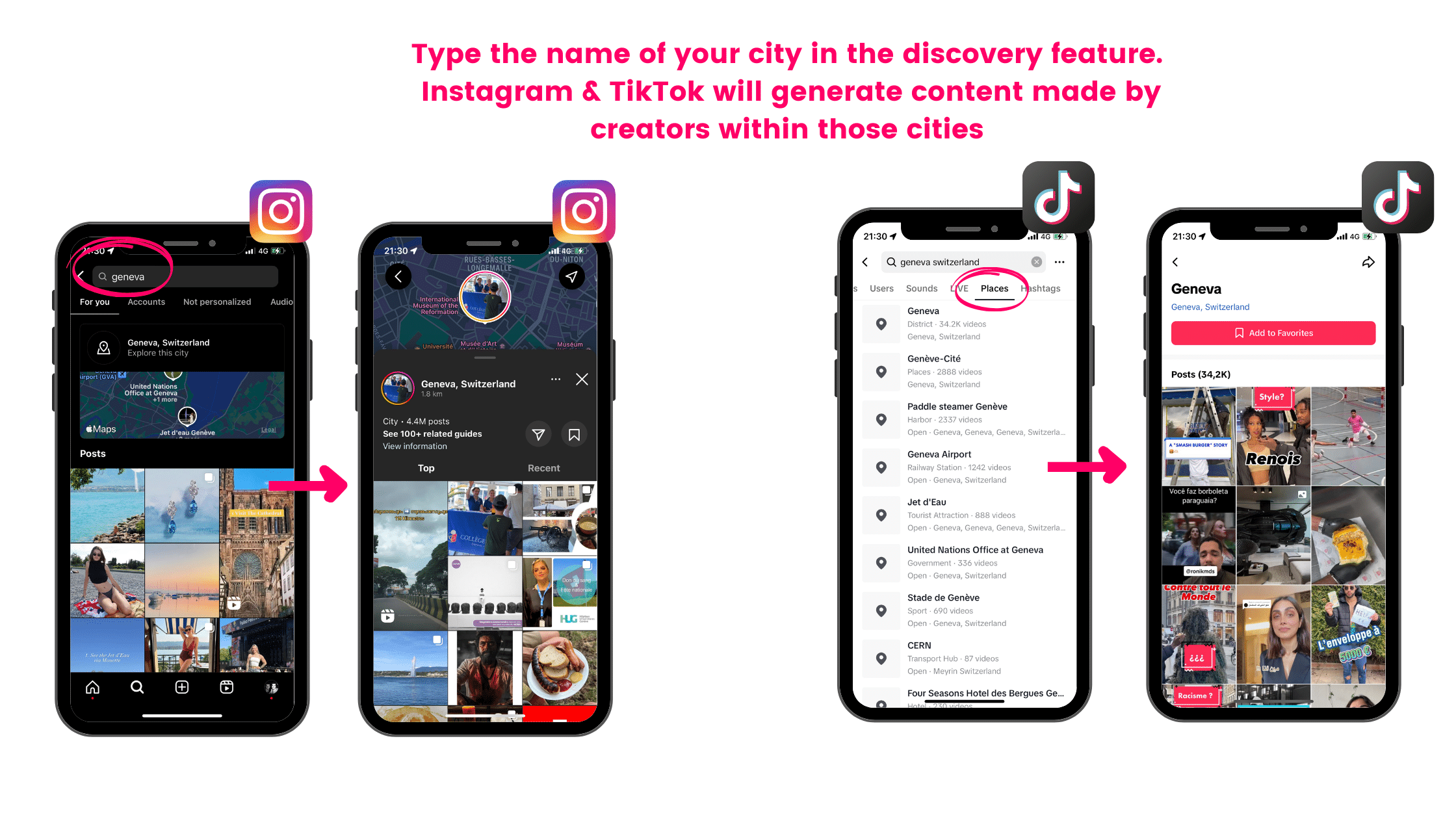 9. Supercharge with a free influencer search tool
If you want to take your influencer search to the next level, some super smart tools can help you find the perfect influencer for your brand.
Here are 3 tools to supercharge your influencer search using data:
Click Analytic

Influspy

Insense
This is one of the best tools to search influencers in the world, as it provides you with access to +250M influencers across Instagram, YouTube and TikTok.
If you want to become a pro at finding influencers, this is the tool for you.
👉 Here are all the operations realised by the tool:
– Finding ANY influencer with +1k followers across the major social platforms
– Use +30 super-advanced filters to tailor your search
– Certify any influencer audience stats
– Scan your competitors
– Generate lists of influencers who follow your brand
– Find the emails of influencers
– Export lists of influencers with emails & data
– Track your influencer campaigns automatically
In 2 minutes, and using the free version, you can generate a list of 500 qualified influencers for your business.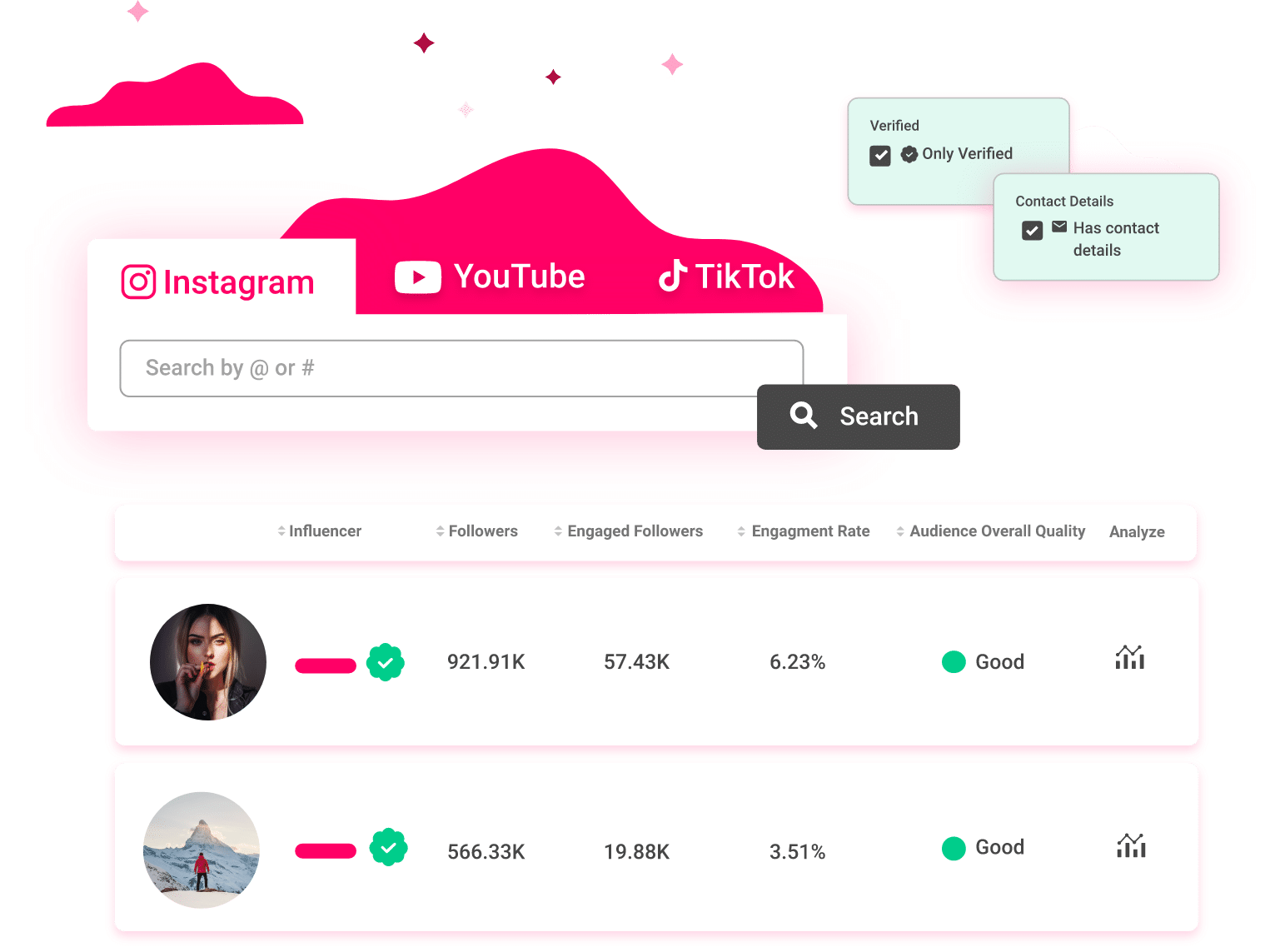 Do you remember when we spoke about stealing from your competitors? Well, this tool will help you do it automatically.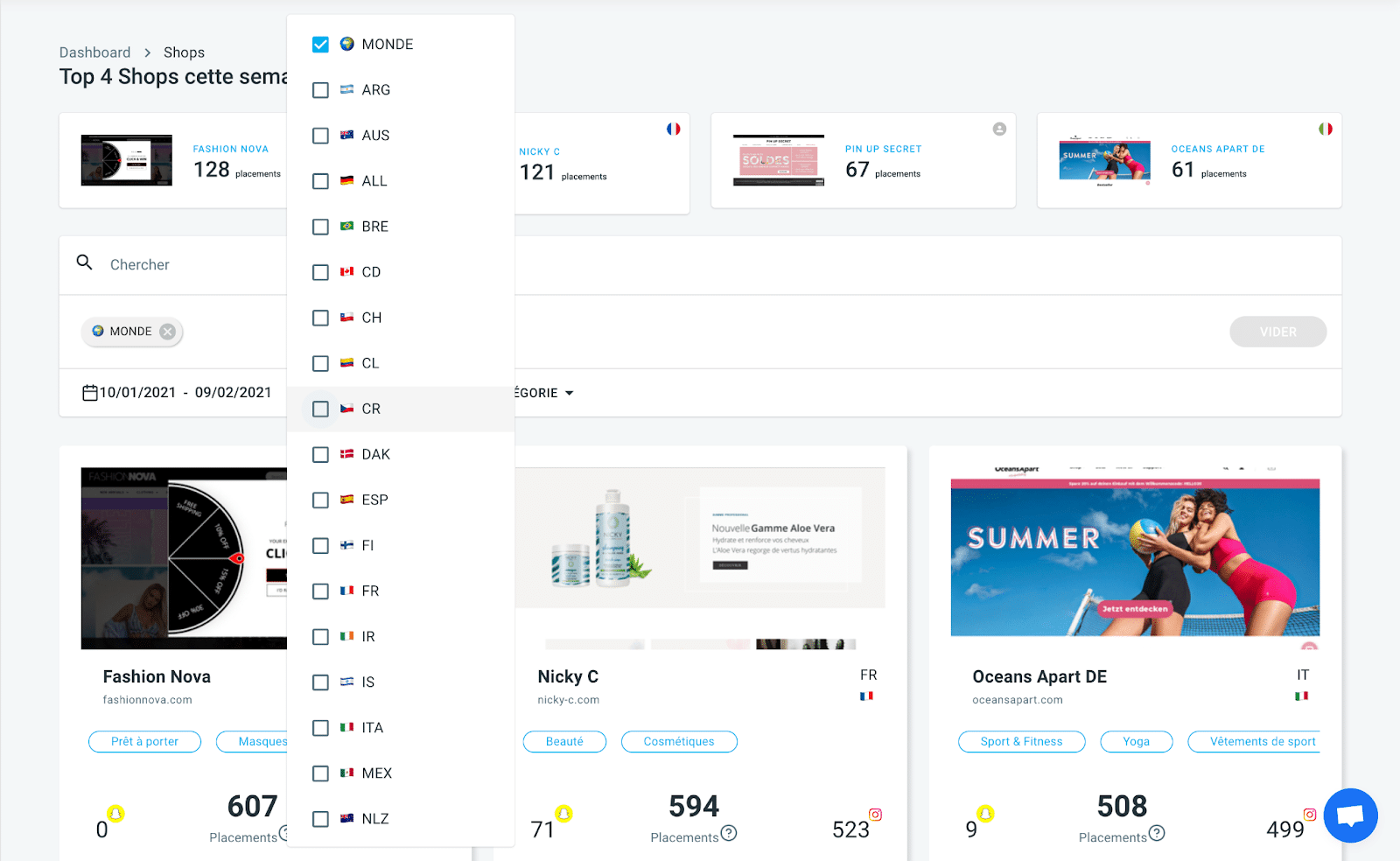 Instead of manually searching for competitors' campaigns one by one, you can automatically generate lists of businesses in your industry & country.
Then you can bulk export all the influencers working with those brands and save a huge amount of time.
If you want to generate UGC content to repurpose ads across your channels, this is the best tool to achieve this!
The best part? Influencers will come to you.
You can post a project/brief on their platform, and creators will apply.
The platform will help you manage the complete workflow of the campaign, including payment and content validation.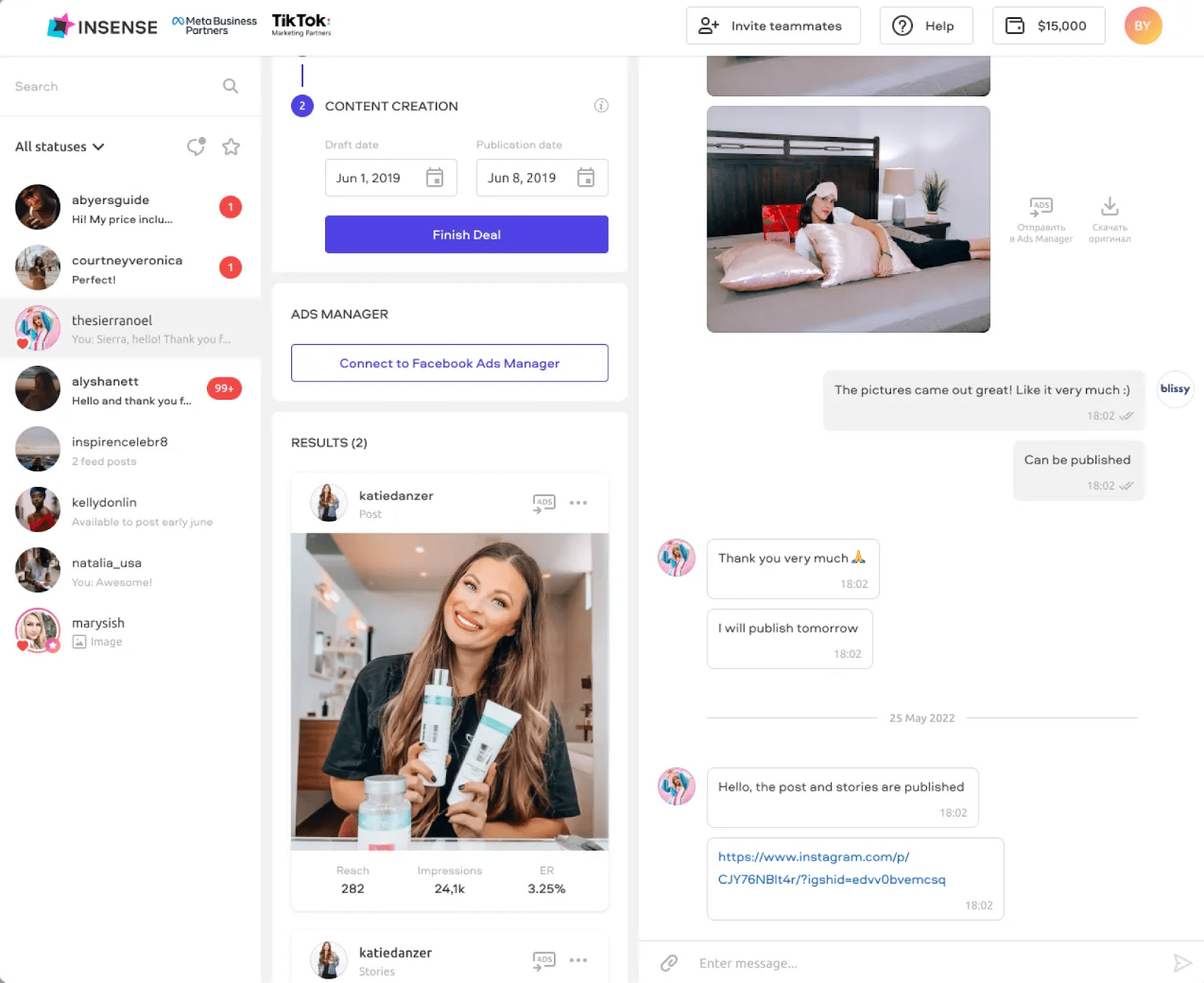 ⚠️ Warning: I did use this platform, and the only issue that I would mention is that not all profiles are going to be of quality. You might need to spend some time trimming down the list of applications.
You will also be limited to the influencers registered on their platform.
10. Vet the audience of an influencer
Learning how to find influencers is also about making sure that they are the right fit.
We reviewed all the secret tips on how to find influencers for your business. But as we discussed, the challenge is also to find the right influencer.
If you don't check the stats of an influencer, you risk partnering with someone who may have: low engagement, fake followers, an irrelevant audience or a mismatched content style…
And this leads to ineffective and potentially damaging marketing campaigns.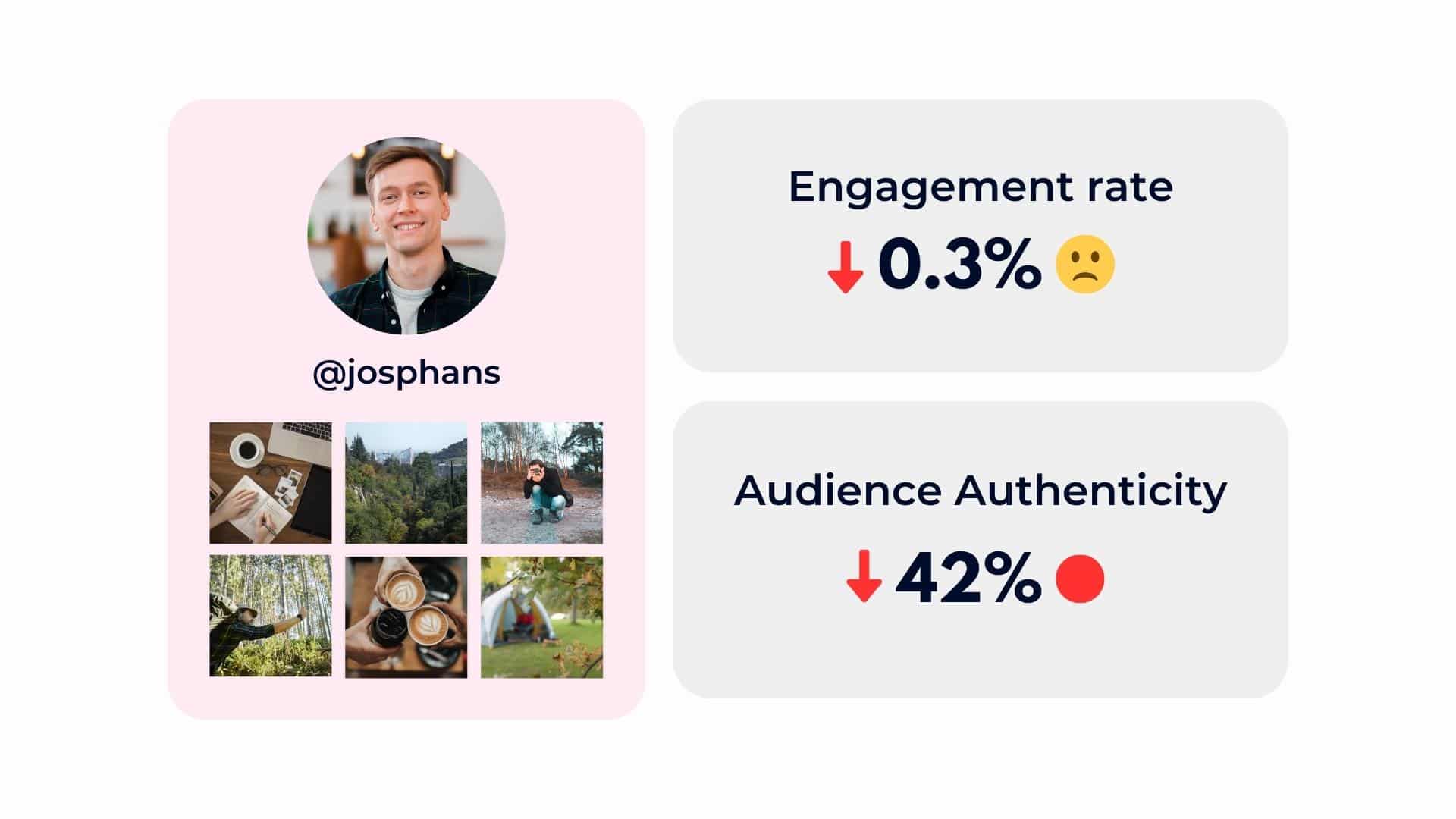 It's critical to look at several key aspects of an influencer profile…
Let's break it down.
I'm going to share with you the five-step essential criteria to make an informed decision when vetting an influencer.
Here it comes:
👉 Step 1. Engagement Rate

-> Gauge the level of engagement of an audience.
You can calculate it manually:
Engagement Rate for one post = ((Total Likes + Total Comments) / Total Followers) x 100
I would suggest doing it on at least the last 10 posts and doing an average.
A higher engagement rate indicates a more engaged and active audience.
*Pro-tip: For TikTok & YouTube, instead look at the average views – that's the most important.
👉 Step 2. Audience Demographics
-> Ensure they align with your target market, including: age, gender, location, and interests.
How can I get those stats? You have two options:
2.1 Contact influencers directly
Ask them to share their data with screenshots. It should look like this: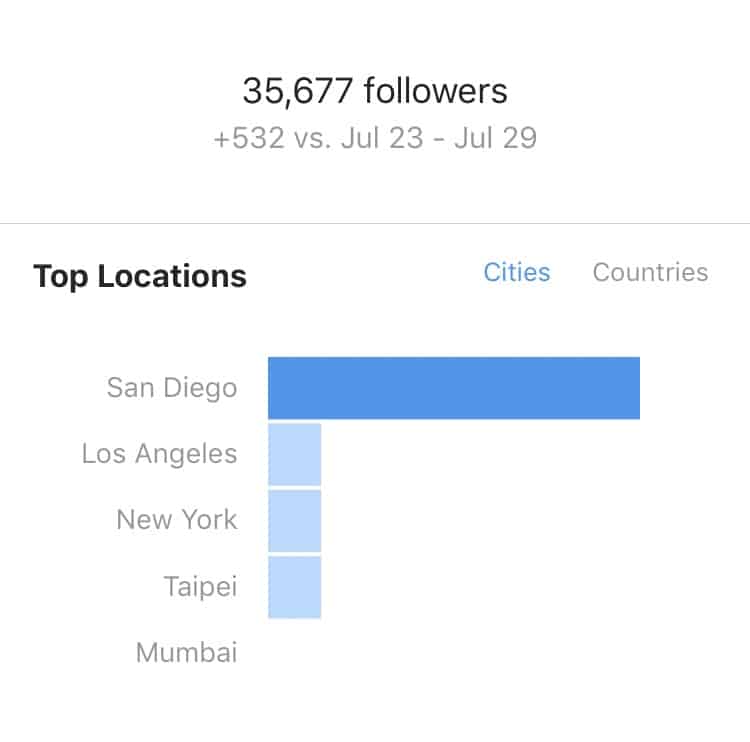 2.2 Use an influencer tool
For ex. Click Analytic, Hype Auditor, Creator IQ etc.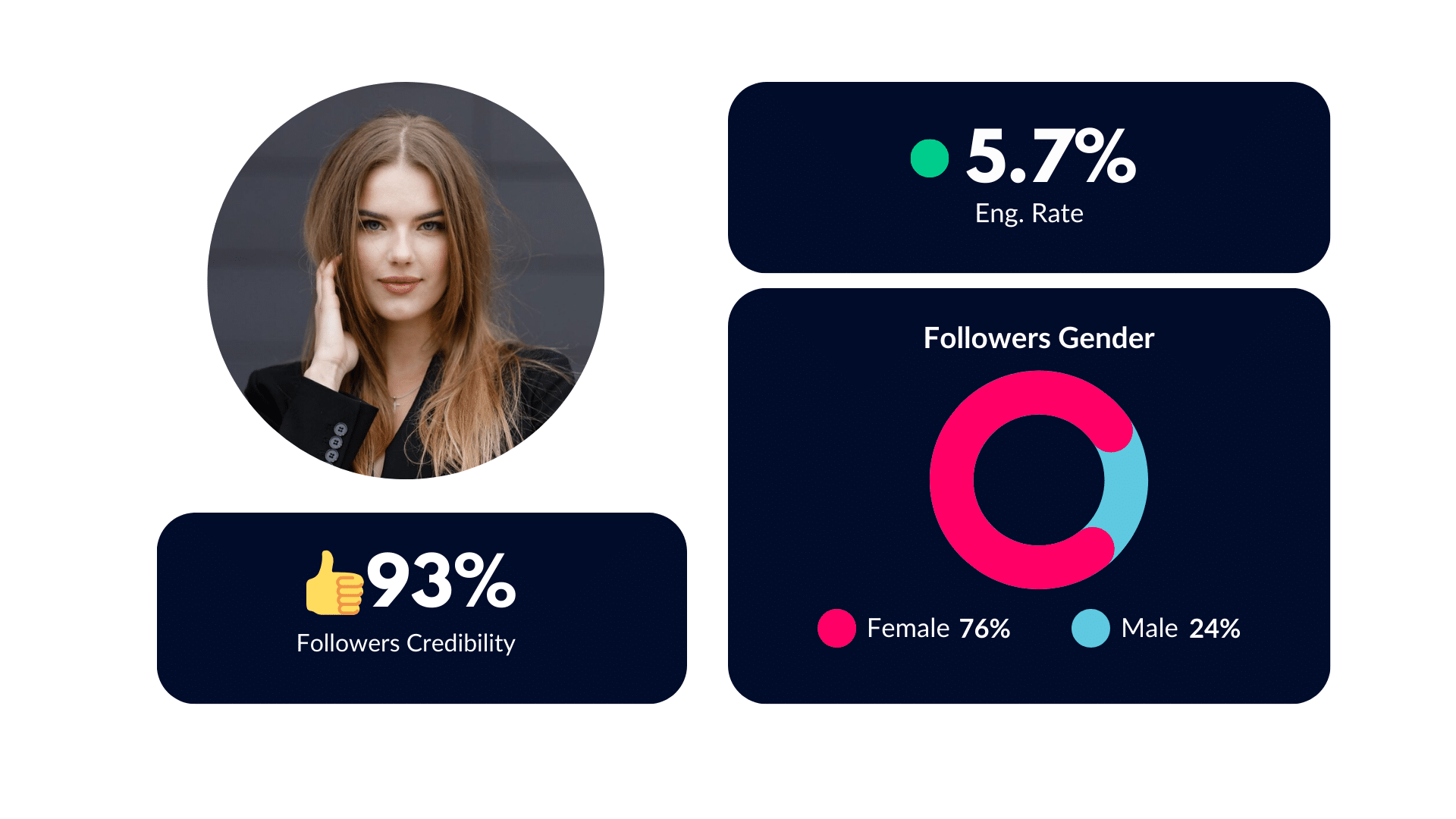 👉 Step 4. Content Quality

-> Even more important if you are looking to find influencers for UGC.

Evaluate the quality of the influencer's content, including photos, videos, and captions to ensure it matches your brand's aesthetic and values.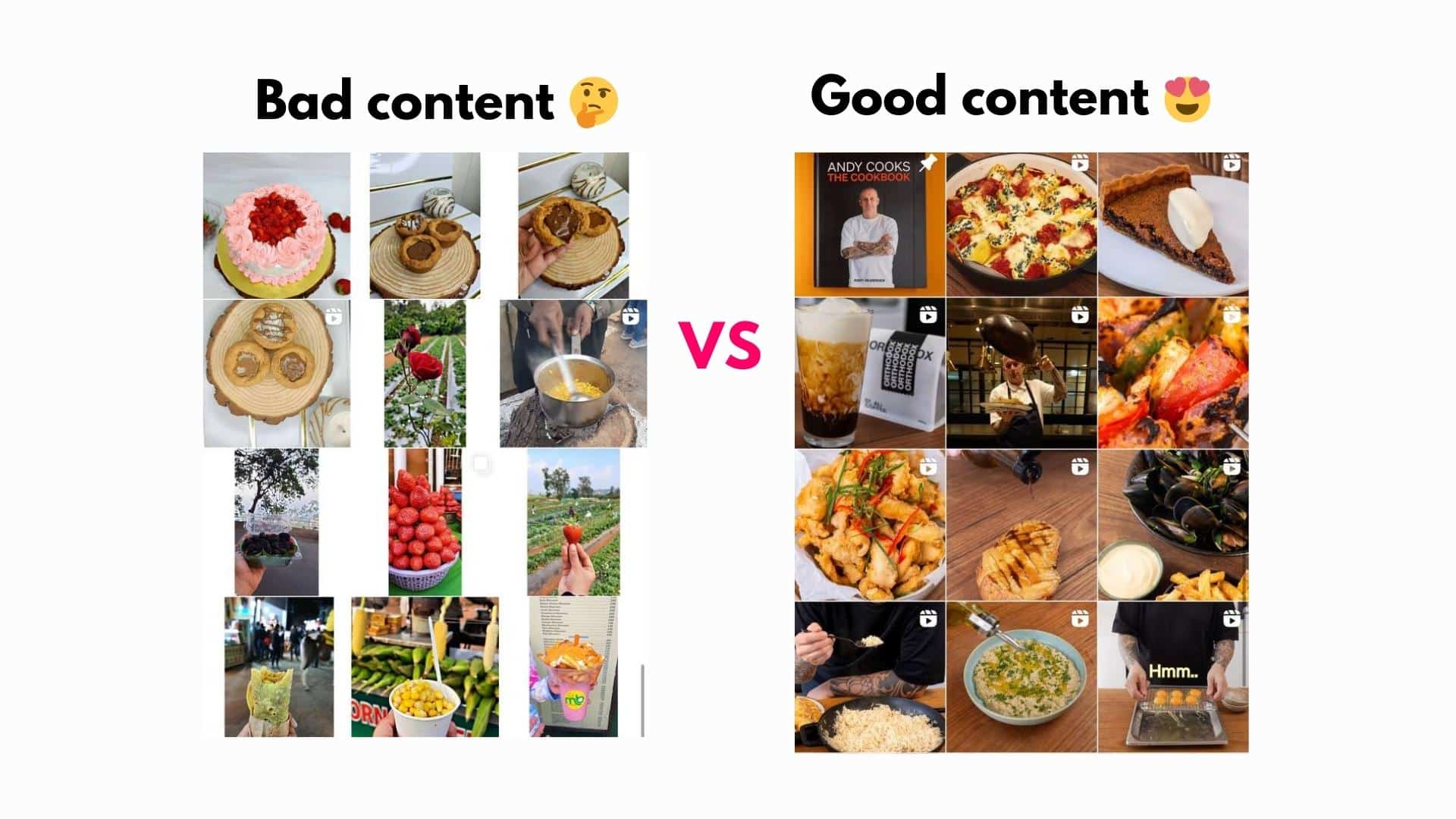 👉 Step 5. Past Brand Collaborations

-> Review their previous partnerships to see if they have worked with similar brands or competitors and assess the effectiveness of those campaigns.
*Pro-tip: I suggest looking either for official partnerships or spotting hashtags like #ad, #collab, #partnership etc.
Here we are!
You have now covered all the strategies and key tips on how to find influencers that works for your business.
🎉 You are ready to start your campaign.
Having successfully identified suitable partners through our "How to Find Influencers" 2023 guide, it's now time to take the next steps in your influencer marketing journey. 
Here's the 8 steps to make the most of these valuable partnerships:
1. Establish Clear Objectives 🎯
Utilise the insights gained on how to find influencers to align campaign goals with the strengths and reach of each profile. Communicate your objectives clearly to ensure a unified direction.
Next comes your campaign brief, which will be critical when sharing more details with influencers.
2. Customise the Campaign ✍️
Tailor the content and messaging to fit each influencer's unique style and audience. 
*Pro-tip: Allow creative freedom, while ensuring that brand guidelines and key messages are upheld.
You can now contact influencers after getting the best tips on how to find influencers!
To maximise answers from creators, follow these guidelines:
👉 First, follow them on social media. 
👉 Second, comment on 2-3 posts from your brand account.
👉 This should get their attention. Then send an email.
👉 Follow up by emailing at least 3 times and send 1 DM.
*Pro-tip: From experience, I can tell you that you should reach out to influencers AT LEAST 10-15 days prior to launching your campaign.
Managing campaigns and relationships with creators can be a hassle.  
You will need to:
– Coordinate the timing of influencer posts ;
– Draft + sign a contract ;
– Potentially send products ;
– Review their content prior to posting etc. 
I would recommend fostering open communication with influencers to build a strong collaborative relationship.
From my experience, it can take 8-10 emails per influencer just to finalise the campaign.
*Pro-tip: Create an open & shareable access so that influencers can share their content (E.G: on Google Drive,) and manage the different steps using a CRM (E.G: Hubspot, Notion, Folk.app etc.) or even using Excel. You will need to be organised.
5. Track and Measure Results 📊
Make sure to monitor your performance using your set KPIs after understanding how to find influencers.
It's critical to implement tracking links, unique promo codes, or UTM parameters to measure each influencer's impact on your campaign. 
Use analytics to evaluate engagement, reach, and conversions generated by their efforts.
6. Build Long-term Relationships 🤝
Identify the most performing influencers of your previous campaign and build a long-term relationship.
Believe me, it's extremely rare to generate incredible results with an influencer on a first collab. You would need to have an amazing product or a lot of luck!
Think about it, when you see a 15 second ad on TV for the first time, do you run to the store to buy it?
It's unlikely.
Well, it's the same with influencers. The partnership needs to seem genuine and authentic. 
Repurpose high-performing influencer content. 
This is an expert tip –  to take your influencer relationship to the next level, you can:
– Whitelist their content, which means it gives you permission to run ads from their IG account. 
– Or simply boost their posts for more reach and sales.
Plus, you can creatively reuse their amazing content on your website and social media. 
User-generated content adds authenticity and social proof to your brand.
Pro-Tip: Always have a whitelist and repurpose the clause in your contract with the creators so that everything's crystal clear and everyone's happy! And as you continue to collaborate, understanding how to find influencers will be key to expanding your network and strategy.
8. Engage with Your Audience ♥️
Make sure that your own assets are top quality, especially when you've invested time in learning how to find influencers.
Imagine spending money on ads to lead people to an unoptimised landing page. 
Nope, not a good idea.
The same goes for your Influencer Campaign. You need to make sure that your own social media channels or landing pages are optimised.  
You get one shot to make a great first impression.
As the campaign unfolds, I strongly suggest actively interacting with your audience through comments, direct messages, or user-generated content.
Engage with your newfound followers and respond to their inquiries promptly.
By following these steps and working closely with the influencers you found, you can maximise the potential of your influencer marketing efforts and create a lasting impact on your brand's growth.
Case Studies: Successful Brand x Influencer Collaborations
So, all these tips regarding how to find influencers are nice and all, but…what about the results?
Do you have proof that it works?
YES!
Here's one of our clients = Shop Balou
They are a young and upcoming French clothing brand that was launched in March 2021. This innovative and sustainable fashion label is proudly "Made in France," with a strong focus on 100% prints, timelessness, and zero waste. 
They had a small budget but needed visibility through influencers. Therefore, finding the right profiles was critical, at the risk of losing their marketing budget on a failed campaign.
Their challenges were:
Lack of community

Low audience and engagement

Zero visibility
Their objectives:
Reach a 24-34 year old audience in Europe with luxury fashion tastes
They needed influencers who could reach that audience but also profiles with high engagement and high-quality content aligned with their colourful products. 
Leveraging Click Analytic and incorporating some of the how to find influencers tips I previously detailed in this article, they selected 6 influencers and, in only ONE month, achieved amazing results…
See for yourself:
✅ +700,000 consumers reached
✅ +650 website clicks
✅ +3 300% sales growth
✅ + 6,000 followers gained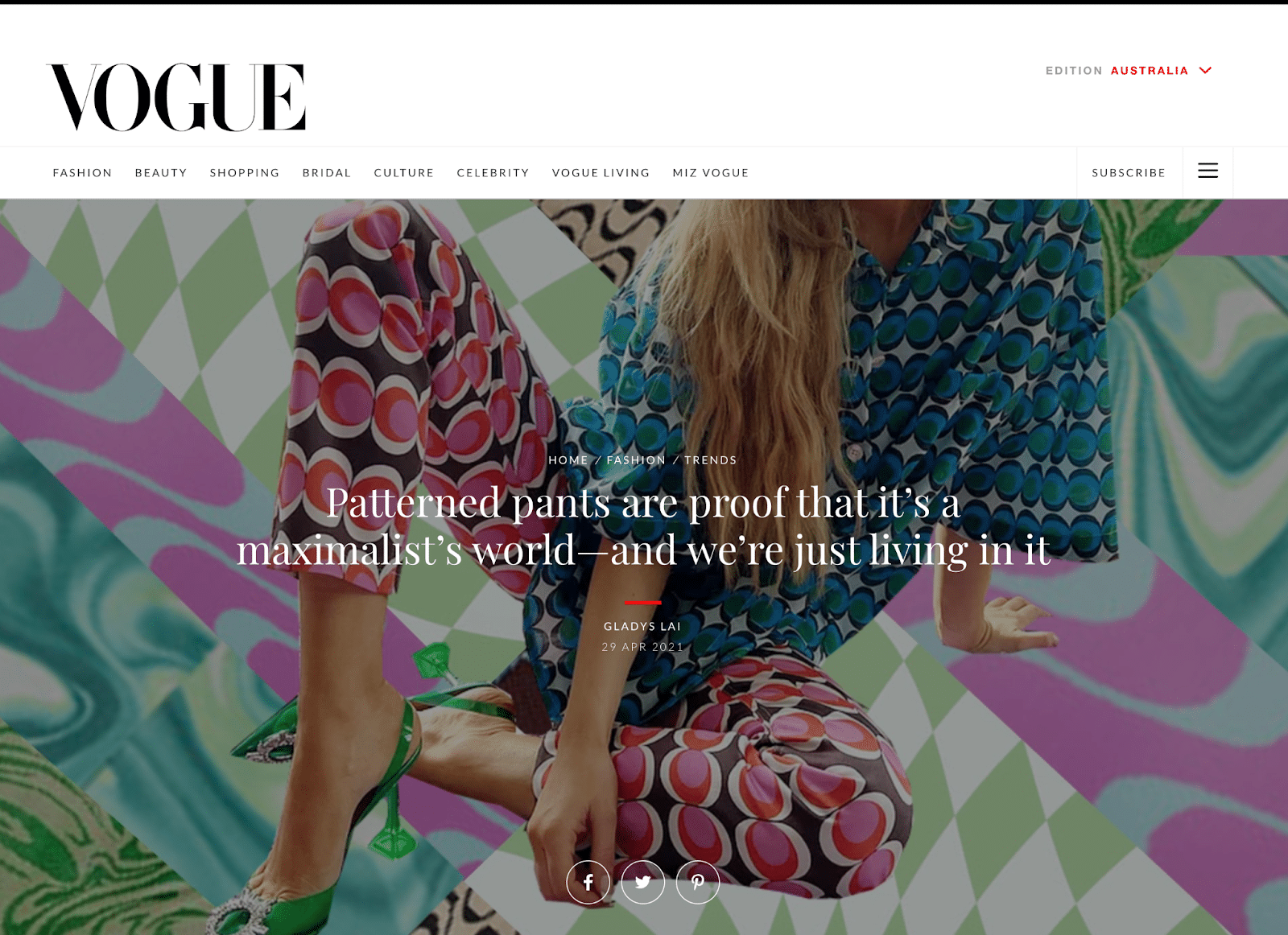 ❌ On the other hand, if you select the wrong influencers, you will for sure:
-> Spend your marketing budget for nothing
And you might even damage your brand image depending on how bad the partnership goes.
Be careful, as it does not only happen to small brands but also the major players…
Do you know the story of Pepsi & Kendall Jenner?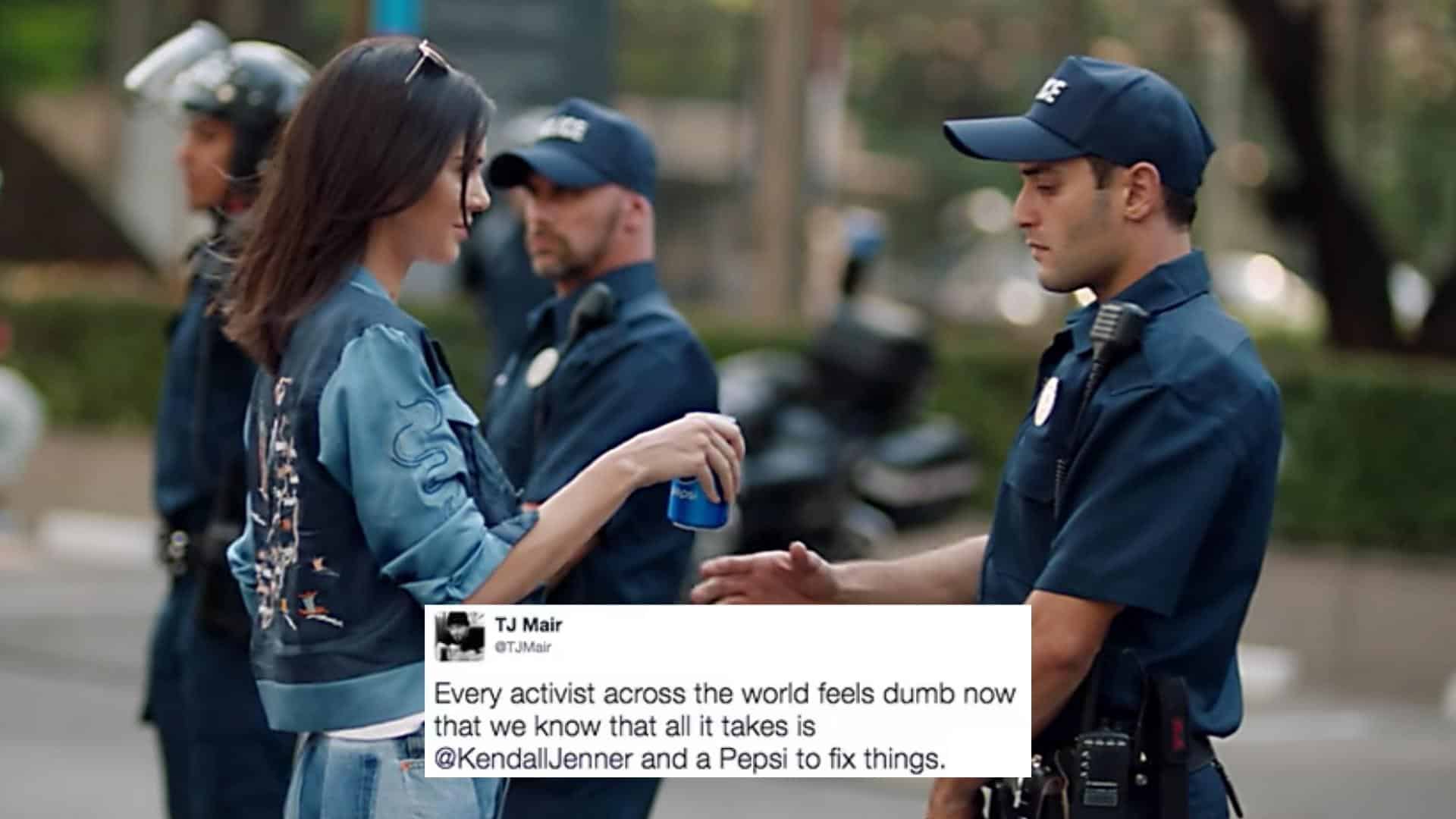 Well, in 2017, PepsiCo launched an ad campaign for its flagship product.
As brands were rapidly learning how to find influencers, Pepsi aimed to tap into this trend.
The campaign aimed to appeal to younger audiences and promote Pepsi as a beverage synonymous with unity, diversity, and social harmony.
In their quest on how to find influencers, Pepsi selected Kendall Jenner, (a popular model and reality TV star,) as the influencer to star in the ad.
 Kendall has a massive following on social media (293M followers on Instagram today,), particularly among young audiences.  
All good right? The perfect brand ambassador.
Well, only on paper…
The ad featured Kendall Jenner leaving a photo shoot to join a protest-like gathering where people held signs of peace. 
In the ad's climax, Kendall handed a Pepsi can to a police officer, seemingly bridging the gap between protestors and law enforcement…
It didn't go as planned. At all.
The ad received widespread criticism from the public, who accused Pepsi of exploiting social justice movements for commercial gain.      
Kendall Jenner's background as a model and reality TV star also didn't align well with the serious social and political themes portrayed in the ad. 
The video received millions of dislikes and negative comments across various social media platforms, demonstrating the extent of public dissatisfaction.
The results? Due to the intense backlash and negative attention, Pepsi was forced to pull the ad within days of its initial release. The brand issued an apology. 
Here's the actual ad if you are curious:
A truly failed campaign on both sides, which demonstrates how important it is to carefully select the right influencer for your campaign.
Final recommendations on how to find influencers for your brand
Congratulations! You have now learned the basics, the crucial mistakes to avoid, and some secret tips on how to find the perfect influencers for your brand. 
With the expertise of our team, I was able to compile the most effective strategies to guide you through the process. 
Now, let's recap the key steps and offer some final recommendations:
❌  Don't start your influencer search without defining your campaign strategy and objectives!
✅ Authenticity and transparency are key – focus first on influencers who already root for your brand!
✅ Create an influencer program to attract interested creators. 
✅ Build an Influencer database and record your results to make data-driven decisions.
✅ Steal influencers from your competitors to tap into relevant audiences.
✅ Expand your search using hashtags, rankings and AI tools.
✅ Make sure to vet each influencer before adding them to your database.
✅Use influencer search tools if you want to become a pro and gain hours of time.
 Now over to you!
Go forth and conquer the world of influencer marketing! 
You now have all the tools for finding the best influencers for your brand and improving your brand's visibility…
… As well as the ability to engage your target audience, achieving outstanding results that will take your business to new heights. 
Happy influencer hunting!
Influencer Marketing Articles
Actionable tips to get more success with influencer marketing campaigns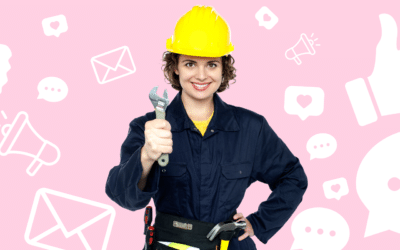 Building your first influencer marketing toolkit?
Here are 7 must-have tools to include.
These tools will help you succeed where many have failed.
read more
Try our Influencer Marketing Platform for free
Enjoy free searches & analyses
create your first list